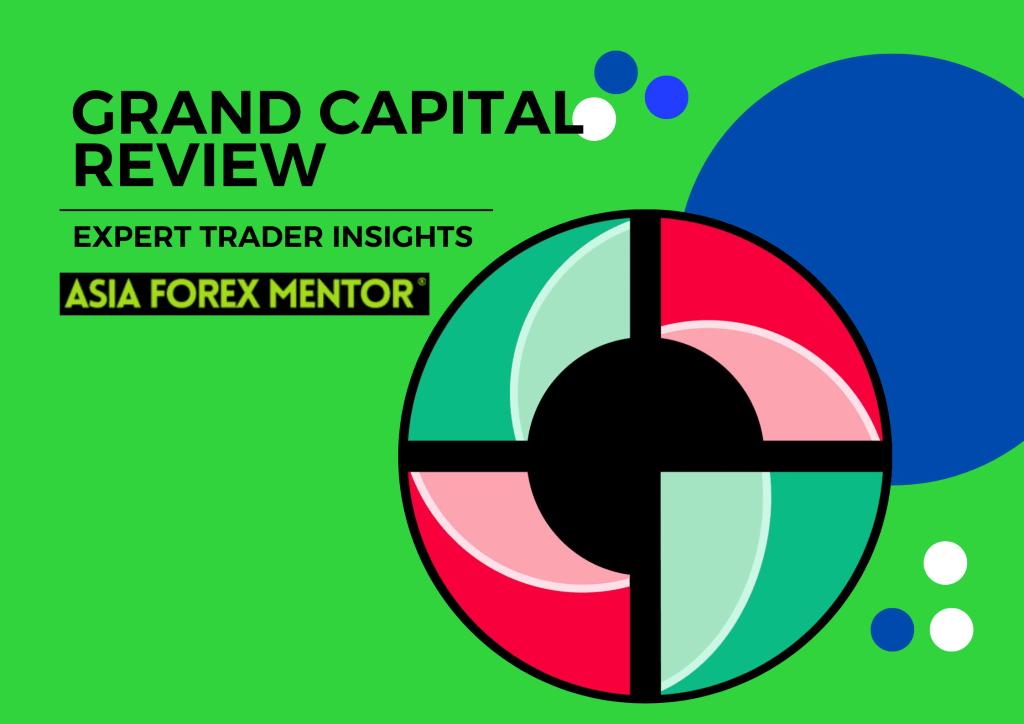 Grand Capital Review
With various brokers available in the market, investors look for a good broker that will benefit them in the best possible way. That's why our team of review experts is reviewing Grand Capital this year to see if it's the ideal choice for investors. Grand Capital is an investment broker that is popular among traders due to its exceptional features that offer favorable conditions for traders to benefit from financial opportunities. With its multiple advantages, this broker is the optimal choice for many traders, including beginners and experts.
Since its establishment in 2006, the broker has been known for providing technology for trading in derivatives markets and currency. It has been regulated by Finacom since 2006, received category 'A,' and is also a member of the Financial Commission and the Serenity Commission. This is what makes it a reliable broker. Grand Capital's fees depend on the number of features that any trader might use. Moreover, it also supports popular platforms like MT4, MT5, and WebTrader.
This review is about the various features and benefits this broker offers. These benefits include high liquid instruments, small fees, immediate execution, and 24/7 support. The broker also ensures great requirements for the liquidity providers and deals in high-margin trading with the help of the availability of Robots and EAs. With the variety of accounts and instruments, risk diversification is nothing new with Grand Capital. Here is an honest and unbiased review of Grand Capital with everything you need to know.
Asia Forex Mentor Evaluation Criteria
Grand Capital has been intriguing and attracting more traders every passing day. Many traders rush into the market, but it is necessary to acquire the required information before jumping into it.
At Asia Forex Mentor (AFM) Evaluation, we work diligently to evaluate various brokers and get adequate information in the financial markets. Our comprehensive research and analysis allow us to form concrete opinions about different brokers' services so traders can confidently decide on their investments.
The AFM evaluation has established a benchmark for evaluating brokerage firms. Because there are few concrete signs to assess an effective and knowledgeable online broker, each one is considered through this same standard of review. Therefore, to ensure impartiality, a uniform standard remains in place while brokers are being assessed, eliminating potential prejudice or bias.
Our review experts study each brokerage firm and provide a comprehensive analysis of their services, from customer reviews to trading platforms and accounts. We delve into all the data related to fees, customer service, performance, and more. Not only that, but we also consider the client's feedback to provide a realistic perspective on the broker.
Our standard evaluation criteria are based on the following points:
Affordability: We assess the fees (Commission fee, spreads) charged by the broker and compare them to what other brokers offer.
Broker Efficiency: We evaluate how well the broker executes transactions, their range of trading instruments, and how fast they respond to customer queries.
Security: We consider different account types, leverage, minimum deposit, and other background checks.
Technical Performance: We evaluate the trading platforms, such as MT4 and Web Trader, user interface, and automation technologies.
User Interface:  We review the user interface, including how easily traders can access features and what support is available.
We have efficiently evaluated Grand Capital for you considering various factors. As a result, we can assure you that it is a reliable all-around broker with excellent customer service. Therefore, this broker is a good option if you want a well-performing broker with outstanding trading features and competitive charges.
What is Grand Capital?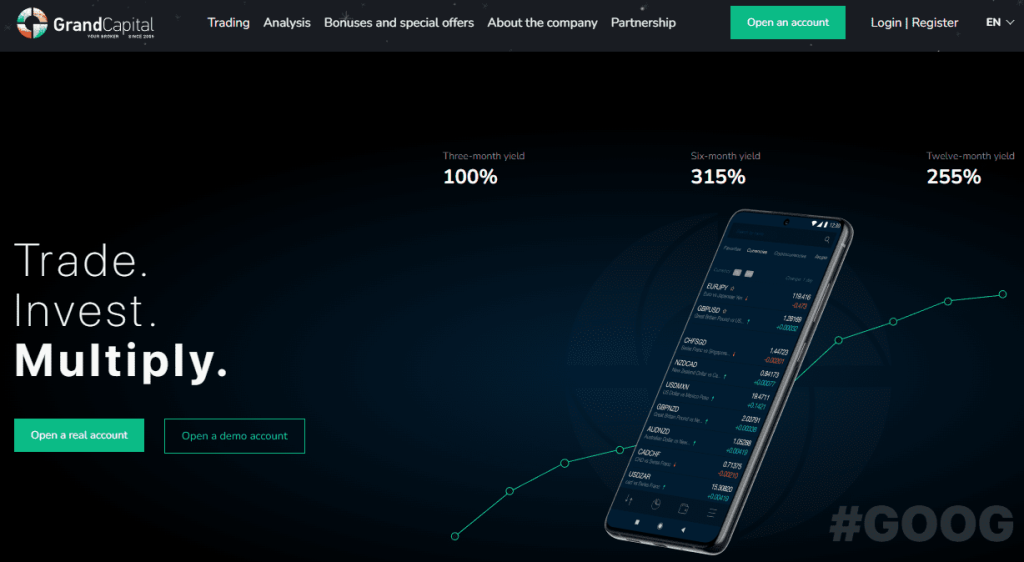 Grand Capital is an online broker that helps traders deal in cryptocurrency and CFD trading. Even though this broker does not have regulation from any central financial authorities, it is still a member of the Financial Commission and the Serenity Commission. These are the dispute resolution and compensation bodies, and association with them adds to the reliability and credibility of this broker.
Grand Capital operates in forty regions with various locations in Russia and serves many other parts of the world, including Asian areas such as India, Indonesia, Malaysia, and Myanmar. In addition, this broker is gaining popularity with its newly established offices in Kenya, Nigeria, Namibia, and South Africa.
It is also one of the most reliable brokers that enable clients to expand their portfolios with the help of 330 different trading instruments across a wide range of markets. These markets include Forex (50 major and exotic pairs), Stocks (in various global companies including Amazon), Cryptocurrency (68 pairs such as Bitcoin and Ethereum), Spot Metals (five metals including silver and gold), and many others.
Advantages and Disadvantages of Trading with Grand Capital
Here are some advantages and disadvantages of trading with Grand Capital that you must know
  Advantages
  Disadvantages

Grand Capital operates in multiple regions worldwide 
It provides the traders with high service standards, ensuring a long-term beneficial partnership
With this broker, you will have access to the latest technology features and new instruments as soon as they are introduced
It offers stability and safety of the funds

ECN accounts spread starts from 0.4 pips
The minimum deposit in the case of Standard and Crypto accounts and on MT5 is $100 and $500 for the ECN Prime account
The only available commodity is the oil of WTI and Brent brands
Benefits of Trading with Grand Capital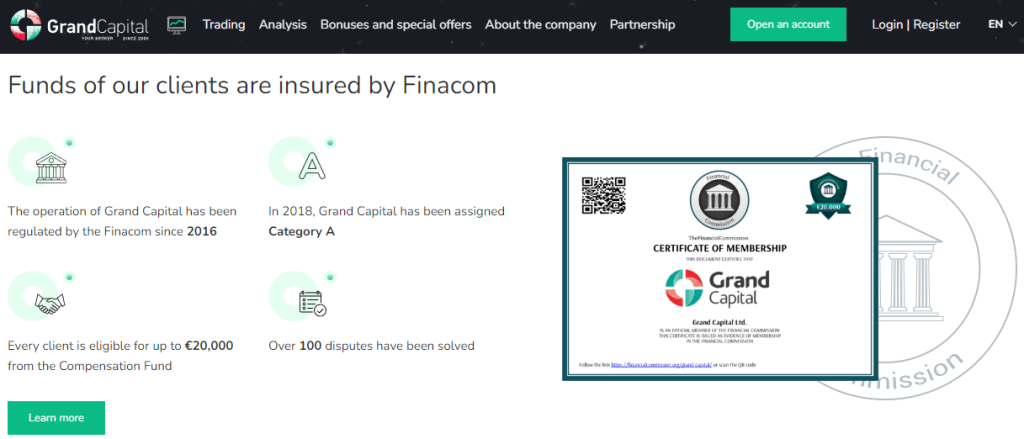 Grand Capital is considered a leading platform or broker because of its 750,000 clients worldwide. The broker is known for its aim to provide reliable services along with promoting trust and quality. Its reliability shows in various awards that this broker has gotten over the years. One major benefit of trading with Grand Capital is access to more than 500 financial assets, including international stock CFDs, currency pairs, metals, and indices.
Therefore, any trader can build their investment portfolio by utilizing the 500 financial assets offered by Grand Capital and a comfortable condition for investment. It also has been declared a grade 'A' broker, the highest category of broker reliability. Moreover, with this broker, you also get compensation funds for extra protection for their commission.
If you are planning to trade with Grand Capital, you will have the great benefit of opening a demo account with funding of $100,000. In addition, if you are a beginner to Forex Trading, you will learn a lot about it with the help of this demo account. This demo account is valid for 30 days, with enough time to learn about Forex Trading and the broker platform.
Grand Capital Pros and Cons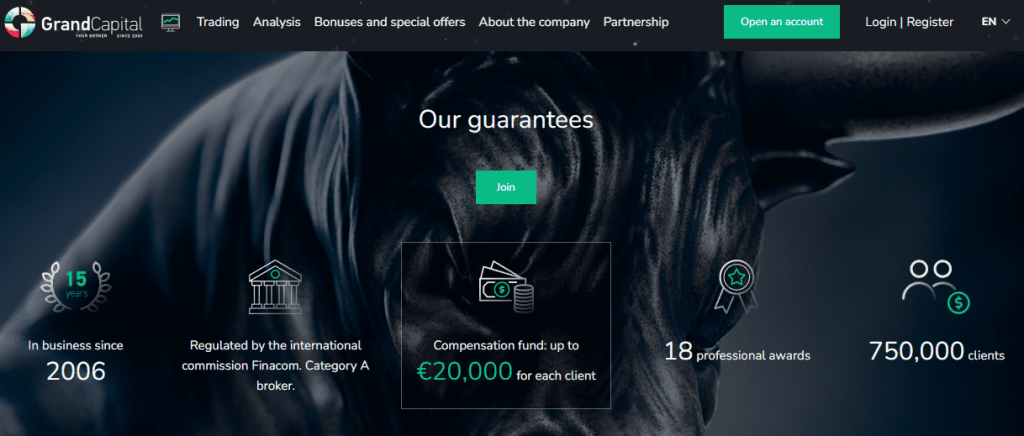 Let's discuss some pros and cons of Grand Capital:
Pros
It features advanced platforms.
Grand Capital has competitive fees and a low minimum deposit.
It offers a bonus for sign-up, welcome, or deposit.
This broker consists of a great number of tradable assets.
Cons
It has deposit and withdrawal fees.
You can only withdraw the profit after you have reached a specific trading volume.
Analysis of the Main Features of Grand Capital
2.6 Investment Instruments
2.6 Variety of Instruments
Grand Capital Customer Reviews
Grand Capital's reviews from various traders who have done trading with it say that this broker is a good broker because of its multiple features. According to the customer reviews, Grand Capital is efficient, provides fast payments, has excellent customer service, and has flexible trading conditions.
Grand Capital Spreads, Fees, and Commissions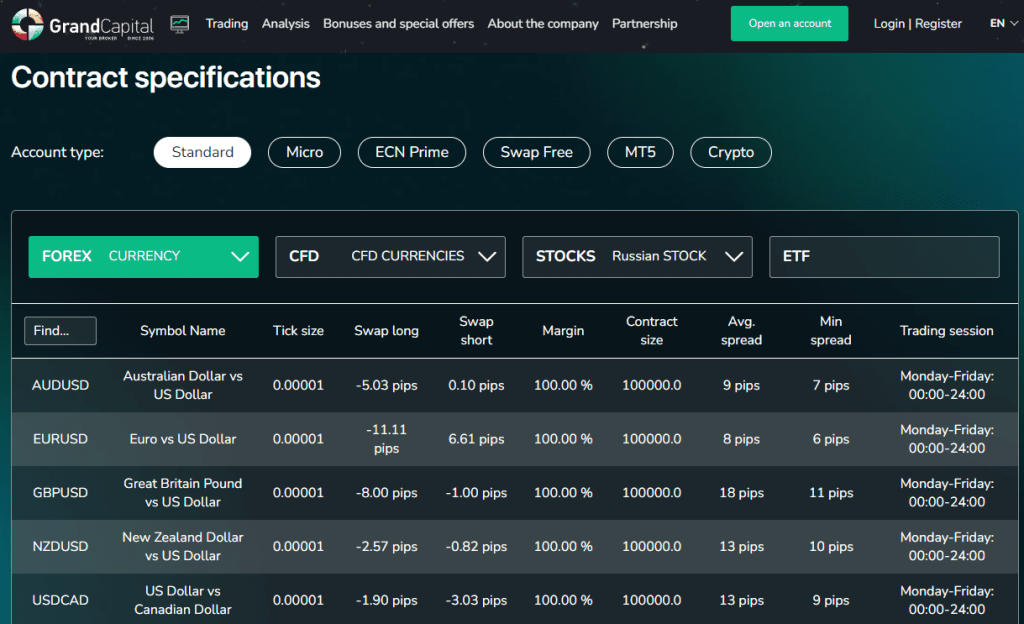 Let's look at the Grand Capital spreads, fees, and commissions.
Grand Capital Spreads
When a trader starts trading with a standard account, it gives the option to start with the spreads from 1 pip. However, you can enjoy tight spreads in the cent and crypto accounts.
The average spread on standard, standard and swap-free trading accounts is 1, while Grand Capital broker has 0.4 pips spread for cent, crypto, and MT5 trading accounts.
International spreads and commission rates are slightly different compared to the local market.
Grand Capital Trading Fees
Grand Capital broker charges a trading fee per volume of trading stocks and assets. However, some of the accounts of this broker charge no or minimum trading fee. No separate trading fee is charged with spread on a cent and standard account.
But traders must pay a commission on spread per trade volume while trading on MT5, ECN, and swap-free accounts. In other words, your trading broker's lot sizes and commissions vary depending on your trading account.
Grand Capital Non-Trading Fees
Grand Capital brokers facilitate its traders by charging no inactivity fee. However, it charges a withdrawal fee for every account type. Besides the withdrawal fee, traders have to pay a fee per every deposit in the bank as a non-trading fee.
Grand Capital Leverages
Traders can execute the exchange of assets by making leverages on every trade depending upon the geographical region and trading account type. For example, the maximum leverage of a standard account is 1:500.
The ECN Prime and MT5 accounts offer leverage of up to 1:100 with floating trading options. Moreover, the margin requirement for these accounts is 80%, while the rest of the broker accounts work at a 40% margin call. Whenever a trader reaches the margin call, the broker can close any open position of the trader.
How Grand Capital Fees Compare to other Brokers
| Broker | | | | |
| --- | --- | --- | --- | --- |
| Min Deposit | 1 | 100 | 1 | 1 |
| Withdrawal Fees | No | No | Yes | Yes |
| Inactivity Fees | No | No | No | No |
| Deposit Fees | No | No | No | Yes |
| CFD Commission Fees | No | No | No | Yes |
| | | | | |
Account Types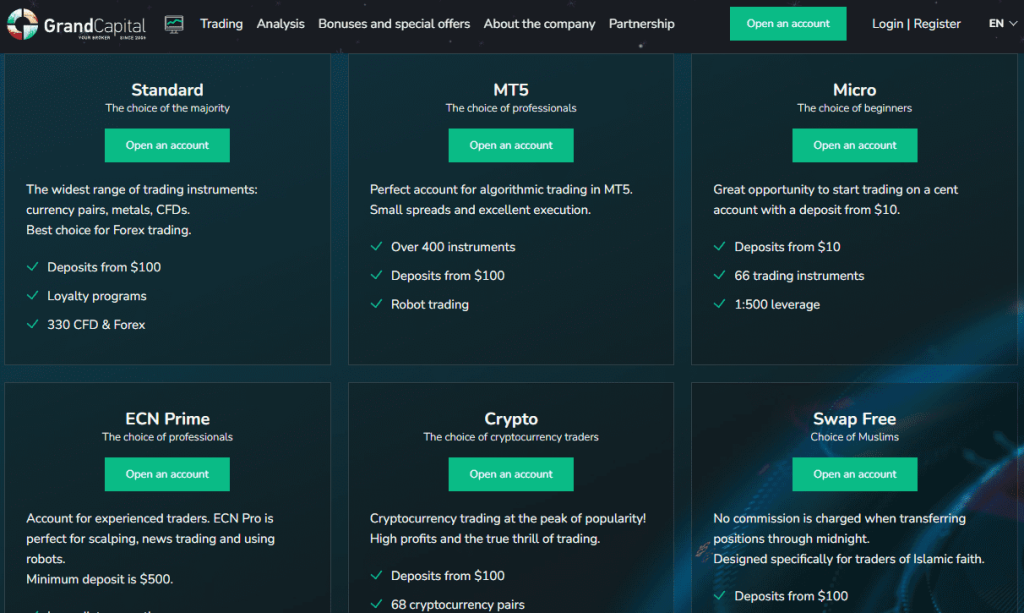 Grand Capital offers six different trading accounts along with demo accounts. Every trading account has its specific peculiarities and training levels. Choose the one that suits you the best per your goals and requirements.
Standard Account (Suitable For Intermediate Traders)
The majority of traders prefer to choose the standard account for forex trading. This is because it brings the best opportunity for traders to monetize a huge amount from the foreign exchange market.
Grand Capital broker Standard account facilitates traders by charging no commission for forex exchange. Moreover, it gives trading options on 330 valuable instruments with loyalty programs and leverage of up to 1:500.
This account allows traders to exchange forex, CFD stocks, and ETFs. Another potential benefit of a standard trading account is promotions and bonuses per deposit. Feel free to trade on this secured account to trade on MetaTrader platforms. Following is the snapshot of features that you expect from the Grand Capital Standard account:
Platforms: MT4, WebTrader
Trade size: From 1 pip
Leverage: 1:1 to 1:500
Markets: Forex, CFD, commodities, stocks (330 assets).
Commissions: $0 Forex commission, $14 – $15 CFD (0.1% for CFD ETF and CFD Stock USA)
Minimum Deposit: $100
MT5 Account (Best for Professionals)
If you are a professional in algorithmic trading, MetaTrader 5 account is perfect for you. Grand Capital MT5 account enables its traders to do excellent business execution with small spreads and more than 400 instruments.
With the help of this fascinating robot trading account, you can do excellent business execution with advanced analysis and automated trading strategies. MT5 account holders must pay $5 to $10 as a commission to exchange Forex, metals, energies, and indices.
Grand Capital traders can also get a promotional offer and bonus for trading volume on exchanging particular categories with a minimum deposit of $100. Let's have a look at the features of the MT5 Grand Capital account:
Trade size: From 0.4 pips
Leverage: 1:1 to 1:100
Markets: Forex, metals, indices, energies (>400 assets).
Commissions: $5 – $10 commission for Forex, Metals, Indices, and Energies (0.5% for crypto and 0.1 % for CFD stocks)
Minimum Deposit: $100
Micro Account (Suitable For Beginners)
If you are new to forex trading, you must be looking for a platform to learn and experience how you can increase your trade volume. Starting trading on a Grand Capital broker account with a deposit of only $10 is a great opportunity.
This micro-trading account offers the opportunity to work in the real market with minimum risks. As a micro trading account operates on the cents, your balance will be 10,000 cents on the deposit of $10.
With this account, you can take your trading strategy to the horizon before investing significant amounts in any other trading account. The micro account enables you to trade 66 valuable instruments with small sizes up to 1:500 leverage. Here is the snapshot of cent trading account features:
Trade size: From 1 pip
Leverage: 1:1 to 1:500
Markets: Forex, metals, currencies (66 assets).
Commissions: $0
Minimum Deposit: $10
ECN Prime Account (Best for Experienced Traders)
With an ECN Prime account, traders can exchange assets with high liquidity in the market. It allows traders to trade with 38 cryptocurrency pairs. In addition, traders can avoid any external factor for order execution.
Another potential advantage the Grand Capital ECN trading account provides to its traders is tight spreads. This account is perfect if you are looking for risk-free news trading and scalping due to AMTS technology and robot utilization.
The ECN Prime account enables traders to execute complete trading orders to generate maximum revenue with a minimum deposit of $500. Below are some of the key features of the Grand Capital ECN Prime account:
Trade size: From 0.4 pips
Leverage: 1:1 to 1:100
Markets: Forex, metals, indices, energies (>400 assets).
Commissions: $5 for Forex, Metals, Energies, and $7 for Indices (0.1 % for CFD stocks)
Minimum Deposit: $500
Crypto Account (Suitable For Cryptocurrency Traders)
If you want to trade cryptocurrency to earn a high profit, sign up for a Crypto account at Grand Capital broker. Traders can exchange altcoins, bitcoins, and Ethereum with a floating spread of 0.4 pips.
Grand Capital broker offers immediate order execution with a minimal cash deposit of $100. One can earn a high profit and bonus through trading 68 cryptocurrency pairs. Here is the snapshot of the main features offered by the crypto account:
Trade size: From 0.4 pips
Leverage: 1:3
Markets: cryptocurrencies (68 crypto assets).
Commissions: 0.5%
Minimum Deposit: $100
Swap Free Account (Perfect For Muslim Traders)
Swap Free account is the best trading account for Muslim traders at Grand Capital broker. This account works on the principles of Islamic rules and regulations of trading. For example, while trading with this account, you don't have to pay a commission for orders executed at midnight.
This account enables traders to enjoy all the benefits of the standard account of this broker with zero swaps. Get bonuses and regular rewards for active trading of commodities, indices, CFDs, and other assets. Here are the amazing features of swap free trading account:
Trade size: From 1 pip
Leverage: 1:1 to 1:500
Markets: Forex, metals, energies, indices, and CFD stocks (150+ assets).
Commissions: $4 to $10 for Forex and $5 for metals
Minimum Deposit: $100
Demo Account
A Grand Capital broker demo account allows beginner traders to gain experience without moving into the real market. When a trader signs up for the demo account of this broker, the account will have a virtual deposit of $10,000. This deposit is enough for a beginner trader to learn the expertise and strategies of buying and selling assets in the real market.
How to Open Your Account?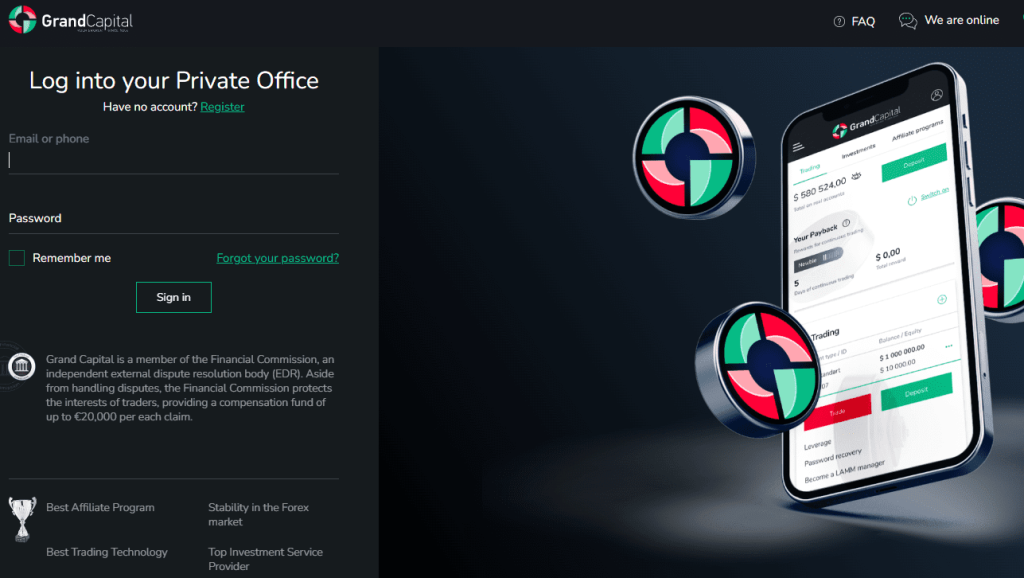 If you have decided to start trading with Grand Capital, it is time to open your account. The first step is registering an account by selecting the 'Open an Account' option on the Grand Capital website. Once you have chosen it, you will be provided with a complete form of requirements or an application you must fill out for registration purpose.
After filling in all the details in the application form, you will be provided with a username and a password to sign into your account. It is important to remember your username and password, as they are the only way of accessing your registered account.
Once you have received the login details and entered them to log in to your account, you will have to set up a deposit account and start trading. It is not difficult to open your Grand Capital account, so if you have decided to partner with the broker, it is time to do it.
What can You Trade on Grand Capital?
Grand Capital offers almost 500 trading instruments, including indices, metals, CFDs on stocks, currency pairs, commodities, and cryptocurrency. It is also considered the ideal choice for Forex trading. Therefore, the traders can choose what they want to trade in and adjust their accounts and investment accordingly.
If you plan to do Forex Trading, Grand Capital is a viable option because of its ideal features that assist in this market. Along with that, you can also trade metals with Grand Capital. Metals have been among the most popular trading instruments since the market's establishment. And with this broker, you can trade your favorite metals, silver or gold.
It also offers various trading bonuses that make all trading instruments beneficial and profitable. So, whether you want to trade cryptocurrency or other future commodities, Grand Capital might be one of your best options.
Grand Capital Customer Support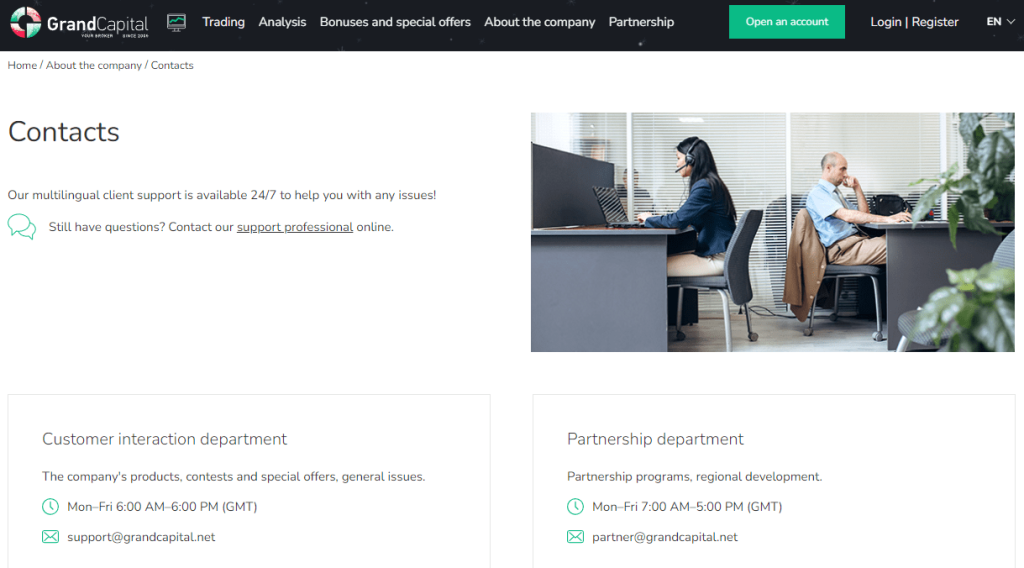 All the traders using Grand Capital can access their customer support through email or the given phone number. The email is info@grandcapital.net, and the phone number is +1 646 8447187. In addition, there is a multilingual support team available at Grand Capital 24/7. Therefore, whatever issues you have at any time, you can easily contact the team, and they will help you solve the problem immediately.
Whether you have any confusion or queries or you want to complain about any feature offered by Grand Capital, their customer support is always ready to help you with everything. Contact them anytime, and their vigilant team will listen to your problems and propose solutions accordingly.
The customer support department at Grand Capital is divided into various departments, which are the customer interaction department, partnership department, analytics department, and HR department. Each department has a skilled team that specializes in providing effective solutions for the concerning issues.
Email: info@grandcapital.net
Phone no: +1 646 844 7187
Official hours: Mon–Fri 6:00 AM–6:00 PM (GMT)
Address:
GrandCapital Ltd. 24598 IBC 2018 (Suite 305, Griffith Corporate Centre, PO Box 1510, Beachmont, Kingstown, St. Vincent, and the Grenadines)
Grand Capital Ltd. 036046 (Suite 102 Aarti Chambers, Mont Fleuri, Victoria, Mahe, Seychelles)
Advantages and Disadvantages of Grand Capital Customer Support
Below mentioned are some advantages and disadvantages of Grand Capital customer support;
  Advantages

  Disadvantage

It consists of separate departments for different types of problems and solutions
Available 24/7
Cooperative staff
Easy online contact

Late response in some cases
Security for Investors
Some security advantages and disadvantages offered by Grand Capital for the investors are as follows:
  Advantages
  Disadvantages

A reliable connection is built between the trader and the broker
Risk disclosure is ensured
Customer support is easily accessible and is available 24/7
Any claims are recognized right away

Low-volume traders should be considered credible later
Withdrawal Options and Fees
Most traders look for the deposit and withdrawal options of the particular broker to determine their long-term benefit or profit. With these options, the traders also choose the associated rates the broker charges.
To open an account on Grand Capital, the trader has to deposit a minimum of $10, which is a very low amount compared to many other brokers' deposit fees. Low deposit fees have also increased the broker's popularity as many traders are investing through it because of low deposits.
You can make deposits and withdrawals with the help of many methods, including credit or debit cards, bank wire, Bitcoin, Neteller, and Skrill. It doesn't charge any account fees, but there are some deposit and withdrawal fees.
Grand Capital Vs Other Brokers
Here is an in-depth analysis of the Grand Capital with some other brokers.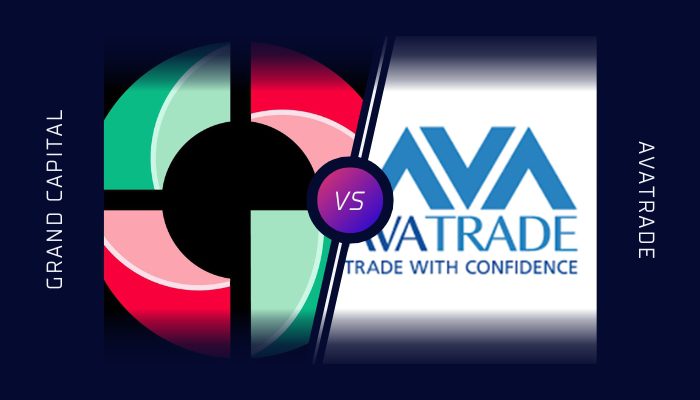 Avatrade is a well-known trading broker for professional traders throughout the global financial market. This trading platform was established in 2005 and made its place in the trading market in a limited time. This is the only reason that traders of Avatrade brokers have grown not only in number but also in the traders' revenue.
However, whenever the Grand Capital is compared with Avatrade, we know that Avatrade outperforms the Grand Capital in exchanges of forex, indices, stocks, cryptocurrencies, and other assets. For example, MiFID, the Central Bank of Ireland, and three other financial services providers play their roles in regulating Avatrade.
On the other hand, Grand Capital is regulated by the Financial Commission. Moreover, the Grand Capital broker trades over only 129 financial instruments, while Avatrade offers trading opportunities for more than 250 assets. The currency pairs offered by both brokers are comparable, as Avatrade facilitates the exchange of 55 currency pairs, and Grand Capital offers more than 50 exchange pairs.
During trading with Avatrade, traders can avail of several payment methods, including credit and debit cards. At the same time, you can use a web money wallet to deposit and withdraw cash from the account of the Grand Capital broker.
Above all, Avatrade provides better trading opportunities, asset exchange services, and customer services than the Grand Capital broker. Therefore, if you are looking for a secure and reliable trading option, Avatrade broker is better for you.
However, the credibility of the Grand Capital broker is also fantastic because of the provision of great choices of trading account types. So, both brokers are reliable options for trading. It's up to your preferences with which broker you want to start forex trading. Choose the one that suits you the best.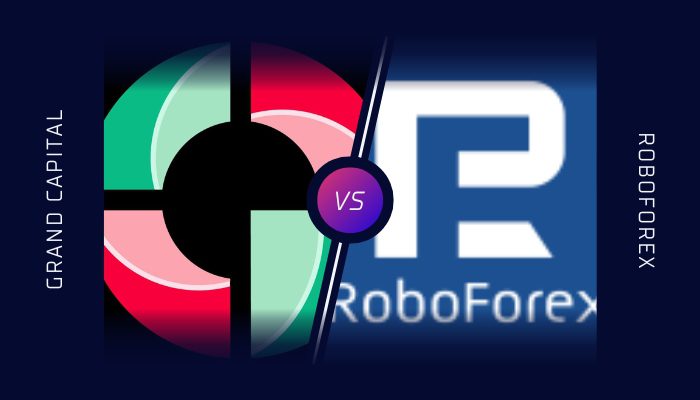 Roboforex is another popular online trading platform with great financial services. Some popular exchanges this broker offers are CFDs, stocks, cryptocurrency, Forex trading, and other valuable assets.
Cyprus Securities and Exchange Commissions play an important role in regulating Roboforex trading. This amazing broker provides three different trading accounts named Pro-cent, Prime, and ECN accounts. However, Grand Capital also offers a wide variety of trading accounts, including Cent, Standard, and crypto accounts.
When these two brokers are compared, the major difference is in commission, deposits, spreads, and fees. Grand Capital charges relatively less fee per deposit and order execution than Roboforex. In addition, the latter provides more options for cash deposits and withdrawals.
Roboforex and Grand Capital are reliable online trading platforms that offer great trading opportunities. However, the trading options, reliable customer service, and lower fees support Grand Capital trading. Especially if you are interested in trading with small investments, the Grand Capital broker is a perfect choice for you.
If we compare the minimum deposit of both brokers, they are nearly equal. But there is a great difference in the currencies of asset exchanges of both trading platforms. For example, the Grand Capital ECN Prime account needs a minimum deposit of $500, while Roboforex facilitates a minimum cash deposit of 100 USD/EUR.
Both brokers are reliable for forex trading and the exchange of other financial assets. The only factor that gives Roboforex a slight trading edge over Grand Capital is the availability of multiple assets. So it's up to you whether you choose Roboforex or Grand Capital.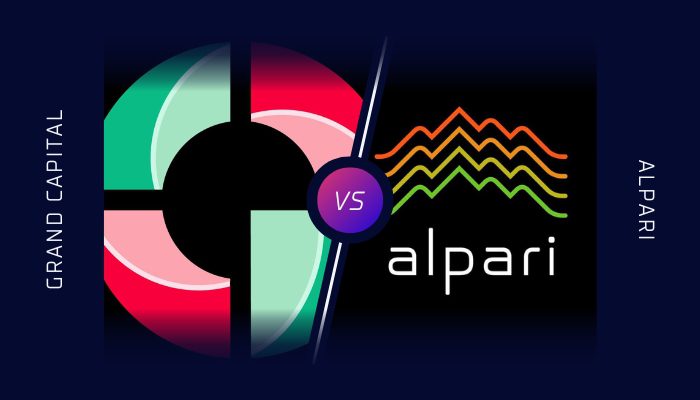 Alpari is also an excellent trading option due to its simple interface, fewer commissions, and high-security protocols. Through this broker, traders can enjoy trading opportunities for different trading instruments. When we checked the annual trading report on various brokers, Alpari came to have better pricing and investment options than various brokers in the financial market.
Grand Capital is a reliable platform for forex exchange. It provides copy trading options to others in the market through the MetaTrader 5 (MT5) platform, while Alpari facilitates its traders with the platform of MetaTrader 4 (MT4) along with MT5.
However, the greatest difference in the trading services of both platforms is their currencies and trading instruments. Alpari facilitates the exchange of major trading instruments such as currency pairs, metals, and CFDs.
Compared with Grand Capital, it came to know that Grand Capital offers exchanges of major and minor instruments, including forex exchange, indices, stocks, metals, cryptos, and CFDs. However, we found that Alpari comes with comparatively wider products and service ranges than those of Grand Capital trading platforms.
Both trading platforms benefit traders and help them receive regular awards and bonuses. So it all depends upon which online broker is most suitable for you, depending on your geographical area, expertise, and requirements.
How Grand Capital Compare against other Brokers
| Broker | | | | |
| --- | --- | --- | --- | --- |
| Instruments Available | 129 | 1250 | 100 | 50 |
| Platforms | MT4, MT5 | Web Trader, MT4, MT5, AvatradeGo, AvaOptions, DupliTrade, ZuluTrade, Mobile Apps, ZuluTrade, DupliTrade, MQL5 | MT4, MT5, Mac, Web Trader, cTrader, Tablet & Mobile Apps | MT4, MT5, Web Trader, Binary, Tablet & Mobile Apps |
| FX / Currencies | | | | |
| Forex pairs offered | Yes | 61 | 35 | 50 |
| Major Forex pairs | Yes | Yes | Yes | Yes |
| Minor Forex pairs | No | Yes | Yes | Yes |
| Exotic Forex pairs | No | Yes | Yes | Yes |
| Cryptocurrencies (availability subject to regulation) | Yes | No | Yes | Yes |
| Commodity CFDs | | | | |
| Commodities Offered | 0 | 17 | 21 | 3 |
| Metals | Yes | Yes | Yes | Yes |
| Energies | Yes | Yes | No | No |
| Agricultural | Yes | Yes | No | No |
| Indiced & Stock CFDs | | | | |
| Stocks Offered | Yes | 1000 | 0 | 0 |
| UK Shares | Yes | Yes | Yes | No |
| US Shares | No | Yes | Yes | No |
| German Shares | No | Yes | Yes | No |
| Japanese Shares | No | Yes | Yes | No |
Conclusion: Grand Capital Review
In conclusion, Grand Capital is a reliable broker because of its exceptional features. It is also considered a low-risk broker with an overall trust score of 91 out of 99. Moreover, it also has competitive spreads and fees, which adds to its popularity and preference.
Therefore, most traders agree that Grand Capital is a credible broker with excellent trading conditions and high liquidity. It also has good leverage and a low spread, which gives it average risk credibility.
Because of its various features, including many trading instruments, Grand Capital is an ideal platform for trading with other instruments. Especially if you are looking to invest in Forex Trading, this broker is one of the best ones for it.
Grand Capital Review FAQs
Is Grand Capital a good broker?
Grand Capital is a great broker because of its high liquidity rates, the number of trading instruments, and exceptional customer care service. In addition, they have a great live chat which is quite responsive, and you can get the answers to your queries and solutions to your complaints immediately.
Is Grand Capital regulated?
Since 2016, Finacom has regulated the operation of Grand Capital. As a result, it has been assigned an A category. Therefore, Grand Capital is regulated, which means it is checked and supervised by the Financial Commission.
Can I open a Grand Capital demo account?
Yes, you can open a Grand Capital demo account. With it, you can access all the features offered by Grand Capital but with virtual funds. These accounts are highly beneficial for learning the basics of trading and trying new EAs and indicators.