HYCM Review
HYCM is a UK-based forex and CFD broker that offers users access to a wide range of trading instruments. The firm is ranked relatively well in the list of top brokers out there and will be the focus of this HYCM review.
Trading the currency markets is not always as straightforward as some people think. There are so many things that need to go right for you, and the last thing you want is brokerage services that don't meet your needs. Well, the good news is that the market these days is filled with a huge variety of financial brokers, each offering raw accounts with several trading instruments.
But choosing which broker to work with is often easier said than done. This is why this review matters. It is designed to give you access to information about HYCM, how it works, the list of key features available to users, fees, and so much more.
You will also learn about the firm's customer support, it's trading central feature, trading platforms, and additional info that will make it easier for you to trade forex and other assets. Keep reading to learn more.
Asia Forex Mentor Evaluation Criteria
Before getting to the main details of this HYCM review, it is essential to highlight some of the factors we have considered when analyzing the Henyep capital markets group. Here is a breakdown of the complete list:
Affordability - This measure relates to how the broker charges for its services. Here, the team looks at overall fees, including trading and nontrading fees. In most of our reviews, brokers that offer the lowest fees possible are ranked higher in the list.
Brokers Efficiency - The efficiency of a broker is a measure of how the firm executes trades and the kind of technology that it offer. The HYCM broker, for instance, gets top marks for its trading platform, including a mobile trading platform for trading CFDs.
Security - When it comes to security, the big question we try to explore is how safe customer funds and private details are. What measures does the broker put in place to ensure there is no money lost?
User Interface - This measure is about how easy it is to use the HYCM broker or any other brokerage. Whether it's the mobile trading platform, demo account, or a live raw account, it should be easy to open and trade.
What is HYCM?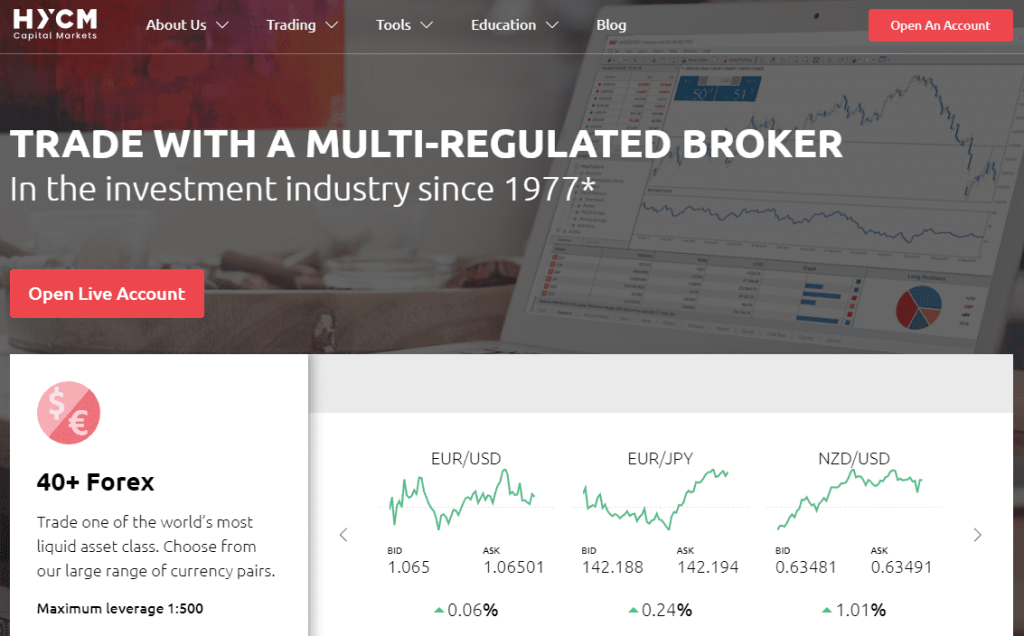 HYCM (formerly known as Henyep Capital Markets) is a forex broker offering online trading services in various financial instruments, including currencies, commodities, indices, and shares. The company is headquartered in London and is regulated by the Financial Conduct Authority (FCA) in the United Kingdom.
The Dubai Financial Services Authority and the Cayman Islands monetary authority also regulate it. HYCM offers a range of trading platforms, including the popular MetaTrader 4 platform and mobile trading apps for iOS and Android devices. The company also provides a range of educational resources and customer support for traders.
HYCM has been in operation since 1977. The company was initially founded as a commodity trading firm under the name "Henyep Group," and it has since expanded to offer various financial services and products, including forex and CFD trading.
Advantages and Disadvantages of Trading with HYCM
This HYCM review won't be complete without looking at some advantages and disadvantages of opening trading accounts with HYCM. However, before we get there, please note that a majority of retail investor accounts lose money when trading CFDs with this broker. Please make sure you understand how these financial markets work before you jump into forex trading.
  Advantages
  Disadvantages

Wide range of financial instruments: HYCM offers trading in a wide range of financial instruments, including forex, commodities, indices, stocks, and cryptocurrencies.
Competitive spreads: The broker claims to offer competitive spreads on its forex and CFD products, which can help traders to save money on their trades.
Fast execution: HYCM claims to offer fast execution on its trades, which can be important for traders who need to enter and exit trades quickly.
Trading tools and resources: The broker provides a range of trading tools and resources, such as educational materials, market analysis, and trading signals, to help traders make informed decisions.
Regulation: HYCM is regulated by the Financial Conduct Authority (FCA) in the United Kingdom, which can provide traders with additional security and protection.

Trading fees: HYCM charges fees for its trading services, including spreads and commissions on specific instruments. These fees can add up over time, which can eat into traders' profits.
Limited regulation: While HYCM is regulated by the Financial Conduct Authority (FCA) in the United Kingdom, it is not regulated in other countries. This may be a disadvantage for traders who are based in countries where the broker is not regulated, as they may not have the same level of protection and recourse in the event of a dispute.
Complex products: Some of the financial instruments offered by HYCM, such as forex and CFDs, can be complex and carry a high level of risk. It is important for traders to fully understand the risks involved in these products before trading them.
Limited customer support: Some traders may find the customer support provided by HYCM to be limited, with long wait times or limited assistance with the account or technical issues.
Benefits of Trading with HYCM

As a top broker in the forex market, there are, of course, some benefits that come with HYCM. In fact, here are some of the key benefits to expect once you start trading currency pairs with this provider:
Reputation and Experience
HYCM is one of the oldest forex brokers in the world. The firm started off as a commodities trading service before it diversified its service to offer access to the foreign exchange market. Since 1999, the firm has been working to improve its services and build a reputation as one of the most trusted brokerages in the world.
HYCM is also backed by a list of positive customer reviews over the years. It has also streamlined its service to adapt to the needs of different traders, including offering fixed accounts and a lot of asset classes.
Highly Regulated Broker
Still, on the issue of safety and credibility, you will also be happy to know that HYCM is one of the most regulated broker firms you can work with. The firm is regulated in several tier-one jurisdictions around the world.
For starters, HYCM is regulated in the UK by the UK Financial Conduct Authority. The firm is also regulated by the Cyprus Securities and Exchange Commission, the Cayman islands monetary authority, the Dubai financial services authority, and others. This should give every user the confidence they need to know that they are safe opening a forex trading account with this broker.
Safety of Funds
HYCM has also put a lot of effort into enhancing safety for user funds. This ensures you can withdraw money anytime, regardless of the economic calendar or anything else. Now, HYCM does this in several ways.
First, the firm uses segregated bank accounts in tier 1 banks to store customer funds. This means that customer deposits are not used in any way by the firm. In addition to this, the broker also has a financial services compensation scheme that adds another layer of protection. You will also get negative balance protection when trading different asset classes with your HYCM account.
Technological Excellence
Although HYCM does not have a proprietary trading platform of its own, it has still invested heavily in acquiring some of the best trading software in the world. Beginner traders and experienced HYCM traders get access to the MT4 and MT5 trading platforms, some of the best in the world.
HYCM also estimates that the average trade execution time for its array of assets is about 12 microseconds. This makes the firm one of the fastest and most reliable brokers in terms of technology.
HYCM Pros and Cons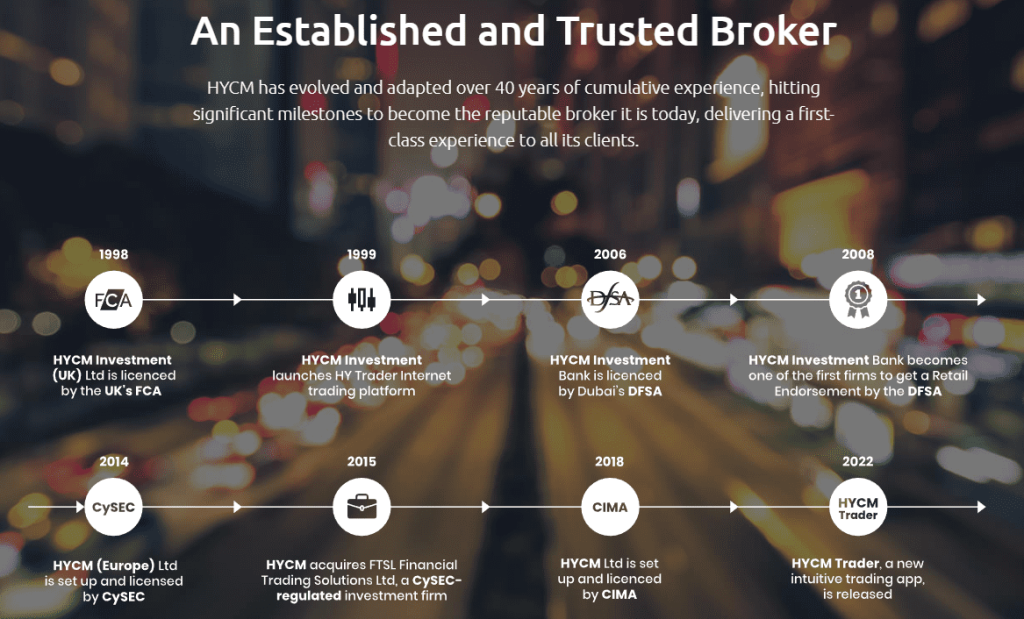 HYCM has so much to offer as a broker and most people should be able to get a lot of value from working with the firm. But there are also a few areas where the broker needs to improve. Here are some of the more notable pros and cons:
Pros
Over 40 years of experience in the financial sector
Offers a variety of trading accounts, including basic classic accounts and others.
You get access to some of the best web trading platforms, including the MT4 and the MT5.
Spreads start from as low as 0.1 pips, some of the lowest in the market.
Excellent security for customers, including segregated accounts, an investor compensation fund, and more.
Cons
The investor education offered on complex instruments falls short of what we expected
The firm only offers access to 300 trading instruments, way lower than other top brokers.
Customer support at HYCM is only offered 24/5 and does not live up to the expectations of many users.
While USD or EUR currencies are supported, currency pairs are still relatively limited.
Analysis of the Main Features of HYCM
4.0 Investment Instruments
4.0 Variety of Instruments
HYCM Customer Reviews
From the reviews we have managed to see of HYCM, it seems that most people who have had the pleasure of working with this firm have good things to say about its services. For instance, most users seem to really appreciate the experience that the firm brings to the table.
The fact that the firm has been offering financial services for 40 years plus is a big deal. But that is not all. Some users also seem to be impressed by the firm's trading conditions, including relatively fast withdrawals and low HYCM fees.
Users also love the fact that you get several withdrawal options, including a bank wire to the bank account and others. However, we did notice that one user complained that the deposit amount was tiny.
While HYCM does have a minimum deposit requirement, it seems like there are some restrictions on just how much money you can deposit in one single go. But other than that, the reviews around this broker appear to be quite positive.
HYCM Spreads, Fees, and Commissions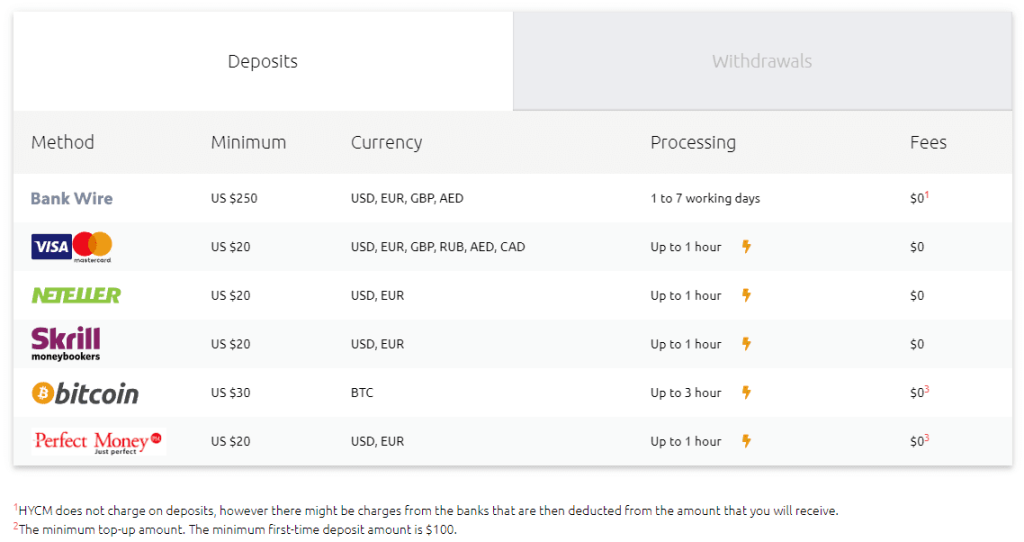 HYCM charges both trading and nontrading fees for all users. However, while spreads start from as low as 0.1 pips, they are not standard across the board. In fact, how much you pay will depend on the type of assets you are trading and the account type.
For example, if you were to trade the USD/EUR pair with a fixed account, your spreads can jump as high as 1.8 pips, depending on the trading hours. For those who are using the classic account, the spreads for this pair can go as low as 0.5 pips. The same concept also applies when it comes to indices and commodities.
However, it is important to note that you will be required to pay additional fees when you trade stocks. In fact, HYCM charges a fixed fee per trade for stocks. As for the nontrading fees, you only have to worry about the inactivity fee. A charge of $10 will be applied for accounts that have remained inactive for more than 90 days.
How HYCM Fees Compare to other Brokers
| Broker | | | | |
| --- | --- | --- | --- | --- |
| Min Deposit | 100 | 100 | 1 | 1 |
| Withdrawal Fees | Varies | No | Yes | Yes |
| Inactivity Fees | Yes | No | No | No |
| Deposit Fees | No | No | No | Yes |
| CFD Commission Fees | No | No | No | Yes |
| | | | | |
Account Types

Having won the best forex broker award, HYCM has always done well to keep the needs of its customers first. This is actually reflected in the customized accounts that the firm offers. The goal of HYCM is to give users access to retail CFD accounts that meet their trading needs. To this effect, there are three main accounts on offer here. They include the following:
Fixed Account
the fixed account is the first, and perhaps the most basic account offered by HYCM ltd. Its spreads start from 1.5 pips, and you get a minimum deposit of $100. This account also provides the option for an Islamic account with a minimum trading volume of 0.01. The most important distinguishing factor here is that spreads are fixed.
Classic Account
The classic account offers variable spreads and supports an Islamic account. However, unlike the basic Fixed Accounts, you will get expert advisors here. The minimum deposit is $100, and you get a minimum trading volume of 0.01.
Raw Accounts
Raw Accounts are designed for large-volume traders. As the name suggests, you get raw spreads here that start from as low as 0.1 pips. However, you will be charged a commission of $4 for every round of trading. So this allows you to trade large volumes without incurring too many fees. Expert advice is also offered, plus the minimum deposit is $200.
How To Open Your Account?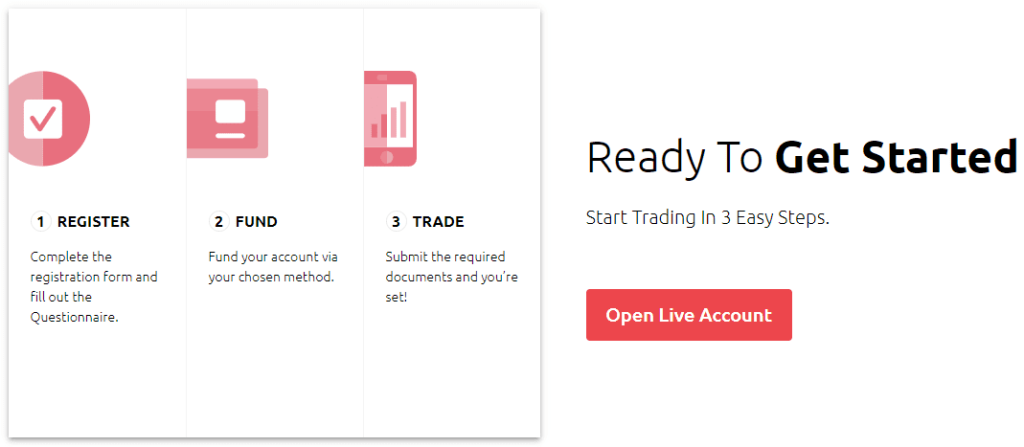 The Henyep capital markets group and the team have made it as easy as possible for folks to open trading accounts here. Whether you are looking for a demo account or a starter raw account with no minimum deposit, here are the steps to follow to open one:
Visit the HYCM website and click on the "Open an Account" button.
Choose the account type that you want to open. HYCM offers several account types: fixed, classic, and raw.
Fill out the online application form with your personal and financial information. This will include details such as your name, contact information, and proof of identity.
Submit the completed application form and any required documents. You may be required to provide additional documentation to verify your identity and address.
Wait for your application to be processed. This may take several business days.
Once your application has been approved, you will receive instructions on how to fund your account and start trading.
What Can You Trade on HYCM?
As a multi-service broker with a state-of-the-art web trading platform, HYCM offers an array of popular trading assets that suit your trading strategies and style. However, there are four main asset classes that you can trade with this CFD broker. Here is the complete list:
Currencies
HYCM offers more than 50 currency pairs for trading, including major pairs like EUR/USD and GBP/USD and minor and exotic pairs. Each of these pairs comes with very low spreads and can be executed very fast with minimal trading fees.
Commodities
HYCM offers a variety of commodities for trading, including oil, gold, silver, and natural gas. In fact, as noted above, when HYCM first started offering financial services, it was more or less a commodities trader. They, therefore, have a lot of experience in this area.
Indices
HYCM offers global indices for trading, including the S&P 500, NASDAQ, and FTSE 100. An index is basically a basket of shares that are aggregated together. And while they can be a bit riskier to trade without the proper trading psychology, HYCM Ltd gives you access to all the investor education you need to get by.
Shares
HYCM offers shares of companies listed on major exchanges for trading, including those listed on the London Stock Exchange, NYSE, and NASDAQ. Whether you want to execute trade transactions for big tech or some emerging pharma companies, you can rely on HYCM to offer you stock CFDs anytime.
HYCM Customer Support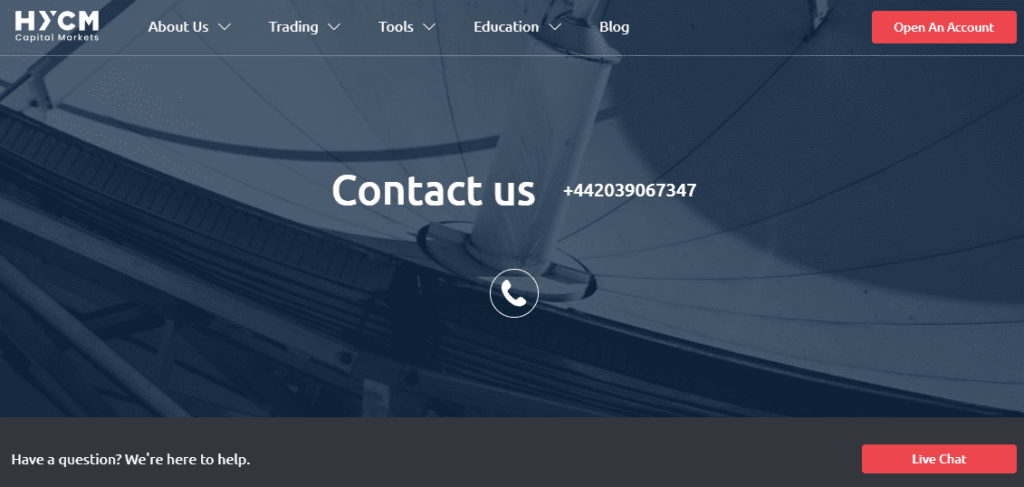 As with many forex brokers out there, HYCM has invested in developing a state-of-the-art customer support team. There are, in fact, several features here that make the support entirely worth while.
First, users get multilingual support from the forex broker. This means that you can get help with your retail investor accounts at Henyep capital markets using a language that suits you best.
You will also get several ways to reach out to the support team. Phone support is very common here, but you can also get live chat and email support. The support reps seem to be well trained, too, and fully aware of how the firm works.
Advantages and Disadvantages of HYCM Customer Support
  Advantages

  Disadvantage

The support features well-trained reps with deep knowledge of the HYCM broker and how it works.
Users get access to multilingual customer support across the board
There is a live chat feature that allows customers to get instant help from the team
You can also leverage the call-back feature and save on calling charges

The customer support is only available 24/5 and not 24/7
There have been complaints by some users that the response time is not good enough
Security for Investors
  Advantages
  Disadvantages

The firm keeps customer funds in segregated accounts for extra safety
Customer funds are not used in any way to finance in-house firm activities
All customer funds are stored in some of the top tier 1 banks in the world
HYCM is a highly regulated broker with a track record of excellence in the market

There is no information on the HYCM website about regular security audits
The firm does not also explain how customer transfers are secured her
Withdrawal Options and Fees
Regarding withdrawal, HYCM does its best to make the process as simple and seamless as possible. In fact, you will be able to get multiple withdrawal options. This includes bank transfers and credit cards. You can also use electronic payment methods like Skrill, Neteller, Perfect Money, and others.
HYCM also allows you to make deposits and withdrawals using Bitcoin if you so wish. The good news is that you don't pay any withdrawal fees here. But please keep in mind that there may be additional bank charges that have got nothing to do with HYCM.
Also, there is a minimum withdrawal requirement of $250 for bank transfers and $20 for the other options. Withdrawals are also processed as fast as possible and can take between an hour to 7 days, depending on the withdrawal method.
HYCM Vs Other Brokers
HYCM is a great choice for trading forex. However, this broker review won't be complete without comparing how the broker stacks up against other top firms in the world. So, here is how the firm compares with three brokerages in the forex niche: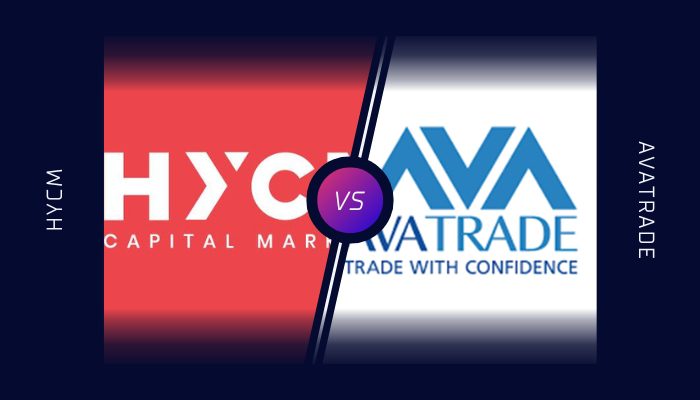 HYCM and AvaTrade are both online brokers that offer a range of financial instruments for trading, including currencies, commodities, indices, and shares. Both these firms have fundamental differences and similarities as well.
For starters, HYCM offers its own proprietary trading platform and popular third-party platforms like MetaTrader 4 and 5. The same applies to AvaTrade, which provides a range of trading platforms, including its own proprietary platform, MetaTrader 4 and 5, and a WebTrader platform.
In addition, HYCM and AvaTrade offer educational resources for traders, including webinars, eBooks, and market analysis. However, AvaTrade's offering may be more comprehensive, as it includes a range of video tutorials and an extensive FAQ section. There are also some differences in terms of regulation.
Top-tier financial authorities regulate both brokers, but there are some differences in the specific regulatory bodies. HYCM is regulated by the Financial Conduct Authority (FCA) in the UK and the Cyprus Securities and Exchange Commission (CySEC), while AvaTrade is regulated by the Central Bank of Ireland, the Financial Conduct Authority (FCA) in the UK, and the Australian Securities and Investments Commission (ASIC), among others.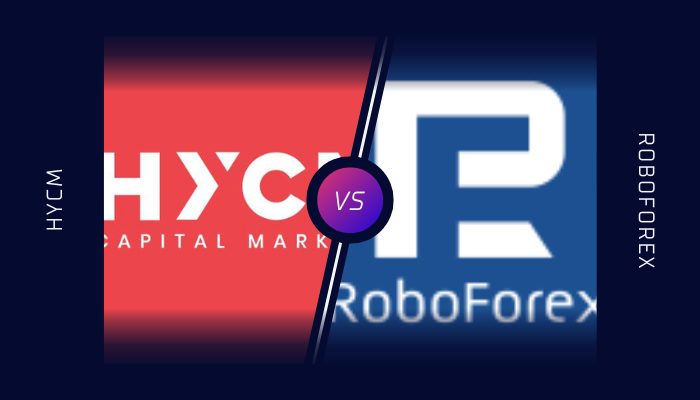 Roboforex is also a highly experienced broker and shares many similarities with HYCM in several areas. For example, both these firms have done well in offering advanced trading technology, better trade execution, and several additional trading tools.
But Roboforex offers better fees and better spreads. In fact, spreads at Roboforex start from as low as 0 pips, while at HYCM, they start at 0.1 pips. Also, Roboforex has a massive variety of trading asset classes. While HYCM has about 300 tradable assets, there are over 1000 trading instruments at roboforex, each spread across eight asset classes.
In terms of regulation, HYCM scores relatively well. The firm is regulated in top tier 1 jurisdictions, while Roboforex does not have that luxury. Nonetheless, none of these firms are regulated by the federal financial supervisory authority.
With everything said and done, both roboforex and HYCM are still decent firms that anyone can use to trade. They offer relatively better fees, fast execution, and a reasonable number of tradable assets.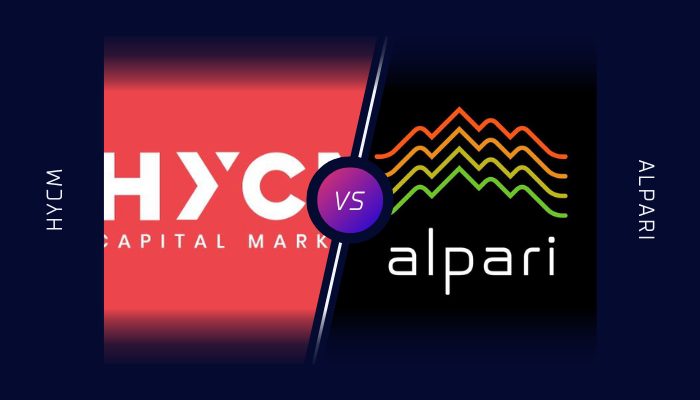 One area that both HYCM and Alpari share is experience. While HYCM has over 40 years of cumulative experience in the market, Alpari has over 20 years. This means that these are firms that have been there and done that, and the fact that they have managed to stay in forex trading for that long suggests that they must be doing something right.
However, there are also a few differences to note. For example, with over 3000 trading instruments, Alpari gives traders way more options compared to the 300 trading instruments that HYCM offers. Besides, the trading technology provided by Alpari is relatively better. The firm has invested not just in trading platforms but also in trade analysis tools. You even get access to trading signals that should be able to help you trade better.
But despite this, the fact that HYCM is regulated in the UK, Cyprus, Dubai, and the Cayman Islands is a big plus. It means that when you deposit money here using a bank transfer, you can be sure that it will be safe. There are also other compensation schemes and security features at HYCM that have been discussed in detail above.
How HYCM Compare against other Brokers
| Broker | | | | |
| --- | --- | --- | --- | --- |
| Instruments Available | 100 | 1250 | 100 | 50 |
| Platforms | MT4, MT5 | Web Trader, MT4, MT5, AvatradeGo, AvaOptions, DupliTrade, ZuluTrade, Mobile Apps, ZuluTrade, DupliTrade, MQL5 | MT4, MT5, Mac, Web Trader, cTrader, Tablet & Mobile Apps | MT4, MT5, Web Trader, Binary, Tablet & Mobile Apps |
| FX / Currencies | | | | |
| Forex pairs offered | 40 | 61 | 35 | 50 |
| Major Forex pairs | Yes | Yes | Yes | Yes |
| Minor Forex pairs | Yes | Yes | Yes | Yes |
| Exotic Forex pairs | Yes | Yes | Yes | Yes |
| Cryptocurrencies (availability subject to regulation) | Yes | No | Yes | Yes |
| Commodity CFDs | | | | |
| Commodities Offered | 10 | 17 | 21 | 3 |
| Metals | Yes | Yes | Yes | Yes |
| Energies | Yes | Yes | No | No |
| Agricultural | Yes | Yes | No | No |
| Indiced & Stock CFDs | | | | |
| Stocks Offered | 10 | 1000 | 0 | 0 |
| UK Shares | No | Yes | Yes | No |
| US Shares | Yes | Yes | Yes | No |
| German Shares | No | Yes | Yes | No |
| Japanese Shares | No | Yes | Yes | No |
Conclusion: HYCM Review
Finding just the right broker can take weeks or months. But it's one thing you cannot afford to get wrong. The quality of your brokerage will determine trading success. While HYCM is not rated at the very top, it is still a decent option. The firm offers advanced trading tech, including some of the leading trading platforms in the forex world.
There is also a lot of emphasis on trade execution and investor education. You will also get a reputable firm that has earned so much experience in the industry. Remember, HYCM has been in the forex trading business for well over 40 years. But despite these great features, there are some shortfalls.
For example, the firm does not offer nearly as many trading instruments as we expected. In addition to this, the customer support here also needs to be better, especially in dealing with customer queries. But other than that, HYCM is still a top broker and should be a good pick for forex traders out there.
HYCM Review FAQs
Is HYCM legit?
Yes, HYCM is a legit broker. The firm has been offering brokerage services for the last 40 years and is regulated in some of the leading financial jurisdictions in the world.
Is HYCM regulated?
Yes, HYCM is regulated in the UK by the FCA. It is also regulated in Caymans Island, Dubai, and Cyprus. These are some of the top jurisdictions in the world.