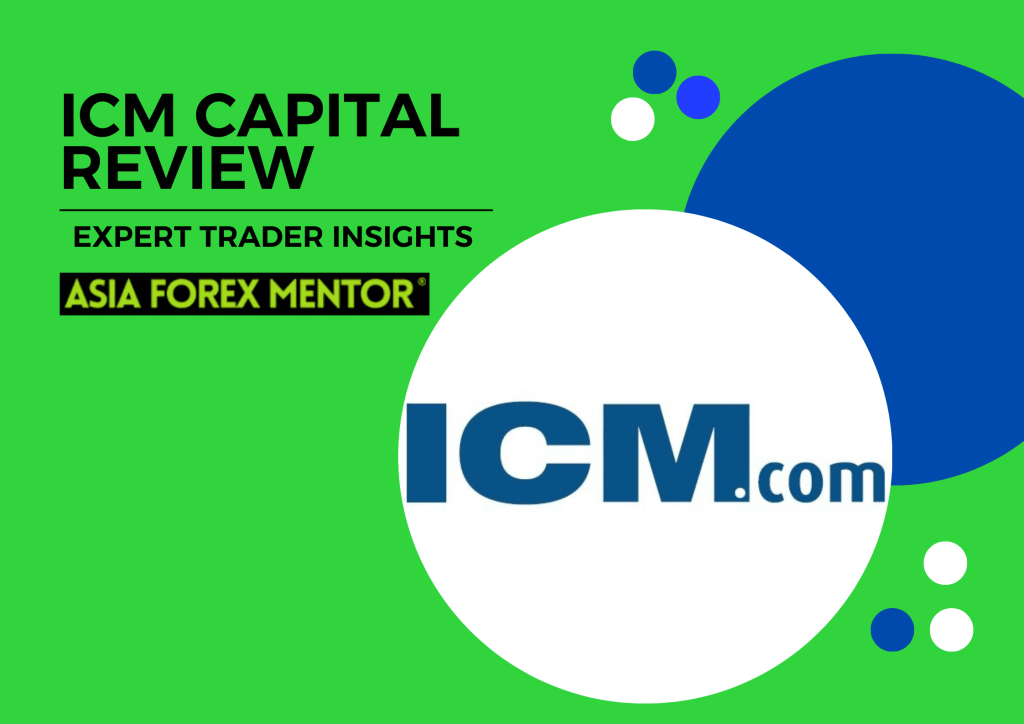 ICM Capital Review
Online Brokerage Platforms are storming the virtual space everywhere. Every other advertisement on the internet is about a broker claiming to get you the most profitable trading opportunities. Among these firms is ICM Capital which also running in the league to become the best forex broker in the financial market.
The strength of ICM Capital lies in its tight ECN spreads from 0.0 pips. Also, the broker puts emphasis on its fast market executions. However, unlike many other investment firms, ICM Capital lacks in providing trading space for both beginners as well as professional traders. In fact, it seems that the entire trading platform of ICM Capital is specifically intended for skilled and experienced traders.
This review of ICM Capital is an effort toward highlighting all the positive as well as offsetting aspects of this broker. Our team of financial experts has ensured that all the relevant information regarding this firm is scrutinized and evaluated under strict criteria to present a holistic picture, which would help traders to take an informed investment decision.
Asia Forex Mentor Evaluation Criteria
A brokerage platform is the only intermediate between a trader and its success. For this reason, selecting the right broker is of utmost importance for any trader. However, with numerous options available in the financial market, choosing the most appropriate broker is a tiresome job. A trader has to do rigorous research on each platform which is not an easy task for everyone.
Consequently, to make the evaluation process easier for the clients, Asia Forex Mentor's team of experts scrutinizes brokers exceedingly to provide a comprehensive analysis. This assessment process assimilates all elements of a brokerage firm starting from the account opening process to the withdrawals. Therefore, each broker is examined based on the following points of evaluation criteria.
Affordability
Broker Efficiency
Security
Technical Performance
User Interface
After analyzing ICM Capital through the Asia Forex Mentor evaluation criteria, it was concluded that this broker is secure and reliable. However, there are some flaws when it comes to the broker's efficiency in providing the best trading experience to both novice and professional traders. Also, the broker has high commission charges and minimum deposit which does not make it affordable for all types of traders.
What is ICM Capital?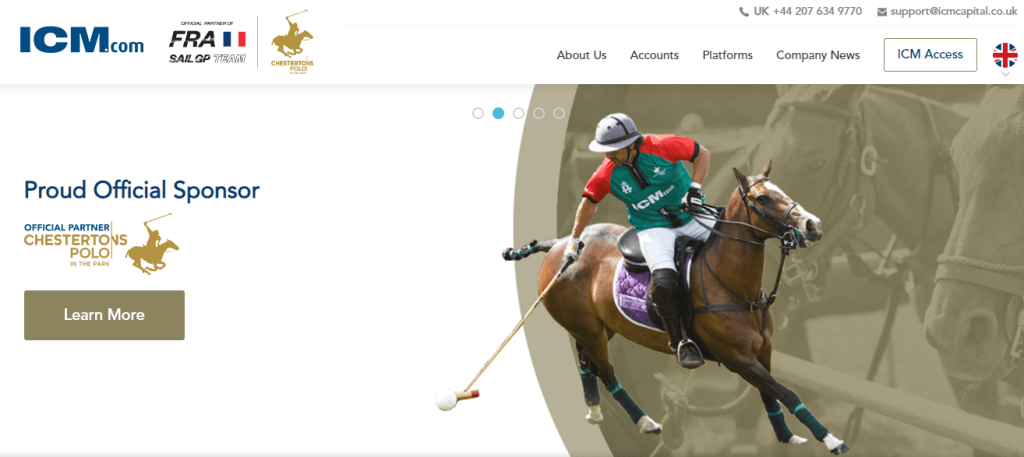 ICM Capital is a brokerage investment firm based in the U.K that is providing trading services to customers since 2009. This broker mostly supports professional traders to earn maximum profits through the ECN trading account with tight spreads f from o pips and ultra-fast market executions.
Security of funds and reliability are the two main concerns of clients whenever they are looking for an investment firm. ICM Capital is a regulated broker by the Financial Conduct Authority (FCA) which ensures the security of all trading transactions. Similarly, the broker also offers a Civil Liability Insurance Program which covers all financial loss of the firm for up to £5,000,000. Moreover, ICM Capital also claims to provide segregated accounts for clients for the protection of data and funds.
Customers seek trading platforms that serve as a one-stop shop for all their trading needs. Therefore, a broker that provides a wide range of trading instruments is often favored by traders which helps them make their portfolios diversified. ICM Capital offers a variety of products for trading including Forex, commodities, and CFDs however traders who want to trade in Cryptocurrencies or indices will have to look elsewhere. So we can say that ICM Capital has a limited range of financial assets for trading
Advantages and Disadvantages of Trading with ICM Capital
  Advantages
  Disadvantages

Regulated Broker
Tight spreads from 0 Pips
Fast market execution with requotes
Civil liability insurance program

No Cryptocurrencies
Lack of educational resources
Slow withdrawals
Benefits of Trading with ICM Capital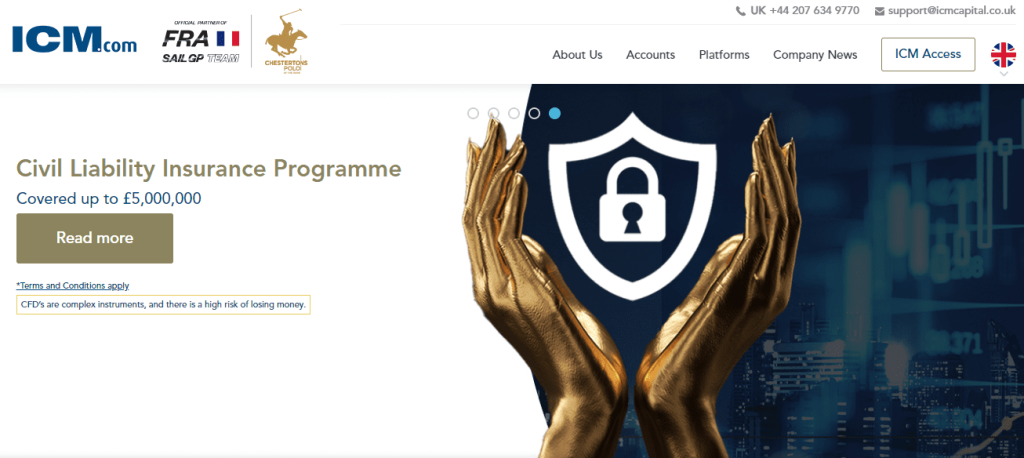 With so many options of online trading platforms available in the financial market, one has to look out for the strengths and benefits of each to work out which one would be the perfect fit for their trading needs. ICM Capital excels in providing the ideal trading conditions for ECN accounts with tight spreads from 0 pips and fast market executions. So professional traders can maximize their profits by investing with ICM Capital.
Another major concern of traders is usually about the withdrawal procedures of any brokerage platform. Here ICM Capital again steals the show by providing a wide range of withdrawal options ranging from traditional bank wire transfers to e-wallets and convenient online payment methods. These methods include VISA, Mastercard, Skrill, Neteller, and Paypal. In addition to this, the broker has also introduced an ICM Capital prepaid Mastercard for the easy transaction of funds.
As investment firms deal with customers' money, it is important for a broker to be trustworthy and reliable. This is only possible if the trading firm is authentic and legitimate which is ensured by its being regulated by top-tier financial authorities. Here again, ICM Capital proves to be genuine as it is regulated and licensed by the Financial Conduct Authority (FCA) ensuring that all fund transactions are safe and protected.
One more benefit of ICM Capital is that the firm gives access to the most advanced trading platform Meta Trader 4. Not only this, for the convenience of the traders, but the broker also gives options of trading platforms for desktop, Macbook, Android, and mobile trading. This allows traders to have a user-friendly trading experience with ease and comfort.
ICM Capital Pros and Cons

PROS
ECN accounts for skilled traders
Wide range of payment methods
Protection and Compensation of Customer's funds
Advance MetaTrader 4 platform
CONS
The commission rate is high even on zero-commission accounts
No training or support for novice traders
ICM Capital Customer Reviews
A review comprised of only expert opinion is not enough to sketch the complete image of any brokerage firm. It is the customers that give the unsolicited critique of a trading firm through their personal experience. We at the AFM evaluation give a lot of importance to customer reviews before giving the final verdict on any trading platform.
As far as the customer reviews of ICM Capital are mostly negative which has placed the firm at 57th place in the AFM broker's list. The customers mostly complained about the slow withdrawal process and some even claimed that the broker deceit customers by blocking funds. Moreover, customers made accusations of the broker being expensive with high commission rates and charges. Overall, we can say that the customer reviews of ICM Capital are dismissive which takes away the constructive side of the trading platform.
The only positive reviews that some users highlighted were the good customer service of the broker. The clients confessed that they faced issues with the broker however, it was sorted timely by the expert support staff.
ICM Capital Spreads, Fees, and Commissions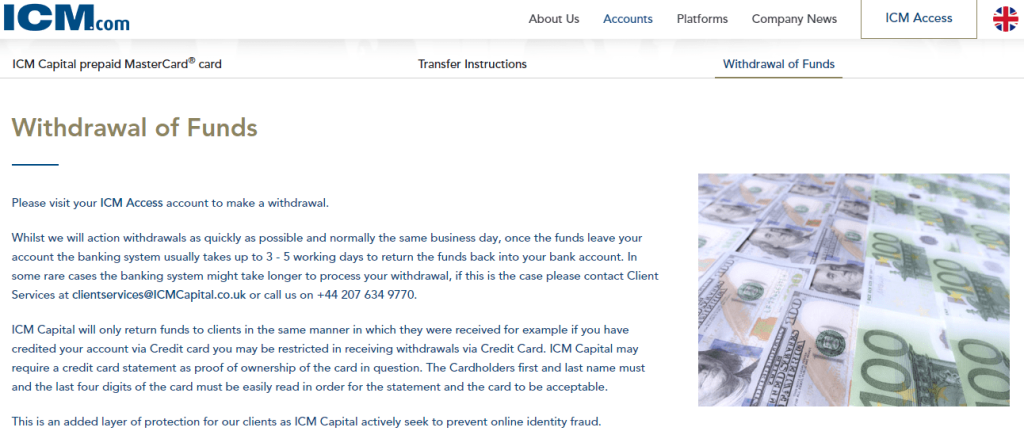 The pricing structure and other related features are not very transparent on the ICM Capital official website. The spreads available for the ICM Direct account are conditional to the trading instrument. There are no fixed spreads for this account type. For ICM zero account, the starts from zero for EURUSD pairs only. For other currency pairs the spreads are not explicitly mentioned.
As far as commissions are concerned, the broker claims zero commission on ICM direct accounts, however, some customer reviews suggested that this is not the case. Similarly, on ICM zero accounts the commission is $ 7 per for forex and commodities.
There are charges for the deposit and withdrawal of funds which varies according to the payment methods. However, there are no other additional charges such as account inactivity fees that are mentioned in the fee structure.
IMPORTANT!
For high net worth investors seeking to make investments over $10,000, we invite you to reach out to us at Vip-invest@asiaforexmentor.com. Our team of seasoned professionals is well-equipped to provide comprehensive guidance on the intricacies of the investment process, including steps ranging from initial sign-up to successful profit withdrawal.
Account Types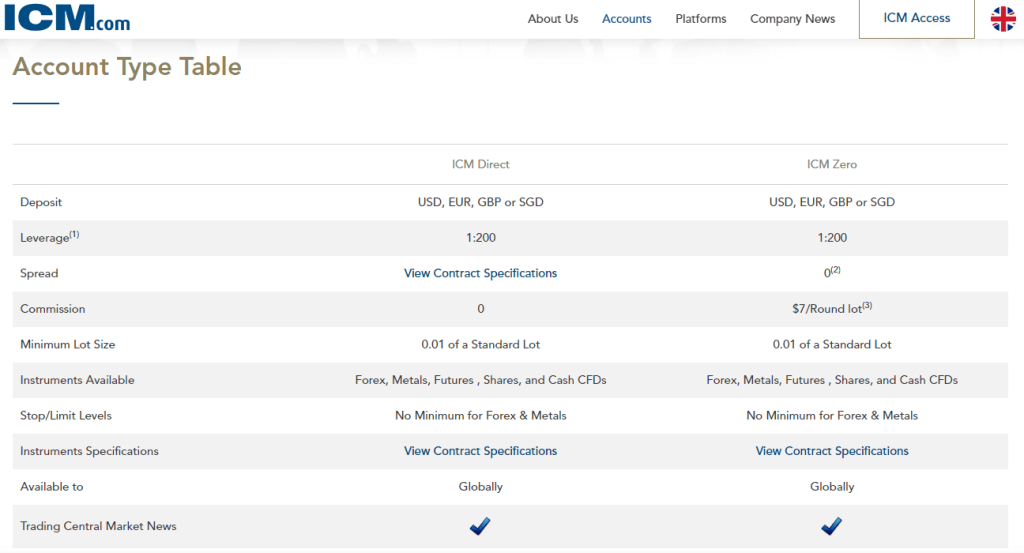 The best brokerage platforms provide multiple account type options to allow traders to choose the account which best suits their trading style. However, this is not the case with ICM Capital. The broker only has two account types to offer which limits the trading options for the customers. The two account types are:
ICM Direct Account
ICM Direct account is the standard account at the ICM Capital platform. The minimum deposit for this account type is $ 200 with a leverage of 1:200. Also the broker claims that there is zero commission on this account however, the customer reviews suggest otherwise. Moreover, the spreads are also not fixed and vary according to the trading instrument.
ICM Zero Account
The ICM Zero account has almost the same specifications as the ICM Direct account. The minimum deposit for this account is also $ 200, with a leverage of 1:200.The only difference between the two account types is that this account has tight spreads starting from 0 pips for EURUSD pairs. For other pairs and instruments, the spreads are not specifically mentioned.
Similarly, there is also a fixed commission of $ 7 per lot on forex and commodities in this account type. So we can say that this account is intended for professional traders keeping in mind their trading needs of tight spreads, MT4 trading platform, and fast market executions.
Demo Account
The option of opening a demo account on ICM Capital is not clearly indicated on the website. However, clients can open a demo account by simply registering themselves to open an account on the official website of the firm. Once registered the user will be able to see the option of a demo account which can be opened free of charge.
Opening a free demo account could be a great opportunity for newbies as well as traders w who are still not sure about the platform. Customers opening a demo account can trade with the same trading features under the s name conditions with virtual money.
Islamic Accounts
Muslim traders at ICM Capital can also open an Islamic account where there is no swap or rollover interest. This allows Muslim traders to trade according to the sharia Law. Clients who want to open an Islamic account can open a regular account and shift to an Islamic account free of charge.
How To Open Your Account?

Opening a trading account on ICM Capital and easy and free. Potential customers can simply visit the official website of the broker and click on the "Open an Account" tab on the landing page. From here the entire process is seamless and users only have to follow each step of the account registration and verification.
In the first step of the registration, the user will have to enter the basic information including their first name, last name, email, password, phone number, country, and preferred language. After entering the correct information the user can check on the terms and conditions checkbox and click on the "Finish" button.
After the registration process, the user will be able to choose from either a demo account or a live account. For a live account, the trader will have to pay the initial deposit of at least $ 200 to start trading. However, the demo account is free and ready to use as soon as the trader is registered.
As soon as the initial deposit is paid a verification link will be sent to the registered email address with all the account details. From here traders can use their email addresses and password to log in to their ICM Capital accounts from the desktop, or mobile trading platform.
What Can You Trade on ICM Capital
A trading platform is popular among traders mostly for its wide range of trading instruments. However, with trading instruments, ICM Capital has an exhaustive list. From forex trading to commodities and CFDs, traders can choose from 140 trading instruments. Yet, compared to many other brokerage platforms these options are limited for a diversified portfolio of a trader.
In forex trading, there are 60 major, minor, and exotic currency pairs available at the ICM Capital trading platform with the option of an Expert advisor. As ECN accounts with tight spreads and fast market executions are vital for forex traders, there is an opportunity for traders to earn considerable profits by trading forex on this platform.
Other than forex traders can also choose from precious metals CFDs such as gold and silver. Also, ICM Capital traders also have the option of energy products such as crude oil, Brent oil, and natural gas.
ICM Capital Customer Support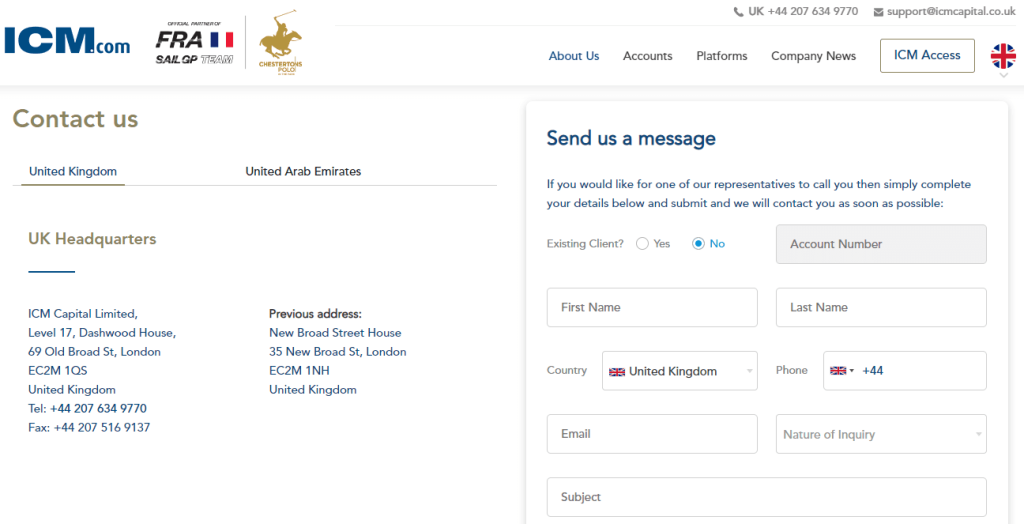 Customer support for any brokerage platform acts like a bridge between the trader and the trading firm. As brokers are not physically present to solve the issues that arise during the trading process, a compatible customer support team is crucial for traders' assistance. Therefore, it is also observed that many competent brokers are not so popular among traders due to their inefficient customer service.
The customer support of ICM Capital is also not known to be up to the mark. Even though there are multiple communication methods offered by the broker for the customers to contact customer support the slow responses and lack of technical support are criticized by the customers. Users can contact support through email, phone calls, and even a live chat box with access to support in multiple languages. Regardless of this, there are many complaints about the irresponsive customer support of ICM Capital.
Advantages and Disadvantages of ICM Capital Customer Support
  Advantages

  Disadvantage

Live Chatbox
Phone calls
Multi-lingual assistance
Social Media Updates

Slow responses
Lack of technical support
Security for Investors
  Advantages
  Disadvantages

Regulated by the UK Financial Conduct Authority
Financial Services Compensation Scheme
Segregated Bank Accounts
Civil Liability Insurance Program

Withdrawal limitations
Negative Customer Reviews
Withdrawal Options and Fees
After every successful trade, clients are looking forward to a convenient withdrawal process. Fast and easy cashouts are always praised by customers and any delay can lead to disdain for the broker. The withdrawals ICM Capital offers has both negative and positive side. The negative side is the customer reviews which are very much against the firm.
On the positive side, there are multiple payment methods available on this trading platform including, Bank transfers, credit and debit cards, e-wallets, and online payment options. The broker also waives transaction fees for one withdrawal per month. Moreover, the broker has also added an ICM Capital MasterCard for its customers for smooth withdrawals.
The fee charged for withdrawals through bank transfers is 15 GBP and for Visa and Mastercard there are no charges. For online payment through Skrill, the transaction fee is 1% (maximum $ 10), and for Neteller, there is no transaction fee, and Paypal has a 2% transaction fee. Similarly, customers holding ICM Capital MasterCard will have to pay a withdrawal transaction fee of $1.95.
ICM Capital Vs Other Brokers
With so much competition in the market, one cannot do an analysis of any broker in isolation without comparing it with other trading platforms. A comparative analysis with the best brokers in the market can give a clear idea to the trader whether or not their chosen broker is as competent as others. For this reason, we have compared the trading features of the most popular and leading brokers in the market to give a clearer picture of ICM Capital.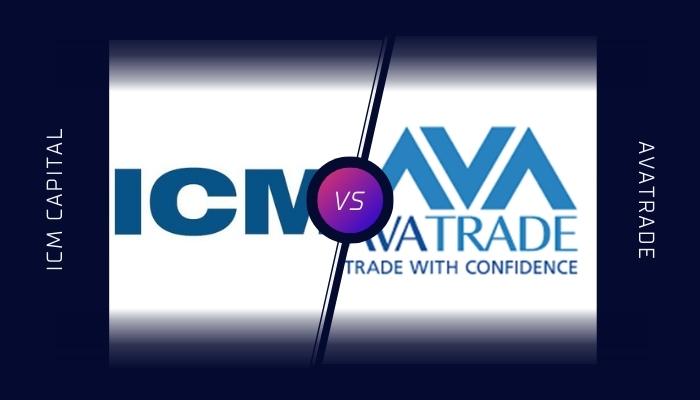 Founded in 2006, AvaTrade is a regulated trading platform that holds a leading position among brokers in the financial market. AvaTrade provides every possible trading feature, tool, and function which a trade would require to earn significant profits in each trade. Moreover, at each step, AvaTrade incorporated advanced technology into its platform to make the trading experience fast and reliable.
When comparing ICM Capital with AvaTrade we can observe many flaws in the former platform. The range of trading instruments at ICM is 140 whereas at AvaTrade traders can choose from 1200 trading instruments. Similarly, the most advanced trading platform of MT5 is unavailable on ICM Capital. Moreover, traders who want to trade cryptocurrency also have to choose AvaTrade as ICM Capital does not offer to trade in digital currency. All in all, AvaTrade has an edge over ICM Capital in many ways.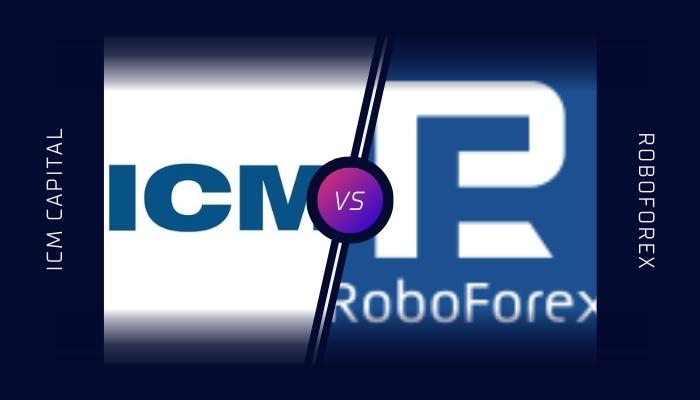 Roboforex is the most popular brokerage platform among novice forex traders. Roboforex provides the most affordable trading conditions with a low minimum deposit of $ 10 and zero commissions on the highest leverage of 1;2000. Moreover, Roboforex provides a lot of freedom to the traders to choose from multiple account types which best suit their trading styles. The advanced trading terminals of MT4, MT5, and C trader are also an advantage of trading with Roboforex.
ICM Capital, in contrast, lacks Roboforex in many ways. There are a lot of opportunities for traders at Roboforex as there are effective trading tools, educational resources, cost-effective trading features, and competent customer service which ensures profitable trading conditions for young traders. On the other hand, at ICM Capital there is hardly any assistance for new traders, and the trading features are mostly intended for professional traders.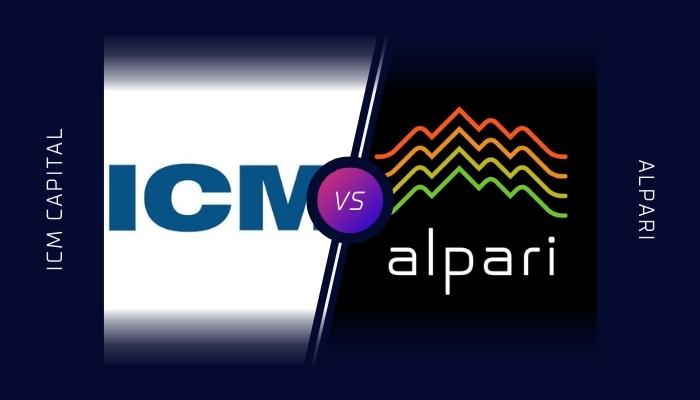 Alpari is also a regulated trading platform however, the strength of Alpari lies in its vast experience as a brokerage platform in the financial market. There are many similarities between Alpari and ICM Capital such as the option of having ECN accounts with tight spreads and fast market executions. However, Alpari has some added benefits to ICM Capital such as the option of trading in cryptocurrencies, the advantage of having a high leverage of 1:3000, and trading at the lowest minimum deposit of $ 1.
Moreover, Alpari is also successful in alluring customers by offering various bonuses including cashback, rewards, and sign-up bonuses. So in many ways, Alpari would be a better choice for traders than ICM Capital as they are getting more trading benefits at a lower trading cost.
Conclusion: ICM Capital Review
ICM Capital Limited is an online trading platform that was founded in the year 2009 in the U.K. Since the time of its existence, ICM Capital has been able to expand its pool of customers and has outreached to traders across the world. Even though ICM Capital is not among the top brokers in the market it has still managed to survive in the market for so many years and is growing its business each day.
ICM Capital is a regulated firm which makes it reliable and trustworthy for the customers. Other than its being licensed by the Financial Conduct Authority of U.K, there are also other security features that make this broker legit for customers. For one, there are segregated accounts for funds for secured transactions. Similarly, the broker works under the Financial Services Compensation Scheme FSCS which protects the assets and deposits of the clients. Additionally, traders also get safety through the civil Liability Insurance Program.
Other than this ICM Capital also offers 140 tradable instruments for customers to choose from which include forex, commodities, and CFDs. The assets available on this trading platform are not as competitive as other leading brokers however, it does allow traders to trade in basic tradable assets. The biggest advantage of trading with ICM Capital is that it provides the best forex trading conditions with tight spreads starting from 0 pips with fast market executions without requotes. This trading situation helps traders to maximize their profits which is what customers are looking for in any brokerage platform.
Contrary to this, there are also some limitations of ICM Capital due to which traders prefer other platforms over this one. This includes no option for cryptocurrency trading, a minimal option for trading account types, high commission and minimum deposit rates compared to others, a lack of trading tools and educational materials, and slow customer services. All these elements together create a bad image of the broker among customers which is also reflected in the customer reviews.
ICM Capital Review FAQs
Is ICM Capital regulated?
Yes ICM Capital is a regulated firm that is licensed by the Financial Conduct Authority of the U.K. As the broker is regulated by a financial commitment, it ensures that the transactions of funds will be safe and secured.
What is ICM Capital minimum deposit?
The minimum deposit of ICM Capital is $ 200 which is not explicitly mentioned under the account specifications. The user can find this information in the transfer fee section where the minimum deposit and maximum withdrawal amount are mentioned.
Is ICM Capital a reliable broker?
Yes in many ways ICM Capital is a reliable broker. For one, it is a regulated firm that ensures that there is no scam here. Moreover, there are segregated accounts for traders' funds which is a clear indication that the funds are kept protected and are not misused in any way by the broker.
Other than this the r reliability of the broker can also be assessed by multiple features which encourage the safety and protection of funds for the traders. For instance, civil liability insurance and financial services compensation schemes can be seen as examples of the broker's reliability.