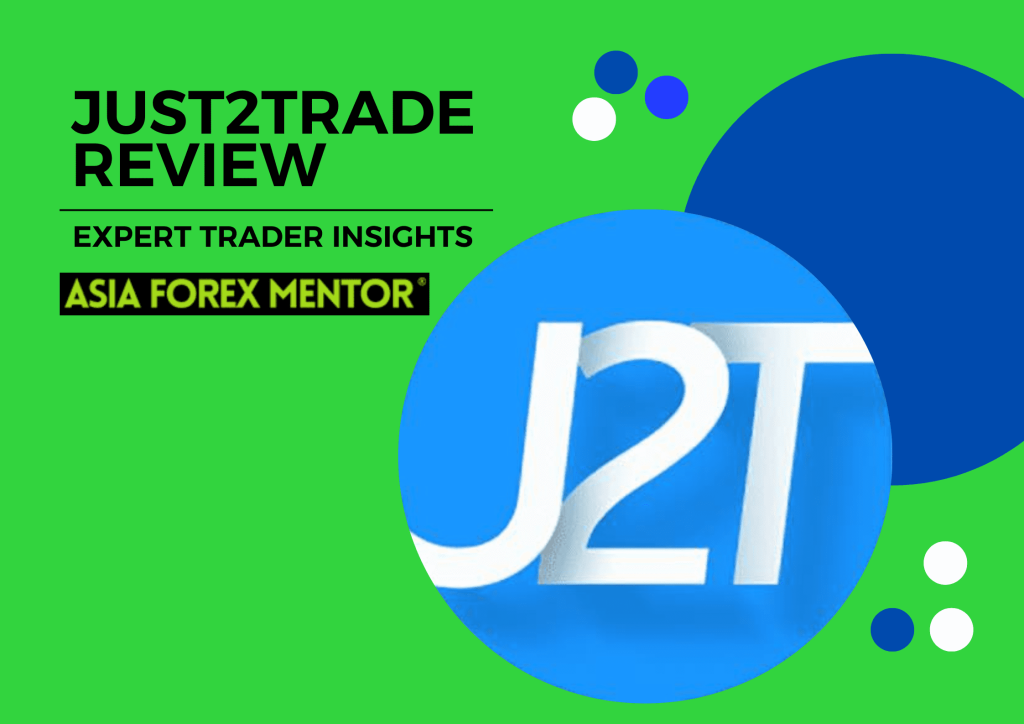 Just2Trade Review
The financial market is filled with tons of online brokerage companies that provide standard trading services to their customers. However, it is time-consuming and exhausting to find one reliable, licensed, and legitimate brokerage firm for trading investments. Among these brokers, Just2trade fits the criteria of an online broker worthy of small or large investments. Hence, for profitable trading one can rely on Just2trade brokerage services.
Just2trade offers all kinds of services for both new and experienced traders. All the requirements that usually traders and investors have from a broker are provided by this brokerage firm. From a variety of Trading instruments, high leverage, instant order execution, advanced trading platforms, and tight Spreads to a regularised brokerage service, Just2trade has it all.
Moreover, the broker also gives opportunities to traders to earn profits through STP and ECN accounts as well. Thus, overall we can say that Just2trade is a good option for any trader or investor who is looking for a reputable brokerage platform.
In this Just2trade review, we aim to provide all the relevant information regarding this brokerage firm so that it is easier for any trader or investor to choose this broker for their trading needs.
In addition to this, this review specifically Points out the advantages and disadvantages of investing with Just2trade so that potential clients can evaluate the broker before making their final investment decisions. Hence, this Just2trade review gives direct access to the readers to each and every benefit and flaw of this trading platform.
Asia Forex Mentor Evaluation Criteria
At Asia Forex Mentor (AFM) Evaluation, we try to analyze various brokerage platforms that are operating in the financial markets. Each broker and its services are researched and assessed thoroughly to come to a conclusive opinion so that the traders and investors can make up their minds regarding their investments.
The AFM evaluation has set standard criteria for the evaluation procedure of various brokerage firms. Since there are few decisive indicators of an effective and competent online broker, each broker is measured and examined through this yardstick. The set standard remains the same for the brokers so that there is no prejudice or bias while the evaluation process takes place.
Our expert researchers and analysts study each brokerage firm and its services rigorously and then come to a conclusion through an in-depth review. In addition to this, the review of our experts are not just based on their own analysis and research but the client's feedback and reviews are also taken into consideration before forming any opinion. Hence, active traders and investors can rely on the information provided here with full confidence.
For each broker's analysis, a set criterion is designed so that it is easier to do a comparative study between various brokerage services. The standard criteria are based on the following points.
Affordability: by comparing commission fees, spreads, and other additional/hidden charges.
Broker's efficiency by verifying the tools, customer services, trading instruments, and other platforms.
Security by analyzing the fund regulation, account types, background checks, leverage, and minimum deposit to open an account.
Success rate by testing and reviewing the success rate, platforms, signal services, and other resources.
User Interface by checking if the broker offers mobile trading, MetaTrader 4/5, and other advanced features.
After evaluating Just2trade based on the above-mentioned criteria it was observed that it is a firm that has passed these tests. Just2trade provides all the services that are needed by a trader or investor for successful trading in the financial markets. When it comes to reliability, legitimacy, security, profitability, and advanced technology all these elements are present in Just2trade trading services.
Hence, according to AFM evaluation criteria, any trader be it a novice or a seasoned investor can invest with Just2trade brokerage services for a profitable trading experience.
What is Just2Trade?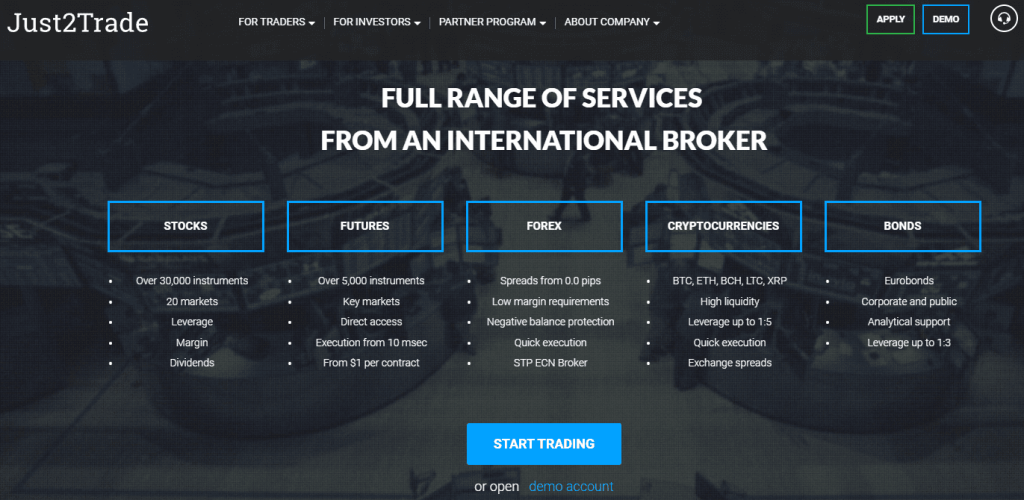 Just2trade is an online brokerage service, operated by lime financial trading Ltd, that is providing its services worldwide since 2007. Just2trade not only provides brokerage services but also many other trading services such as portfolio holdings and management, individual investment portfolios, financial analysis services, and financial advisory services. and other investment services.
As an online broker Just2trade provides direct access to customers in multiple trading assets of the financial markets. From forex, stocks, futures, bonds, metals, and Cryptocurrencies, Just2trade offers numerous trading options to its potential clients. Along with this, there are many other trading features and trading tools such as auto trading, copy trading, multiple account types, Instant order executions, high leverage, the latest trading platforms, and most importantly 24/7 customer services.
Moreover, another positive aspect of Just2trade is that it is a regulated and licensed firm with EU authorization for the security of customers' funds. A major part of any broker's legitimacy and reliability depends upon the legal framework it follows. Hence, Just2trade can be said to be a trustworthy name when it comes to legit online brokers.
Advantages and Disadvantages of Trading with Just2Trade
  Advantages
  Disadvantages

Wide range of trading instruments
Automated trading
Multiple trading accounts
Licensed and regulated broker

Slow withdrawals of funds
High minimum deposit
Benefits of Trading with Just2Trade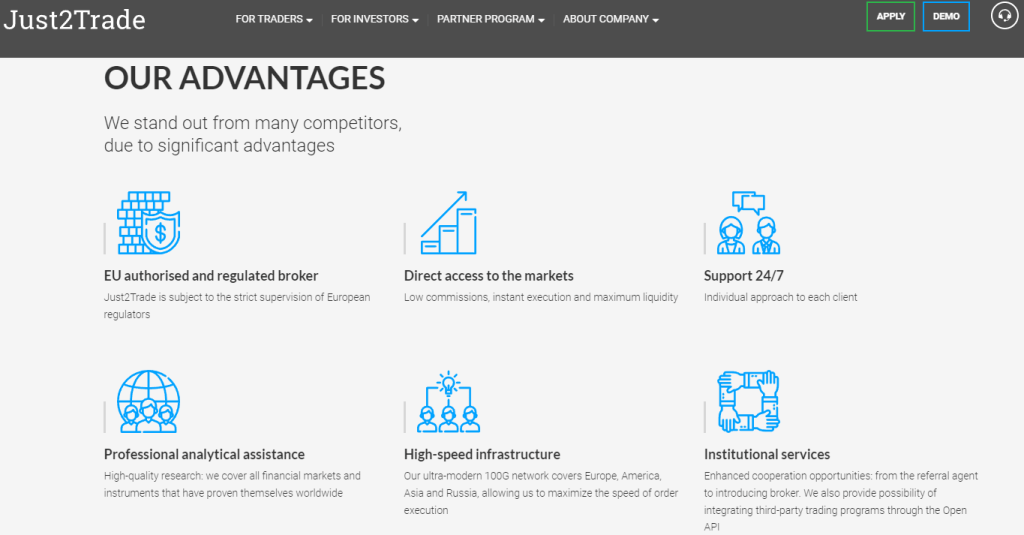 When we talk about Just2trade as an online broker there are many benefits of this firm for both day traders as well as experienced investors. The first and foremost concern of any investor is to affiliate with a broker that is genuine and legit. Therefore, Just2trader's regulation with Cyprus Securities and Exchange Commission (CySEC) and European Securities and Markets Authority (ESMA) is the biggest plus in the favor of this broker.
Along with the security of investment and funds, the second advantage of Just2trade is that it provides trading options in many asset classes. Even when major online brokers do not offer trading options in futures and bonds, Just2trade also provides services for these assets as well. Similarly, not just in terms of trading instruments, Just2trade is also diverse in the account types it offers. From new to professional traders, there is a customized account type for each kind of investor.
In addition, there are many other value-added features of this brokerage service. For instance, it provides STP and ECN account types for trading forex and cryptocurrencies with high liquidity and fast order executions. There are also many trading tools and educational resources available on the broker's website for the convenience of the traders.
All in all, each and every requirement of a trader, investor, or financial institution is available through the Just2trade online brokerage service. Hence active traders who are looking for brokers with profitable trading opportunities can surely select Just2trade as a reliable trading partner.
Just2Trade Pros and Cons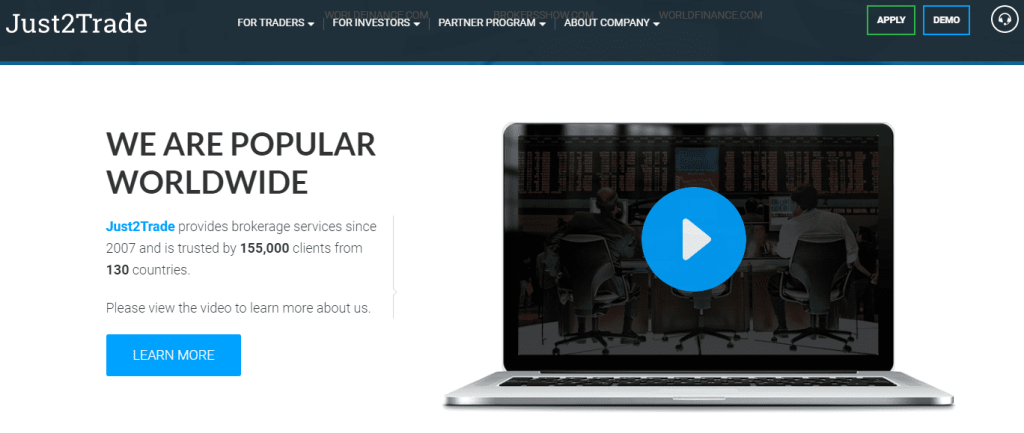 PROS
High leverage of 1:500
demo accounts available
MT4 and MT5 trading platforms
Provision of educational content
CONS
Trading in commodities is not offered
Comparatively higher commission rates
Analysis of the Main Features of Just2Trade
3.7 Investment Instruments
3.2 Variety of Instruments
Just2Trade Customer Reviews
A review of any broker is incomplete without the inclusion of customer feedback. The response of the clients is unbias and always gives a clear picture of any company. In this regard, it is very important to consider customer reviews while evaluating Just2trade as a competent brokerage service.
Generally, the customer reviews we came across were positive in nature. Overall, the clientage looked satisfied and happy with the services of this broker. Similarly, it was observed that most new and inexperienced traders appreciated this broker because it has a very simple and easy-to-use browser-based platform which is straightforward without many complicated trading features.
Along with this the customers also valued the broker for providing multiple options of assets for trading including not just forex or stock markets but mutual funds and options trading as well. With these praises, there were also some flaws that were highlighted by the customers including slow and delayed withdrawal of funds and high minimum deposit payment.
All in all, we can say that the customer reviews reveal that Just2trade is a moderate trading platform for any active trader. There are many benefits of investing with Just2trade however, the trader also needs to be patient when it comes to funds withdrawal.
Just2Trade Spreads, Fees, and Commissions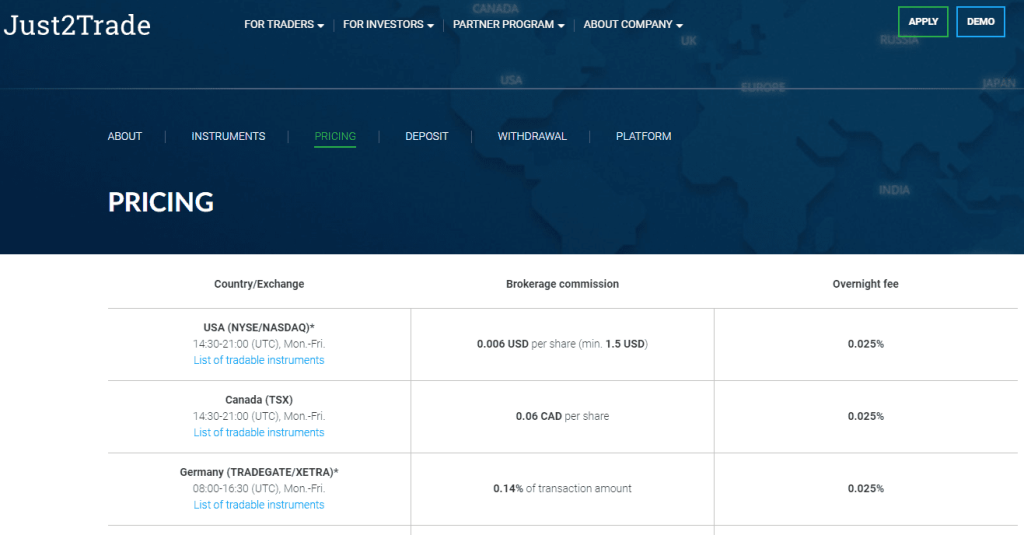 In forex trading Just2trade claims to offer tight spreads from 0 pips just like any other reputable software. As narrow spreads minimize the difference between ask and bid prices, tight spreads are one thing major and minor any type of trader appreciates in any brokerage service.
The fees and commission policies are not clearly defined on the website. However, it is mentioned in the trading commissions section that all trading transactions will have a 2.5% commission rate per trade. Comparatively, we can say that the commission charged by Just2trade is relatively low compared to other brokers.
Additional fees at some places are also charged by this broker. There is a fee of 0.50 per lot for options trading. Along with this, a fee of $ 15 is also charged for inactive accounts per quarter. However, there are no added withdrawals or any other extra charges applied by this broker.
How Just2Trade Fees Compare to other Brokers
| Broker | | | | |
| --- | --- | --- | --- | --- |
| Min Deposit | 200 | 100 | 1 | 1 |
| Withdrawal Fees | No | No | Yes | Yes |
| Inactivity Fees | No | No | No | No |
| Deposit Fees | Varies | No | No | Yes |
| CFD Commission Fees | Yes | No | No | Yes |
| | | | | |
Account Types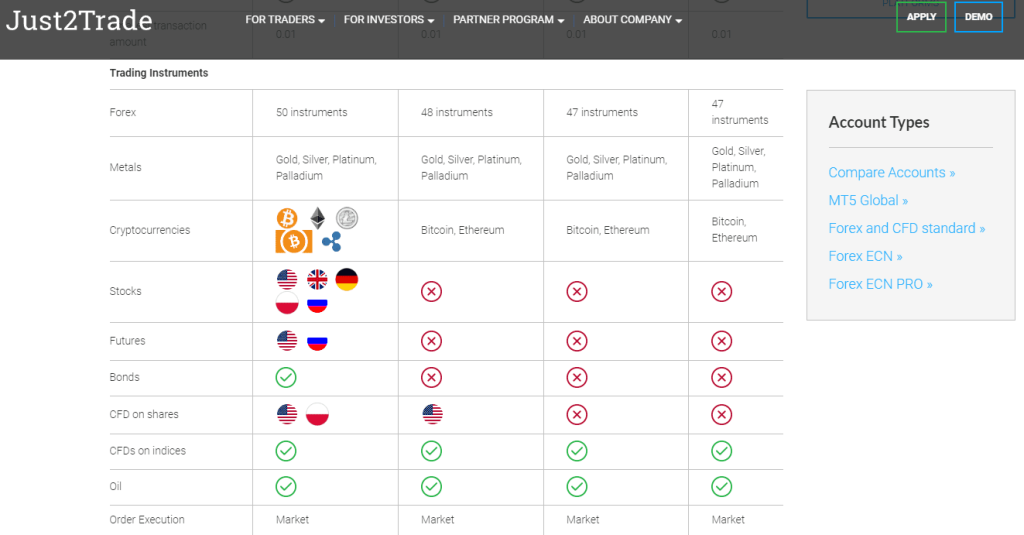 Just2trade offers a variety of account types for its customers. Each account has different specifications which are custom made keeping in mind the needs of each type of trader. The first account type is the MT5 Global account.
In this account, the users have the benefit of trading with the latest technology trading platform MT5. Moreover, through this account traders have the option of investing in different underlying assets including, futures, options, stocks, and even cryptocurrencies. The commission rate in this account type ranges from 0.006% to 2.5% depending on the trading instrument.
Another account type offered by this broker is the Forex ECN account. Through this account type, professional traders and investors can trade options and futures assets at a minimal less than a $ 3 commission rate. Moreover, traders have the opportunity to reach financial exchanges worldwide with a minimum deposit of $ 200. With more than 9000 trading instruments users can register to this account type and get access to the advanced user interface of MT5 even through their mobile phones.
With the Forex and CFD standard account, traders can have an ideal trading experience through the narrowest spreads of 0 pips, high liquidity of up to 1:500 and instant market flows. With the idea of new traders joining the Just2trader platform, the minimum deposit for this account type is the lowest of the three accounts $ 100. With zero commission rate and tight spreads of 0.5 pips, this account is best for inexperienced and low-budget traders.
How To Open Your Account?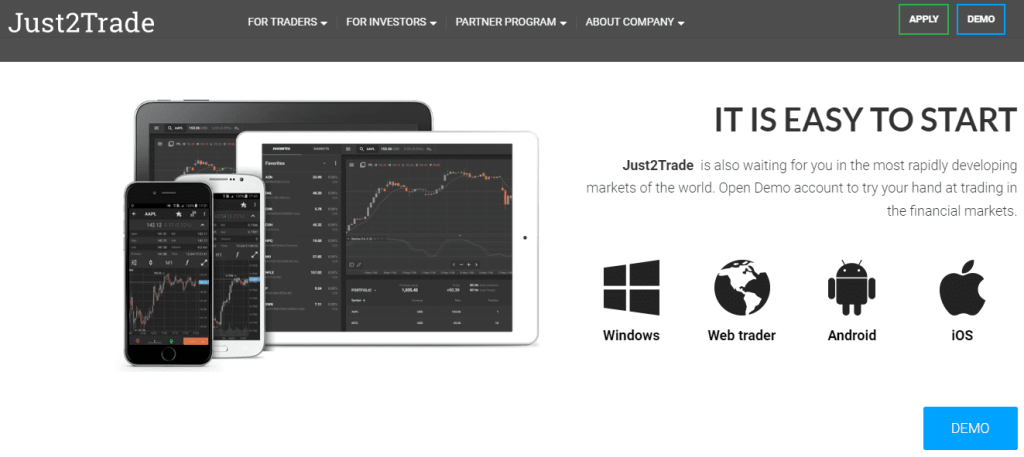 The account opening procedure is very fast and straightforward when it comes to the Just2trade brokerage platform. Anyone who wants to do live trading with this broker or wants to try the services through a demo account can do so quite conveniently.
The first step is to open the official website of the broker and on the very first page either click the tab "apply" for live trading and "demo" for opening a demo account. Selecting any one of the pages with be directed to another page which will require the user to fill out a registration form.
The registration process is also very simple. By entering the name, last name, email, and phone number of the account holder, the user can select the box which confirms that the customer is agreeing to the terms and conditions of the brokerage firm.
After the registration process, the verification step will take place where a code will be sent to the email or contact number of the user. After clicking on the verification link in the email or entering the code sent to the phone, the user's trading or demo account will be open if the information is verified.
The users can then either use the demo account and access all the trading tools and features offered by the broker on their trading platform. However, the user will not be in a position to trade with anyone before a live account is opened. A live trading account will only be active when the trader would pay the initial deposit funds.
What Can You Trade on Just2Trade
Just2trade offers a wide variety of trading instruments and asset classes for its customers. Traders can have multiple options from Forex, stocks, futures, bonds, CFD and even cryptocurrencies recently added to this list.
In forex trading, Just2trade is a great platform for traders as it offers ECN and STP accounts that are customized specifically for forex market requirements. With tight spreads, high liquidity, fast market order executions, and most importantly the advanced feature of auto trading, this broker is ideal for any trader or investor who wants to earn considerable profits in the forex market.
In futures and options trading, Just2trade provides an easy and transparent fee structure of $ 1.50 per lot per side. This fee is fixed for all kinds of contracts in any currency. Therefore, is easier and more straightforward for traders to trade without worrying about the cost of trading.
In stocks with Just2Trade traders and investors have cost-efficient rates for stock trading in all stock exchanges and central exchanges including the New York Stock Exchange and major exchanges in other countries. Moreover, traders also have the option to connect to their own API while trading stocks with this broker.
Just2Trade Customer Support

Like any other brokerage firm, Just2trade also provides helpful customer services to clients. Since this broker does not only deal with brokerage service but also provide portfolio management services and investment advice, many financial experts and technical analysts are a part of the customer service team. Hence, Just2trade users get professional consulting services as well.
The users can contact customer support service in many ways, however, physical interactions are not catered to by this firm. The clients can use phone, email, or website dropbox to get in touch with the customer support staff of the broker.
Moreover, according to the official website customer service is available 24 hours a day for the users to ask questions, seek advice or adhere to any technical support that they require. Nevertheless, many customer reviews have complained about the slow customer service of this broker.
Advantages and Disadvantages of Just2Trade Customer Support
  Advantages

  Disadvantage

24/7 availability
Multiple communication options
Multi-lingual customer service

Social media platforms are unavailable
No Live chatting option
Contacts Table
Contacts
Foundation Date

2007

Registration Address

10 Chrysanthou Mylona, MAGNUM HOUSE 3030 Limassol, Cyprus

Contacts
Email: 24_support@just2trade.online
Phone: +357 25 030 442
Security for Investors
  Advantages
  Disadvantages

Licensed by CySEC
Regulated by European Securities and Markets Authority (ESMA)
Member of The Investor Compensation Funds
Owned by Lime financial international investment company
Withdrawal Options and Fees
There are many benefits of trading with Just2trade brokerage company, however, one flaw is in the withdrawal procedure of this company. Even though the broker claims to provide instant withdrawal options to the customers, the customer's reviews state otherwise. Many clients have disapproved of the withdrawal services of this broker.
However, a positive point regarding the withdrawal functions of Just2trade is that there are no additional withdrawal charges which many other brokers apply. Only third-party charges are applicable when clients withdraw funds from this platform. Moreover, even in cryptocurrencies, the withdrawal amount is less than many other brokers which is 2% of the total withdrawal funds.
There are multiple withdrawal options available on the Just2trade platform. From standard options of credit and debit cards to traditional bank transfers all these withdrawal methods are provided by this broker. Along with this, major e-wallets and online transaction applications such as Skrill Neteller, and CashU are also available on the Just2trade trading platform.
All the credit and debit cards as well as the electronic transfer of payments are instant and do not have any additional fees. However, bank transfers take an average time of 3-5 working days depending on the bank procedures. Additionally, bank transfer fees that are applied by the local banks are also charged through this method.
Just2Trade Vs Other Brokers
In another attempt to understand the services and standards of Just2trade as a brokerage service, it is important to do a comparative analysis of Just2trade with other trading platforms. This procedure will help readers to have a better insight into the pros and cons of Just2trade as a brokerage company in the financial markets.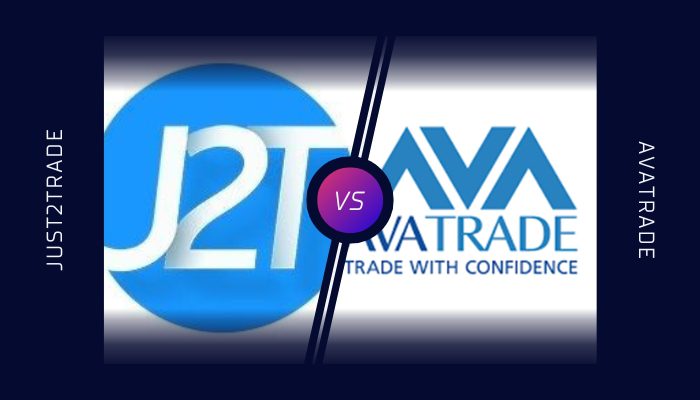 Avatrade has been offering its brokerage services in the market since 2006. Regulated by the different financial commissions in more than 6 countries, Avatrade has become a reliable name for traders and investors worldwide. With a wide range of instruments at the customer's disposal, Avatrade provides numerous features on its platform.
There are many differences between Avatrade and Just2trade as a brokerage firm. Firstly, Avatrade offers many advanced trading features for its customers such as segregated account types, hedging, and scalping, Islamic account, trading competitions, bonuses and offers, and most importantly free educational resources. These added benefits give Avatrade an edge over Just2trade.
Regardless of these differences in many ways, both these films are also very similar. For instance, Avatrade and Just2trade provide the same trading instruments and minimum deposit requirements, and high liquidity to their customers. To sum up we can say that both are trustworthy brokers however there is an edge to Avatrade over Just2trade brokerage services.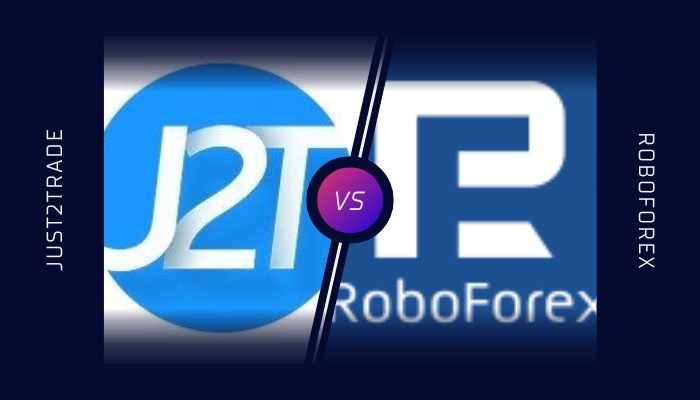 Roboforex is getting more popular day by day for providing effective trading services to their customers. Moreover, is known for its regulation under many commissions and its membership in the Financial commission. Along with this, Roboforex is also good for having a lot of options for trading instruments and high leverage for traders and investors.
When we compare Just2trade with Roboforex, there are many differences. First is that Roboforex has a high commission rate of $ 20 whereas Just2trade works on a very low commission of $ 3, this makes the latter more cost-effective than the former broker. However, the minimum deposit requirement of Roboforex is quite less which is $ 10 whereas for Just2trade it is $100 making it an affordable broker.
With a high commission rate Roboforex also provides very high leverage of up to 1:2000. Similarly, Roboforex gives more withdrawal payment options than Just2trade making it more convenient for traders. Moreover, with swaps, trading bonuses, and interest rates on funds, Roboforex seems to be a more profitable broker than Just2trade.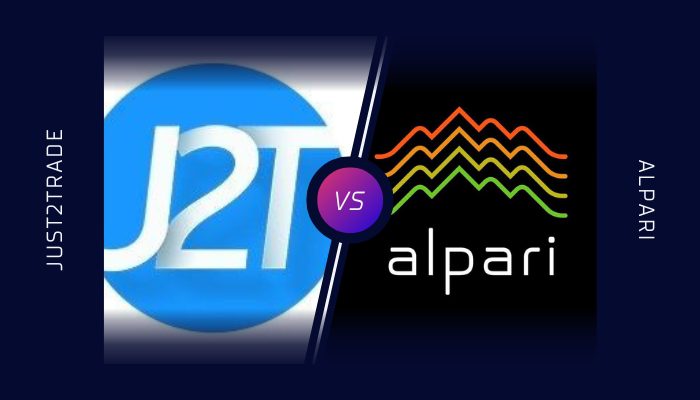 Comparatively, Alpari is the most experienced brokerage company in the financial markets that was established in the year 1998. Even though Alpari has maintained its name in the market as a reliable and regulated broker, it has not managed to reach the league of the best brokers in the industry.
Alpari requires a minimum deposit of $ 1 which is the lowest in the market. Similarly, Alpari also provides the benefit of high leverage for traders of 1:1000, with tight spreads and a long list of payment methods. On the other hand, Just2trade has a comparatively high minimum deposit requirement of $ 100. Moreover, the leverage offered by Just2trade is 1:500 making it less enticing for the customers.
The commission of Alpari is higher at $ 16 than Just2trade which is only $ 3. This difference in the commission rate is a distinctive feature for the customers as they are always looking for brokers who are cost-effective and affordable so that the trading cost can be lowered to gain maximum profits. This makes Just2trade a better option for many traders compared to Alpari.
Conclusion: Just2Trade Review
Just2trade is a brokerage platform that is providing its services since the year 2007. With offerings of a wide range of trading instruments, Just2trade has made its name as a reputable broker in the financial market.
Just2trade provides all the basic services, features, and tools for a trader, investor, and financial institution to have a successful trading experience. These services include a large variety of assets for trading, multiple account types, low commission, high liquidity, advanced trading platforms like MT4 and MT5, auto trading, copy trading, and most importantly, tight spreads and fast order executions.
Even though Just2trade is an offshore broker regulated with only a single-tier commission yet it has been successful in maintaining its position as a reliable broker. Similarly, with many other brokerage platforms giving tough competition in the industry, Just2trade has withheld its customers and is growing as a company.
For these reasons, we can say that Just2trade is a good choice for any day trader, long-term investor, or even large-scale financial institution giving the best of services in the brokerage industry.
Just2Trade Review FAQs
Is Just2Trade a trusted broker?
Yes, Just2trade is a reliable and trusted broker that is serving over a million customers worldwide. Moreover, this broker is also bound to follow the legal framework of the European Securities and Markets Authority (ESMA) and is also a member of the Investor Compensation Funds. This enables the broker to provide the best possible services to traders and investors worldwide.
Is Just2Trade regulated?
Yes, Just2trade is a regulated broker holding a trading license from the Cyprus Securities and Exchange Commission (CySEC).
What is the minimum deposit for Just2Trade?
The minimum deposit requirement for Just2trade for forex standard accounts and MT5 Global accounts is $ 100 and for Forex ECN account is $ 200.