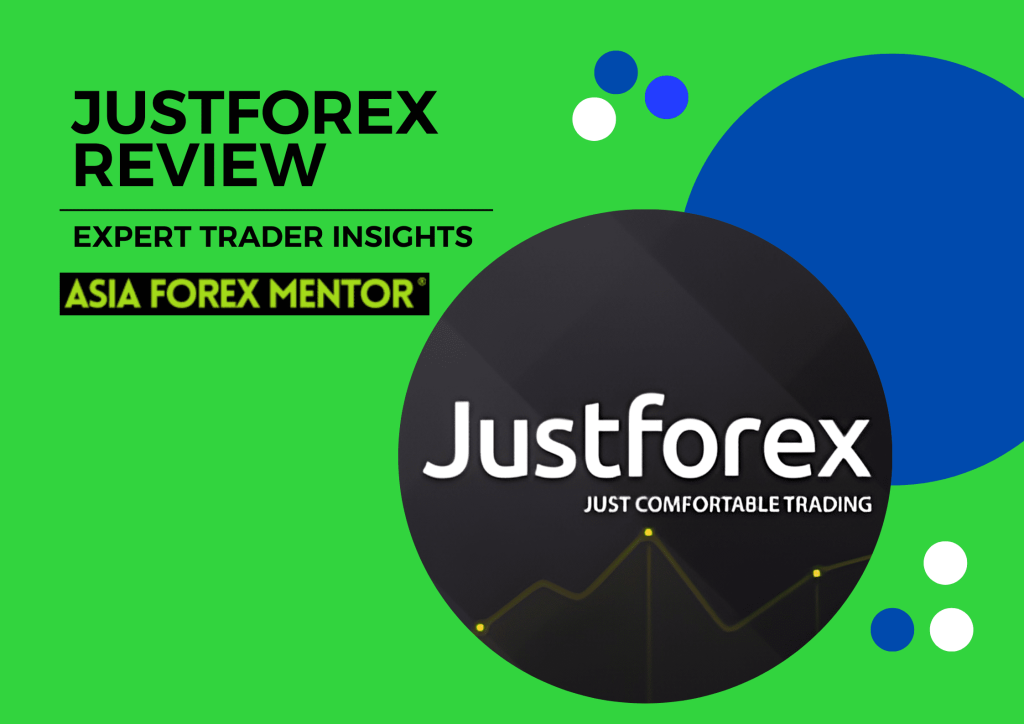 JustForex Review
JustForex has gained quite popularity in the past years as a reliable retail Forex broker because of its exceptional features. It enables traders to access the foreign exchange market and provides great trading conditions on accounts such as Mini, Cent, Standard, ECN Zero, and Crypto. Moreover, it is not limited to these but also provides a wide variety of trading instruments, tight speeds, a leverage of up to 1:3000, an economic calendar, and market news.
With its exceptional online Forex trading services and access to numerous classic financial instruments, JustForex stands in a great position as a Forex broker and has become the choice of many traders. This retail Forex broker is unique as it enables the traders or the companies to conduct brokerage and dealing activities. In addition, it majorly focuses on classic assets. This is why it enables clients to access trading currency pairs, futures, indices, and cryptocurrency.
JustForex traders also love that this broker is available to clients from all over the world, except for a few countries where online Forex trading is not yet regulated. The company has a license from the International Financial Services Commission (IFSC) of Belize. JustForex has been in the industry for almost a decade and has established a name for itself.
JustForex is a broker for currencies and cryptocurrencies. It can be used with various trading strategies from a personal computer or smartphone. In this detailed review of JustForex, we will go through all the key features that make this broker stand out from the rest. We will also discuss its pros and cons, analysis of its main features, and more.
Asia Forex Mentor Evaluation Criteria
At Asia Forex Mentor, our evaluation criteria are based on research from market experts who examine all aspects of the broker. We take into account all the features that are important to traders, from beginner to experienced. We do not rely on surface-level information but go in-depth to understand what the broker is offering. The main criteria on which we base our evaluation are as follows:
Cost Efficiency by comparing commission fees, spreads, and other additional/hidden charges.
Competency by verifying the features, tools,  platforms, customer service, and other intangibles.
Reliability by evaluating the leverage, margin requirements, minimum deposit, account types, and other background checks.
Profitability by testing the trading conditions, ease-of-use, and other conditions important for a good trading experience.
After a complete analysis of JustForex, it is a reliable and competent broker that offers good value for your money. Different opinions from experienced traders have been taken into account to provide an unbiased and comprehensive evaluation of this broker. They confirm that JustForex is user-friendly and offers good trading conditions.
Moreover, JustForex is also considered a cost-effective broker as it does not charge any deposit or withdrawal fees. It also offers low spreads starting from 0 pips. Similarly, it offers multiple instruments for trading.
What is JustForex?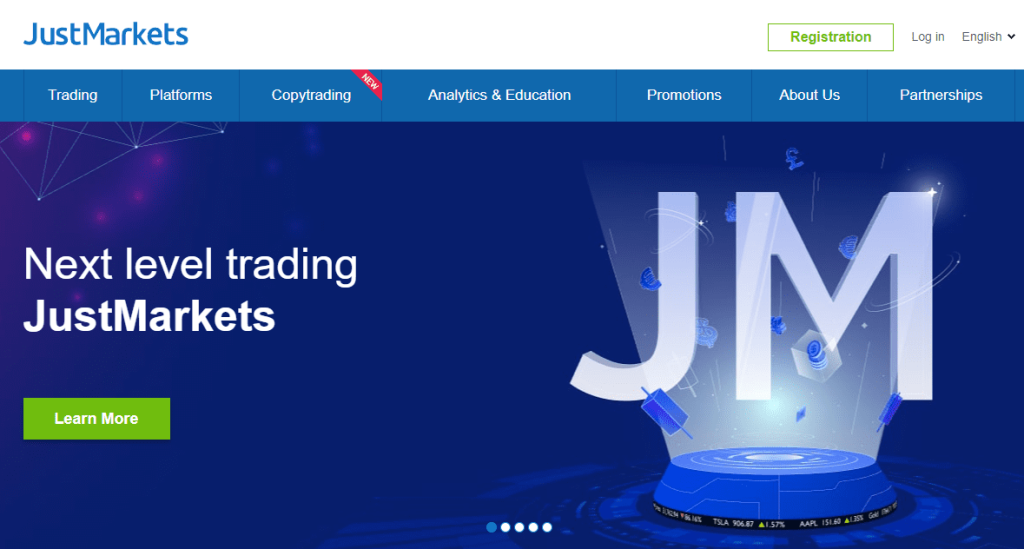 Established in 2012, JustForex has been a well-established and successful broker since. This retail company is operated out of St. Vincent and the Grenadines. JustForex is a retail FX and CFD broker that offers great trading opportunities to all the traders on the MT4 and MT5 trading platforms. It provides services to all retail brokers from emerging markets. Also, this brokerage company is considered a broker with low spreads and flexibility in leverage because it provides its clients with the required trading tools and strategies.
JustForex is quite popular among traders because they are quite generous with their promotions. This has been the company's favorite way of attracting new traders, and as claimed by the company itself, a new account is set up by their clients every eight seconds. This stat explains the popularity and efficiency of this brokerage company. It is an online brokerage that supports all trading styles, whether scalping or hedging.
The brokerage company ensures to try its best to follow the latest software development standards. The main goal of this company is to focus on exceptionally high order execution speed along with the continuous improvement of all its services according to modern trading techniques and traders' requirements.
Advantages of Trading with JustForex
There are many reasons to trade with JustForex. Here are some of the main advantages that make this broker one of the best in the industry and although it has some wonderful features, JustForex has a few drawbacks that traders should consider before using this online broker.
  Advantages
  Disadvantages

The company is regulated and has great liquidity
All strategies are allowed while trading with JustForex
You get multilingual support 24/7
It provides negative balance protection

There might be some withdrawal delays
There is a relatively small selection of trading instruments
Somewhat few passive income options
It has withdrawal fees
Benefits of Trading with JustForex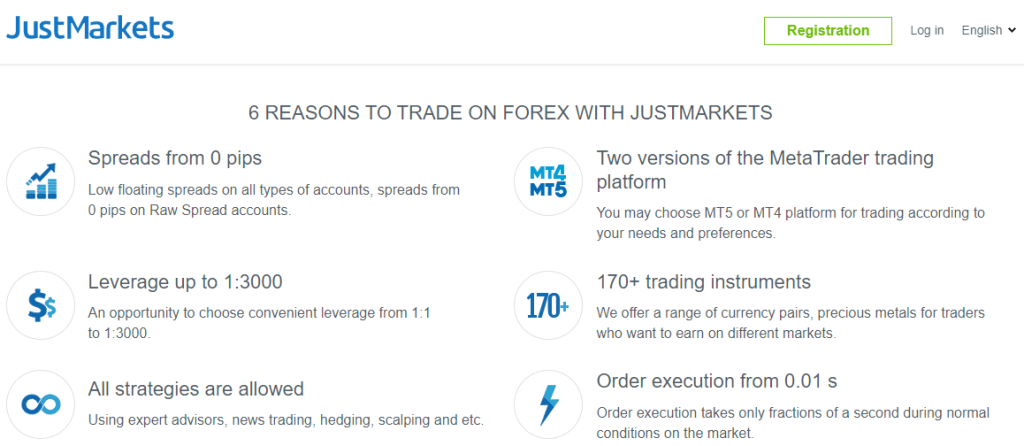 If you are wondering about the benefits of JustForex before you invest in it or start trading through it, here are various benefits offered by JustForex. First, it provides all its clients with top trading conditions with a wide range of trading instruments that ensure an elevated trading experience for all traders. These trading instruments enable you to trade CFDs with the lowest spread on the market. This is one of the major benefits this brokerage company offers and is beneficial enough to attract many traders.
The lowest spread on the market is one of many benefits that JustForex offers. This brokerage company provides the liquidity of the biggest banks. In JustMarkets, liquidity is provided by the eighteen biggest world banks. This is why the clients of this company get the best conditions from the biggest banks in the world, which benefits them in trading, making it the most profitable trading for them.
Not only that, but it also offers international security standards, which makes it quite reliable. All the company's internal procedures are based on the PCI DSS security standard. This security system comprises a complex approach to the information security of clients' data.
Another greatly considered benefit of JustForex is that you can do funding and withdrawal without any fees. This enables you to quickly fund and withdraw without worrying about any commission or other inconvenience. With JustForex, you also get 24/7 customer support. So, in case you have any confusion or complaints at any hour of the day or night, you can contact the professionals at the company, and they will help you through it.
JustForex Pros and Cons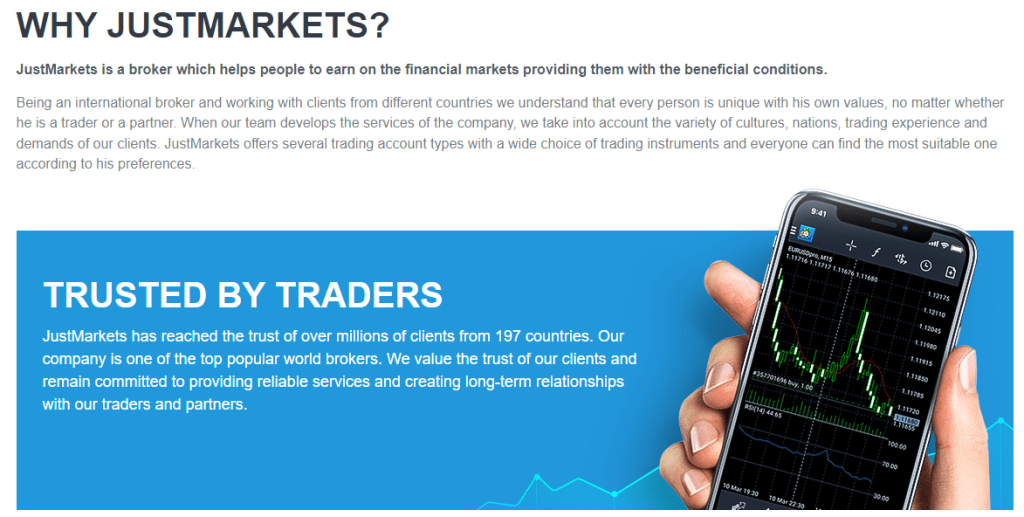 Here are some pros and cons of JustForex:
Pros
It supports easy-to-use trading platforms, including desktop, web, and smartphone.
It spreads from 0.0 pips and quick execution speeds.
The brokerage company has a good selection of forex currency pairs to trade.
The company charges its clients only $1 to open an account.
Cons
It charges withdrawal fees.
It might need top-tier regulation.
Analysis of the Main Features of the Forex Broker
4.0 Investment Instruments
4.0 Variety of Instruments
JustForex Customer Reviews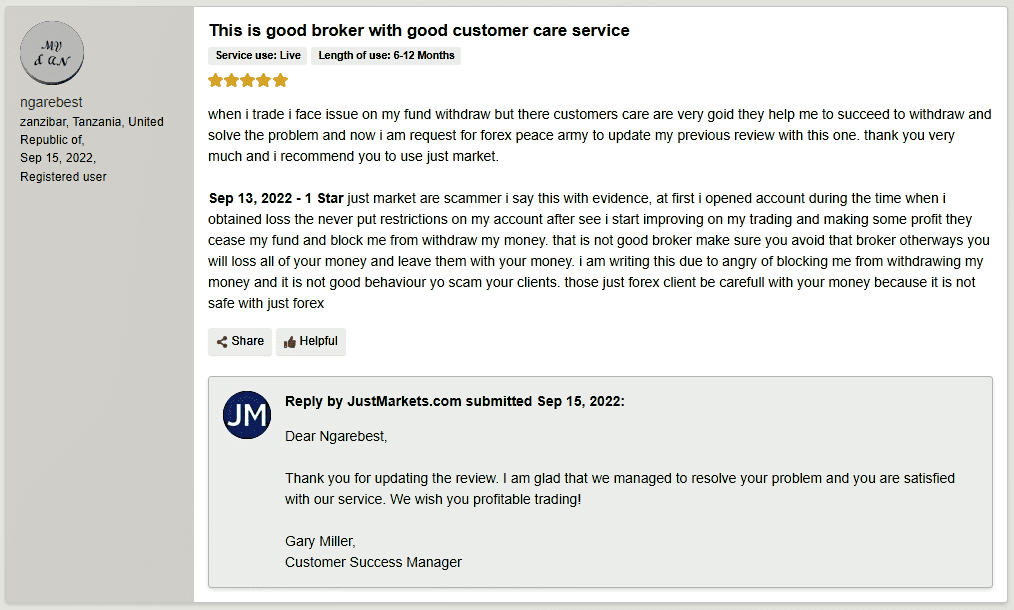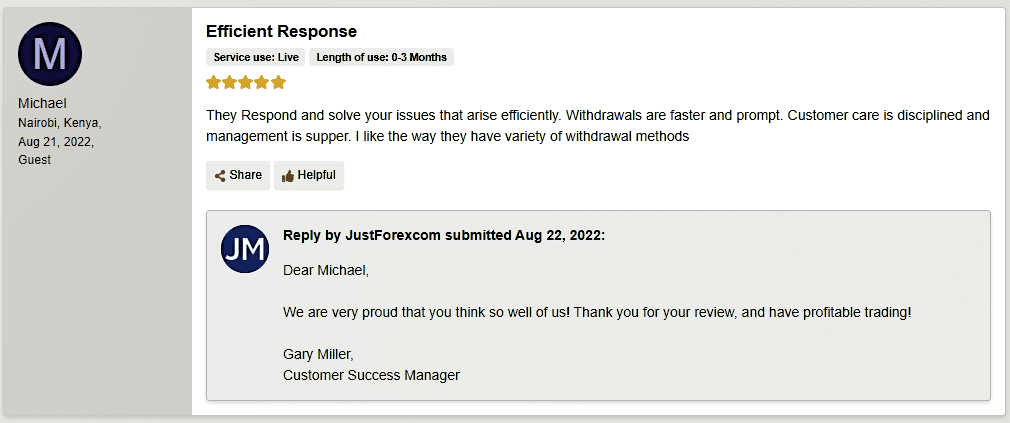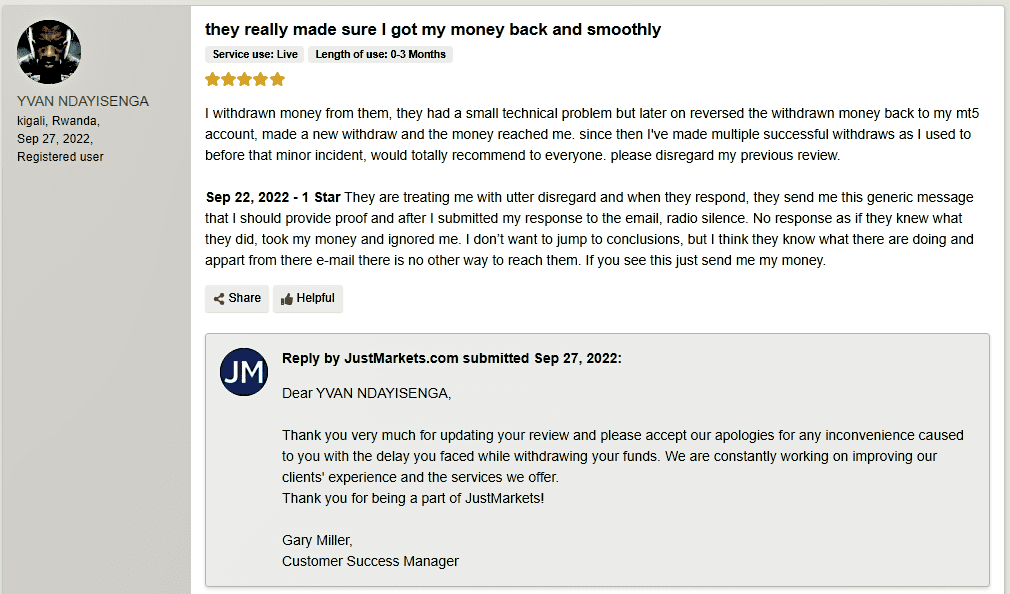 All the clients of JustForex are happy with the exceptional trading platform and their 24/7 attentive customer service. No matter the problem the client faces, the customer service experts immediately take notice of it and solve it, and the customers love this about the brokerage company. Their customer service is very vigilant and corporate. Not only that, but JustForex also provides efficient and fast withdrawals. It also has a variety of withdrawal methods and solves all the technical problems as soon as possible.
JustForex Spreads, Fees, and Commissions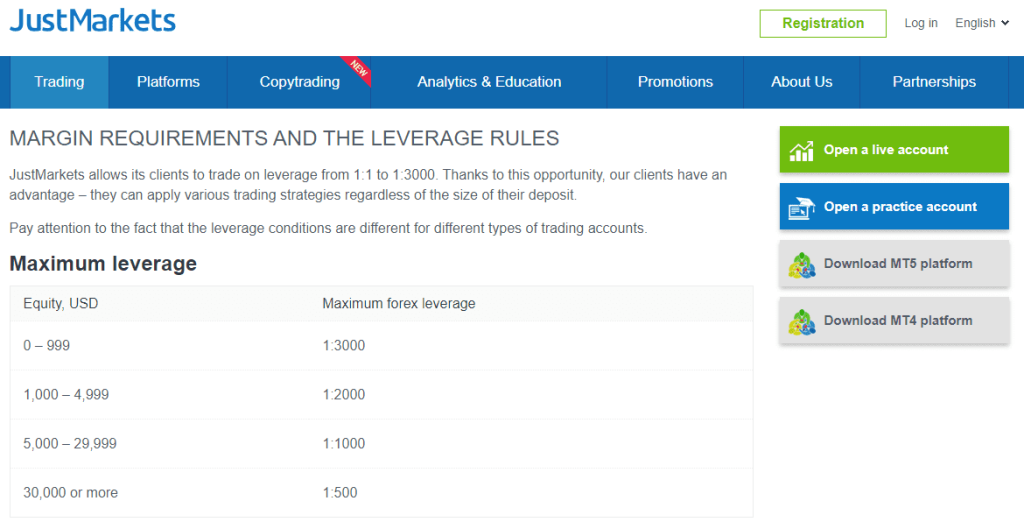 JustForex is quite a reputable international brokerage company that offers great advantages and is quite popular. Its fees and commissions are quite convenient, which is why it is the number one choice of many traders from all over the world. Let's have a look into its spreads, fees, and commissions in detail:
JustForex Spreads
With a JustMarkets account, you can trade EUR/USD starting at 0.0 pips.
The amount of money a trader will make on their investment when they pick JustMarkets to execute their trades changes based on different conditions. These factors include the type of account, market conditions during trading, and what financial instrument is being traded. The average possible profits are:
MT4 and MT5 Standard Account – variable spreads from 0.3 pips
MT4 and MT5 Raw Spread Account – variable spreads from 0.0 pips
MT4 and MT5 Pro Account – variable spreads from 0.1 pips
MT4 Standard Cent Account – variable spreads from 0.3 pips
JustForex Fees
Overnight fees, also known as swap fees or rollovers, are either credited or debited based on the financial instrument being possessed and whether the trader has a long or short position. The length of time that the trader holds their position also factors into the determination of these overnight fees.
Typical fees that traders can expect to swap include:
EUR/USD – a long swap of -4.44 points and a short swap of -0.09 points
USD/JPY – a long swap of -1.36 points and a short swap of -2.97 points
BTC/USD – a long swap -of 20% points and a short swap of -20% points
Brent Crude Oil – a long swap of -6% points and a short swap of -3% points
Indices – a long swap of -1% points and a short swap of -1.50% points
Shares – a long swap of -6% points and a short swap of -3% points
XAG/USD – a long swap of -0.2 points and a short swap of -0.09 points
JustForex provides Muslim traders with an Islamic account on all account types, so they don't have to earn/pay interest which is against Sharia law.
JustForex Minimum Deposit Fee
JustForex minimum deposit fee depends on the type of account you choose for trading.
For the Standard account, the minimum deposit is $1. This account is best for those new to forex trading or has a limited budget for trading.
The Raw Spread and Pro accounts require a minimum deposit of $100 for the MT5 trading account. These account types offer lower spreads and are recommended for experienced traders who can take advantage of the market conditions.
For MT4 Trading accounts, Standard cent and Standard accounts require only $1 to open an account. On the other hand, Pro and Raw Spread accounts require a minimum deposit of $100. Moreover, the acceptable account currencies are USD, EUR, JPY, MYR, IDR, THB, VND, KWD, CNY, and ZAR.
JustForex Minimum Withdraw Fee
With JustForex, you can use different methods to withdraw your funds, like Skrill, Mastercard, Visa, Neteller, Perfect Money, and several other cryptocurrencies (BTC, BUSD, Dogecoin, Litecoin) and more.
However, remember that the minimum withdrawal amount for different accounts is different. For example, the minimum withdrawal amount for visa and MasterCard is $5; for Skrill and Neteller, it's $1. Moreover, the minimum withdrawal limit for different types of cryptocurrencies also varies.
Withdrawal requests are processed as quickly as one to two hours during business hours but up to one banking day. After that, you can only withdraw the corresponding cryptocurrency to crypto wallets.
JustForex Commissions
JustForex doesn't charge commissions on its Standard, Standard cent, and Pro Accounts. However, this broker charges three units of the base currency per lot/side on the Raw Spread account.
JustForex Inactivity Fee
JustForex has no hidden fees or commissions- what you see is what you get. For example, there's an inactivity fee of only $5 per month if no trading activity has happened for 150 days. Deposit and withdrawal processing fees depend on your payment processor, but they're all very affordable.
Below is a brief overview of the four types of trading accounts that JustForex offers, each with different benefits and features:
How JustForex Fees Compare to other Brokers
| Broker | | | | |
| --- | --- | --- | --- | --- |
| Min Deposit | 100 | 100 | 1 | 1 |
| Withdrawal Fees | $50 | No | Yes | Yes |
| Inactivity Fees | No | No | No | No |
| Deposit Fees | No | No | No | Yes |
| CFD Commission Fees | No | No | No | No |
| | | | | |
Account Types
Standard
The deposit required for this account is $1, and the minimum lot size you can trade is 0.01. You can make deposits in USD, GBP, IDR, EUR, CNY, VND, MYR, THB, KWD, or ZAR. Maximum leverage on this account is 1:3000 with a minimum spread of 0.1 pips. In addition, there are 65 currency pairs available to trade, which gives you more options than the cent account.
Standard Cent
This account deals in cents and is replenished through a minimum deposit of $1 with a 0.3 pip spread. In addition, this account allows you to open positions at 0.01 cent lots, with up to 1:1000 leverage being available. Available trading instruments include 37 currency pairs, four metals, and nine indices.
Pro
The minimum deposit for this account type is only USD 100, which offers 65 currency pairs, four metals, 11 indices, and two energies to trade with. This account also gives access to 25 futures markets.
Raw Spread
The only difference with the Pro account is that you are charged a 3-unit fixed commission per lot/side instead of having a spread.
Demo Account
Traders can open a free demo account with JustForex to experience trading without any risks. Demo trading is a simulation of real trading on Forex that you can use for practicing and training. The demo account doesn't require investments and is easy to set up. Then you can work on your skills in using MetaTrader and test out different strategies.
How do you Open an Account on JustForex?
Creating a JustForex account is as easy and convenient as other forex brokers. Follow these below-mentioned steps to create the account:
Click on the 'Register' button.
Next, add the country of residence, email, and password.
Next, click on register to create your account.
Select the My Accounts' tab at the bottom of the 'Account Operations' drop-down menu.
Now click on 'open new account' on the demo page in the 'trading account' section.
Choose your desired account and click on the 'demo' account if you want to practice on a demo account before trading with real money.
Finally, click on the 'open account' button.
Next, you will receive an email with your login information and other important details. You can also find this information in the 'My Accounts' section.
Now you can start trading with a demo account or live account by logging in to your JustForex account.
Moreover, you need to submit the identification documents to validate your account. Before you can start trading with JustForex, we need to perform some identity checks for the safety of our 10,000 users. Then, all you need to do is provide us with basic documentation proving your identity.
What Can You Trade on JustForex
JustForex gives you access to a wide range of markets, including Forex, Metals, Energies, Indices, Futures, and Cryptocurrencies. In addition, you can trade over 170+ financial instruments with flexible leverage up to 1:3000.
Currency Pairs
JustForex offers 65 major, minor and exotic currency pairs with low spreads starting from 0.0 pips and leverages up to 1:3000. You can trade with a Standard or Raw Spread account.
Metals
Traders can choose from Gold, Silver, Palladium, and Platinum with leverage up to 1:3000 on a Standard or Raw Spread account.
Futures
JustForex gives access to 25 Futures markets, and traders can trade on commodities such as Gold, Silver, Crude Oil, Natural Gas, and more.
Indices
JustForex traders can also trade on stocks and indices, including S&P 500, NASDAQ 100, Dow Jones 30, and more, with leverage up to 1:3000.
JustForex Customer Support
According to traders' reviews, JustForex customer service is available in 10 languages, including English, Chinese, Russian, Indonesian, Portuguese, Spanish, and more. In addition, the customer support team can be reached through telephone, email, and live chat. Customer service is available 24/5.
Our team contacted JustForex's customer service through their live chat, and we were both impressed and pleased with how quickly we received a response. This is wonderful because you can get quick responses to all your queries without having to wait around if you face any issues.
The best thing about JustForex is that you can easily access their support department via several different channels. You can even contact them on WhatsApp, Telegram, Viber, Line, and iMessage.
JustForex Customer Support Advantages and Disadvantages
JustForex has caught the eye of many users for its excellent customer support. Let's take a look at some of the advantages and disadvantages people have mentioned in their reviews:
  Advantages

  Disadvantage

Unlike many other brokers, JustForex offers 24/7 support instead of 24/5.
Multilingual support
Multiple options for customer support
Traders can ask for a callback

The response can take time in some cases
JustForex Contacts Table
Contacts
Foundation Date

2012

Registration Address

Suite 305, Griffith Corporate Centre, P.O. Box 1510, Beachmont, Kingstown, Saint Vincent and the Grenadines

Regulation
IFSC
Contacts
Email: support@justforex.com
Phone:

+371 67 881045
Security for Investors
JustForex adheres to the financial rules and regulations set by the regulatory authority, so you can be sure that your funds are secure. Furthermore, clients' and brokers' rights and obligations are clarified to avoid confusion.
  Advantages
  Disadvantages

The clients' money is held separately from the company funds: the broker cannot use it
JustForex offers negative balance protection for investors
A trustable relationship is regulated between the trader and the broker
Presence of the regulator to file claims whenever required
Top-notch customer support and risk disclosure

The regulator needs to consider the claims of traders with small volumes
JustForex Vs. Other Brokers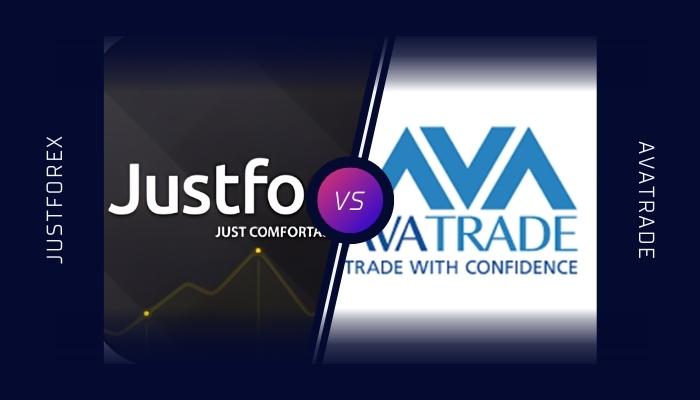 Avatrade has been a well-regulated broker in the industry for over 16 years. It offers a variety of account types, trading platforms, and instruments for trading. As a result, it is a good choice for both beginner and experienced traders.
JustForex is a newer broker but has quickly gained popularity due to its low spreads, fast order execution, and multiple account types. It is a good choice for those looking for a straightforward trading experience.
After comprehensive research and testing both brokers, we have concluded that both brokers offer great trading conditions. However, if we had to choose one, we would go with AvaTrade. However, JustForex is recommended for those looking for a simple trading experience.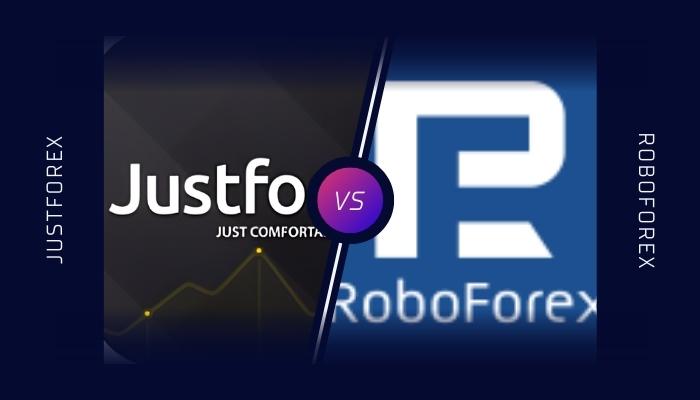 Roboforex has been a well-regulated broker in the industry for over ten years. It offers ECN accounts with low spreads and fast order execution. It is a good choice for those looking for a reliable and experienced broker.
However, Roboforex offers no educational material or personal manager. Moreover, these Newer traders should note that Roboforex offers a maximum leverage of 1:500. Still, JustForex offers a maximum leverage of 1:3000, making JustForex the better choice for those who are looking for a broker with high leverage.
In conclusion, Roboforex is a good choice for those looking for an experienced and reliable broker. However, JustForex is the better choice for those looking for high leverage.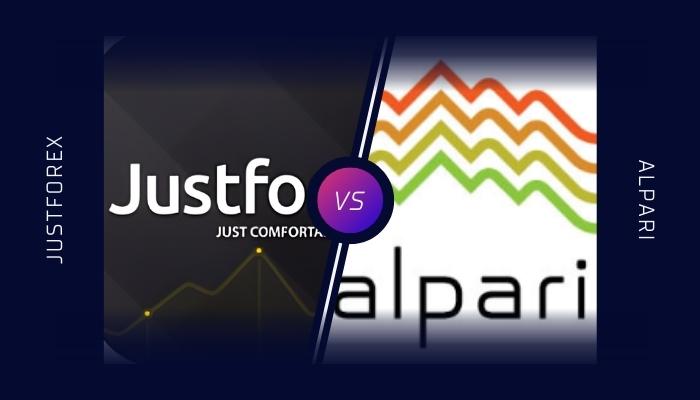 Alpari has been a trusted name in the forex industry for over two decades. They offer tight fixed and variable spreads, fast order execution, and three account types to choose from Standard, ECN, and Pro. They are a good choice for those looking for a reliable and experienced broker.
JustForex is a newer broker but has quickly gained popularity due to its low spreads, fast order execution, and multiple account types. Not only it offers tight fixed and variable spreads, but it also offers maximum leverage of 1:3000. JustForex is a good choice for those who are looking for high leverage and a simple trading experience.
Alpari has a bit edge over JustForex regarding the range of instruments offered and account types. However, JustForex is the clear winner when it comes to spreads and leverage. Therefore, it all depends on what you are looking for in a broker. If you want a reliable and experienced broker with a wide range of instruments, then Alpari is the right choice. However, if you are looking for low spreads and high leverage, then JustForex is the better choice.
How JustForex Trading Options Compare against other Brokers
| Broker | | | | |
| --- | --- | --- | --- | --- |
| Instruments Available | 154 | 1250 | 100 | 50 |
| Platforms | MT4, MT5, Desktop Platform, Web Platform, Tablet & Mobile apps | Web Trader, MT4, MT5, AvatradeGo, AvaOptions, DupliTrade, ZuluTrade, Mobile Apps, ZuluTrade, DupliTrade, MQL5 | MT4, MT5, Mac, Web Trader, cTrader, Tablet & Mobile Apps | MT4, MT5, Web Trader, Binary, Tablet & Mobile Apps |
| FX / Currencies | | | | |
| Forex pairs offered | Yes | 61 | 35 | 57 |
| Major Forex pairs | Yes | Yes | Yes | Yes |
| Minor Forex pairs | No | Yes | Yes | Yes |
| Exotic Forex pairs | No | Yes | Yes | Yes |
| Cryptocurrencies (availability subject to regulation) | No | No | Yes | Yes |
| Commodity CFDs | | | | |
| Commodities Offered | 0 | 17 | 21 | 3 |
| Metals | Yes | Yes | Yes | Yes |
| Energies | Yes | Yes | No | No |
| Agricultural | Yes | Yes | No | No |
| Indiced & Stock CFDs | | | | |
| Stocks Offered | Yes | 1000 | 0 | 0 |
| UK Shares | Yes | Yes | Yes | No |
| US Shares | No | Yes | Yes | No |
| German Shares | No | Yes | Yes | No |
| Japanese Shares | No | Yes | Yes | No |
Conclusion: JustForex Review
According to our expert review, JustForex is a great forex broker offering its clients many features and services. This broker offers a wide selection of trading account types that fit novice and experienced traders. All accounts come with competitive spreads, and traders can pick between commission-free or low-commission plans. Moreover, the demo and Islamic swap accounts are a great addition that not all brokers provide.
JustForex is a true ECN broker, as it offers deep liquidity and the ability to trade with high leverage. This makes it a great choice for traders looking to take their trading to the next level. Traders can also use the MetaTrader Signals tab to get Forex VPS services and social trading.
In addition, the broker's bonuses, promotions, and the chance to trade on the worldwide recognized MetaTrader 4 and MetaTrader 5 trading platforms for PC and mobile trading apps may benefit novice and experienced traders. JustForex also offers the best educational and research tools that are quite helpful for traders. In addition, the broker's customer support is available 24/7 and can be reached through different channels.
Although many financial authorities don't regulate JustForex, the broker is still a reliable and safe choice for forex trading. To provide accurate research with hundreds of trade ideas daily, JustForex continues beating out other companies. By running large bonus programs, JustForex tries to compensate for its regulatory gap. The various services it provides to traders makes it a decent option for all types of trader.
JustForex Review FAQs
Is JustForex safe and legit?
JustForex is a company that was founded in Belize in 2008. It has provided trade services on the financial markets for over 14 years. JustForex offers its clients Forex trading, Spread Betting trading, Social trading, and Share Dealing trading. All funds deposited to JustForex are held in segregated bank accounts for security purposes. And last but not least, JustForex is regulated by Financial Services Authority (FSA), which means it is a legit company.
Is JustForex reliable?
Over time, the broker has been a reliable partner with excellent trading conditions. The company offers a free demo account and four types of real trading accounts (Standard Cent, Standard, Pro, and Raw Spread) with different benefits. Traders can also take advantage of the wide range of tradable instruments, competitive spreads, and leverage of up to 1:3000.
How long does it take to withdraw JustForex?
JustForex withdrawal is processed within 1-3 business days. However, depending on your chosen method and your bank's processing time, it may take longer.