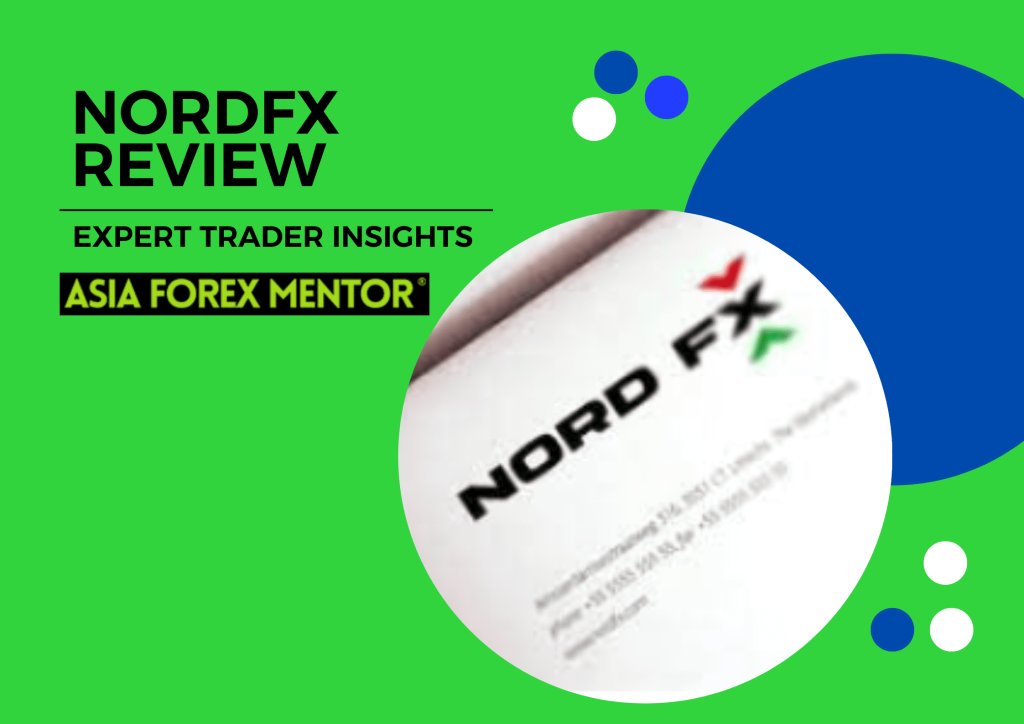 NordFX Review
With its services in more than 190 countries, NordFX is a highly reputable broker founded in 2009. They famously won the 'best Asian broker' award in 2018 and the 'best worldwide broker' in 2019. The company has amassed over 2 million users, who praise their trading platform's efficiency and regard its tight spreads.
The high leverage rates and zero-pip spreads are other customer favorites; nonetheless, some investors have shown concern regarding their customer service, which is only available five days a week.
NordFX has demonstrated remarkable potential as a good fit for all trading needs, but with changing market dynamics, should they be your long-term choice?
We shall take you through a detailed understanding of NordFX, its credibility, advantages, disadvantages, and whether you should sign up for them. We understand the significance of selecting the right broker, and this article will explain our perception of NordFX and various things you should know before signing up.
Asia Forex Mentor Evaluation Criteria
At Asia Forex Mentor, our goal is to assist traders in finding the right start to their trading journey, which won't be possible with a reliable broker. We have employed rigorous rating criteria to analyze and rate the broker.
Our process involves testing their trading platforms, experiencing their customer services, trading multiple asset classes, and employing numerous techniques to reach a reliable evaluation of their efficacy. Our four main aspects include the following:
Reliability: the foremost aspect of a broker is their legitimacy- with rising scams, the broker's legitimacy is highly dependent on their licenses and customer reviews.

Cost efficiency: we analyze different fees charged to a trader during their patronage with a broker, including commissions, spreads, swap fees, inactivity fees, etc.

Competency: the next measure is to evaluate the efficacy of their trading platforms, technical indicators, tools, and execution rates, which play a fundamental part in a trader's profits.

Profitability: our last evaluation involves analyzing the net profitability of an average trader based on their account type and deposit.
The in-depth analysis helps us reach reliable reports about brokers that users can trust; after our extensive research on NordFX, we can reliably suggest it as a profitable broker for multiple trading types.
They have a commendable range of trading platforms and educational resources; their asset offerings are competitive to the markets, and their trading price is relatively lower than other industry leaders.
Although some investor reports have shown some concerns regarding the legitimacy of their referral and bonus scheme, the reviews weren't widespread, and we can disregard them as coincidental.
NordFX can be a trusted hub for our investment, where you can safely invest your savings in diverse asset classes and make profits. We share a detailed overview of the broker in the following sections.
What is NordFX?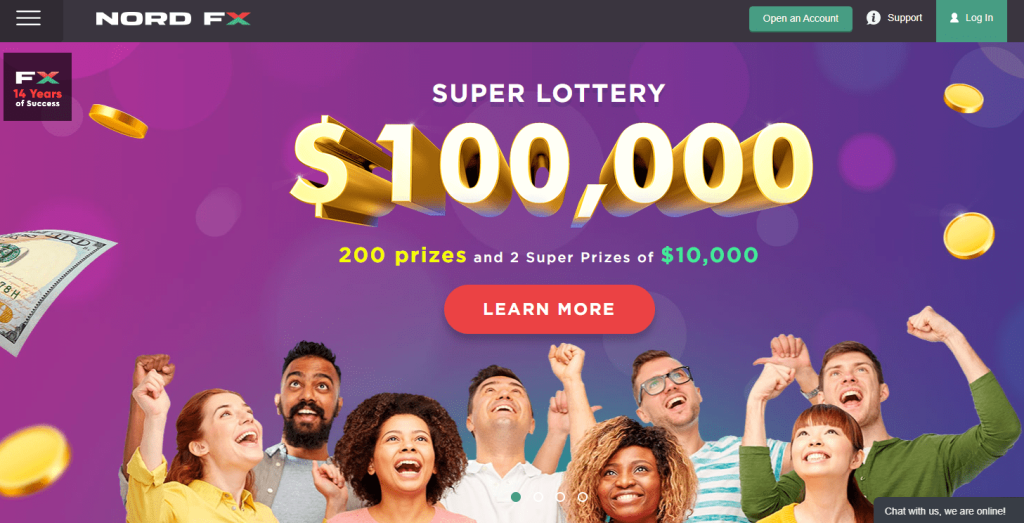 NordFX was launched in 2009 and began its services from China; however, its recent expansion has expanded its services to over 190 countries, catering to more than a million users and conducting ten million dollars worth of trade weekly. The company is owned by NFX capital INC and is registered in Vanuatu- an island in Oceania.
Their trading services are regulated under the VFSC jurisdiction with the license number 15008. Although a legal license adds to their legitimacy, we can't rate their reliability the same as other brokers licensed by the FCA or SEC US.
As regular broker observers, we have recently seen a decline in the reliability of the VFSC, FSA Mauritius, and SVG licenses- many offshore brokers use their easy guidelines to get the respective licenses and, later, fraud customers in scams.
Nonetheless, NordFX has been around for a long time, and positive customer reviews suggest their services are reliable. The company doesn't offer its services in the US, Canada, EU, or North Korea, among other countries.
NordFX caught our attention after its global market revolution. The company allowed traders not only to trade currency pairs in forex but they could also trade crypto, indices, and metals from one market to another international market at a better price.
The feature opened the gate to a new list of possibilities for earning regular profits and maximizing their returns.
Advantages and Disadvantages of Trading with NordFX?
NordFX has most of its audience coming from Asia and Africa; most of its prior customers have shown trust in the company and have raised their rating to 4.2 stars on Trustpilot. Here are some of their advantages and disadvantages:
  Advantages
  Disadvantages

New Trading Dynamics in the Forex Market
Tight spreads with zero-pip on specific pairs
Modern trading platforms with easy mobile trading
CopyFX feature for new traders
Wide range of payment supports
Reliable parent company with licenses

A VFSC license can't be reliably trusted.
Technical support isn't available for a limited time.
Slow withdrawal process
Benefits of Trading with NordFX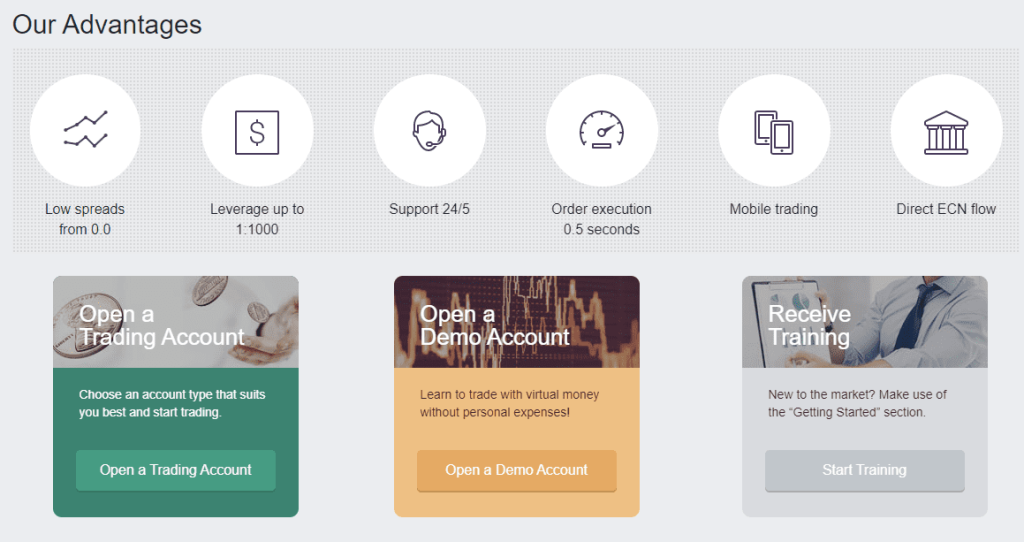 After years of experience in the Forex world, we can reliably say that traders can't maximize their returns simply by relying on the same currency pairs every time. The mean reversion leads to breakeven in the long run, and traders don't necessarily benefit until they expand their range of asset classes or trade in global markets.
NordFX has taken forex trading to a different level; they let you trade in 33 different currency pairs, metals, indices, and commodities. The accessibility to global markets enables you to enter a favorable trade in one market and sell the asset in another at a better price.
The second critical factor is a broker's spread and commissions; we can reliably say that regardless of the broker's advanced features, a trader's profitability depends solely on the broker's spread and commissions.
If your broker doesn't have attractive spreads, you will find it difficult to enter profitable trading positions. Fortunately, NordFX has tight spreads and zero commission for its trading accounts; the spreads go as low as 0 pip, and for significant currency pairs, they typically lie between 0.2-2 pip per lot.
NordFX also has received excellent reviews for its trading platforms and their efficiency; the company offers the latest Metatrader 4, web trader, and mobile applications with various technical tools to help traders make millions in the financial markets.
The trading platforms allow you to analyze, understand and make trades on the go. NordFX has reliably produced an execution rate of 0.5 seconds, allowing traders to make the most of their profits.
We also found the Copyinvest feature for NordFX a good tool for new traders; although we don't endorse traders relying on others' analysis, the feature can be handy to establish your early steps in the trading world.
However, traders should analyze a portfolio closely before implementing it in their investment; while the right selection can be highly profitable, the wrong one can have dire consequences.
NordFX Pros and Cons
Pros
Advanced Trading Platforms
Quick and Easy account registration
High execution rate
Four account types- demo account is also offer
Stable and reliable servers for trade executions
Cons
Restricted asset classes
No rewards and bonuses
Spreads may differ significantly for currency pairs.
Analysis of the Main Features of the Forex Broker
4.6 Investment Instruments
4.0 Variety of Instruments
NordFX Customer Reviews
Customer reviews are essential to establish the legitimacy of a broker, and if the reviews aren't good, a trader should always think twice before signing up with them.
NordFX has maintained a positive reputation in the trading market with over 90% positive ratings. Customers have remarked on the efficiency of their customer support in dealing with their queries and providing reliable solutions.
Customers mention that NordFx's trading account allowed them priority access to the customer care agent, who heard their problems and stayed with them until the problem was solved. With rising brokerage scams in Asia, it is difficult for investors to trust any broker with their precious investment funds.
Some trades also signed up with NordFX due to the broker's long history of building customer trust over the last 14 years. We have received mixed reviews regarding their withdrawal policy.
Some traders have found a slow and tedious process to withdraw money- others remark it as the 'best paymaster' with prompt payouts. Investors have also found their diverse range of trading instruments as a vital support to ensuring reliable profits regularly.
NordFX Spreads, Fees, and Commissions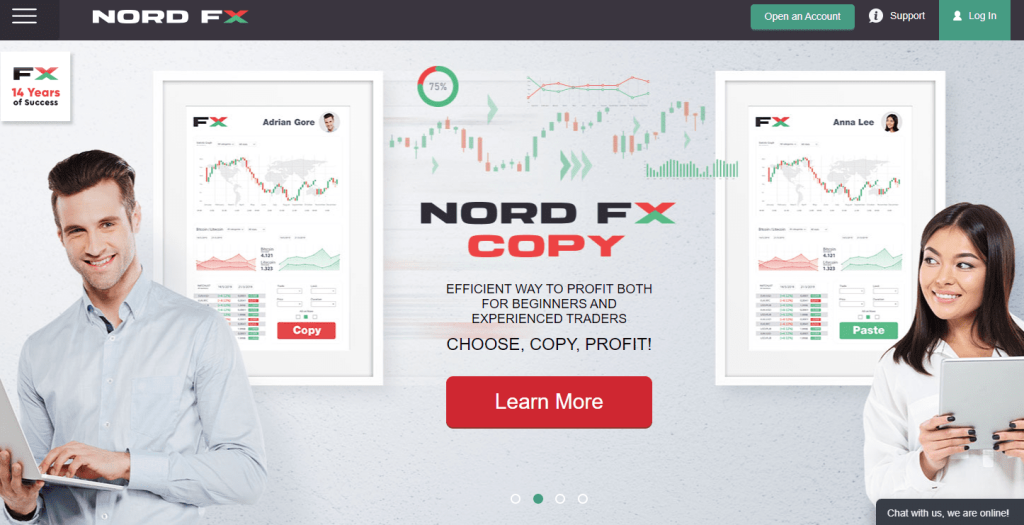 NordFX spreads are market competitive, but they are far from the industry leaders in providing low spreads, especially for their fixed accounts. The company has publicized a 2.0 pip spread for the fix account, 0.9 for the pro account, and 0 for the zero accounts.
Apart from the spreads, the company doesn't have any expensive fees or commissions to affect the trader's long-run profitability. Although the Fix and Pro accounts have significantly higher spreads, NordFx compensates for the higher price by offering zero-commission trading.
However, the opposite goes for the zero account- it doesn't have any spread for currency pairs, but a 0.0035% commission is charged for every trade.
NordFX also charges an inactivity fee of $10 if the trader doesn't make any trade for 365 days. It is significantly lesser compared to other leading brokers, who may charge $15 for a 3-month inactivity period.
The broker also charges a nominal fee for trades that are left open overnight. As per our analysis, NordFX is a cost-effective broker that provides abundant opportunities for traders to make significant profits at low costs.
How NordFX Fees Compare to other Brokers
| Broker | | | | |
| --- | --- | --- | --- | --- |
| Min Deposit | 100 | 100 | 1 | 1 |
| Withdrawal Fees | $50 | No | Yes | Yes |
| Inactivity Fees | No | No | No | No |
| Deposit Fees | No | No | No | Yes |
| CFD Commission Fees | No | No | No | No |
| | | | | |
Account Types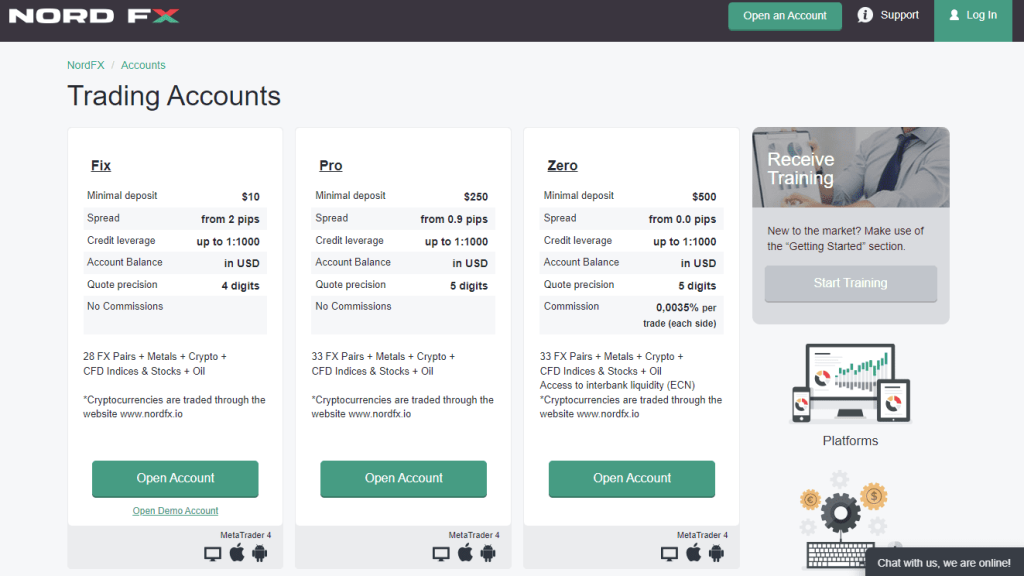 NordFX has intelligently designed four account types that suffice the needs of various trading segments; the company has individual accounts for newbies, professionals, experts, and savers. Below is a small description for each account type.
Fix account: it is for newbies, and they can start trading with a minimum deposit of $10; the account gives you access to 28 currency pairs, metals, and indices. The spreads for the Fix account start from 2.0 pips, but no commission is charged- a four-digit quote precision is also available.
Pro account; it is for professional traders with a minimum deposit of $250; the account lets traders access more than 33 currency pairs, metals, and indices. The Pro account is designed for frequent traders and has no commission for trades, but a spread starting from 0.9 pips is levied.
Zero accounts: if you're an expert with a minimum investment of $500, the zero account is for you. It gives you access to 33 different asset classes and has zero spreads for most pairs, but a commission of 0.0035% is charged per trade. It comes with a quote precision of up to 5 digits and enables users to access interbank liquidity.
Savings account: investors are usually risk averse, and some would prefer fixed savings over high-risk-return bets. The savings account lets you earn a 30% average annual interest for any investment above $500. You can receive daily payouts in USD or other stable currencies.
We appreciate NordFX's diverse account types and the opportunities it provides to multiple trading segments. NordFX also offers a 1:1000 leverage ratio for the three prior accounts that helps traders make high returns on minimum investment.
However, we are disappointed by the high spreads charged on the fixed accounts. Traders have to face a 3.0 pip spread per lot for GBP/USD pairs, and it gets even higher for other pairs.
How to Open your Account?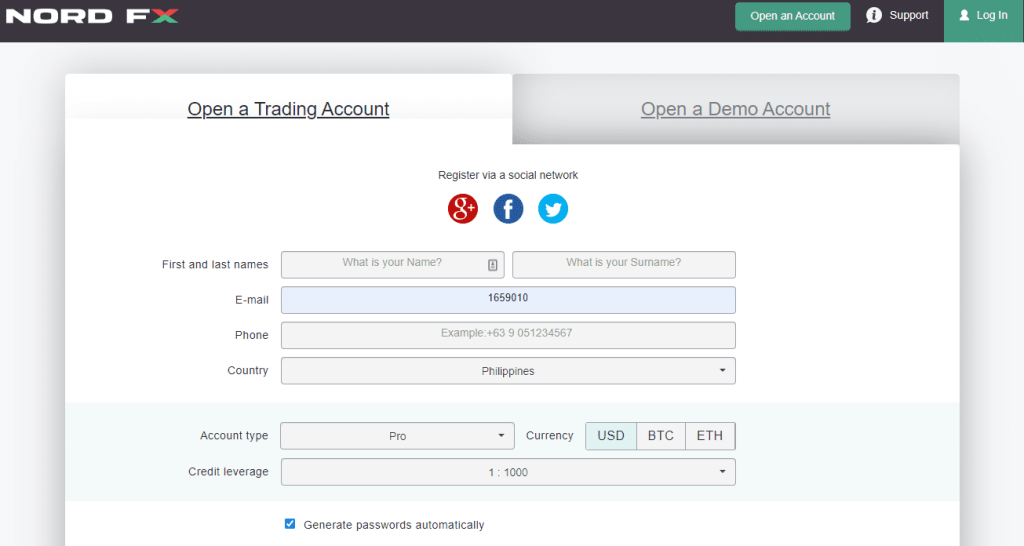 NordFX has a simple account registration method, and if you're convinced by its services, you can start the application immediately. However, we would always advise traders to thoroughly scrutinize a broker's fees, educational resources, trading tools, and customer support before making their final decision.
If you are new to the trading world, the best bet will be to start with a demo account. The demo account is free-of-charge, and you can get started simply by downloading the MT4 application and signing up for the demo account.
If you are an expert trader and are ready to start, follow the steps below to start trading an account with NordFX:
Head to the official website and click on the open an account button at the top-right hand.
In the next window, you'll need to fill up the form with your active mobile phone number, email ID, and other data. Please ensure all data can reliably be backed by relevant documents if required.
Next, you'll be required to select your preferred account type and currency denomination in USD/BTC/ETH. You will also be required to choose your leverage ratio in the section; if you are looking for a demo account, you can sign up through the same form.
Once you have filled out the form, your details will be checked in the next 24-48 working hours, and if accepted, your login details will be sent to your email.
You can use the details to log in to the trading cabinet, where you will find buttons to add your deposit, use different platforms or analyze additional features. NordFX also offers downloadable applications for your PC and mobile.
Overall, we like their registration process- it is simple, easy, and quick, helping traders start on the right note.
What Can You Trade on NordFX
NordFX has a relatively smaller range of asset classes. Most leading brokers tend to offer up to 100 asset classes, but NordFx only allows 28 for the Fix account and 33 for pro and zero accounts. Nordex's primary offerings include currency pairs, crypto, metals, and indices.
The company lets new traders use copy trading features to explore expert investment strategies that help make more profit. Traders can trade in the specified asset classes through the diverse trading platforms offered by the company, including MT4 and the mobile app.
We believe the narrow trading range will cost traders in the long run; it would prevent them from diversifying their assets and reducing their risks, and the rebalancing process shall be more difficult.
NordFX can be a good choice for its tight spreads and low commissions, but if you are opting NordFX for its offerings, we advise you to look out for other options.
NordFX Customer Support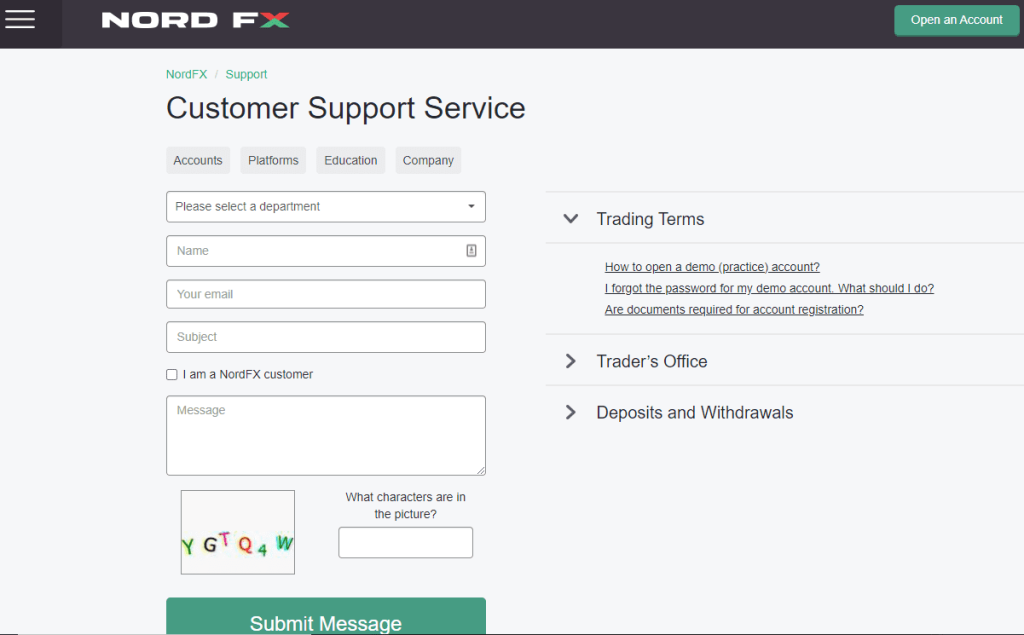 NordFX has received positive reviews about their customer support; experienced traders regard their exceptional service and quick response to queries. The website has allocated different agents for technical and common problems.
NordFX allows investors to connect with their customer care through email, phone, or website-embedded chatbot; we used all three methods and found them efficient in resolving queries. The email took about 56 hours to receive a response; the response time was negligible through phone and live chat.
NordFX transfers traders' calls and messages based on the complexity of their question; if a question is about trading strategies or financial instruments, you may have to wait some additional minutes till an expert is available.
However, we have also seen some reports where customer support has blatantly ignored customer messages.
Some reviews suggest NordFX customer reps purposely ignored investor messages about their withdrawals, and it took several tries to receive a response. We also believe the Asian agents may have difficulty communicating with EU and US traders, but as NordFX doesn't offer its services in the regions, it isn't something to worry about.
NordFX Customer Support Advantages and Disadvantages
  Advantages

  Disadvantage

Multi-language tech support
Quick response times
Dedicated agents to deal with technical problems
Easy to access through calls, email, and live chat

Email responses are slow
Customer reps may purposely ignore some messages
Contacts Table
Contacts
Foundation Date

2008

Registration Address

14, Louki Akrita Street, Ayias Zonis, CY - 3030, Limassol

Regulation
Vanuatu Financial Services Commission (VFSC)
Contacts
Email: support@nordfx.com
Phone:

+86 108 4053677, +91 120 4533777
Security for Investors
  Advantages
  Disadvantages

Regulated by Vanuatu financial services commission
Trusted customer base for more than 13 years
Negative balance protection
Fund segregation in tier-1 banks

Not regulated by FCA in UK or SEC in the US
Services and offerings go against the US/UK/EU jurisdictions
NordFX Vs. Other Brokers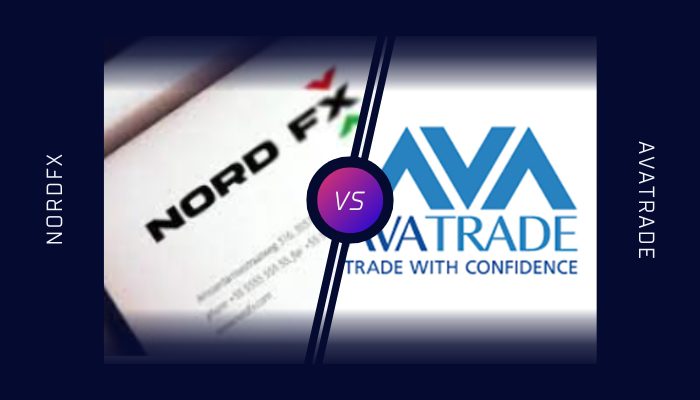 Avatrade is heads and shoulders above NordFX in reliability; Avatrade is regulated by several tier 1 & 2 regulatory agencies, making it a reliable hub for your investments. NordFX is regulated by the VFSC and has recently lost its reputation due to rising scams from the region.
Avatrade also edges ahead of NordFX in their spreads; NordFX's Fix account spreads start at two pips and rise significantly for less popular pairs. However, Avatrade has zero-commission accounts with tight spreads (0.9 pips), making it a profitable option for traders.
The next thing a trader thinks of is automation; both brokers support automated trading, and their services are at par here. NordFX lets newbies view and copy successful trading strategies and make massive profits. Avatrade also has Zulu Trading, which enables investors to follow experienced traders and strategies and follow them to generate reliable profits.
However, we believe Avatrade's automation is more beneficial for traders due to the increased asset classes and rebalancing options. Avatrade also offers its services across more countries; thus, more traders can benefit from them.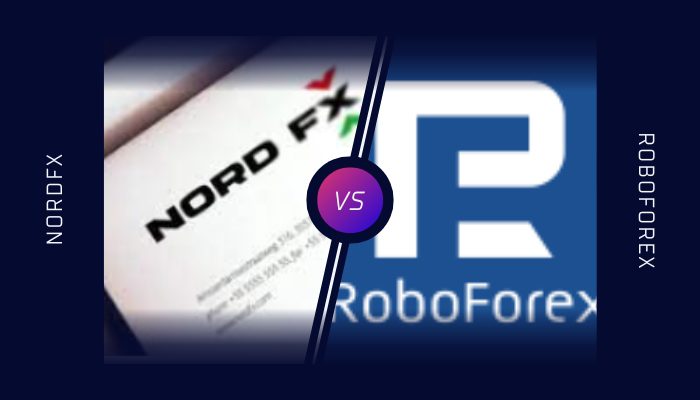 Roboforex made a name for their automated services, and as their name suggests, they have implemented AI to help newbies succeed in the trading world. Their Ai bots evaluate trading patterns in different asset markets and maintain portfolios for interested investors. Roboforex allows investors to profit without investing significant time in technical analysis.
Although NordFX also allows copy trading, it isn't significantly effective compared to the trading bots by RoboForex. However, NordFx gets the lead in the accessibility to asset markets; RoboForex only lets investors trade in 8 different asset classes, while traders can trade up to 33 asset classes with NordFX.
RoboForex is licensed by FSA Belize compared to NordFX's VFSC; both licenses aren't highly credible, but they can act as a good evidence to establish their legitimacy- both brokers have been trading for over a decade and have built good trust amongst the customer base. Hence, their reliability shouldn't be a concerning factor.
We would give an edge to NordFX against RoboForex, mainly due to the respective customer reviews; however, as a trader, you must analyze the pros and cons of each broker to find the right choice.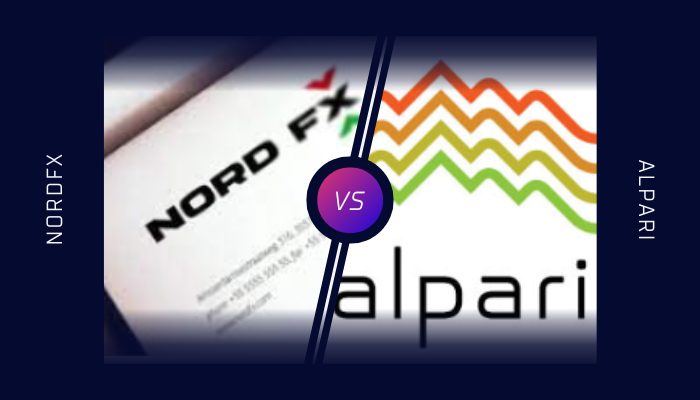 Alpari is another popular option to trade forex, and they offer some unparalleled perks to lure investors. For instance, Alpari allows investors to initiate an account with a minimum deposit of $1. No other broker has offered anything lower than the floor, giving Alpari a marketing edge. Practically, the minimum deposit is a marketing gimmick, and we can't see traders making any profitable trades with a value under $50.
Alpari gets the edge ahead of NordFX due to their MT5 trading platform; NordFX has lately stuck with MT4 and hasn't launched an upgrade, while all other popular brokers have made a move, allowing their traders to access exclusive tools and indicators. Both platforms also offer copy trading features through their trading platforms, and we believe their efficiency would be similar for traders on either platform.
Alpari gets another edge ahead of NordFX in their pip spreads; the broker offers three accounts with spreads ranging from 0.4 pips for the ECN account to 1.7 pip for the Micro account. The spreads are significantly larger for NordFX, which puts traders at an unfair disadvantage while trading with the broker.
If we talk about reliability, Alpari is a relatively recent launch in 2021 and is licensed by FSC Mauritius. It is pretty reliable, and there isn't a significant difference in their operational regions. We would suggest traders evaluate specific account types for each broker to make a better decision.
How NordFX Trading Options Compare against other Brokers
| Broker | | | | |
| --- | --- | --- | --- | --- |
| Instruments Available | 50 | 1250 | 100 | 50 |
| Platforms | MT4, MT5, Tablet & Mobile apps | Web Trader, MT4, MT5, AvatradeGo, AvaOptions, DupliTrade, ZuluTrade, Mobile Apps, ZuluTrade, DupliTrade, MQL5 | MT4, MT5, Mac, Web Trader, cTrader, Tablet & Mobile Apps | MT4, MT5, Web Trader, Binary, Tablet & Mobile Apps |
| FX / Currencies | | | | |
| Forex pairs offered | Yes | 61 | 35 | 57 |
| Major Forex pairs | Yes | Yes | Yes | Yes |
| Minor Forex pairs | No | Yes | Yes | Yes |
| Exotic Forex pairs | No | Yes | Yes | Yes |
| Cryptocurrencies (availability subject to regulation) | Yes | No | Yes | Yes |
| Commodity CFDs | | | | |
| Commodities Offered | 0 | 17 | 21 | 3 |
| Metals | Yes | Yes | Yes | Yes |
| Energies | No | Yes | No | No |
| Agricultural | No | Yes | No | No |
| Indiced & Stock CFDs | | | | |
| Stocks Offered | No | 1000 | 0 | 0 |
| UK Shares | No | Yes | Yes | No |
| US Shares | No | Yes | Yes | No |
| German Shares | No | Yes | Yes | No |
| Japanese Shares | No | Yes | Yes | No |
Conclusion: NordFX Review
Since the inception of copy trading, we have seen various professionals entering the investment world, expecting profits as a piece of cake. However, their dreams often don't materialize, and they end up cursing the broker or the market. Education has no substitute, and once you're putting your precious funds at stake, you must be sure about their profitability.
As per our analysis, NordFX ticks most of the required boxes, and we recommend it for traders with a deposit of $500. The Fix account has predatory spread terms, and investors won't make significant profits in the long run.
The zero account charges a nominal commission and allows a leverage of 1:1000; it is the perfect recipe for long-run profitability for an experienced trader.
Customer reviews also played an essential part in our NordFX analysis; the broker has a largely positive sentiment backed by consistent results for investors. Hence, we can overlook some of its flaws, such as delayed withdrawals and slow email responses. NordFX is an advanced forex broker that allows you to make the most of your investments.
NordFX Review FAQs
Is NordFX safe and legit?
NordFX is licensed by the Vanuatu financial services commission, and its services are offered in more than 35 countries. The broker has a history of decades, and we can trust them as a reliable hub for investment. However, we recommend brokers follow individual research before signing up with a broker.
How does NordFX work?
NordFX has a simple sign-up application that can be completed in a few minutes. You can fill out the form and send your documents through the official website; you'll receive your login details in your email- they are used to access different trading platforms.
Once you open the trading platform, you'd be asked to make a deposit to fund your account and start trading. The MT4 has unique features that help you predict trading signals and make profitable trades.
Is NordFX a Market maker?
A market maker refers to a broker that keeps an inventory of trading assets and expects to profit by charging a different bid-ask price. NordFX is a market maker, providing three different account types with varying minimum spreads.
You can use the professional accounts to enjoy spreads as low as 0.9 pips, while the zero account offers 0 spreads, but a commission is charged.