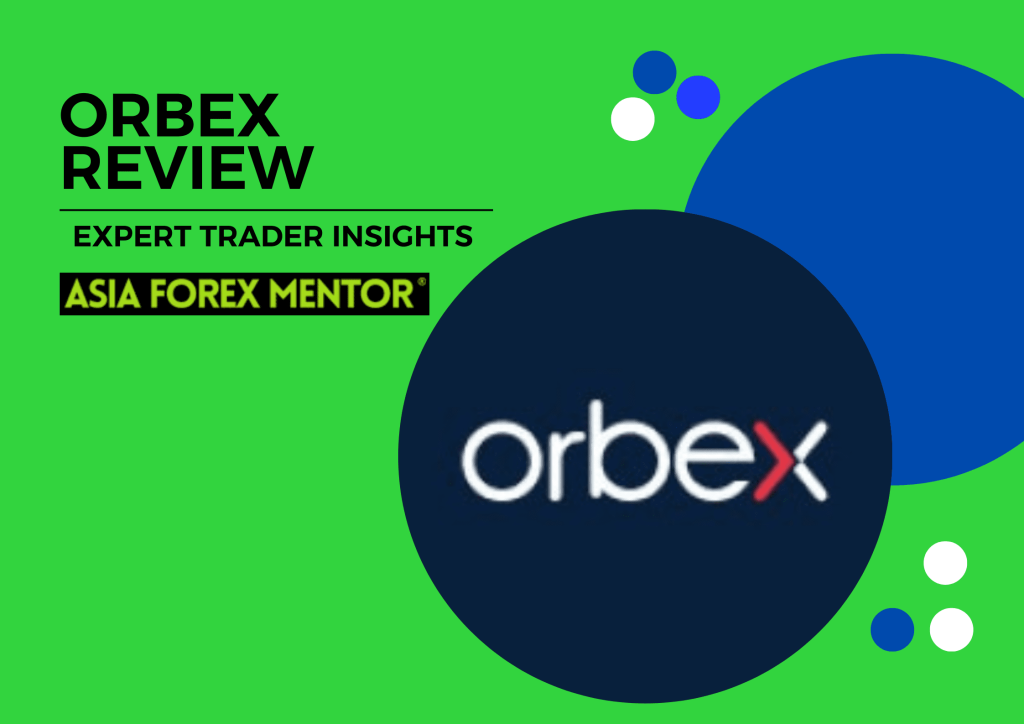 Orbex Review
The Fintech & Crypto Summit awarded Orbex as the most transparent broker for 2023; the accolade surged attention towards the platform from investors, who are looking for a reliable broker. Orbex has been providing its brokerage services for the last ten years, and it has received several other awards as well.
The broker was regarded as the best FX educational broker by MENA in 2022 and was rewarded with a 'decade of excellence award at the same event. Although the pros of Orbex are tempting for investors, existing traders with Orbex have also reported some complaints. The most common complaint was the tedious withdrawal procedure that took over 30 days to complete and required a fee of over $60.
A broker plays a crucial role in a trader's profitability, and the decision must be made with clear scrutiny. Are you looking to sign up with Orbex? Well, you're in luck. In this article, we shall discuss everything you need to know about Orbex, including fees, features, efficiency, platforms, and customer opinions. The analysis will help you make an informed decision. Let's go!
Asia Forex Mentor Evaluation Criteria
Broker selection is a crucial decision for professional traders, and you can't afford to go wrong. Traders must analyze a broker through different aspects and changing market dynamics to make an informed decision. Customer reviews and other community experiences should also be paid heed during the analysis.
As most traders find the evaluation overwhelming, AFM has decided to help you with its evaluation criteria. We evaluate each broker under 70 factors for a comprehensive view of their services. Our analysis doesn't only consider their past performance, but it also adds to their future plans. We base our evaluation on the following:
Affordability: reviewing spreads, commission, fees, and charges
Broker Efficiency: analyzing the existing trading tools, their efficiency, and effectiveness in driving profits
Security: evaluating the licenses, compensation funds, regulations, and record to estimate their reliability.
Technical Performance: scrutinizing the slippage times, execution rate, customer service response, and other critical factors
User Interface: examining the complexity of its trading platforms and their applicability for traders.
We used strict criteria to evaluate Orbex on different aspects. We considered different factors, conditions, and assets to decide about Orbex accurately. Our analysis suggests Orbex is a safe broker that can be trusted with your funds. Their pursuit of financial innovation makes them a good choice for a profitable trading career.
What is Orbex?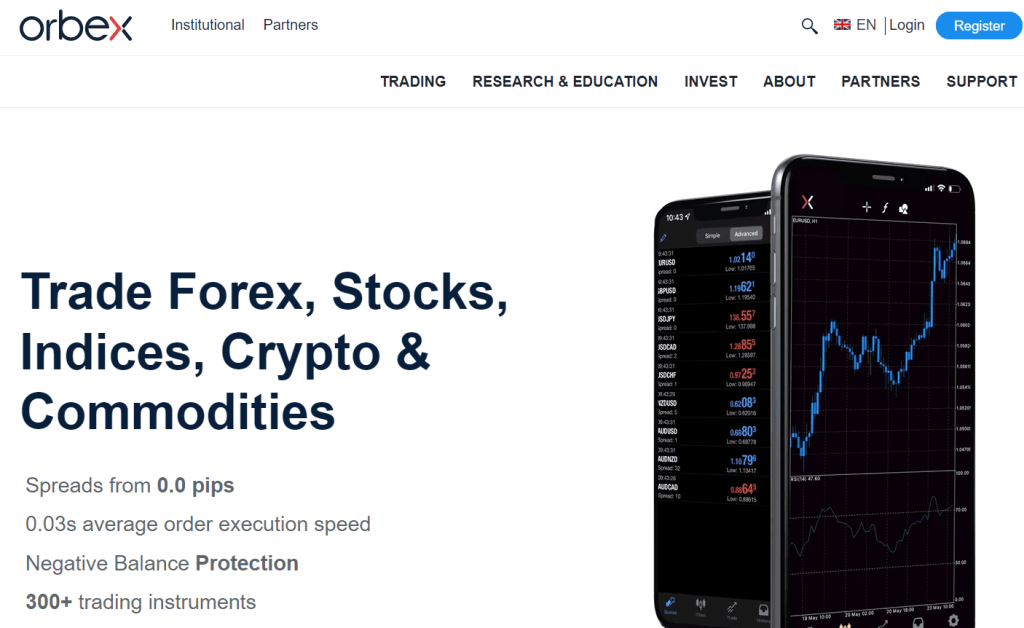 Orbex is a one-stop trading solution for all traders; it provides brokerage services in over 300 different asset classes, including crypto, Forex, stocks, indices, and derivative assets. The stock broker also offers social trading features that have helped them expand amongst newer traders.
Orbex was founded in 2010 and is owned by Orbex Global Limited. The company has also expanded its services in investment management, but Orbex stays committed to providing trading services for traders. Over the last few years, Orbex has reshifted its focus toward introducing financial innovation to benefit the investing community.
Orbex global limited acts as the parent company for Orbex and provides them with an FSC Mauritius trading license to regulate its business. The company is registered in Kingstown, Saint Vincent, and Grenadines.
The region has been famous amongst offshore brokers due to low regulation requirements, raising concerns about Orbex's reliability. Nonetheless, Orbex Limited is also based in Seychelles, and overall, the company has substantial evidence to affirm its legitimacy.
Orbex understands traders' concerns, and they have been prompt in addressing them. They recently launched a Negative balance protection to add a layer of security for its traders.
Orbex boasts its features to assist everyday traders in making profits. The broker's vision suggests their efforts in ensuring consistent efforts towards enhancing the ease of trading for diverse-skilled professionals. The company allows an MT4 trading platform with the latest technical indicators to help traders analyze different assets.
Advantages and Disadvantages of Trading with Orbex
  Advantages
  Disadvantages

Registered with Cysec and FSC
Over 300 different asset classes
MT4 and Client Trading Central for better strategies
Affordable trading costs with ultra-quick execution timings

MT5 and advanced indicators aren't available
Poor experience with customer support service
Benefits of Trading with Orbex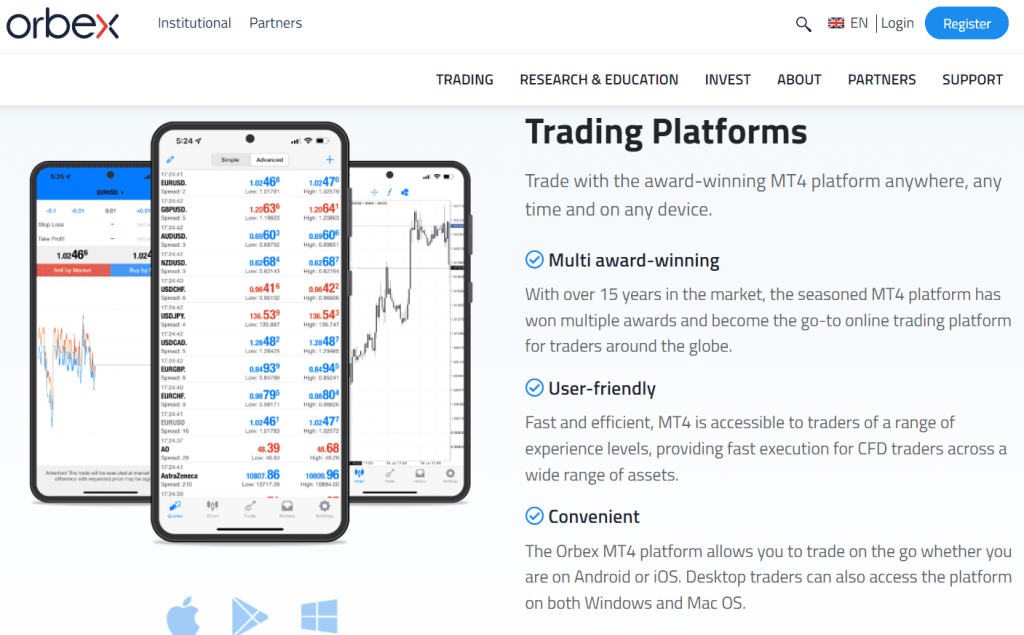 Over time, we have observed a general pattern amongst brokers; as their audience expands, they have targeted a specific segment to focus on their activities and features. However, in Orbex's case, they haven't segmented their traders similarly, and although it has led to some difficulties, Orbex has diverse offerings that fit most trading investors.
The standout feature of Orbex is its diverse trading classes. Usually, offshore brokers are restricted in terms of their stock offerings, and most offer no more than a dozen stocks. However, Orbex's compliance with different regulatory bodies, including CNMV, ensures traders get access to stocks from global markets.
Orbex has over 300 stocks for its traders, and the list is expanding. Stocks are generally considered less volatile than Forex; hence, their accessibility ensures better diversification for traders.
Another popular feature amongst Orbex traders is competitive market rates alongside fantastic add-ons. Usually, brokers offer spreads varying between 1-2 pips for most stocks and currencies, but for Orbex, the typical spread drops significantly at about 0.7 pips per lot. Some accounts also offer excitingly low spreads, starting at 0.0 pips.
Understandably, a lower price may come with cost reduction; however, Orbex has again impressed by offering state-of-art features regardless of the low price. It has a different trading central platform where traders can receive exclusive market information, trends, and signals.
The trading center also effectively introduces novice traders to changing market conditions and prepares them with helpful tips and suggestions. It also has a market scanning tool that enables traders to verify their strategies using AI and make required improvements.
Apart from these advantages, traders are offered all recommended safety features to protect the funds and strategies; Orbex has NBP, free VPS, dual encryption, and other supporting services for a trustable trading environment.
Orbex Pros and Cons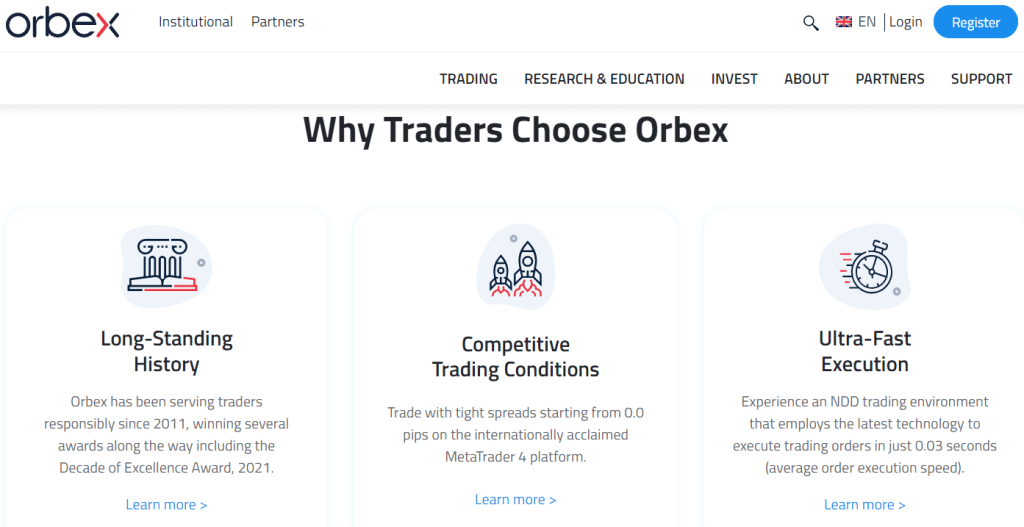 Pros
Fast, user-friendly, and internationally accepted trading platforms.
Daily market trends and analysis reports
Supports scalping and hedging to minimize risks.
Expert insights and projections shared by a dedicated team
Cons
Customer support is not available on weekends.
Doesn't comply with any renowned compensation fund
Orbex Customer Reviews
As you would have noticed, we greatly heed customer reviews in reviewing a broker. Often, brokers hide predatory terms in the fine print; only existing customers can indicate such traps. Unlike other brokers, Orbex has a high rating of 4.1 stars out of 5 on Trustpilot and is rated well on other platforms.
The positive reviews appreciate the broker's mechanism in helping them make profits. Some reviewers highlight that the trading signals and trends helped them generate positive returns and make good decisions.
A reviewer also highlighted that customer support was prompt in solving their issue and contacted multiple times to ensure the problem was entirely resolved.
Despite its positive reviews, Orbex has a positive rating of 60%. Many customers complained about the repeated sales calls from Orbex that required them to make an urgent deposit.
Customers complained that they were asked to make additional deposits while their accounts had a healthy balance. Existing users have also complained about faulty withdrawal procedures and slow customer support.
Over the last year, Orbex has been prompt in responding to customer queries and answering their concerns. The sales rep problem has reached a critical stage, and many existing customers have reported the problems. Orbex must deal with the problem effectively and devise intelligent ways for a better customer experience.
Orbex Spreads, Fees, and Commissions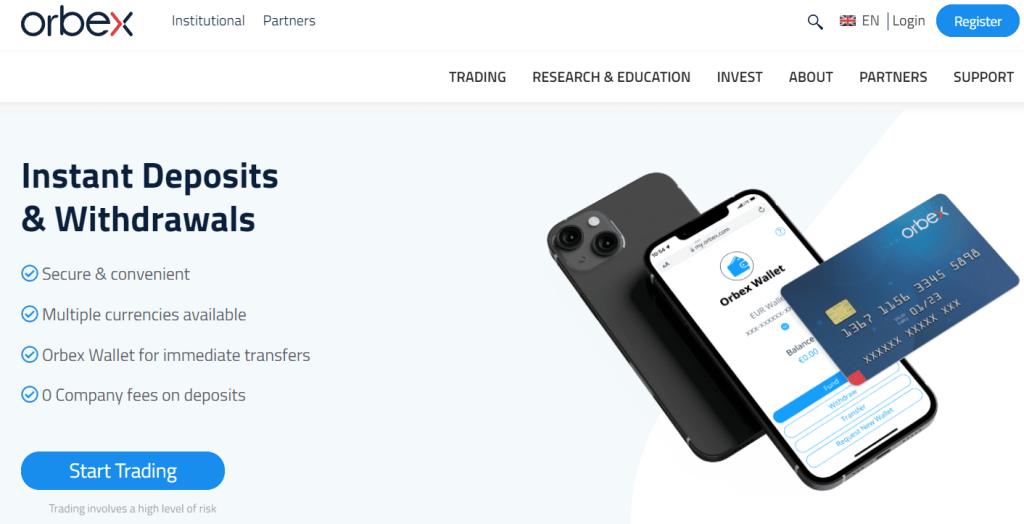 Orbex has impressed us in terms of its cost structure and how they were expressed clearly on the website. The procedure ensures that a trader knows the trading costs before signing up.
Orbex offers three account types; the starter account has higher spreads than ultimate and premium accounts. However, it doesn't charge a commission.
For a starter account, the EurUsd pair has a spread of 1.5 pips; it rises to 1.6 pips for GBPUSD paid and reaches 2.1 pips for USD JPY pair. In comparison, the ultimate and premium account has zero typical spreads for the respective currency pairs.
However, a spread may be charged for exotics and crosses. Unlike other brokers, Orbex doesn't charge a percentage rate for trades on premium and ultimate accounts.
Instead, a $8 and $5 commission is charged for each trade on the respective account types. The starter account doesn't have a commission compensating for the higher spreads.
Orbex also has a swap fee that changes based on different asset classes and overnight charges. The minimum deposit varies for each account type, and some services may come with an additional charge.
Account Types
Every broker has a specific target audience, and its primary aim is to satisfy their needs. Orbex has a relatively broader audience base that requires additional focus to ensure every client receives the best treatment.
Although the account features are inclusive for all traders, Orbex's account has higher minimum deposit requirements, making it difficult for low-capital traders to start trading.
A Starter account has a minimum deposit of $100 and has varying spreads. The account has access to all platforms offered by Orbex, but the webinar access is limited to 1 per month. It has higher spreads compared to the other two accounts, and typically, the spreads are 1.5 pips per lot. The educational resources are also limited, but the same leverage rates are offered for starters too.
Premium accounts have a higher minimum deposit of $500; most users can't enjoy additional perks offered by the account type due to the high limit. It gives exclusive access to all webinars, and the educational resources are also extensive. The trading center is also enhanced to suit the trading needs of high-capital traders. Premium accounts have low spreads, but an $8 spread is charged for every round contract.
The ultimate account is exclusive to high-end traders and has higher security and features. The minimum deposit for an ultimate account is $25000, and traders can leverage up to 1:500 based on their balance. The account also offers additional trading sessions and extensive educational resources for traders to understand the market trading strategy and make good profits. The commission charged for every trade drops to $5 for every round-turn contract.
Orbex's maximum leverage is consistent across all account types, and the trading platforms offered are similar.
Compared to other brokers, Orbex doesn't have a cent or low-deposit account, making it difficult for low-capital traders to trade with them. They also have limited account diversity to limit the scope of their audience.
How To Open Your Account?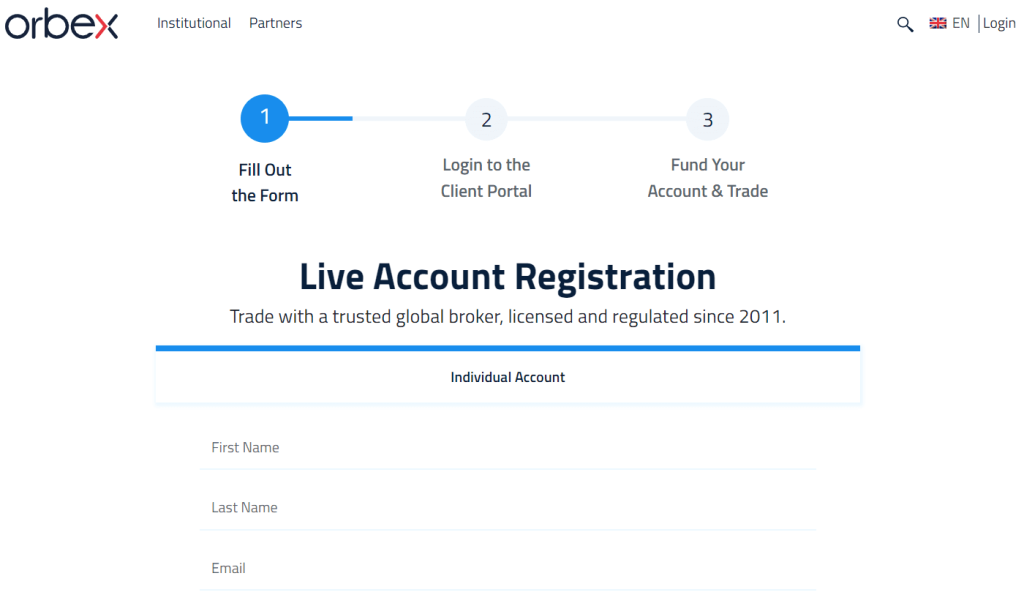 The good thing about offshore brokers is the lack of documentation to sign up with them. It allows traders to sign up without getting into tedious verification procedures.
Orbex is regulated by Mauritius financial services commission, and it has lesser legal requirements that ensure clients can quickly sign up with them. The process is divided into three steps:
You can start the registration form by clicking on 'register' on the official Orbex website. You'll be asked for details, including your name, email, and other general requirements. To proceed to the next step, you'll have to accept the Terms and conditions checkbox at the bottom of the form.
The next step is the log in to the client portal. Once you've registered, you'll be mailed the credentials to the client portal, and you can use the email link to open it. In the beginning, you'll have a demo account for forex trading, where you can familiarize yourself with the interface.
You can switch to a real-time trading account by adding funds and selecting your account type through the client portal. The real-time account application will be processed once you've made the transfer. You'll receive confirmation emails about the process as time passes.
Overall, the signup procedure for an Orbex account is easy and similar to any other forex broker. However, we urge traders to use the demo account to understand the trading tools and strategies before putting their investments at stake.
What Can You Trade on Orbex
Asset classes are a standout trait of Orbex; they have diverse asset offerings that allow traders to exchange their preferred assets. It also ensures that traders diversify their portfolios with high and low-risk-return assets. Orbex provides you with an opportunity to trade over 300 different assets.
The asset lists include stocks, Forex, crypto, indices, and commodities. Orbex has reputable choices amongst its stocks; unlike other brokers, Orbex isn't limited to a few stock choices. Instead, investors can trade in over 300 different assets from different global markets.
Stock offerings include shares from the US, EU, and UK. The forex offerings are no less. In normal trading conditions, you can trade up to 40 currency pairs, including exotics and crosses.
The currency pairs include EUR, USD, and JPY; their spreads have been discussed previously. Other than primary listings, Orbex offers cryptocurrencies, such as Bitcoin, Ethereum, and Dogecoin. The spreads and commissions on crypto differ from those on Forex and will vary based on your account type.
Orbex Customer Support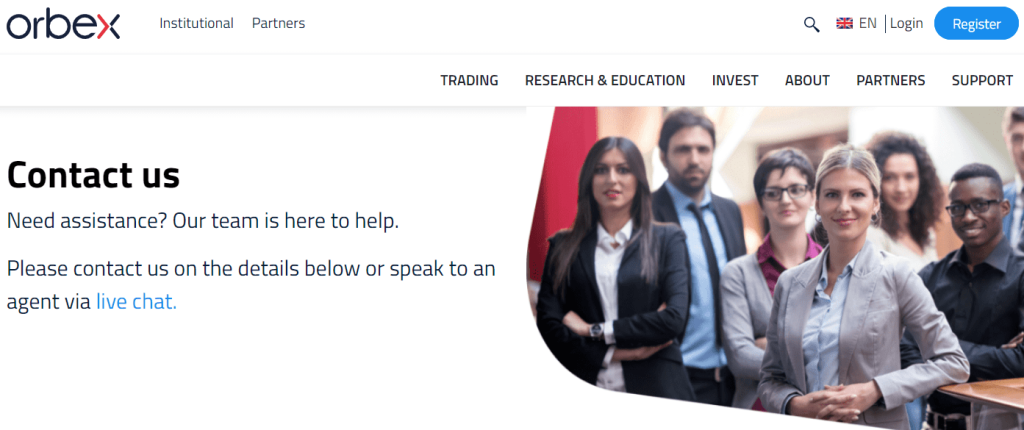 Orbex's trading costs, asset offerings, and innovation have impressed us, but its customer support has weakened its reputation.
As per multiple reports from existing users, the customer support service is below par. Customers accuse sales representatives of manipulating them into adding more money to their accounts.
Some users also report that the assigned sales agents had little information about the fundamentals of trading and platforms, making it tedious to explain problems. Our experience with customer support hasn't been the best either. We approached them using their live chat bot; the requirements for connecting with an agent were unnecessary, and most brokers kept the process simple.
However, to connect with an Orbex agent, you must enter all primary details alongside your message. The requirements create an unnecessary barrier in communication between the traders and the management, and it must be fixed for a better experience.
The quality of responses was also questionable, and it took several attempts to assist the agent in understanding our query.
Users can connect with Orbex using live chat, email, phone, and fax. The email responses take up to 3 working days. Phone calls are generally the best way to connect with an Orbex representative to learn more about the forex broker.
We advise all traders to try customer support once before opening a trading account; it'll provide better insight regarding Orbex services and trading instruments.
Advantages and Disadvantages of Orbex Customer Support
  Advantages

  Disadvantage

Multi-lingual support in Chinese, Arabic, and English
Can be connected through four different means
Live chat offers instant response
Trading Central provides information about trading conditions

Only available on weekdays
The responses are generic and lack personalized solutions
Security for Investors
  Advantages
  Disadvantages

Regulated by Mauritius financial services commission
Negative balance protection and Free VPS
A long history of transparent dealings
Awarded as the most transparent broker for 2023

Not regulated by a tier 1 regulator
Non-compliant services in the USA, Iran, and Mauritius
Withdrawal Options and Fees
Transparency has been the core of Orbex's offerings, and they have been publicized to ensure every layman is aware of them before signing up. Withdrawals are usually the trickiest part of a broker, and scam brokers exploit traders by delaying withdrawals or asking for unnecessary charges.
Fortunately, Orbex has been concise regarding its withdrawal options and policies. Like many other brokers, Orbex sticks to the no withdrawal commission charge, and you won't have to pay any amount to Orbex at your withdrawal. They offer over ten methods to receive your withdrawal, including e-wallets, banks, crypto wallets, and wire transfers.
The e-wallets, crypto, and bank transfer are processed within 24 hours of application, and about a 2.5% fee is charged for intermediation by the third party. The wire transfer usually takes several business days, and a fee of about $25 is charged.
Although Orbex claims a 'no withdrawal fee' policy, existing customers have shared a different experience.
A customer reports that once they filed for withdrawal, they were contacted by a sales agent for $60 to process the withdrawal.
Clients also mention that the sales agents created undue barriers in allowing their withdrawal, which creates a bad image of the broker. We haven't come across any fundamental explanation offered by Orbex regarding the trouble. Nonetheless, the broker should hurry up to avoid losing its traders due to a declining reputation.
Orbex Vs Other Brokers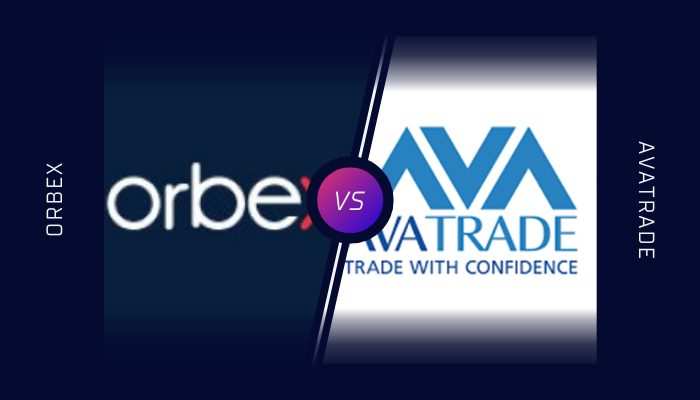 AvaTrade is a leading trading services provider, and their expansion in Europe and America makes them an important option for traders in the region. Hence, if you're signing up with Orbex, you may have to compare it to Avatrade.
Avatrade was founded in the late 1990s, and it has spread to European and American continents. It has regulatory licenses from South Africa, Japan, and the EU; it also complies with jurisdiction in the US and UK. On the contrary, Orbex doesn't have similar licenses, which makes them vulnerable to investors.
In terms of trading platforms, both Orbex and Avatrade offer MT4 trading platforms and an exclusive client community.
However, AvaTrade also offers an MT5 trading platform, a web trader, and a mobile app to assist its traders in making trades on the go. Avatrade is also associated with Zulutrade, which provides an additional benefit for traders signing up with Avatrade.
Orbex's costs are at par with Avatrade's; however, the minimum deposit requirements of Avatrade are lesser than Orbex's. Thus, most investors will find it feasible to invest with Avatrade rather than Orbex. The typical spreads in Avatrade standard account range between 0.9 and 1.3 pips, while they range around 1.5 in Orbex's starter.
Another vital comparison factor is asset diversification, and Avatrade has a slight edge in this contest. Although both brokers offer under 500 securities under an everyday account, AvaTrade enables traders to deal in derivative assets, such as options and CFDs.
The educational resources are also designed to accommodate the need for increased diversification.
Ultimately, it can be inferred that Avatrade is a better option than Orbex from an objective viewpoint. However, some traders may find Orbex's lack of documentation a valuable perk to start their trading journey.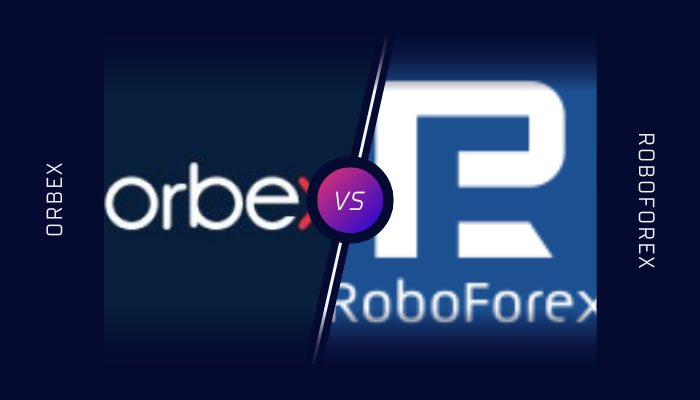 Roboforex is another popular choice amongst new-age investors, and you may be looking at it as a possible selection. Orbex and Roboforex started about six years apart. Roboforex has spread relatively quicker in Asian and African regions, which makes its audience several times larger than Orbex.
Roboforex operates under an FSC Belize license compared to Orbex's FSC Mauritius. Both licenses aren't accredited highly in the trading community, but their presence ensures the brokers can be trusted. Nonetheless, Roboforex and Orbex have been around for over a decade, and their legitimacy can be trusted.
If we compare Orbex and Roboforex regarding trading platforms, Roboforex will have a considerable lead. While Orbex only offers the MT4 trading platform, Roboforex offers Mt4 and MT5 trading platforms.
They also provide several AI expert advisors that can assist traders in making better deals and analyzing different securities. Orbex also offers some AI screening tools, but they aren't as advanced as Roboforex.
Another difference between Orbex and Roboforex is the asset offerings. Roboforex has probably the widest CFD collections amongst leading brokers in the region. It offers over 12000 asset classes, including stocks, CFDs, Forex, and indices.
Orbex also has a decent range but isn't as diverse as Roboforex. Nonetheless, Orbex has better choices in stocks that can benefit professional traders.
In terms of costs, both brokers are pretty similar. The pro and ECN accounts of Roboforex also come with 0 pips spreads, and the same goes for Orbex. However, the trading costs for standard Roboforex accounts are significantly higher than other competing brokers, and Orbex takes the lead.
In our opinion, Roboforex will be a better option for most traders due to its additional features ahead of Orbex. Roboforex has a minimum deposit of $10, which can include a more diverse audience.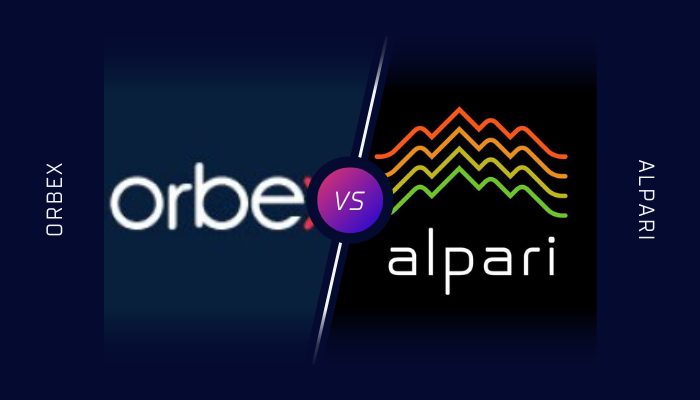 Alpari started its operation in 2007 and is registered in Saint Vincent and Grenadines at an address similar to Orbex limited. Orbex and Alpari are popular broker choices amongst emerging professionals looking to switch to the trading world.
Alpari's recent expansion has benefited greatly from its bonus schemes. The broker maintains at least five bonus schemes throughout the year, giving traders an added incentive to sign up with them. Orbex hasn't highlighted similar bonus schemes; however, some traders report receiving cash back when their transactions reach a fixed threshold.
Another difference between Orbex and Alpari is their account diversity. While Alpari is known for its account diversity, we can't say the same about Orbex. Alpari has seven different account types, including cent and swap-free accounts.
Contrarily, Orbex has been rigid with its account offerings, and it only has three accounts that will require at least $100 to open (Alpari requires only $5). Alpari also takes the lead against Orbex in terms of its trading platforms. They have Mt4/5 and web traders to ensure traders find an interface for their taste.
However, Orbex takes a significant lead in two departments- AI and Educational resources. While experts develop Orbex's educational resources, Alpari has no similar alternative. Alpari traders have to resort to third-party signals providers to enjoy additional perks.
The AI offerings in Alpari are insufficient; the platform doesn't offer social trading features that can be cumbersome for full-time professionals.
Alpari and Roboforex are close contestants, and the final selection will eventually come down to a trader's priorities. If they have low capital, they can only opt for Alpari. However, if they have a decent capital amount, Orbex can offer better services at cheaper rates. Traders should also familiarize themselves with deposit and withdrawal processes to avoid any troubles later.
Conclusion: Orbex Review
Orbex has existed for 12 years, and no inefficient broker can survive for as long. Their remarkable history suggests they have been doing great business, ensuring customer satisfaction and bolstering their returns. Orbex has a broad audience that often gets difficult to cater to in changing market conditions.
However, a limit on minimum deposits assures that they have a limited user base; hence, the overall burden on the system is reduced. Our favorite feature of Orbex was its trading central; we can evaluate its importance in easing the life of a trader. The trading central allows the scanning of a trading strategy and provides valuable recommendations regarding modifications to the Orbex account.
Similarly, it provides traders with trading education and tools, which helps them enhance their skills and make the most of their investments. Other valuable perks include remarkable cost structure, financial innovation, easy withdrawals, and interactive platforms. However, Orbex's fundamental problems lie in the low-quality customer support for traders.
We have had first-hand experience with sub-standard responses and delayed replies. There have also been multiple reports claiming fraudulent activities by sales representatives, which raises a red flag regarding the broker's credibility. Our advice for Orbex will be to evaluate its customer support strategy and build a better communication bridge with its users.
Orbex Review FAQs
Is Orbex legit?
Orbex has been providing its services for over the last ten years, and no major report of scams or fraud has been reported. They also have financial backing from two stable subsidiaries, ensuring the funds' safety.
Orbex is also venturing into new markets that require them to comply with different regulations; thus, we can expect the security to improve further.
What is the minimum deposit for Orbex?
Orbex has three account types- starter, premium, and ultimate. Unlike other brokers, Orbex doesn't offer cent accounts. The minimum deposit for a starter account starts at $100; it is set at $500 and $25000 for premium and ultimate accounts, respectively. If you want to invest a big chunk of your savings, we advise starting with a demo account to familiarize yourself with newer trading styles.
Is Orbex regulated?
Orbex is a subsidiary of Orbex global limited. The broker uses its parent license of FSC Mauritius. Although the license isn't among the most credible licenses, it provides a layer of security for traders.
The addition of tier-1 liquidity banks and easy withdrawal processes ensure the legitimacy of Orbex, and they can be trusted with your funds.