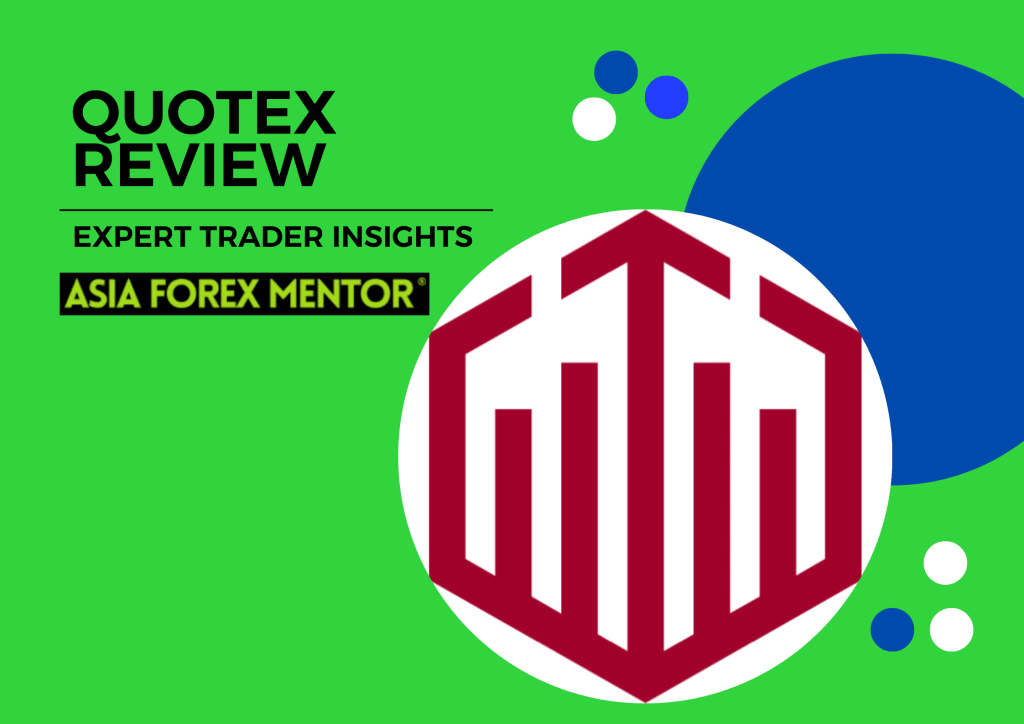 Quotex Review
Traders and investors are always looking for a robust trading tool, and one such platform is Quotex. It is an online broker that is well-reputed for its binary options trading services. Quotex has been around since 2019 and is quickly becoming a highly sought-after platform for trading in different types of assets.
With over 40 different trading instruments and assets to choose from, Quotex trading platform provides its traders with a wide range of options for making profitable investments. In addition, its user-friendly interface and advanced features make it easy for beginners to learn and navigate the platform.
In addition, Quotex has developed its own proprietary trading system specifically tailored to traders, allowing them to customize the technology according to their needs and objectives. In this detailed review, our team of review experts at AFM will take an in-depth look at Quotex's services and analyze its features and performance.
Read this unbiased Quotex review to determine whether this is the right trading platform for you!
Asia Forex Mentor Evaluation Criteria
Quotex is getting increasingly popular among traders with time. However, it is still necessary to get the required information about the broker before investing with it.
Here at Asia Forex Mentor Evaluation, we carry out extensive analysis to ensure that traders make well-informed decisions regarding their investments. Our comprehensive research allows us to deliver concrete conclusions concerning the services of different brokers so you can entrust your money with confidence. In addition, we have established a benchmark based on a set of evaluation criteria in order to give traders a better understanding of the broker's services.
Our standard evaluation criteria are based on the following points:
Affordability: We evaluate brokers' fees and commissions to ensure that traders can make a profit without incurring high costs.
Broker Efficiency: We assess the platform's speed and responsiveness to ensure that traders can benefit from a smooth trading experience.
Security: We assess the platform's security, taking into account its security protocols and regulatory compliance.
Technical Performance: We review the tools, charts, and indicators available to traders on the platform in order to determine their efficiency.
User Interface: We assess the platform's user interface, looking at its design and functionality to see if it is easy to use.
We have evaluated Quotex according to these criteria and are happy to report that it performs well. Read on to find out in detail how the broker stacks up.
What is Quotex?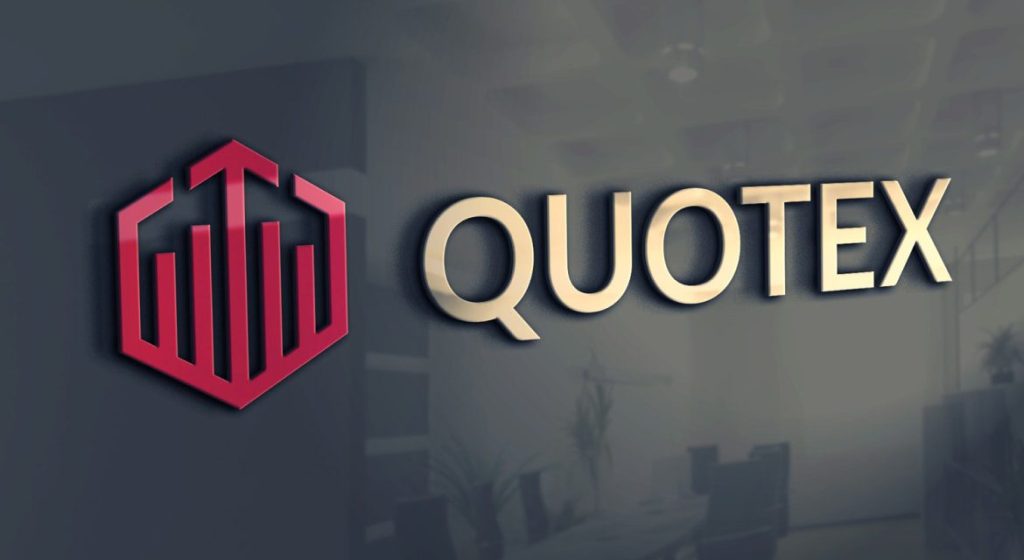 Quotex, the powerful brand of Awesome Ltd based in St. Vincent and Grenadines founded in 2019, offers a reliable interface combined with proficient digital options products. This includes trading signals, fast executions, and indicators to help you make better trading decisions. The trade possibilities are endless with Quotex's intuitive user experience and speedy processing times.
Young broker Quotex offers classic conditions for trading binary (Digital) options. The payout percentage is fixed for each instrument and is known in advance. They don't use any 3rd party software, but the platform is still very functional. The website can be operated in around 20 different languages, including English, Hindi, Filipino, etc. Moreover, the trading platform is available in 6 languages.
As an offshore broker, Quotex serves clients from numerous countries across the world. They provide a wide selection of trading options for indices, tokens – known digital currency quotes, foreign exchange pairs, and raw materials such as oil and gas. Additionally, traders can opt to have access to binary options too.
Quotex proudly boasts that their trading signals have an accuracy rate of 87%, making them a leading choice amongst traders. However, they do not take responsibility for any losses due to signal accuracy. It is up to the user's own judgment and decisions to make a successful trade.
Advantages and Disadvantages of Trading with Quotex
  Advantages
  Disadvantages

The minimum deposit fee is just $10
Payouts up to 95%
Trading integrated signals approach
Traders don't have to pay trading fees (withdrawal or deposit) 
Most intuitive and user-friendly platform for binary options trading

Not regulated by any top-tier international regulator 
No leverage trading
No educational content for beginners
A deposit bonus cannot be withdrawn
Benefits of Trading with Quotex
Quotex offers a great binary options trading platform that is proprietary to the company. With a minimal deposit of only $10, it's never been easier to enter into the world of trading – and traders can switch among account currencies anytime with no extra fee.
In addition, Quotex has several payment methods, including debit/credit cards, electronic payment systems, and cryptocurrencies for both deposits and withdrawals. They're an incredible demo account, fully funded with USD 10,000 in virtual money, so you can get comfortable before taking any risks.
Quotex offers its clients numerous advantageous programs for a superior trading experience. For instance, with the 'risk-free trades' option, traders are guaranteed to earn profit regardless of how their trade turns out. An exclusive Market on Quotex's platform also displays promotional codes and other bonuses.
With Quotex, traders can trade 43 different instruments that can be processed in 0-4 seconds. They can choose from 23 currency pairs, 14 indices plus Ethereum and Bitcoin cryptocurrency options, as well as US Crude, UK Brent, Silver, and Silver — with a payout percentage depending on your asset choice. In addition, with currencies and commodities, traders can maximize up to 90% of the value of their options. Cryptocurrencies and indices are able to gain up to 25%.
Quotex Pros and Cons
Below are a few of the pros and cons of Quotex:
Pros
Good trading signals and trading indicators
24/7 support service
Offers 30% of bonus on first deposit
Low minimum deposit
Cons
Offshore Broker
No regulatory oversight
No copy trading or MT4 integration
Quotex Customer Reviews
We have collected different customer reviews from various sources and came up with the following summary for our Quotex review. Customers were pleased with the platform's user-friendly interface, a wide selection of assets to trade on, and exceptional customer support.
Many customers said they found Quotex's mobile app intuitive and easy to use. In addition, they highlighted the fact that there are no commissions or fees for deposits or withdrawals with the platform.
Customers also praised Quotex for their exceptional customer support, 5-second trading, free demo account, and wide range of trading tools. However, some customers noted that the platform does not offer any leverage or copy trading options which may be a drawback for some traders.
Quotex Spreads, Fees, and Commissions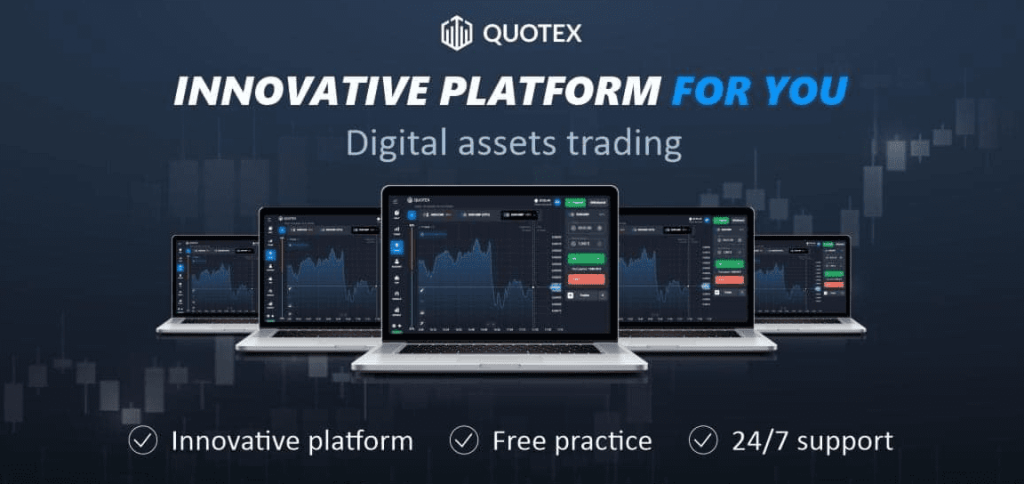 Here is a brief overview of Quotex, spreads, fees, and commissions:
Spreads
A Quotex account offers spreads of a minimum of $1 on all live performances. All payment systems and banks exchanging all kinds of instruments charge these spreads. However, some assets may have higher spreads than others.
Trading Fees
Trading with Quotex is reliable and suitable for every investor because it does not charge any trading fee. Whether you invest in crypto, stocks, or indices, there is no commission per deposit and withdrawal. 
Non-trading Fee
Like trading fees, Quotex also demands a $0 non-trading fee from traders. This broker facilitates free non-trading activities of all ranges, including inactivity, withdrawal, and commission. However, the minimum bid is $1 for all live trading accounts. 
Deposit/Withdrawal Fee
Before making a transaction, it is always advised to check the deposit or withdrawal fee. Some brokers charge a heavy deposit or withdrawal fee on every transaction. But Quotex brings the most cost-effective solution for all traders and financial investors. You don't have to pay any hidden charges to the bank or transaction system for every transaction. 
Moreover, Quotex does not impose any deposits or withdrawal fees. However, certain payment methods may come with additional costs charged by the service provider. Traders can easily deposit and withdraw from the same source as your initial deposit, provided that it is verified.
Minimum Deposit
The minimum deposit for trading on Quotex is $10. This online broker allows for generating a high payout with fewer deposits. There is no commission on any deposit, which makes this platform perfect for beginners to start trading. 
Commissions
Trading with Quotex is highly beneficial since it does not require traders to pay any commission for their transactions. Plus, the standard commission rate of this broker is only $1 per trade – making it one of the most cost-effective brokers out there.
Account Types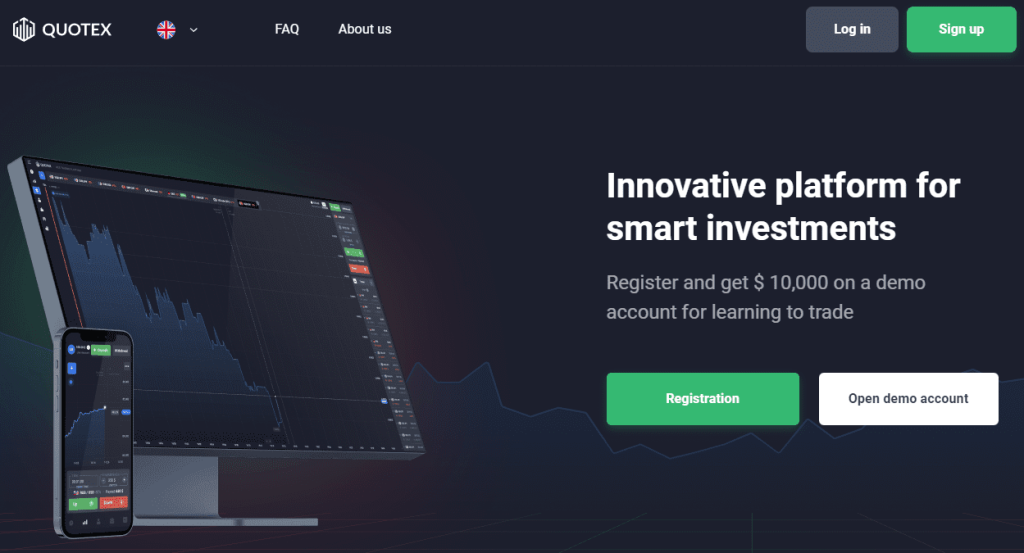 Quotex offers just a single account type for novice or professional traders that allows trading currencies, indices, cryptocurrencies, and commodities.
Live Account
With a Live Account, you can trade binary options with the opportunity to realize up to 90% returns on your investment. The minimum bid is just $1 and requires only a minimal deposit of $10 – all without any fees or commissions.
The main features of the live account are as follows
Zero Fees on Trading
Low Deposit Requirement
Technical support
No Commission
Most useful trading indicators
Demo Account
Beginner traders can get more practice in trading without risking real money by using the free virtual funds provided by Quotex. The Demo Account is also a great way to test your strategies and learn more about the platform.
How To Open Your Account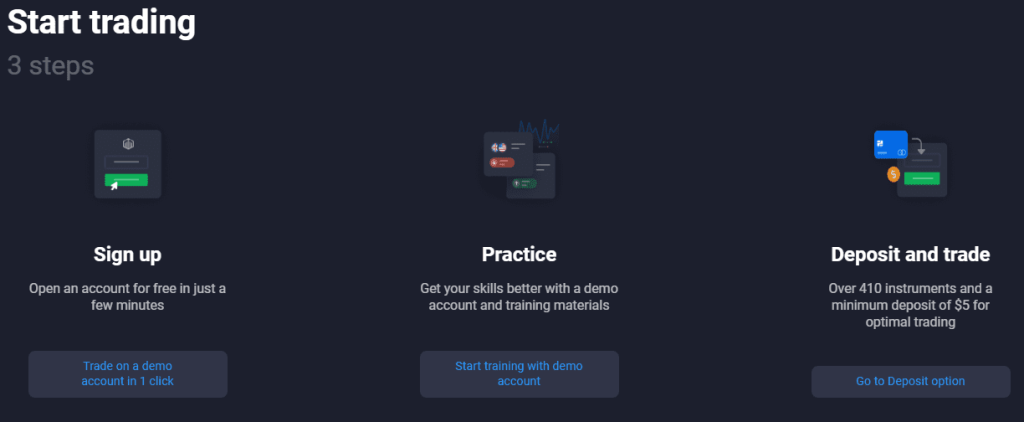 Here is a step-by-step guide to opening your account on Quotex:
Go to the official website of Quotex and click on Sign-up.
In the registration screen, fill in the form details like email, password, and currency you want to trade in.
In the next screen, choose between the 'Demo' or 'Real' account.
In a case of a real account, traders can make the instant minimum deposit of $10 and start trading.
Note: Traders can make a deposit via bank cards or cryptocurrencies, as Quotex support Binance Pay, CoinBase, Dogecoin, Dash, and many more options. 
What Can You Trade on Quotex
Below are the different market assets that traders can trade on Quotex:
Currency Pairs
Quotex allows traders to trade forex pairs, including EUR/USD, AUD/JPY, GBP/USD, USD/CAD, and many more.
Cryptocurrencies
Quotex offers the most popular digital currencies, including Bitcoin, Ethereum, Litecoin, Ripple, and others.
Stock Indices
Traders can trade some popular stock indices such as S&P500, DAX30, NASDAQ100, and more.
Commodities
Quotex also provides trading instruments in commodities such as gold, oil, coffee, etc.
Binary Options
Finally, Quotex offers binary options where traders can maximize their profits without any fees or commissions.
Quotex Customer Support

Quotex provides comprehensive customer service around the clock, available in several languages – including English, Indian, Spanish, and French. Traders can opt for email and ticket support in case of any queries or issues. Moreover, traders can also contact Quotex by writing on Telegram.
Unfortunately, Quotex does not provide phone support; however, customers can still conveniently get in touch with the broker through live chat and ticket support (email).
Advantages and Disadvantages of Quotex Customer Support
  Advantages

  Disadvantage

Email and ticket support
Support is provided 24/7
Multiple languages support
Quick responses are provided to the created tickets

No live chat options
Traders can't contact by phone
Contacts Table
| | Contacts |
| --- | --- |
| Foundation Date | 2007 |
| Registration Address | First Floor, First St Vincent Bank LTD Building, James Street, Kingstown, St. Vincent and Grenadine |
| Contacts | Email: support@quotex.io |
Security for Investors
Quotex, a brand of Maxbit LLC, is proudly registered in St. Vincent and the Grenadines and operates with full legal compliance with its laws.
The company promises the utmost security for its clientele, and to guarantee that data remains secure, it only uses innovative technology. Furthermore, there is a strict policy prohibiting third-party access to personal information; all confidential details are kept strictly within the organization.
In addition, two-factor authentication is available as an extra layer of protection for traders who decide to open a real account with Quotex. Payments are protected with the highest level of security, including SSL encryption and 3D secure code authentication when using Mastercard. Rest assured that your financial information is safe every step of the way!
  Advantages
  Disadvantages

Maximum security for investors
Two-factor authentication available
SSL encryption and 3D secure
Verifications are only required on huge withdrawals

No negative balance protection
Quotex is not regulated, so traders can't submit a complaint against a broker
Withdrawal Options and Fees
Withdrawing funds is swift and simple, as you can use the same method to make your deposit. In addition, you have an array of payment options open to you; Visa and MasterCard, Perfect Money, FK Wallet, Piastrix, and popular cryptocurrencies, such as BTC, ETH, and LTC, are all accepted.
Quotex doesn't charge any fee on withdrawals; however, the payment processor may charge a fee of 1-5%.
Traders can withdraw a minimum of $10 on major withdrawal methods like Visa and Mastercard. However, the minimum withdrawal amount for cryptocurrencies like BTC, Ripple, etc., is $50.
The broker takes 3 working days to process withdrawal requests. Typically, the withdrawal process will be complete in one to five days.
The company may request confirmation for sizable withdrawals, though the precise amount needs to be clarified from their website.
Quotex Vs Other Brokers
Here is a brief comparison between Quotex and some other popular brokers: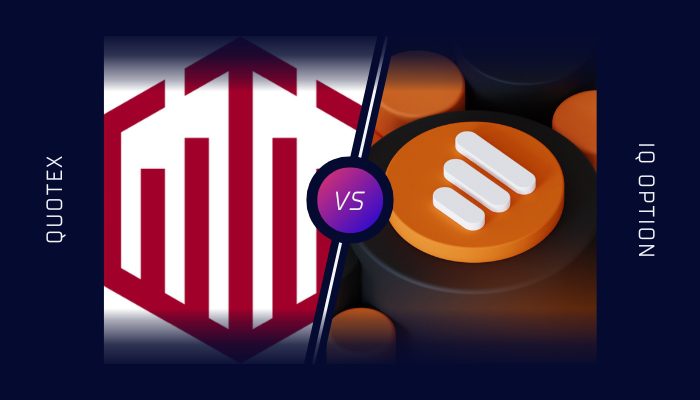 IQ Option is a popular digital trading broker having top-notch binary services. This broker facilitates trading with a low minimum deposit on a user-friendly interface. By opening a broker account on IQ Option, you can directly trade more than 14 cryptocurrencies at a low spread rate and maximum payouts. 
Through this platform, you have to pay a minimum withdrawal amount. So no worries if you don't have heavy assets for starting trading; you can only start exchanges at a $10 deposit. However, the fees and commission of this broker depend upon the condition of instruments available for trading in the market. 
Quotex is also an outstanding broker facilitating its traders with online binary options and welcome bonuses for registering in the trading. This platform has a proprietary web platform with different trading signals and digital options. 
When Quotex is compared with IQ Option, it comes to know both offer a minimum deposit of $10. In addition, both brokers offer demo accounts and options for digital trading. However, the thing which gives IQ Option an edge over Quotex is its comparatively high withdrawal fee for bitcoins. 
On the other hand, you will have to pay a commission for trading on IQ Option when there is no commission for Quotex trading. It depicts that both brokers are reliable on their own. It's up to you which broker suits you best according to your needs and demands.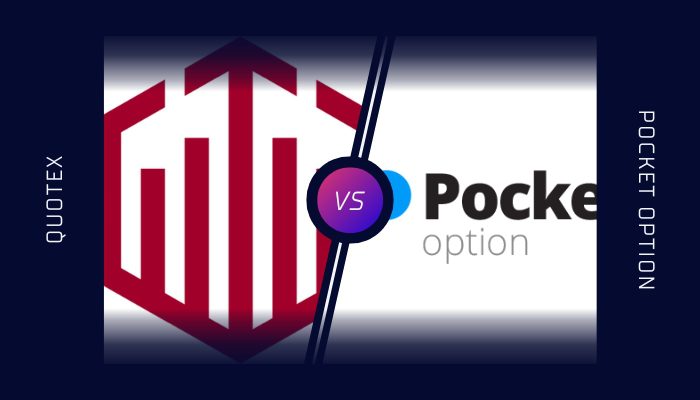 Pocket Option is a trading broker that assesses the exchange of stocks, currencies, indices, cryptocurrencies, and other commodities. Through this trading platform, you can make investments of 100-plus trading assets across the globe. In addition, it is well-equipped with MT5, technological trading, and financial innovations.
However, Quotex is a well-known broker specializing in binary trading. Traders can get 90% profit by the exchange of oil, metal, stock indices, and other cryptocurrencies. It facilitates investment opportunities from $10 with the wide support of technical indicators and 24/7 live video chat support. In addition, its payment system and personal information are secured and encrypted with 2-factor authentication. 
When these brokers are compared, we found that both platforms impose no fee or commission on withdrawal and deposit. But the Pocket Option is top-notch in the trading market as it allows passive gathering income through social trading platforms. However, traders need a comparatively higher amount, i.e., almost $50, to start trading in Pocket Option. 
The thing that makes Quotex trading limited is its incompatibility with algorithmic trading. The Pocket Option is perfect if you want to use algorithmic trading or a telegram bot with signals. We suggest you use Quotex to avail cost-effective trading opportunities. However, it totally depends upon you whether you like to trade through Quotex or Pocket Option.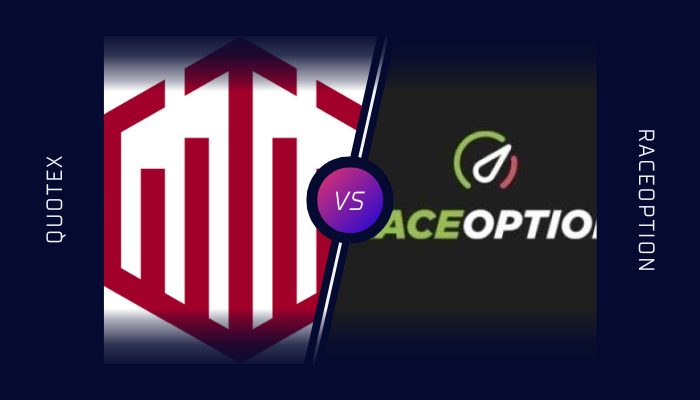 RaceOption is a reliable broker for CFD trading, giveaways, and other exchanges associated with binary options. Traders can make financial investments of both short-term and long-term on all frequencies. Another advantage of using this broker is that you can use it in multiple languages. In addition, this user-friendly interface has 24/7 customer care and chat support. 
With RaceOption, investors can generate more revenue as it offers multiple trading contests, bonuses, and affiliate programs. It also enables traders to monetize through passive income generation across the world. In addition, this broker's trading, non-trading, and maintenance activities are commission-free. 
On the other hand, Quotex is also a prominent forex and crypto exchange broker. It also facilitates CFDs trading with binary options on low spreads and zero commissions. It also enables traders to start their digital exchange and business with a minimum deposit of $10.
When compared, RaceOption has the upper hand in the financial market. Due to the provision of multiple dynamic and interactive features, traders and investors can enjoy trading of all levels, from beginner to experienced, on this platform. 
Quotex has no copy trading tools or personalized management systems to update investment programs. Most traders use RaceOption for crypto trading and forex exchange because of their optimal and proven specialties. But, again, it depends upon the trader which broker best suits his needs.
Conclusion: Quotex Review
Quotex stands out as a trustworthy and reliable platform, especially considering its newness to the industry. Traders can feel confident trading in digital options with this broker, taking advantage of their extensive range of assets.
This broker is ideal for those wanting to open a trading account and begin investing in forex, crypto, and other securities. Quotex also boasts great customizability as well as a straightforward verification process. The best part of this broker is that it offers powerful signals & indicators — allowing traders to make the most informed trade decisions possible.
However, remember that trading money with binary options can be risky. Thus, it's important to use a reliable broker and know the risks of this type of trading. Overall,  Quotex is one of the best trading platform for those looking to trade binary options.
Quotex Review FAQs
Is Quotex legit?
Yes, Quotex is a legitimate broker that allows traders to make financial investments from $10. It offers trading opportunities in stocks, currencies, indices, cryptocurrencies, and other commodities. In addition, it is well-equipped with financial innovations for a secure trading platform, making it a very popular choice among traders. However, remember that any top-tier regulator does not regulate Quotex, so you must do your own research before investing.
How does Quotex make profits?
Quotex offers its own proprietary trading programs and services, which can generate profit. It also offers commission-free trading opportunities and low spreads, which provide traders with the profit potential.
Is Quotex regulated in the USA?
No, Quotex is not regulated in the USA by any top-tier regulator.