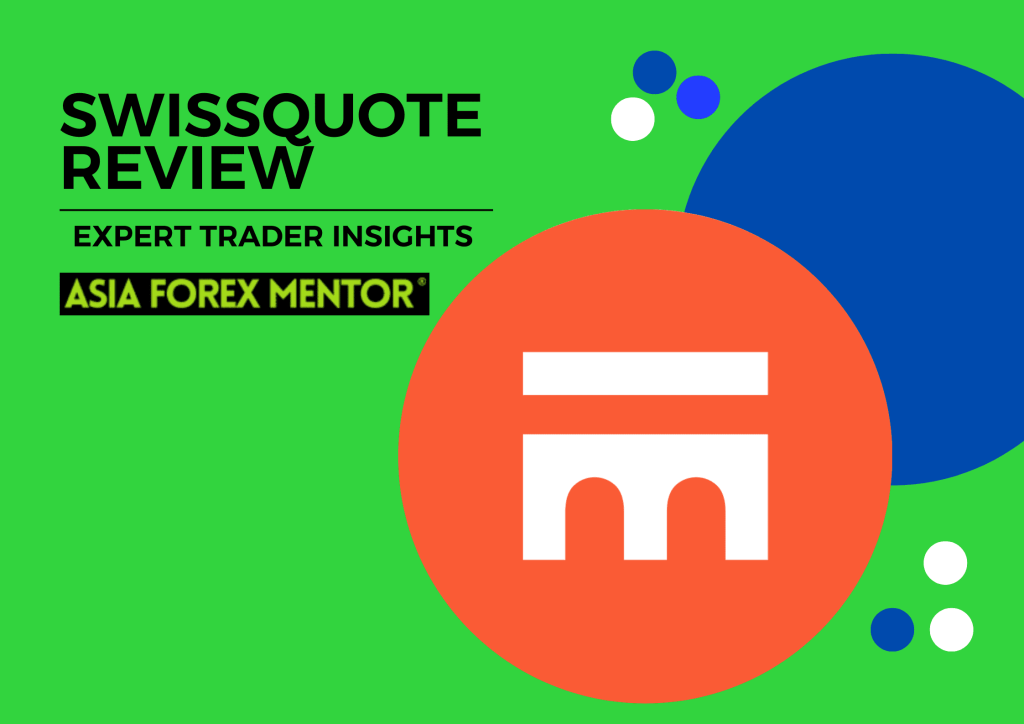 Swissquote Review
Are you searching for a reliable broker well-equipped with enticing features and regulated by international organizations such as the financial market supervisory authority? Then look no further.
Swissquote is the ideal option for professional traders to trade forex. The quirky forex trading platform has an impressive collection of trading and financial instruments . However, before trading accounts, we will conduct an extensive technical analysis to ensure it meets our standard evaluation criteria and help you decide if it is viable.
Continue reading to find out more about Swissquote. This article sheds light on the origins, pros, and cons of Swissquote and provides a comprehensive breakdown of its advanced features and user feedback.
Asia Forex Mentor Evaluation Criteria
Brokers are essential to traders' success. Thus, it is advisable for all traders to evaluate and keep an eye on these brokers from various angles before selecting their best choice.
This is crucial because it stops rookie traders from selecting the incorrect platforms and making ill-informed service trade-off judgments.
To establish which brokers are most successful at assuring trader profitability, Asia Forex Mentor's team of professionals examines them using more than 70 standards.
Our team examines every facet of trading, from joining up to taking winnings. Our specialists base the standard criteria according to the following parameters:
Affordability: Analyzing and comparing commission fees, spreads, and additional/hidden costs will help you determine affordability.
Broker's Efficiency: Examine and confirm the range of platforms, customer support, trading products, and accessible tools.
Security: It is ensured by examining the fund's regulations, background checks, account types, required minimum deposits, and leverage.
Technical Performance: Examine the technical performance by scrutinizing slippage, order types, performance, general dependability, and execution correctness.
User Interface: Examine the broker's user interface to see whether it provides advanced features like MetaTrader 4/5 and mobile trading.Our evaluation criteria rely upon four areas of interest: Efficiency, Competence, Customer feedback, and credibility. Upon careful analysis of Swissquote, the platform satisfies the Asia Forex Mentor Evaluation Criteria and is a reliable broker.
The platform can help you to become an advanced trader and provides sophisticated trading tools to maximize your chances of success while indulging in forex trading via a professional account.
What is SwissQuote?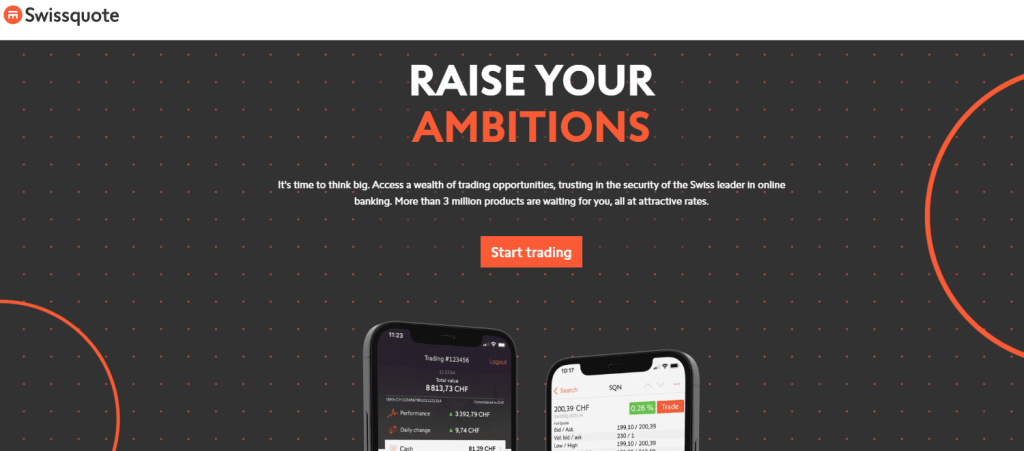 Swissquote group holding Ltd is a well-reputed broker and a prominent provider of online financial services. The advanced trader platform was established in 1996 and originated in Gland, Switzerland. It is regulated by the Swiss Financial Market Supervisory Authority and listed on the SIX Swiss Exchange (FINMA). Both malta financial services authority and Dubai financial services authority regulates it.
In addition to forex trading, CFD trading, banking, asset management, and consulting services, Swissquote provides maximum leverage in various other financial services and products. It is particularly known for trading forex and mutual funds, which enables users to trade various financial assets, including stocks, bonds, ETFs, futures, options, cryptocurrencies, forex, and CFDs.
The platform is relatively simple to use and offers a variety of enticing features, including charting tools, trading signals, real-time market data, mobile trading, and stellar customer support.
Swissquote bank is renowned for providing excellent financial services. For instance, it was one of the first online brokers to provide cryptocurrency trading. It has created several unique digital services, including robo-advisory, social trading, and mobile trading apps.
Swissquote Bank Ltd has received several distinctions for its products and services, including the International Finance Magazine's "Best Online Trading Platform" award. Swissquote provides various asset management services and online trading and banking services.
It boasts a group of knowledgeable investment experts that oversee various actively managed funds and give customers financial advice. It provides various trading instruments that can prove to be instrumental in the success of forex and CFD traders because it allows customers to open a free demo account and options for a standard and prime account.
It can be a viable option for professional traders indulged in forex and CFD trading.
Advantages and Disadvantages of Trading with SwissQuote
  Advantages
  Disadvantages

Immense variation and access to versatile tools to make informed trading decisions
Regulated broker
Two- Factor Authentication and SSL encryption ensure a strong defense against security breaches
Mobile app for trading from anywhere in the world

Higher trading and withdrawal fee
Not beginner friendly
Limited options
Benefits of Trading with SwissQuote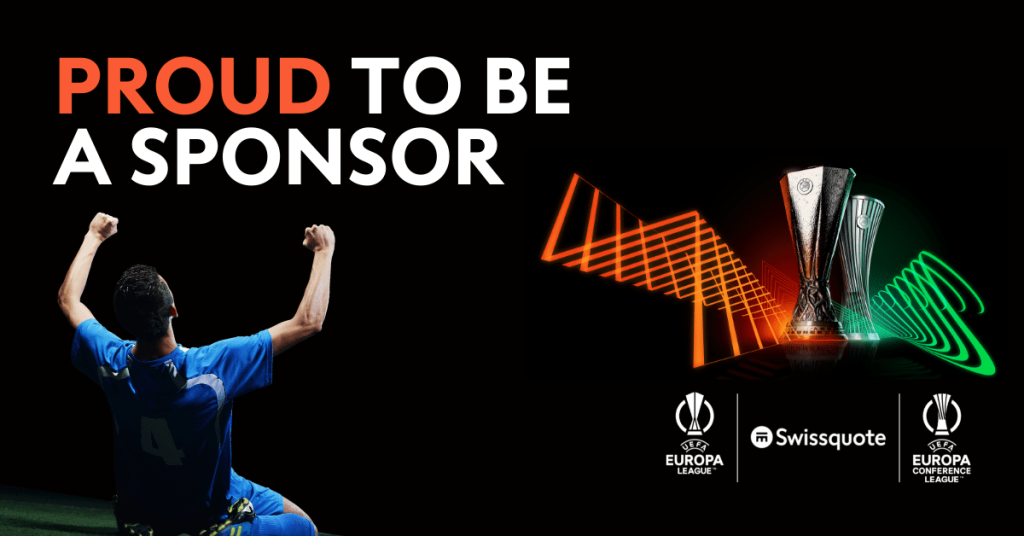 There are numerous benefits to trading with swissquote. It is a leading platform for forex and CFD traders. Users can create a free demo account to proceed.
This platform is ideal for an advanced trader to create stellar trading accounts that yield maximum leverage. Let's look at some prominent benefits of trading with Swissquote bank ltd.
Surplus of Financial Instruments
Swissquote offers a vast array of financial tools for users to trade forex and CFDs. Customers can create forex accounts or demo accounts to get started.
Swissquote provides users with diverse tools, including stocks, bonds, cryptocurrencies, and commodities. This allows swissquote traders to build diversified portfolios.
Competitive Rates
Swissquote offers highly competitive trade pricing with exceptionally low withdrawal fees and complete transparency on bank transfers. This allows swissquote traders to maximize their profits by implementing complex trading strategies.
Reliability and Security
Swissquote is a regulated broker that is well-reputed for its reliability. It is thoroughly scrutinized by regulation authorities globally, such as UK's financial conduct authority, Malta financial services authority, and Dubai financial services authority.
Swissquote provides users with a professional account that is made secure by using advanced protocols such as SSL encryption and two-factor authentication.
SwissQuote Pros and Cons

Pros
Offers Trading in Cryptocurrencies
The versatility of available trading instruments
Access to real-time market data
User-Friendly Mobile App
Cons
High Withdrawal fees and Inactivity fees are charged on accounts that stay dormant for a long time
Requires a high minimum deposit to open forex accounts
SwissQuote Customer Reviews
There are numerous negative reviews done on Swissquote by clients, which shows that it is probably not a great investment site. For instance, one consumer proclaims that swissquote is a good trading platform that evolves rapidly and proposes new financial solutions with the passage of time.
But after the initial praise, they follow up by saying that swissquote account behaves like any other conventional bank. This means that the greater the consumer trading reserves, the better they are treated. They finish the review by saying they wish that swissquote were not such a greedy platform.
Another user says that Swissquote is scamming users. He further proclaims that numerous investors and traders in his vicinity lost plenty of funds, including himself, who lost about $50,000 of investment capital. The consumer seems highly dissatisfied with the customer support desk and iterates that the department failed to respond despite multiple requests.
In the end, he says he lost all his money and hope and had to seek external assistance to resolve this matter. One user complains that Swissquote charges high fees, and their claim of flat rate pricing is false and misleading.
He further proclaims that the charges levied are not transparent, and swissquote enforces a stock exchange fee and even imposes a fee for partially executed trade to proceed to completion. He ends the review by iterating that swissquote takes a large chunk of every transaction by bearing minimal actual costs.
SwissQuote Spreads, Fees, and Commissions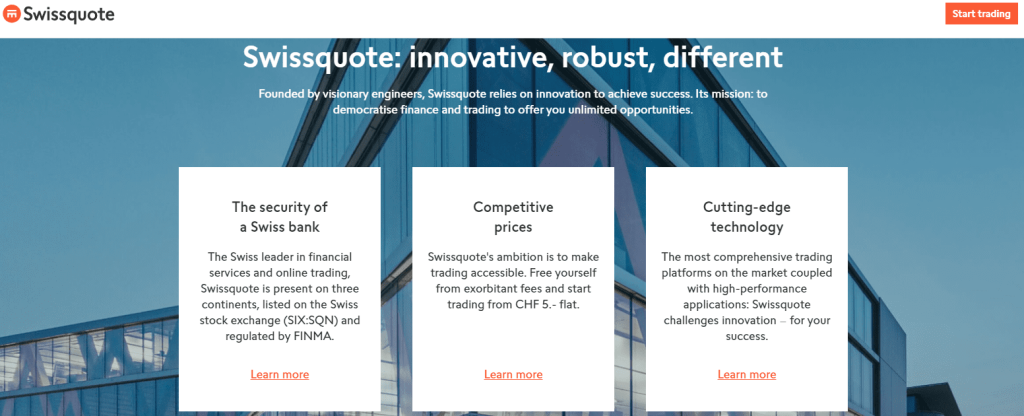 Swissquote offers different commissions, spreads, and fees which depend upon the type of trading platform used and on swissquote account types. Let's break down this process.
Spreads
Swissquote offers spreads depending on the asset class, market conditions, and the trading platform utilized by the consumer. Usually, spreads are highly competitive, with the lowest spreads being available on ECN accounts.
For instance, the average spread on EUR/USD standard account comes to be around 1.4 pips, while the spread for the same currency pair on the ECN account is merely 0.1 pips.
Fees
Swissquote primarily charges users commission, inactivity, withdrawal, and overnight fees.The platform charges users a commission fee on their ECN accounts based on the volume traded. This can vary anywhere between $3.5 to $10 per lot.
In addition to these commission fees, Swissquote charges an inactivity fee of CHF 15/month on accounts that remain inactive for six months or more. Swissquote also charges withdrawal fees for various types of transactions. for instance, it charges a flat fee of CHF 2 for withdrawals via a bank account.
Lastly, Swissquote charges an overnight fee for positions held overnight on some particular assets. This fee varies according to the asset class and the trading platform used.
Commissions
Swissquotes charges commissions for trades made on their ECN accounts. These fees range from $3.5 to $10/lot but are not charged on standard accounts.
The charges levied, and the imposed fee of this platform is subject to variation and change. Therefore consumers must contact the platform's fee schedule to make an educated decision.
Account Types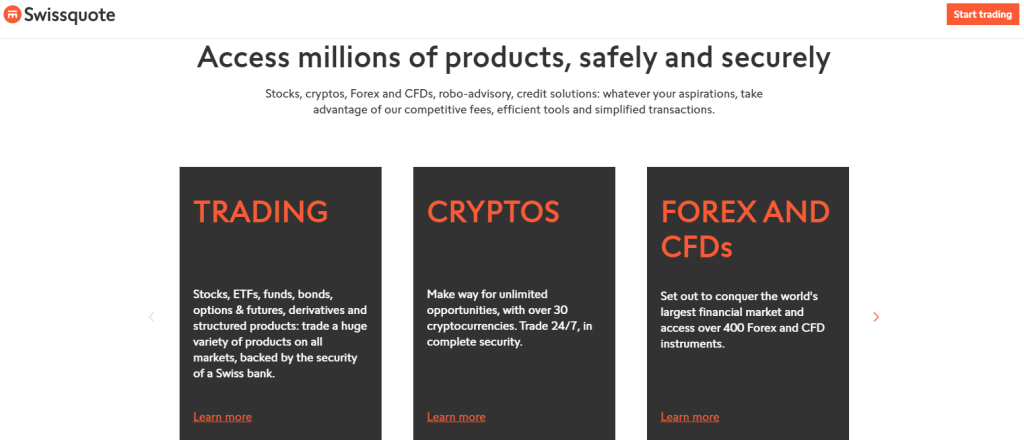 Swissquote offers numerous account types, each custom-tailored to the requirements of the consumers. Some of them are illustrated as follows.
#1. Trading Accounts
Swissquote offers a wide range of trading accounts for different types of traders, including Swiss DOTS, Forex, Futures, and Precious metals.
#2. Investment Accounts
Swissquote offers investment accounts that allow users to invest in various financial instruments such as stocks, ETFs, bonds, and funds.
#3. Robo-Advisor Accounts
Swissquote offers these robo-advisor accounts that are similar to automated investment platforms.
They help consumers manage their funds and create tailored profiles that comply with their investment goals and risk tolerance.
#4. ePrivate Banking Accounts
Swissquote offers these accounts for high-ticket clients. These accounts allow for a plethora of customized and personalized services, including portfolio management and investment advice.
How To Open Your Account?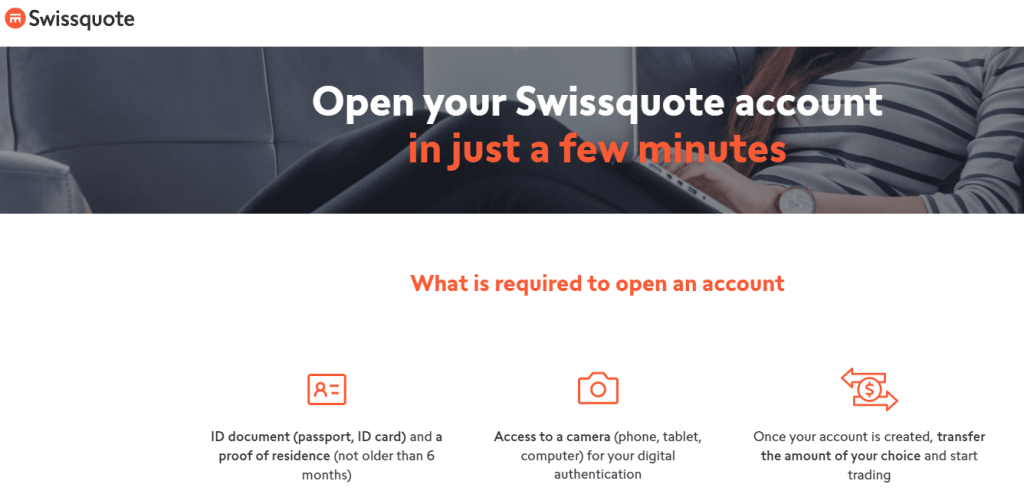 The process for account opening varies according to the type of account you want to open.
Similarly, the requirements may also differ based on your country of residence and the regulatory requirement of your region. However, the standard procedure is as follows.
Begin by visiting the swissquote website and selecting "Open an Account". Then choose the type of account you want to open.
Once done, you must fill out an application form with your name, address, phone number, and other personal information.
After this, you will be asked to provide information like your employment status, citizenship, and current tax status.
After completing this step, you will be prompted to verify your identity by uploading a copy of your ID or passport and proof of address, such as a utility bill.
Next, you must agree to the platform's terms and conditions and confirm your account. Lastly, you will introduce funds to your account using the available payment options.
When your application and documents are approved, you will receive confirmation of your account opening and can commence trading.
What Can You Trade on SwissQuote
Swissquote is a multi-asset platform where traders can trade a wide variety of tradable assets such as forex, futures, and stocks. Swissquote provides its user with access to over 60 stock exchanges globally, which allows them to trade around the world with ease.
The platform also allows forex trading by providing access to major, minor, and exotic currency pairs. Furthermore, users can also invest in precious metals such as gold, silver, platinum, and palladium. Users can also use swissquote to trade cryptocurrencies like Ethereum, Bitcoin, and Litecoin.
In addition, the platform allows traders to trade futures by providing access to a vast array of future markets, including stock indices, commodities, and more.
SwissQuote Customer Support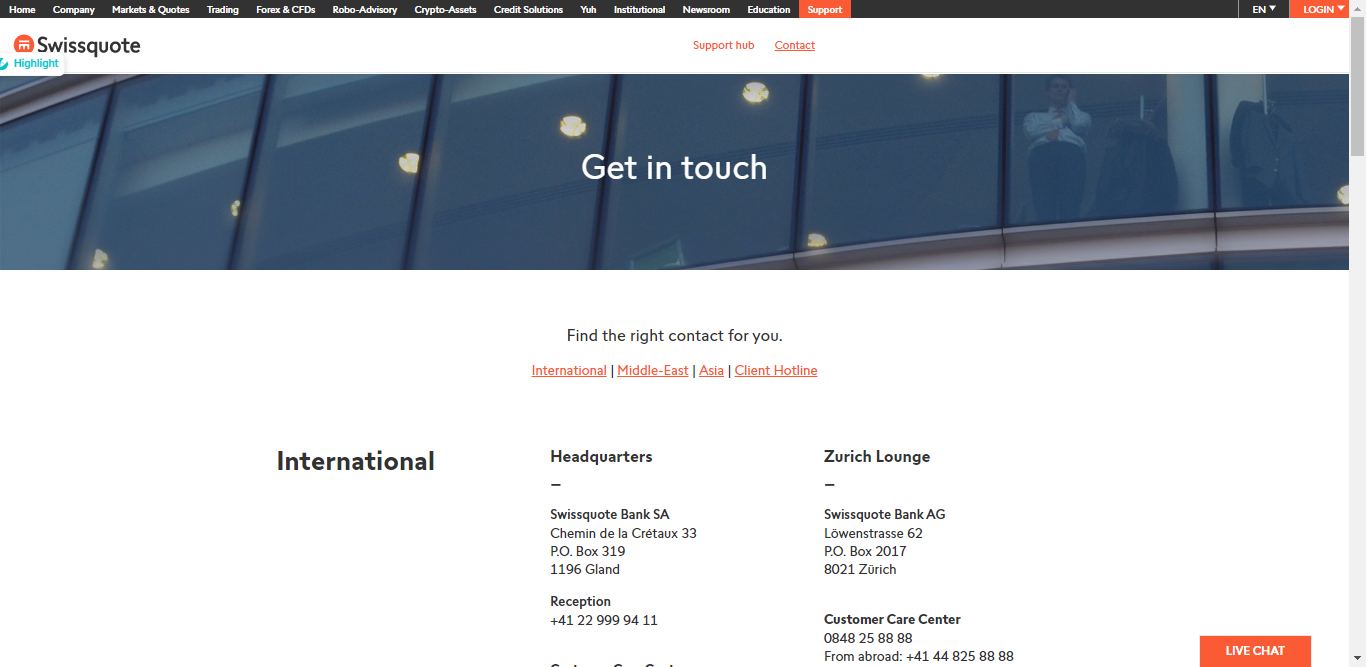 Swissquote is renowned for its customer support. Users can contact support via a variety of mediums. Those who want to talk with an agent can request phone support by going to swissquote website and finding the phone number for their specific country.
Swissquote also offers email support you can contact them using the email address of your particular region, which is available on their website. In addition, Swissquote offers live chat functionality on their website, allowing users to connect with support representatives in real time.
Advantages and Disadvantages of SwissQuote Customer Support
  Advantages

  Disadvantage

Support available in multiple languages
Multiple Channels for Support
Knowledge base which covers FAQs
In-Person Contact

Limited Support for Demo and inactive accounts
Slow Response Time
Limited Hours
Security for Investors
  Advantages
  Disadvantages

Two Factor Authentication
SSL Encryption
High Regulation
Anti-Fraud Measure

Lack of insurance coverage for Cryptocurrency
Cybersecurity tricks such as phishing, malware, and other cyber threats
Withdrawal Options and Fees
Swissquote offers various withdrawal options for its consumers, and the fees charged vary according to the method chosen for withdrawal. Swissquote offers bank transfers, and consumers can withdraw their funds. Swissquote does not levy bank transfer fees, but the consumer bank may incur charges.
Users can also use credit/debit cards to withdraw their funds, on which a 1.75% fee is charged. Swissquote also allows users to use skrill or Neteller to withdraw their funds. These platforms incur fees of 1% and 2%, respectively.
SwissQuote Vs Other Brokers
It is important to compare swissquote with other leading brokers to make an informed decision.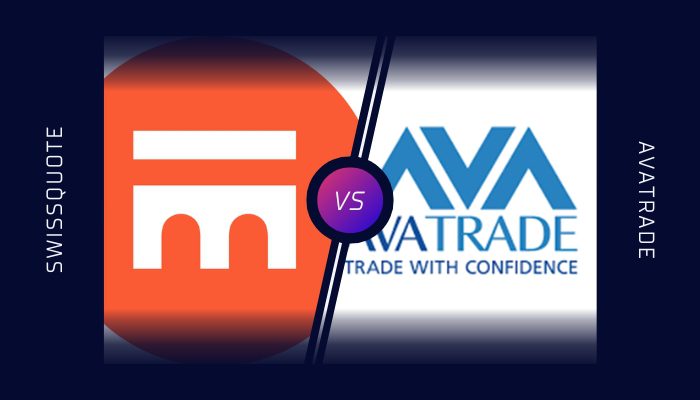 Swissquote is regulated by FINMA, while Avatrade is much more highly regulated. multiple entities regulate it, including ASIC, the FSC of the British Virgin, and the Central bank of Ireland.
Swissquote offers various account types like demo, standard, premium, and professional accounts, while Avatrad offers the option of an additional Islamic account. Also, although the fee incurred on both platforms vary according to account type, AvaTrade has considerably low fees than swissquote.
Swissquote offers numerous trading tools like forex, stocks, ETFs, bonds, and crypto, while Avatrade offers forex, stocks, indices, and crypto. Swissquote is a viable option for those interested in multiple trading platforms and a wider range of trading instruments. While Avatrade is ideal for those looking for simpler accounts and low fees.
Our thorough analysis shows that Swissquote outperforms Avatrade by a great deal particularly in the sector of available trading instruments and trading platforms.
Both are online trading platforms, but Roboforex is much more heavily regulated. While swissquote is regulated by FINMA, Roboforex is regulated by IFSC of Belize and CySEC. Roboforex also offers a lower fee than swissquote account. Swissquote offers a wider range of trading instruments when compared to Roboforex.
Roboforex has fewer educational resources when compared to swissquote, which boasts extensive education and research center with access to trading ideas, analysis, and webinars. Unlike swissquote, Roboforex offers 24/7 customer support, greater diversity and options in account types, lower fees and a much more advanced trading platform.
Therefore upon careful analysis, Roboforex outperforms Swissquote bank ltd by a considerable degree in all aspects except in the case of available educational resources.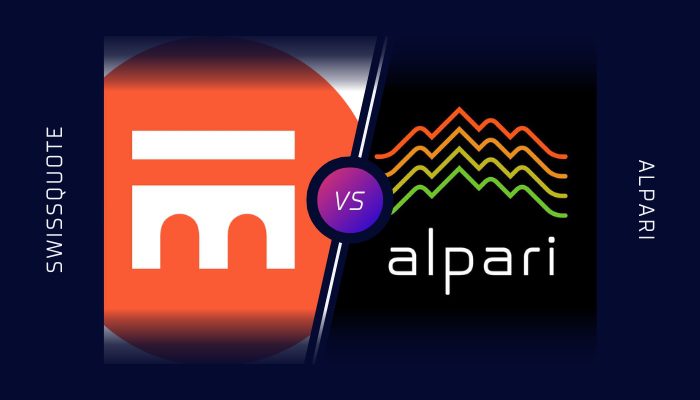 Both are online trading platforms enabling consumers to invest in various financial markets.
Swissquote is regulated by FINMA, while FCA much more heavily regulates Alpari in the UK and FSC in Mauritius. Alpari primarily focuses on forex, precious metals, and commodities, while swissquote has a wider range of trading options such as ETFs, bonds, crypto, stocks, and bonds.
Swissquote has a higher fee when compared to Alpari. The latter offers lower fees on forex, while the former charges a hefty amount, particularly for its pro and premium accounts.
Alpari offers competitive pricing for its services and is considered a more cost-effective option due to low spreads and commissions. In addition, Alpari has a lower minimum deposit requirement and it offers advanced trading platforms such as MetaTrader 4 and 5.
Upon an extensive investigation, we conclude that Alpari slightly outperforms swissquote, especially in the cost and pricing sector.
Conclusion: SwissQuote Review
In conclusion, swissquote is a well-reputed online trading platform that offers access to various trading options, including forex, stocks, bonds, and commodities.
The platform is regulated by FINMA and has a strong reputation for security. It offers several trading platforms, such as the proprietary advanced trader platform, MetaTrader 4, and MetaTrader 5.
The reviews are negative in the majority and complain about lack of transparency. Therefore users should advance cautiously and confirm the charges before proceeding with the trade.
Overall, swissquote is a good choice for consumers looking for secure and reliable trading solutions with a broad range of trading options and an explicit focus on Swiss banking.
SwissQuote Review FAQs
Is SwissQuote legit?
Yes, Swissquote is a legit and regulated platform by FINMA known for its strict regulation. All trade, deposit, and withdrawal requests get honored as required.
Is Swissquote crypto safe?
Swissquote is strict in terms of security, and they use SSL encryption combined with two-factor authentication to ensure safety. Additionally, they store crypto assets in cold storage, making them less vulnerable.
However, crypto prices are highly volatile, and no online platform can guarantee consumer funds' security. Therefore, customers should do their research before proceeding.
Is SwissQuote regulated?
Yes, Swissquote is highly regulated by FINMA, ensuring that it complies with all relevant laws and regulations. Therefore traders can rest assured that Swissquote is trustworthy and reliable.