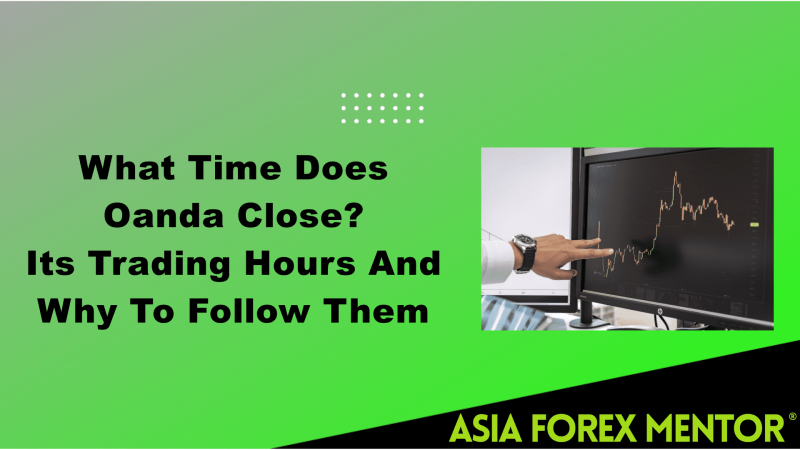 Oanda is a leading foreign exchange broker and financial services company that operates around the clock. They provide traders with access to the forex market 24 hours a day, five days a week, from Sunday 5 pm Eastern Time to Friday 5 pm Eastern Time until the markets are closed.
Oanda's clients can trade whenever they want without worrying about market closures or lunch breaks. This continuous operation sets the broker apart from other financial markets with regular downtime. The company developed a new Oanda logo which was revealed on November 1, 2022.
However, it is important to note that there may be occasional scheduled maintenance periods when the Oanda platform may be temporarily unavailable. Nevertheless, Oanda's commitment to providing seamless, 24/7 access to foreign exchange even though the markets are closed makes it a popular choice for traders worldwide.
Read through this guide to learn tools and strategies Oanda use to serve one of the largest community of traders and investors around the world.
Also Read: Best Time To Buy Stocks
Contents
Learn Tools and Strategies Offered By Oanda
Oanda offers a variety of learning tools and strategies to help traders improve their skills and achieve success in forex trading. Some of the learning tools provided by Oanda include educational articles, video tutorials, webinars, and a demo trading account. These tools offer traders a comprehensive understanding of the forex market, in-depth insights, and practical tips on specific trading strategies.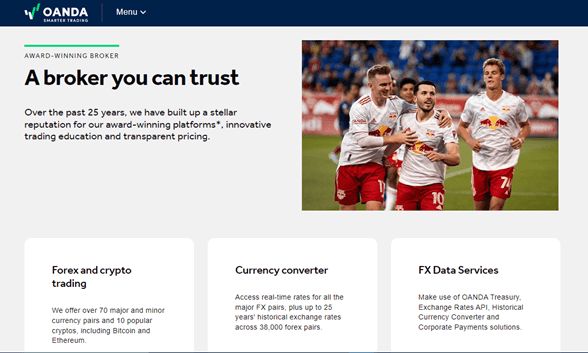 In addition to these learn tools and strategies, Oanda offers a range of trading strategies to help traders make informed trading decisions. These strategies are based on technical analysis, fundamental analysis, and market sentiment and are designed to help traders identify market trends and make profitable trades.
Its trading calculator helps you determine the trading volume and the maximum stop-loss limit for the trade based on your trading capital. For technical traders determining the right stop-loss level is crucial. Technically, you cannot maintain your risk management strategy if you don't have a precise plan for assessing trading stop-loss limits. For instance, a 2R risk management strategy means your profit targets must be twice your stop loss budget. According to this strategy, you need to ignore any trading opportunity that requires a larger stop loss than the potential amount of profits.
Utilizing these learning tools and strategies can provide traders with numerous benefits. By gaining a deeper understanding of the forex market, traders can make more informed and confident trading decisions. Additionally, using these tools and strategies can help traders remain updated with the latest changes in the market and identify new opportunities for growth and success.
Furthermore, practicing with the demo trading account can help traders refine their skills and test their strategies in a risk-free environment. This can increase their confidence and help them become more successful in live trading. In conclusion, utilizing Oanda's learning tools and strategies can significantly benefit traders in their journey to success in forex trading.
Using its hours converting tool, you can adjust Oanda trading hours to coincide with the global financial markets. It also helps you track key trading hours, including London and New York sessions. Besides, it provides trading calculators helping you determine risk/reward and stop loss order of your trade.
Traders may get confused with the same Oanda logo used for its different service sites. The Oanda logo used for the broker service and the one used for currency converters is almost the same. It only changes the title below the Oanda logo mentioning the service the site offers. Therefore, whenever you search the exchange using google or other search engines, make sure you check the service name mentioned below the Oanda logo.
Menu Icon Learn Tools
The menu icon learn getting started by providing Oanda clients with a navigation tool allowing traders to access various features and services within the platform. The menu icon is typically represented by a button or an icon with three horizontal lines, commonly referred to as a "hamburger" icon.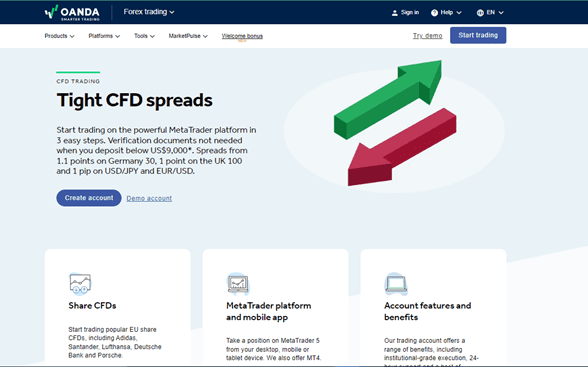 The purpose of the menu icon learn getting easier is to provide traders with a centralized and easy-to-use navigation system. By clicking on the menu icon, traders can access Oanda's features, such as account information, open trades, order history, news, and analysis, as well as other services, such as customer support and educational resources.
The menu icon learn tools are designed to be user-friendly and intuitive, making it convenient for traders to access the information and tools they need quickly and efficiently. This is especially useful for traders who need to access multiple features or services simultaneously, as it provides a centralized and organized way. In conclusion, the menu icon learn getting updated with the beginner-friendly interface is an essential development of Oanda's platform and valuable menu icon learn tools for traders.
Margin Closeouts
Margin closeouts refer to a mechanism used in forex pairs trading to limit the potential losses of a trader. It occurs when the amount of funds in a trader's account balance falls below a specific level, known as the margin closeout's value. At this point, the broker will automatically close a portion or all the open positions to prevent further losses.
In forex trading, margin refers to the number of funds required to open a position. The margin closeout value is determined by the broker and is based on factors such as the current market conditions, the size of the trader's account, and the size of the open positions.
Oanda handles margin closeouts by monitoring the trader's account balance and automatically closing positions if the balance falls below the margin closeout's value. This helps to protect the trader's account and limit potential losses.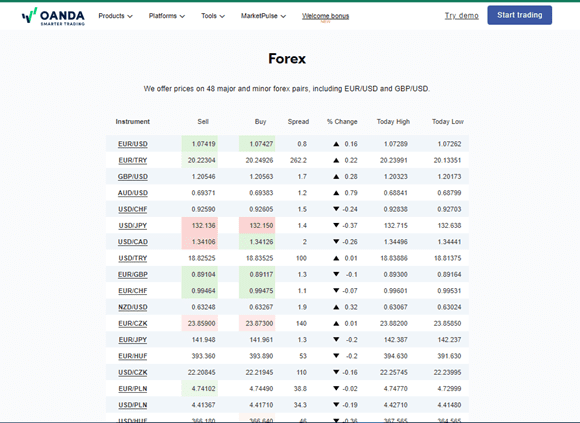 In addition to the automatic margin closeout mechanism, Oanda provides traders with tools to monitor their margin requirements and account balance. This lets traders stay informed about their financial status and make informed trading decisions.
Overall, margin closeouts represent important aspects of forex trading and help to manage risk. By utilizing the instrument provided by Oanda, traders can be confident that their positions will be closed if necessary, reducing the potential for significant losses.
Also Read: Forex Market Hours: The Best Time to Make Profits
Fees and commissions
OANDA's trading costs are often high compared to the best brokers, with significant adequate margins over its standard and core pricing. However, OANDA's primary benefit is not a discount broker; its automated implementation is across its client offering.
Spreads: Although the minimal spread cost may be a little bit more than those companies that publish a sub-pip spread, OANDA's bid/ask spreads are most comparable to FOREX.COM and FxPro (less than 1.0 pip). For instance, OANDA's average non-core pricing on the EUR/USD pair during Q1 2019 was 1.2 pip.
Pricing: OANDA's standard price has smaller spreads but also adds a per-side charge of $5 for every $100,000 in currency (or around $10 for every round turn standard lot). The minimum deposit for this option is $10,000; when the commission is considered, the total cost is almost the same as the commission-free rate. Consider that the EUR/USD margin is 1.4 pips under the default pricing structure but only 0.4 pips under core pricing. The overall cost for core pricing comes to 1.4 pips after accounting for the commission equivalent of 1 pip (0.5 pips per side), which is the same as the default price.
Education
OANDA complements its good selection of printed educational content with several staff-led webinars. But it doesn't have a wide selection of instructional videos.
Learning Center: The online course from OANDA has 19 chapters and covers technical and fundamental analysis. Each chapter includes many lessons, although many supplemental videos are merely platform tutorials rather than instructions on the global financial markets.
Potential for development: The introductory educational material on OANDA's website is dispersed throughout. All traders would benefit from adding the capability to filter instructional resources by experience level. The top brokers in this field offer a wide selection of videos and materials. As a result, in addition to the platform tutorials already available, I'd also like to see an increase in the number of educational films at OANDA.
Trading Applications for Mobile Devices
One of the top brokers in this field in 2023, OANDA's fxTrade mobile app is simple to use, offers high-quality market analysis, and has outstanding charting features.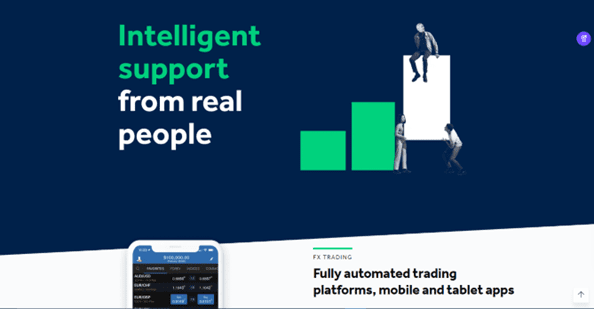 Along with its unique fxTrade mobile app, OANDA also provides the well-known MetaTrader 4 (MT4) mobile app created by MetaQuotes Software Corporation.
By selecting the chart icon at the bottom of the watchlist, users of the fxTrade app can quickly open a chart. I discovered that the general design was uncomplicated and straightforward to use, whether I was setting up a transaction or adding a price alert. Beyond its simple layout, the fxTrade app balances charting with tools like news headlines and analysis from Autochartist.
Pros And Cons of Oanda
Pros of Oanda:
Competitive Spreads: Oanda offers competitive spreads, which can reduce trading costs for traders and increase potential profits.
Wide Range of Instruments: Oanda offers a wide range of instruments for trading, including forex, indices, commodities, and more. This provides traders with a diverse range of trading opportunities.
User-Friendly Platform: Oanda's trading platform is user-friendly and easy to navigate, making it accessible to traders of all experience levels.
Strong Regulation: Oanda is regulated by top financial authorities such as the FCA and ASIC, providing clients with the highest security for their funds.
Innovative Tools: Oanda offers a variety of innovative and educational tools/features, helping traders make informed trading decisions, such as its AI-powered trading signals.
Cons of Oanda:
Limited Range of Trading Platforms: Oanda only offers its proprietary trading platform, which may not meet the needs of all traders.
Limited Educational Resources: While Oanda provides some educational resources, it may not have as extensive a library as other brokers.
Limited Customer Support: Oanda's customer support may not be as readily available as other brokers, and response times may be longer.
Higher Minimum Deposit: Oanda has a higher minimum deposit requirement than some other brokers, making it less accessible to beginner traders.
Limited Range of Products: Oanda may not offer as extensive a range of products as some other brokers, limiting traders' options for diversifying their portfolios.
Bottom Line
In conclusion, the outline discussed various essential aspects of Oanda, a leading forex trading platform. The menu icon was explained as a tool to access different features and functions of the platform. The learning tools offered by Oanda, such as educational articles, video tutorials, webinars, and a demo trading account, were highlighted for their importance in helping traders improve their skills and knowledge. The benefits of utilizing the various learning tools and strategies offered by Oanda were also discussed.
In addition, the outline provided an explanation of margin closeout and its role in forex trading hours. The way Oanda handles margin closeout was outlined, emphasizing the importance of limiting potential losses. While corruption and fraud coincide with the global financial markets, Oanda exceptionally remained as transparent as possible to its clients. Overall, the outline provided a comprehensive overview of Oanda and the platform's various tools and features available to traders.
FAQs
Is OANDA Closed Today?
From Sunday at 5 pm. New York through Friday at 5 pm Eastern Time, Oanda offers traders access to the currency market twenty-four hours a day, five days a week.
What Time does the Forex Market Close?
The forex market is decentralized, which means it does not have a central exchange with regular trading hours. Instead, the market operates continuously from Sunday at 5 pm EST to Friday at 4 pm EST, allowing complete daily trading hours. However, it's important to note that the liquidity of different currency pairs can vary throughout the trading week, with lower liquidity during weekends and holidays.
Can You Trade OANDA on Weekends?
Trading hours are open from around 5 pm on Sunday through 5 pm on Friday, New York time. If the trades are available during the week: You can't sell or re-open any positions when the markets are closed.
Can US30 be Traded 24 Hours a Day?
The performance of the 30 stocks that make up the US Wall St 30 can significantly impact the entire US stock market because it is a price-weighted index. The NYSE in New York is open from 9.30 am to 4.30 pm on weekdays (when the markets are closed).