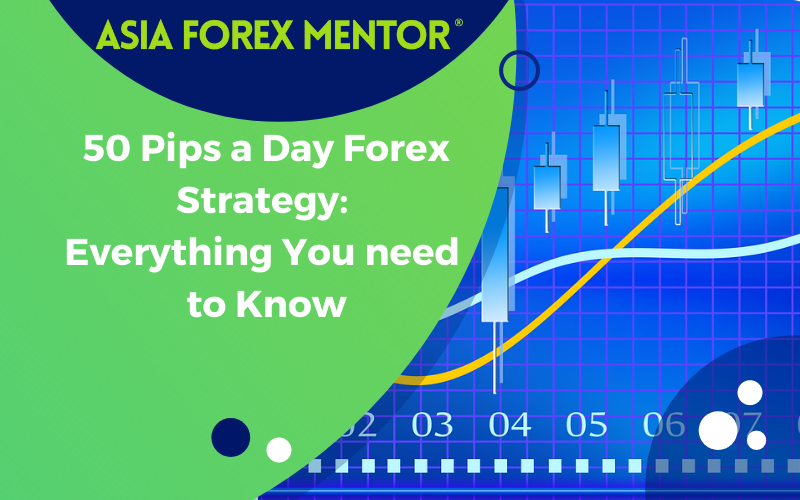 50 Pips a Day Forex Strategy
When trading forex, strategy is key. You want to know when to open and close your positions even before you look at the chart. Without a plan, you set yourself up for failure. As with any other moneymaking ventures, there are different strategies and they all work in different situations. One popular method is the 50 pips a day forex strategy.
50 Pips a Day Forex Strategy – Quick Setup Tutorial
Content
Is the 50 Pips a Day Forex Strategy Possible
Let's start with the basics. This strategy is fundamentally simple. It works by capitalizing on the early market movement of GBP/USD or EUR/USD market or any USD related pairings. This strategy works well with these currency pairsas they are considered to be major pairs with a relatively higher volatility, but you can try with other pairs and see what works. You can find it in the book "50 pips a day forex strategy". Amazon has one for sale. You might even be able to find 50 pips a day forex strategy PDF free download as well if you dig deep enough.
Simplicity is a double-edged sword. One of the key strengths of this strategy lies within its simplicity. More often than not, some of the best day trading strategies are those that are simple. This simplicity allows them to be more robust compared to other complex strategies that only work when all the boxes are ticked. Although simple, like any trading strategy, risk management is always important. Know how much return you want to get from your positions and try not to get greedy. Furthermore, the simplicity is also one of the strategy's weaknesses. Because of the element of simplicity, the strategy requires to be scrutinised carefully before the execution of any trade. This is attributed to the lack of the capability to filter out not so good trades. When a strategy is kept simple, market experience and sentiment become extremely crucial. Knowing how to differentiate an A-grade trade with a higher probability and a normal trade with lower probability will determine a trader's overall win rate and profitability. 
If you are new to the whole forex world, some explanation is in order. A "pip" is the smallest decimal in a given currency pair. Since we are trading in GBP, USD, or EUR, all of which have four decimals, a pip equals 0.0001 currency unit. 50 pips, therefore, equate to 0.005 USD, GBP, or EUR, or five-tenths of a cent.
Immediately, you may think that this is a pitiful amount. And you do have a point. Five-tenths of a cent per day is a minuscule amount. But this is the reality of forex trading as an individual trader. You make profits off these little pips. However, this is assuming you only use $1 or one currency unit for trading. If you invest a little bit more, you also get more money in return.
Suppose that you have $2,000 in your account. If you follow the 50 pips a day strategy and invest in GBP/USD, and if it pays off, you earn %0.0050 per dollar you put in. In this case, your profit would be $10. If you keep it up through the month, you get $300. Again, this is nothing to write home about. But this is some solid money for a few clicks every morning, which almost everyone can do with their eyes closed.
This is where leverage comes in. Many forex trading platforms offer some hefty leverage to their users. This is one way to multiply your profits. For instance, if you go all in and opt for the 500:1 leverage, your $10 profit turns into $5,000. As you might suspect, there is a catch. Leverage amplifies both your gains and losses, so you need to be careful when using this power.
This strategy is not foolproof and it will not work 100% of the time. No strategy guarantees that. The point is that you can see how much money you could potentially make on a good day, depending on how much money you invest and how the market moves that particular day.
At the end of the day, forex trading is more about making small profits over a long time. You only make a huge amount of money when you get lucky. But there is no need to hurry, either. If you keep at it consistently, you can see the number growing nicely over time.
There are also other variations of this strategy such as the 20 pips a day guaranteed strategy and the 100 pips a day strategy. PDF files on those can be found online if you do a little digging. The same goes for the 10 pips a day forex strategy PDF and 50 pips a day forex strategy PDF book. Free download is often offered, but you should be careful about downloading files from the internet.
Also read: Forex educators
Pros and Cons
Other than the point of simplicity mentioned above, as with every other trading strategy, there are certain drawbacks you need to be aware of.
The great thing about this strategy is that it is easy for any trader to learn and utilise. If you are the type to set and forget, then this strategy would suit your style very well. You just need to cancel a pending order after the other is activated. If you are short on time or are just uninterested in the market as a whole, this strategy fits you perfectly. You only trade once per day, which also prevents you from over-trading. On top of all that, this strategy is designed to achieve consistency through various means: profit, time of trading it and the timeframe in the execution of it.
In contrast, this strategy is not suitable for those who are more involved in the market. To them, one trade for 50 pips of profit just would not cut it. It is a fair bit of money but they know and want to do better than that. It all comes down to risk here. Keeping your profit locked in at 50 pips helps you stay focused on the goal. The tradeoff is that you could be making up to 200 pips on that one position, and you did not maximize your profit but instead missed out on the potential profit targets that lie ahead. Furthermore, it is highly dependent on price action analysis to increase the win rate of this strategy. To not understand the price action and execute a trade would be tantamount to blindly trading. Hence, though simple as it may be, it is still a strategy that rewards those who understand what they are doing.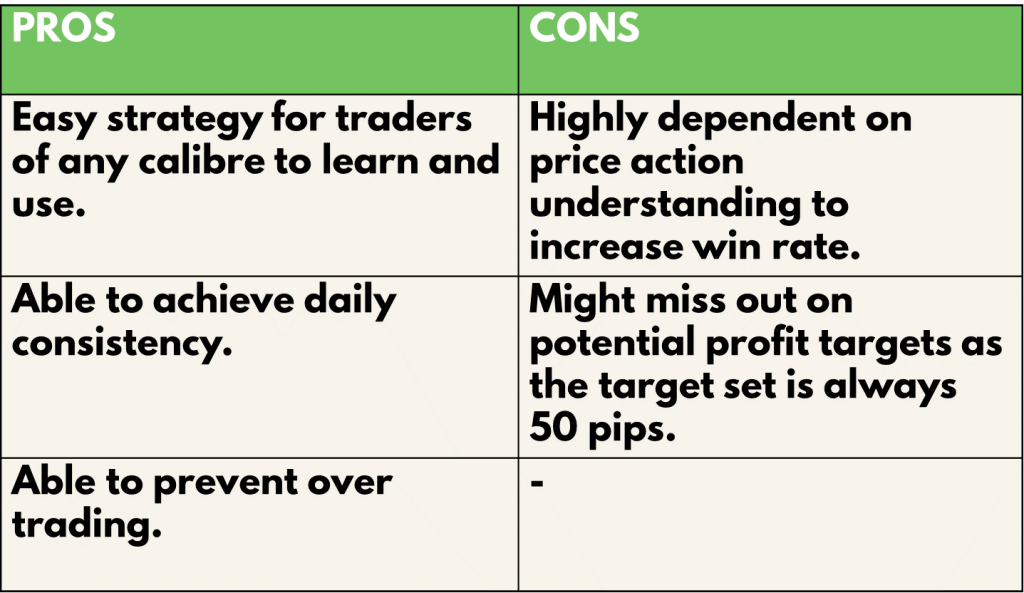 Also read: Best forex strategy for consistent profits
Executing the 50 pips a Day Forex Strategy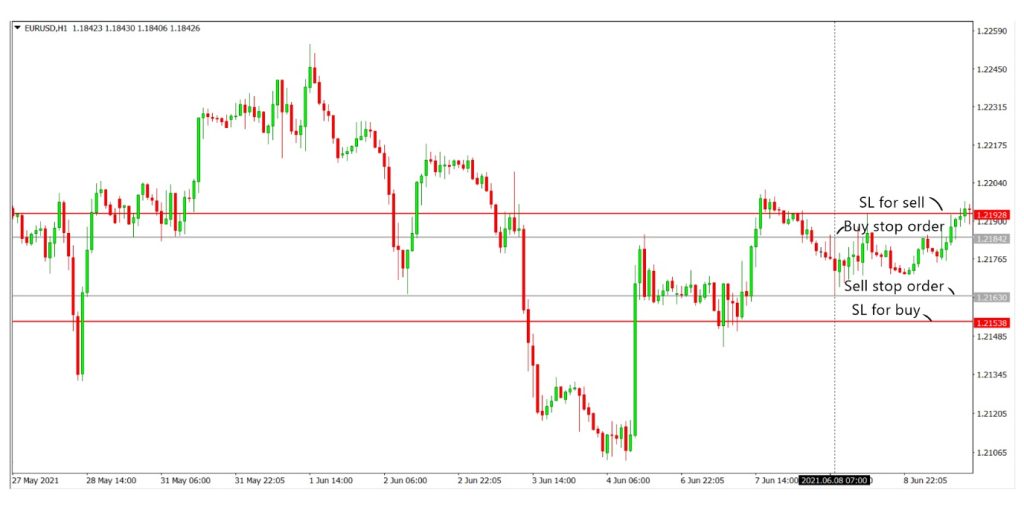 So, how does one apply this strategy? The setup is as follows.
Start with the 1-hour candlestick on your chart at 7 am GMT. You can ask your broker or find out what that equates you in your timezone or country, or you can simply just google the conversion. You want to look at the first candlestick at 7 am upon its closing, place two opposite pending orders: a buy stop order (2 pips above the high of the candle) and a sell stop order (2 pips below the low of the candle). Then you wait.
When one of the two pending orders is active, cancel the other one immediately. Focus on the pending order and place a stop-loss. If it is a buy order, the stop-loss should be placed 5 to 10 pips below the 7 am candle's low. If it is a sell order, 5 to 10 pips above the 7 am candle's high. In both cases, your take-profit would be 50 pips above (buy order) or below (sell order) the order.
Once everything is in place, you just have to wait until your profit target is hit. That is when you need to bail out and close your position. And that is it. That is all the trading you need to do for the day. But if that profit does not materialize, you have two options.
You could either close the trade and accept the profit or loss at that moment. Alternatively, you can move your stop loss to the point where you can break even. You can also try to trade with a floating profit and continue trading the next day as normal. The latter is a bit complex, so if you are unsure, you are better off just closing your position at the end of the day and take the profit or loss as it is, then try again the next day.
Also read: Price channels
50 Pips a Day Trading Strategy for Beginners
Because this strategy is so simple, many beginners will want to try it. To be fair, it requires very little knowledge of the market. To a lot of people, this is the perfect strategy for them. They can wake up a little early, nail that one trade for 50 pips, and then go about their days without a care in the world. You don't have to understand much about forex trading to play this strategy. Just get that one trade out of the way and you can go to work as usual. It is that simple. Traders who trade often during the day with other strategies may be taken on a roller coaster of emotions as the market ebbs and flows.
Although the 50 pips a day forex strategy is popular, we at AsiaForexMentor do not believe that this strategy alone is enough. There will be wins and losses as you run this strategy out. But with proper chart reading and technical analysis, it will aid in avoiding those losses.  
Here at AsiaForexMentor, our One Core program will help you understand the fundamentals of forex trading and other trading strategies to help you make a lot more than 50 pips a day. At the end of our lesson, you will understand our effective ROI-based trading system can help you nail that high-probability trading consistently. You do not need that 50 pips a day forex strategy PDF drive or 20 pips a day forex strategy PDF files anymore.
If there is only one thing to take away from this, it would be our five-part trading course. This one is for free. So even if you do not understand or care much about the forex market, going through the course will shed some light on the matter. Maybe you will learn more than the 50 pips a day forex strategy and may even go for 100 pips. That free course would improve your trading skills, and our One Core program will give you so much more. You will have invaluable trading knowledge that you can apply to every market, so you can even dabble in stock trading if you so wish. Our trading system is that versatile.
Analysis
To find out the profitability of the 50 pips a day trading strategy, we decided to do a back test based on the past 10 trades from 16 Jul 21 on the H1 timeframe. The rules for entry will be the same as what was mentioned above. We will be back testing this throughout 3 types of forex trading vehicles, namely, EURUSD, GBPUSD and USDJPY. For simplicity, we will assume that all trades taken have a risk of 1% of the account.
Definitions:  Avg Risk reward ratio= ( Total risk reward ratio of winning trades/ total no. of wins)                Profitability (% gain)= (no. of wins* reward)- (no of losses* 1) [ Risk is 1%]
An example of the application of the strategy is as shown: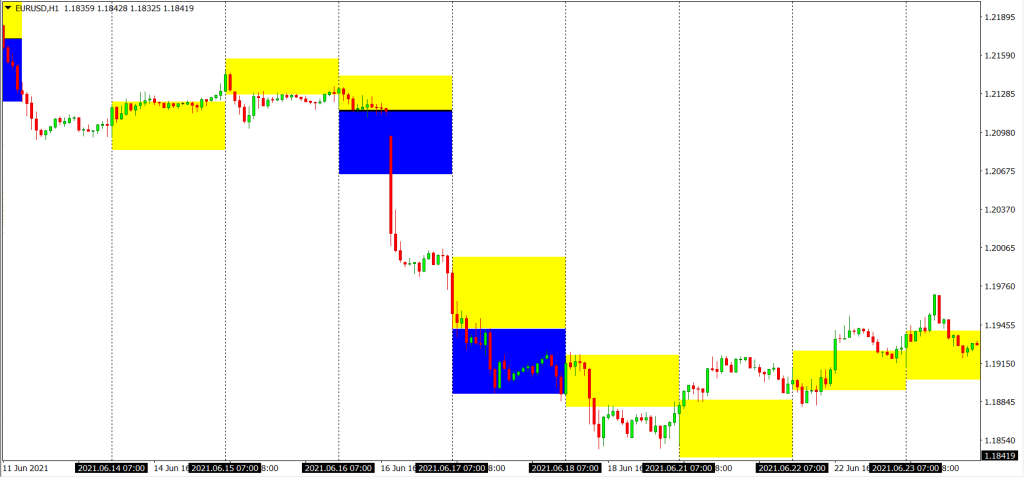 For the backtest results, trades with blue and yellow zones indicate an overall win with the blue zone as reward and the yellow zone as the risk taken.
As shown in our backtest, the win rate of this strategy for EURUSD is 30%, GBPUSD is 40% and USDJPY is 20%
The average risk reward ratio of this strategy for EURUSD is 1.51, GBPUSD is 1.57 and USDJPY is 2.09.
The profitability of this strategy for EURUSD is -3.53, GBPUSD is 0.27 and USDJPY is -4.17.

Conclusion
In conclusion, the 50 pips a day strategy might seemingly be simple, but the win rate of it is horrible, albeit having an average risk to reward ratio. As a result, the profitability ratings were very poor. Of course, this test was test in the perspective of a new trader with no experience in chart reading. This strategy could definitely be better with the aid of indicators and proper technical analysis. In fact, the inability to filter through trades would be its greatest weakness. This strategy was not simple but was over simplified.
Infographic