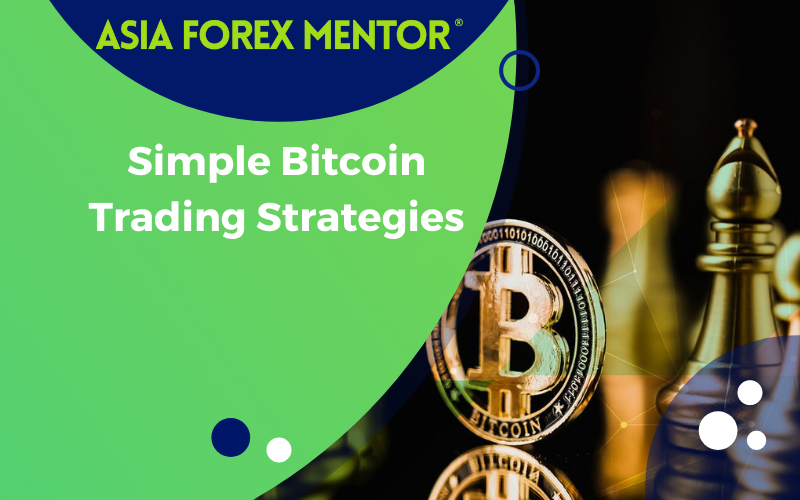 Simple Bitcoin Trading Strategies
Cryptocurrency is the big craze right now. Although experts agree that the market is incredibly volatile, that only means that cryptocurrency is a risky long-term investment. For day traders, they thrive on this volatility as there would be plenty of opportunities to make a lot of money. There are many ways to make money from day trading cryptocurrencies, and we will talk about Bitcoin trading strategies here in this article.
What is interesting about cryptocurrency, other than its infamous volatility, is the fact that you can trade it as if it is a currency or an asset. Therefore, if you have any experience in either of them, then trading cryptocurrency should not be that much different. That also means that if you learn how to trade cryptocurrency either as an asset or currency, you can also apply what you learn to their respective market when you decide to stop working in the crypto market.
As you might expect, there are many strategies for trading cryptocurrency. Volatile as the market may be, there are many handy tricks that traders implement to help them navigate the turbulent environment. Each strategy has its strengths and weaknesses and it is up to you to decide which one suits your trading style. The strategies we will cover today are simple and beginner-friendly, though the idea is more to familiarize novice traders with the market than to make massive gains.
Content
The Dollar Cost Averaging Strategy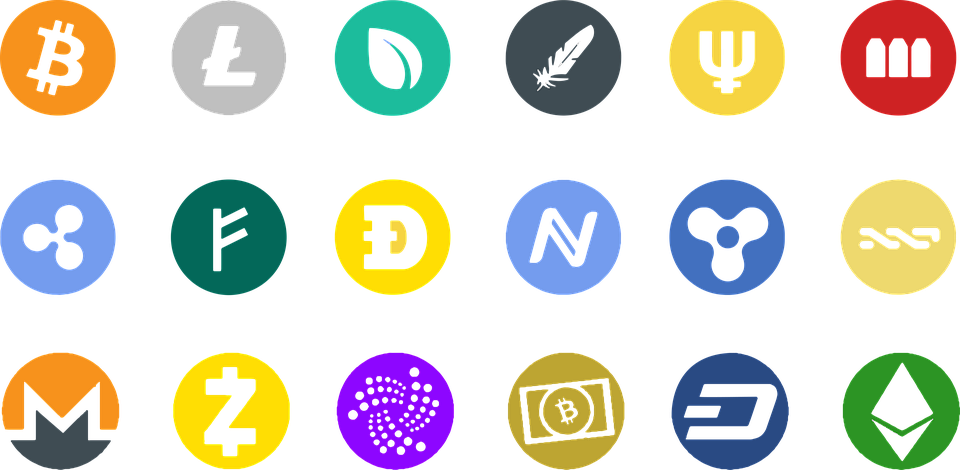 This is more of an investment strategy than a day trading strategy but it is one of the most popular Bitcoin trading strategies. Reddit users recommend this strategy as a starting point for many novice traders. You can see its effect over long periods of time. The idea is very simple. You have your money, but you do not invest it all into a cryptocurrency in one go. Instead, you divide it up into small chunks and invest it into your crypto asset at intervals of your choosing.
Here's what it looks like in practice. Suppose you have $10,000 to invest in cryptocurrency. Instead of spending it all on buying Bitcoin, you decide to go for the DCA strategy. You can divide your $10,000 into 20 lots of $500, or 100 lots of $100, etc. The lot size is up to you. You also need to think of the intervals to invest in these lots. That can be weekly, say every Monday, biweekly, monthly, quarterly, etc. Again, it is up to you to decide how often you want to invest. What is important is that you purchase as much Bitcoin as you could at the set intervals, at its current market price.
As you might suspect, that means you would not get the same amount of crypto-asset every time you invest since the price does fluctuate over time. But price fluctuations can work against you if you invest everything in one go. If the market for that particular crypto asset crashes, you would lose all your investment. On the other hand, if you only invest partially into that asset, it reduces the impact of market volatility. Plus, you might catch a lucky break sometimes when you buy your Bitcoin when the price is low, therefore getting more coins, and then the price goes back up soon after, therefore amplifying your profit.
At the end of the day, on average, you may end up with more Bitcoin using the CDA strategy than if you were to buy everything in one go. Given its simplicity, it is no wonder why it is one of the best trading strategies for beginners. It is relatively risk-free and easy to implement. In fact, you can fully automate the entire process by making use of trading bot services. With the bots at the helm, you can just set up your account, deposit the funds, tell the bot what you want it to do, sit back, and relax.
As you might suspect, the profit potential is rather limited since you might be missing out on major events that can cause sudden price swings between investment intervals. But that is the only downside you have to deal with.
If you want to extract a little bit more profit from this strategy, you need to do it manually. You still need to buy your coins at certain intervals, but within 24 hours of each interval, look for the time when the price of the asset is in the red. That means, the asset price is lower, so you can purchase a bit more coins there. Again, the amount you can get here is minuscule, but it adds up quickly.
Also read: Binance review 2021
Golden Cross/Death Cross
It sounds ominous, but this strategy is also beginner-friendly. This remains to be one of the most popular Bitcoin trading strategies 2021. The idea is to use two moving averages (MAs) to identify buy and sell signals. A moving average is a chart indicator that illustrates the average price movement in the market over a certain period of time.
This strategy makes use of two moving averages from 50-day and 200-day periods. These indicators will draw two lines and you want to look for the moments when they intersect. Since this strategy involves observing price activity over a long period of time, it is another effective long-term trading strategy over 18 months and onward.
When these two lines cross, one of two patterns can be observed. The golden cross, a convergence, is when the 50 MA crosses above the 200 MA. The death cross, a divergence, is when the 200 MA crosses over the 50 MA. It sounds simple, but what information can you derive from this?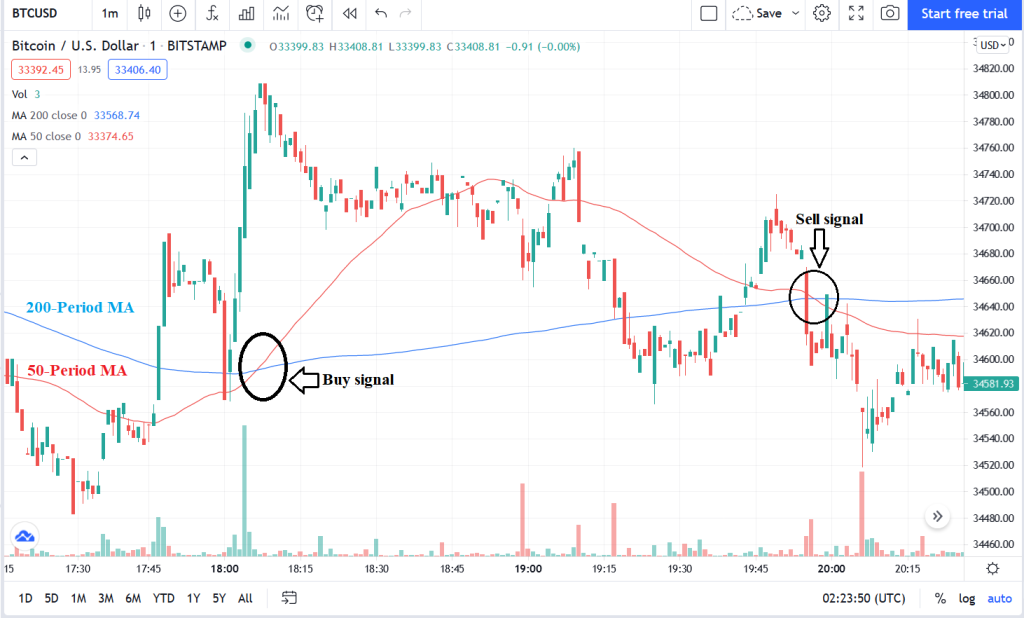 When convergence occurs, that means the short-term momentum is exceeding the long-term momentum. Simply put, it is a buy signal. This usually occurs when buyers buy into the market, therefore driving the price higher.
When a divergence occurs, it is a sell signal as the short-term momentum is lagging behind the long-term momentum. This happens when many traders decide to sell their assets and leave the market, therefore increasing supply and lowering the price.
The best part is that the tools to implement this strategy are accessible for free. Just log into your online charting tool account, change the timeframe, and enable moving averages. Since they are the same, you need to open them twice, then go into their individual setting to set them to 50- and 200-period. While you are in the setting, consider changing the colors of the lines as well for ease of use.
Just like any other day trading cryptocurrency strategy, this one comes with its drawbacks. You see, this strategy is intended to capitalize on the volatile nature of the crypto market. This occurs pretty frequently, so you can make some profit right then and there. However, there will be times when the market moves sideways, with no real up or downtrend. This occurs when traders are uncertain of the next move in the market, and that there is an equal number of people who expect it to go up and down.
What that happens, the moving average indicators tend to draw many false positives. You will get multiple buy and sell signals as the lines converge and diverge more frequently. This is where this strategy fails and losses could incur. However, in the crypto market, periods of low volatility are rare, so you usually end up with more gains and losses. Moreover, this is a long-term strategy most effective over the period of at least 18 months. You can also use other indicators to help you make better trading decisions as well.
Also read: How to day trade crypto
RSI Divergence
This is more on the technical side of things but can be very effective for determining imminent trend reversal. As the name suggests, this strategy calls for the use of the RSI indicator, which you can use for free as well. RSI means "relative strength index", which is a momentum oscillator that derives its values from the average gains and losses over a default 14-day period.
With these values, the indicator draws a line that goes from 0 to 100. If the line goes above 70, it indicates that the asset is overbought. If the line goes below 30, it is oversold. With this tool, you can detect potential trend reversal before it happens. That is when the price suddenly stops and moves in the other direction, from a down to an uptrend, and vice versa. Knowing this early can be extremely helpful as you can capitalize on the movement and make huge gains if you play your cards right.
Your only areas of interest with the indicator are above 70 and below 30. The area between those values is not important for this strategy. When the line enters the overbought area, that means that the asset's price would come back down soon as the market corrects itself. Conversely, an asset is oversold if the line goes below 30, at which point traders would buy the dip and push the price back up. When it comes to timeframe, your best bet would be to use the four-hour or daily window. These timeframes show stronger shifts for mid-to-long-term trends.
You can use this strategy to identify potential trend reversal by looking for discrepancies between the RSI indicator and the price. At a glance, you can tell that the price and the RSI indicator move mostly in the same direction. When the price goes up, the indicator line goes up as well. This is normal.
Also read: Rsi Forex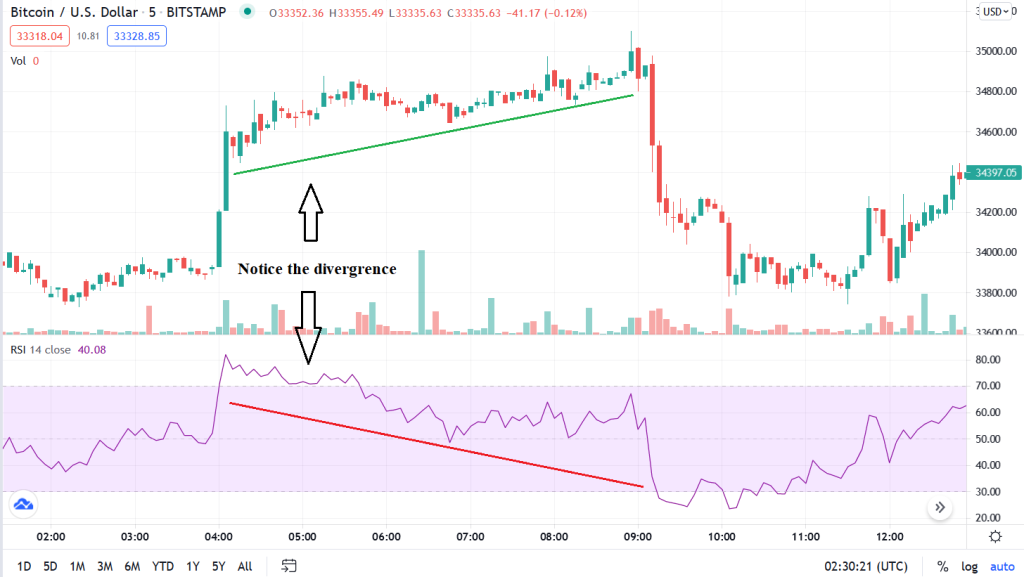 You should pay attention when the price goes up, but the line from the indicator goes down. This is where a divergence happens. When this happens, there could be a subtle change in the buying or selling volume and is a sign that the momentum in the up or downtrend is slowing down, and that a trend reversal could happen soon.
Keep in mind though that while you can use it to trade cryptocurrency, the indicator can produce false positives. For instance, there may be moments when the indicator says that the asset is overbought, which suggests a buy signal, but the price continues to go down anyway. Your best bet would be to pair it up with a different type of indicator to give you more accurate data.
Learn Bitcoin Trading Strategies with AsiaForexMentor
These are some of the most basic Bitcoin trading strategies for beginners that you could implement to start making money trading cryptocurrencies. They may not give you massive gains consistently, but these are the easiest to implement. If you want to know more about cryptocurrency strategy, Reddit is a good place to start. You can also read a Bitcoin trading strategies PDF online.
Only when you understand your way around the crypto market should you attempt other complex strategies. But when it comes to the most profitable crypto trading strategy, there really is none. All of them rely on certain market conditions and those conditions do not happen often or consistently. If you only want to make some money trading cryptocurrency, then the above three should suffice. If you want to earn more or even go full-time trading crypto assets, you would need to understand some sophisticated strategies such as crypto futures trading strategies, which is a whole other can of worm.
You could read about these complex strategies online and they would go into the intricacies of the market. This can be overwhelming to a beginner trader. Luckily, you do not have to put up with the same grind as the traders who came before you. There are online trading courses you can enroll in to enhance your trading toolkit.
And what better place to start learning than AsiaForexMentor. We are cited as one of the final stops for many traders who want to improve their skills. For that, we equip them with all the necessary knowledge to trade effectively by introducing them to our effective ROI-based trading system. With this system, you can identify trading opportunities with a high probability of getting returns on investment.
If you are not convinced, you can also grab our five-part trading course on the way out for free, which will help you better implement the Bitcoin trading strategies you learned online. When you see the quality of our free materials, you will understand why so many traders enroll in our course and become successful traders. The best part of all this is that our trading system applies to every market. So long as it has a chart, you can use our trading system to make money. So, if you are no longer interested in trading cryptocurrency, then you can also trade in the stock or forex market and still be successful.