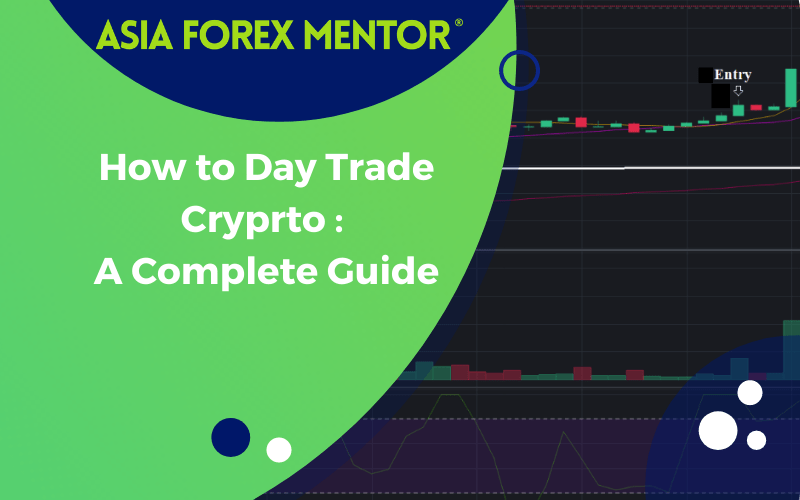 How to Day Trade Crypto
Cryptocurrency is new and exciting. It is another market where you can try to trade and make money. As an investment option, experts either say that this is the perfect long-term investment or the worst. However, if you just want to day trade on the crypto market, it is a good way to make some money thanks to its volatility. Here, we will discuss how to day trade crypto.
Content
Cryptocurrency Day Trading Rules
How to day trade crypto? Reddit has some advice for novice traders. It is wise not to take them lightly since many traders who did not follow them end up losing a lot of money.
Stay Up to Date
Information is everything. This applies not only to crypto trading but also to every other market that you want to trade in. The more information you have, the better decisions you make, and the more money you earn. Its importance can never be overstated, especially in the crypto world. What does it look like in practice?
A savvy trader should have at least a couple of news sources in the crypto space. There are plenty of news outlets out there and you should subscribe to their newsletter to stay up to date. Which ones to subscribe to? Stick to the ones that Reddit recommends. But if you are starting to build up your news portfolio, look at a bunch of them and see how they cover the same topic. From there, select those that provide the most accurate and objective coverage. Read that news to stay on top of your game.
The second source of information comes from indicators and candlestick patterns. These come directly from your charts. Things such as support and resistance levels, morning star candlestick patterns, among others, are essential for predicting the market. Of course, you would not remember everything straight away. In time, you learn to spot them easily and this really helps you rake in the profits.
Start Slow
As a beginner, it might be tempting to go for larger profits by betting big. Unless you know what you are doing, it is best to start slow and build confidence through small victories. When you have a bit of experience under your belt, you can then try raising the stakes.
Luckily, you do not even have to put your capital at risk if you just want to practice. Many trading platforms offer a demo account for free. This is the best place to put what you learned to practice and see how you fare in the real market. The demo account comes with a fair amount of balance for you and you have access to real market data. It provides a safe environment for practice and even veteran traders come here to try out a new trading strategy.
A word of warning, though. If you plan to start with a small amount of money, it might be best if you match the balance in the demo account. Sure, having a large balance gives room for mistakes, but it might not provide a realistic view of the circumstances. You can start with a large balance at first and then lower the balance when you feel comfortable. Trading within this confinement simulates reality better as you may not be making as much money with a smaller balance.
Also read: Head and shoulders pattern
Keep Calm and Stick to the Plan
Speaking of making money, it might be disheartening to make little money when starting out. Again, start slow and stick to the trading plan. It might be difficult when you just closed your recent position at a loss. You might want to chase after that profit to recoup your loss, but you may just be setting yourself up for failure.
Many traders make the mistake of trading based solely on their feelings. What usually happens is even more loss. It stings to be losing money, but it hurts even more if you continue to lose money. If the market goes south and things do not go to plan, cut your losses, bail, and come back to the market when you have a new plan.
Best Crypto for Day Trading 2021
So, what are some of the best cryptocurrencies to trade? If you to CoinBase or Binance, and sort the coins based on their market cap, you would get your answer. The top 10 digital tokens are the most popular markets to get into since there is high volume, therefore better liquidity. This means you can buy and sell coins quickly.
While Bitcoin and Ethereum are some of the best markets to get into, they may crash in the future. New and better crypto coins may emerge and dominate the market. If you are reading this in the future, chances are that the recommendation here is outdated. Regardless, you can never go wrong trading within the top 10 coins.
Also read: Day trader salary and their profit target
How to Day Trade Crypto on CoinBase
Assuming that you have created an account on CoinBase and have a proper crypto wallet (ideally a hardware wallet) what are some of the ways you can trade crypto on CoinBase? Here, we will look at the scalping strategy.
Go for Coins with High Volatility and Liquidity
Look at the top 10 crypto tokens. You should see the volume. The higher, the better. From there, you can bring up the chart about that coin and see how the intraday chart looks. If everything looks relatively stable, look for another one that is choppier.
Use a 5-Minute Chart and Money Flow Index
The Money Flow Index shows that there are big players in the market who buy a lot of coins. You want the MFI to reach 100 before taking action. However, technical indicators can give false positives, so you should monitor the market for the first two instances of 100 readings and see how the market goes. If the price goes down after those, then the market is most likely going to experience a down day. Just make sure to tweak the MFI indicator's length to 3.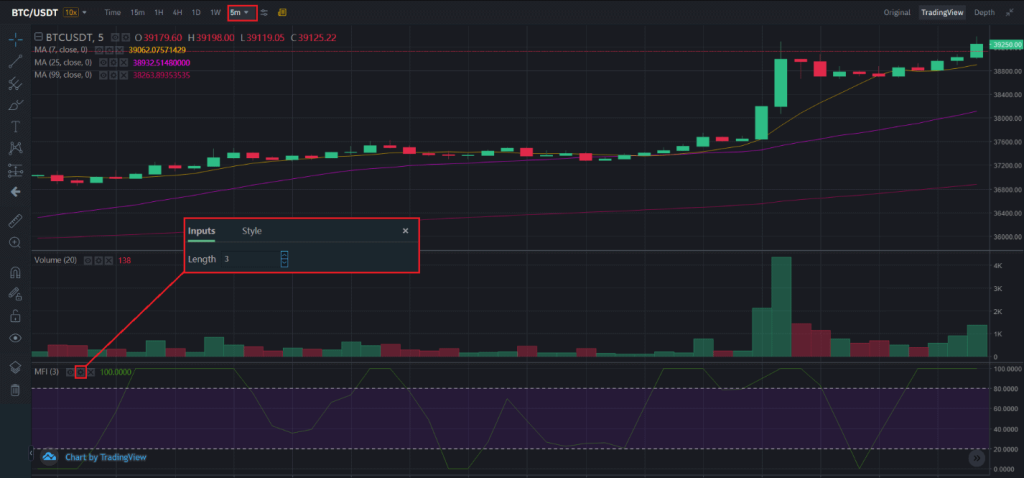 Buy at 100
You do not have to wait for the third 100 from the MFI to take action, but it is generally safer to see at least two of those before that. When you see the third, it is time to buy. But if you missed it, you can wait until the next 100. When that happens, wait for the next bullish candle (green), closing near the upper end so that you see a candle with very small wicks.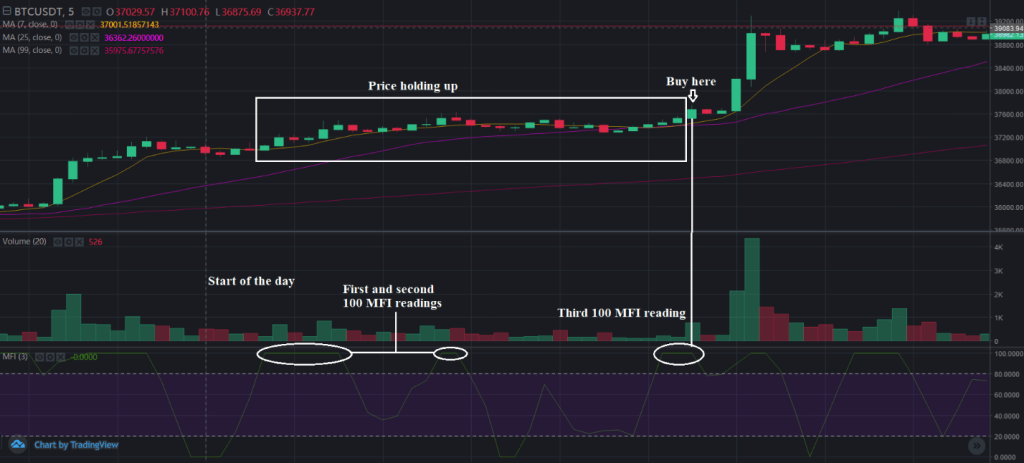 Set Up Stop-Loss and Take-Profit
Your exit strategy is simple. Put your stop-loss a bit below the lowest of the day. If the price goes anywhere below it, it means there could be a shift into a downtrend and you should cut your losses and get out. When it comes to take-profit, set it to the first hour after you opened your position. There is no point in keeping it open for longer than that because your chance of success usually diminishes after that point.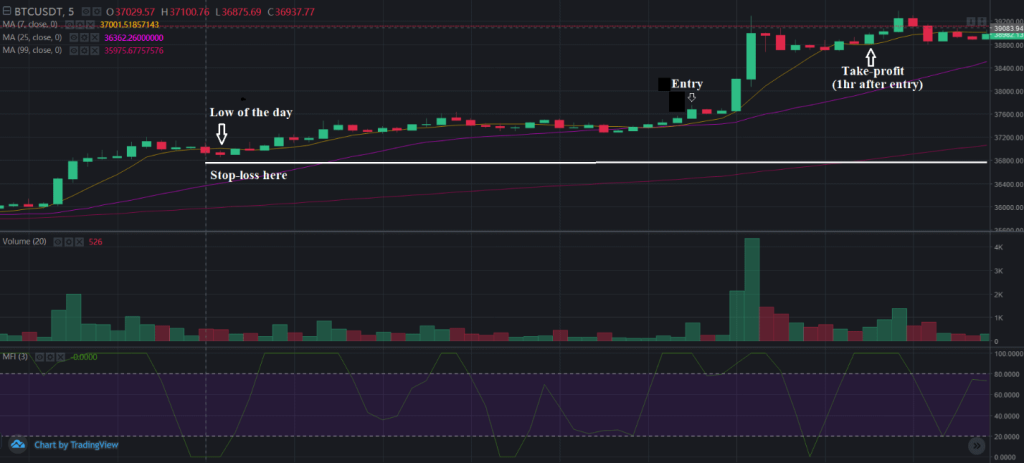 Is Day Trading Crypto Worth It
If you are not interested in long-term investment for cryptocurrency, then you stand to make a fair amount of cash from trading crypto. It is a volatile market, but you can ride the waves and make some money for yourself. Plus, many brokerage platforms also offer crypto trading. One crypto day trading platform that comes to mind is Binance. Other platforms are also opening up to crypto trading. Can you day trade on Robinhood? Yes, you can.
However, trading crypto would not be easy, especially if you are starting out and are very inexperienced with the game. Many traders already failed trading stock or forex and only a small fraction of them make a decent living. Trading crypto would be another beast of its own.
However, do not let that discourage you. Many traders jumped into the game with very little knowledge of how the game works. It is not surprising to see how they would end up losing money in the long run. With a little bit of knowledge and luck, you can make a living from day trading.
Also read: Dollar cost averaging definitions benefits
Learn How to Day Trade Crypto like a Pro
One of the best ways to do so would be to enrol in a trading course. AsiaForexMentor provides just that – an effective program to equip you with all the skills traders need to be successful. Many traders enrol in our One Core program to learn our effective ROI-based trading system. This enables them to set up trades with a high probability for returns. At the end of the day, big or small, you are winning as long as you get some ROI.
This is what we provide to our students. Even if you know how to day trade crypto and it does not work for you for some reason, our trading system is still effective in other markets. So long as it has a chart, you can apply what you learn from us and trade that market. If there is only one thing to take away from this, it would be our free five-part course on how to become a better trader. It is completely free. Grab it, give it a look, and you will understand the value we provide in our course.