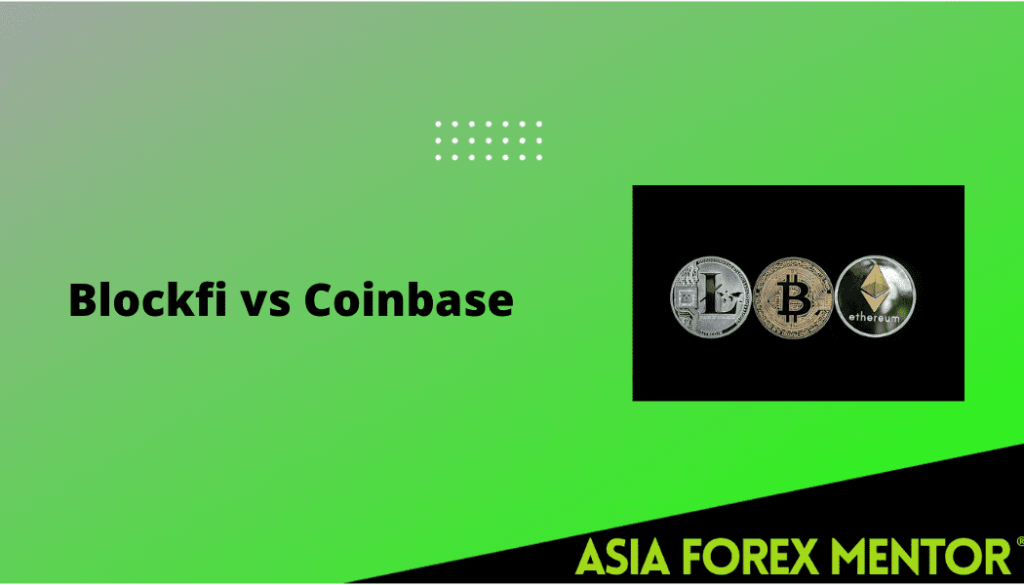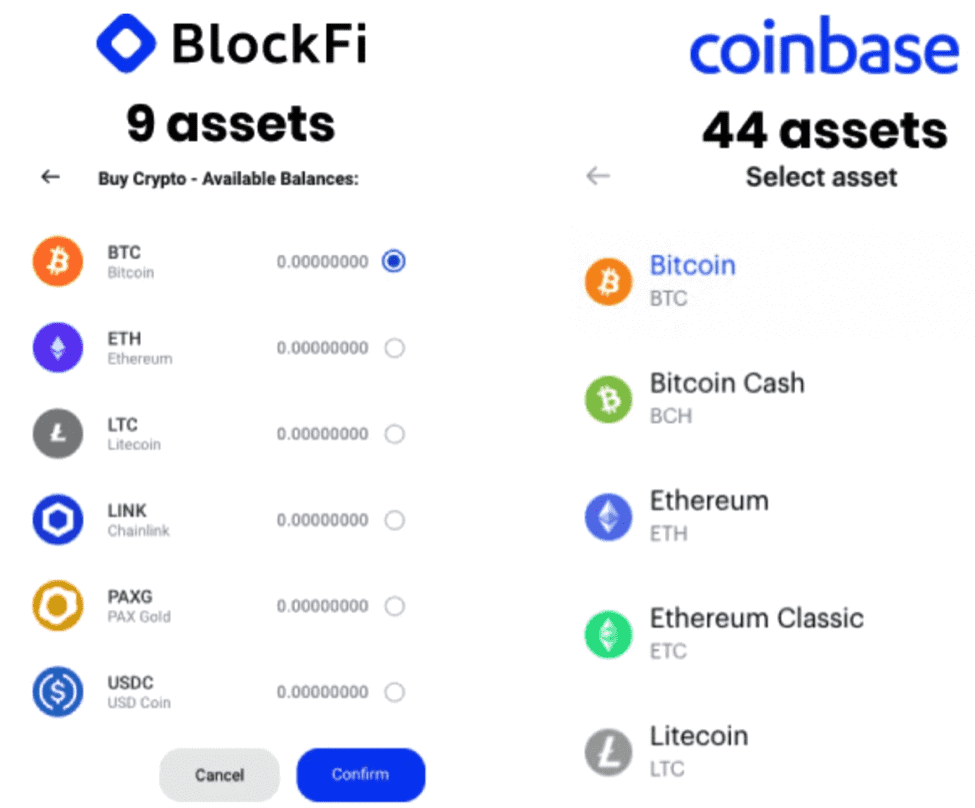 Digital assets have entirely redefined the idea of investment and asset accumulation. At present, investment and cryptocurrency are synonymous; where there is a talk of investment, there is the mention of cryptocurrencies and digital assets.
One of the most popular methods to trade cryptocurrencies in the current times is via exchanges. Much like conventional stock exchanges, the crypto exchange services platforms work between parties who sell their assets.
BlockFi vs Coinbase is two of the most ' in-vogue crypto exchanges. These U.S.-based firms offer cryptocurrency exchange services that are not only limited to mere 'exchanges. Instead, these technologically advanced platforms are used for crypto trading, reserving, and making different assets or using their current support for crypto-backed loans. While BlockFi is a private cryptocurrency exchange company, Coinbase is a publicly owned entity. Regardless, the services offered by both are similar to a great extent, which is why we will sketch a comparison.
However, before diving into their analogy, let us first understand what BlockFi vs Coinbase is.
Also Read: Coinbase vs Robinhood
Contents
What is Coinbase
Coinbase launched its services in early 2012. The brainchild of Brian Armstrong and Fred Ehrsam, it initially had no headquarters. Instead, it only existed digitally, targeting the investors and active traders to engage in purchasing, selling, and crypto trading a wide range of cryptocurrencies like Litecoin, Ethereum, and Bitcoin. In addition, this exchange platform allows its users to manage multiple accounts, from basic to pro.
Coinbase holds the title of being the United State's first large-scale cryptocurrency exchange platform to go public. Initially, it traded at approximately three hundred and eighty-one U.S. dollars at Nasdaq.
What is BlockFi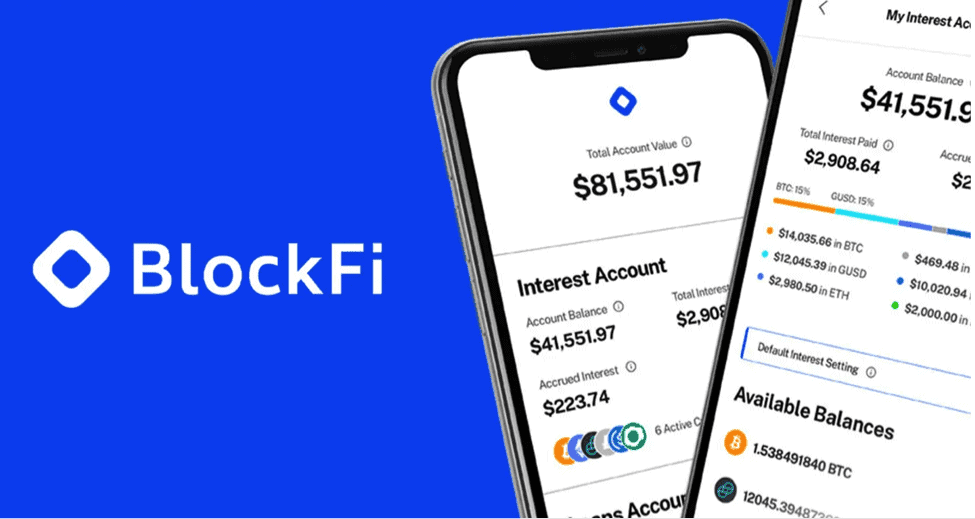 BlockFi was launched in 2017 by Zac Prince and Flori Marquez. With its headquarters in New Jersey, BlockFi initially offered services of buying, selling, and crypto trading different types of cryptocurrencies. In addition, it allowed users to trade currencies doubles as a digital saving account and a wallet for cryptocurrencies.
Presently, users of BlockFi can also earn crypto rewards on their reserved crypto coins, either use them as collateral for crypto-backed loans or make more coins/interest on them through the BlockFi interest account.
BlockFi vs Coinbase: Why Does the Analogy Matter
Contrary to conventional brokerage companies, the crypto exchange platforms are not the members or signatories of the Securities Investors Protection Corporation (SIPC). It implies that investors who invest in currencies or trade them in any way are constantly exposed to the risk of losing their investment. The reason is that there is a lack of specified user terms in cryptocurrency exchanges. Nonetheless, the high return rate and the potential of the DeFi and digital assets to grow have made people flock toward cryptocurrency exchange platforms for investment.
But the question arises: with so many risks attached to crypto and the over-saturation of the market and crypto exchange platforms, how to opt for a platform that is secure, user-friendly, affordable, and offers a broader range of currencies. In this article, we shall explore the answers to all these questions.
Account Requirements
BlockFi asks users to fill in information such as their identity details, physical address, and email address to register. Additionally, it requires you to show proof of your identity, like an I.D. card or other legal documents, to verify your name and additional essential information. For non-US citizens, BlockFi necessitates online submission or a real-time self-portrait; on the contrary, U.S. nationals are asked to input their SSN. For account verification, a valid phone number is required, and BlockFi sends a verification code. To successfully open an account, the user must be a minimum of 18 years of age.
The process for signing up on Coinbase is similar to BlockFi to a great extent. The users are asked to fill in details requested by BlockFi in addition to some more. For instance, BlockFi asks for your complete SSN, whereas Coinbase only requires the last four numbers. In addition, some specific questions by Coinbase require you to disclose your source of funds, your purpose for using Coinbase, and your current occupation.
Ease of Use
When it comes to user-friendliness, Coinbase is second to none. It is designed to facilitate new users by simplifying the processes of pacing orders and trades. Additionally, the simple navigation makes it convenient for beginners to buy crypto assets; users can purchase with a click on the buy/sell button and opt for the crypto assets from the dropdown tab. After entering selecting the required fields and entering the amount, the transaction is automatically processed. The Coinbase website is also available in a desktop-friendly version and a mobile application.
The process of signing up on BlockFi is also simple and convenient. Like Coinbase, it does not require the users to show additional documents such as their order books or order history when placing a trade. However, unlike Coinbase, BlockFi provides customer support. In case of difficulties or confusion, the user can immediately contact customer support via chat, call, or email. The Coinbase users do not enjoy this luxury.
Security
Coinbase enjoys a reputation for being the world's leading cryptocurrency exchange platform. Not only that, but it is also the longest-running exchange without ever being hacked. It claims to hold in its possession approximately ninety-eight per cent of the total crypto holdings that are kept in cold storage. Furthermore, cash deposits of up to 250,000 dollars are also insured by the Federal Deposit Insurance Corporation (FIDC).
BlockFi also claims to hold many cryptocurrency assets in its wallets. Ninety-five per cent of its crypto holdings are reserved in BlockFi's cold wallets, whereas the rest five per cent are secured by Aron in its hot wallets.
From this analysis, it could be safely assumed that in both these exchanges, the users' digital assets are secure; however, Coinbase leads the ground due to its assets being insured by FIDC.
Features
Coinbase, in addition to the features available on its essential website, also provides Coinbase pro, which is designed for experienced users. It does not mean that Coinbase essential does not provide competent services. It does, however, that Coinbase targets seasoned traders who trade crypto assets often.
Additionally, while users can avail of crypto-backed loans through BlockFi vs Coinbase, the latter enjoys an edge over the former. The reason is that BlockFi offers its users loans that are secure and have a very low-interest rate. On the contrary, while loans for Coinbase are also secured, the interest rate is typically higher.
Coinbase vs BlockFi requires their users to pay cryptocurrencies as collateral to secure a loan. While Coinbase only accepts Bitcoin, BlockFi has no restrictions; users can deposit currencies like USDC, ETH, GUSD, and BTC.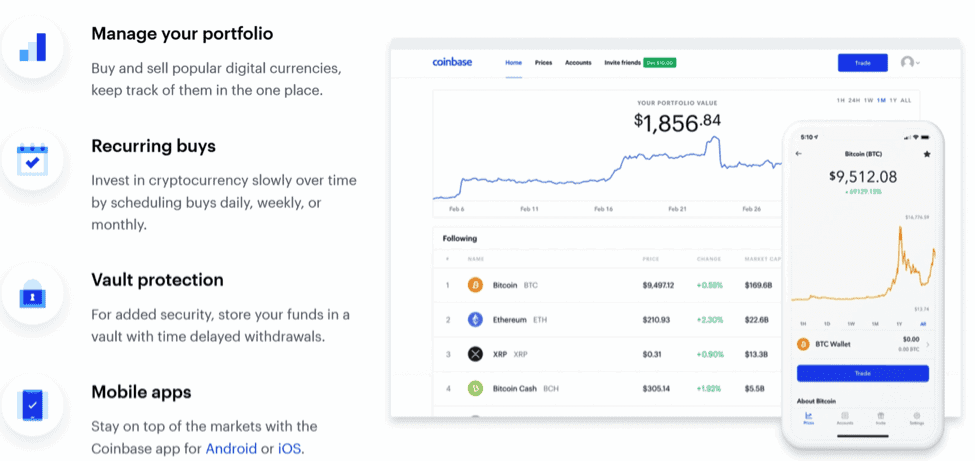 Currencies
BlockFi allows very limited cryptocurrencies to be traded. Currently, it supports sixteen currencies. Despite not having the luxury to choose from a wide range of coins to trade, users on BlockFi can earn interest immediately on their coins.
Coinbase, on the other hand, lets its users trade over a hundred coins. The platform has not limited itself to that but is looking forward to supporting more cryptocurrencies in the future. In addition, Coinbase permits users to earn interest and crypto rewards on their sitting coins and even earn extra coins while learning about cryptocurrencies.
In addition to supporting currencies, BlockFi vs Coinbase allows traders to purchase cryptocurrencies in fractions.
Fees
There is no commission or transaction fee to avail of the services on BlockFi. However, a meagre percentage – around one per cent – is charged when a user makes a trade. When it comes to other exchange platforms, this amount charged by BlockFi is minimal, but not when compared with Coinbase. BlockFi also charges a withdrawal fee of 30 USD for internal withdrawals and 20 USD for domestic withdrawals. This fee can also vary depending on the cryptocurrency.
The case of Coinbase, on the other hand, is a bit complex. It is because the website does not indicate any fee when the user makes a trade. However, once the transaction proceeds, users get to know the cost that is to be paid. Commonly, traders have to pay a spread charge of around 0.50 per cent depending on specific details of the trade. The minimum limit of deposits in Coinbase is 2 USD. The fee for transactions on Coinbase Pro ranges between 0-.50 per cent, calculated by the maker-taker standard.
Customer Support
When it comes to customer support, BlockFi is the winner, and in several ways. Users of this exchange platform can get in touch with Customer support through a support ticket or an email. BlockFi also offers C.S. support on call on weekdays, i.e., Monday-Friday between 9:30 AM and 08:00 PM EST. The BotFi, a chatbot, provides live support for more straightforward requests and minor issues.
Comparatively, Coinbase is not as well-equipped in the Customer Support area. As a result, traders using this platform have limited options when it comes to helping. The only available options for contacting the Coinbase team are live tickets or live chat support. The residents of Ireland and the United Kingdom may call the agent between 08:00 AM and 09:00 PM GMT.
Access
BlockFi offers its services to all traders worldwide except in the regions sanctioned by the United States, the United Kingdom, and the European Union. Additionally, the State of New York residents cannot access BlockFi's services. While it works in all states of America, users might face trouble accessing some cryptocurrencies that are not regionally available. The citizens of the U.S. cannot avail of the services of the BlockFi interest account.
Coinbase works in more than a hundred countries across the globe, including forty-nine states of America. Specific cryptocurrencies are not available for New York-based traders. Additionally, the residents of Hawaii are barred from crypto trading on Coinbase.
Also Read: A Complete Coinbase Review 2022
Final Word
BlockFi vs Coinbase are different platforms intending to serve the same service but in their specific ways. Being two of the world's leading cryptocurrency exchange platforms, they provide a different experience to their respective users. Where one platform lacks, the other shows the game, and vice versa; therefore, it is difficult to pick the 'best' out of the two. In the end, it comes down to individual objectives and preferences. For instance, Coinbase will be the ideal platform for you if you are looking for a crypto-backed loan. On the contrary, if you are an avid trader, you might want to consider BlockFi, as there is little to no transaction fee on trades.
FAQs
What is BlockFi Vs Coinbase?
BlockFi vs, Coinbase is the leading cryptocurrency exchange program. Traders use them for crypto trading, buying and selling coins, and seeking crypto-backed loans by depositing their coins as collateral.
How do they work?
To use BlockFi vs Coinbase, users must sign up on the respective platform. Both platforms require users to input information and verify their identity. Then, a deposit is made, and the users are set to trade.
What Do They Offer?
Coinbase offers services such as buying and selling over 100 cryptocurrencies, earning staking rewards on reserved coins, and earning interest. For example, you can make interest on Block through the BlockFi interest account. In addition to the services mentioned above, it offers loans backed by cryptocurrencies. Users can also earn interest on their deposits.
Who Should Use BlockFi and Coinbase?
Anyone who wishes to indulge in the world of cryptocurrencies and digital assets, either as investors, traders, or lenders/borrowers, can use these platforms. Users can earn interest and seek loans besides trading.
Can you transfer from Coinbase to BlockFi?
It is possible to transfer your coins from one platform to the other. The process is simple: the user is required to copy the wallet address of their BlockFi account. Then, on the Coinbase account, by selecting Send/Receive option, click on the Receive Section. From there, fill in all the required information, select Send, and the transfer will proceed.
Is BlockFi as safe as Coinbase?
Yes, both platforms are the same. All the users' data is encrypted, and the crypto assets are held in offline wallets to prevent digital theft/hack. However, Coinbase is ensured by Federal Deposit Insurance Corporation (FIDC). On the contrary, BlockFi is not.
Is Coinbase Pro and Coinbase same?
Coinbase Pro is also a crypto exchange services platform owned by Coinbase. Coinbase Pro is for experienced users since it contains advanced tools and services like P2P trades. Coinbase Basic caters for beginners and serves them as an online broker.