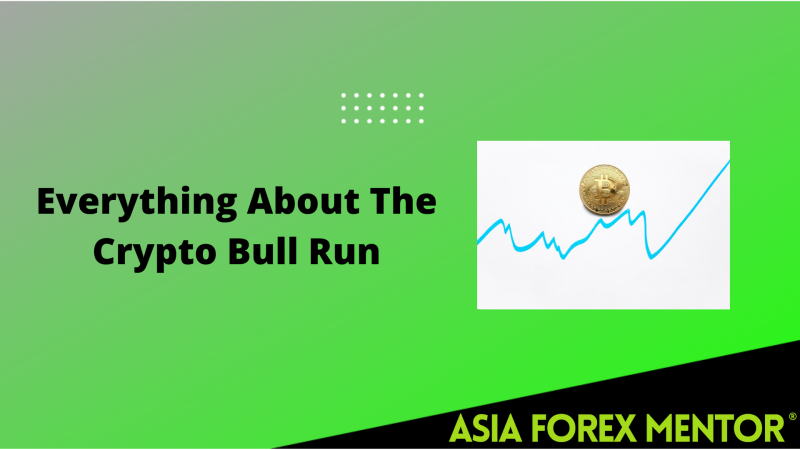 Contents
Meaning of Bull Market
A bull market is time period where prices of assets rise rapidly due to excessive demand when compared to supply. During a bull market, there is a lot of buy pressure from investors, demand surprises supply, and there is a contain rise in market prices.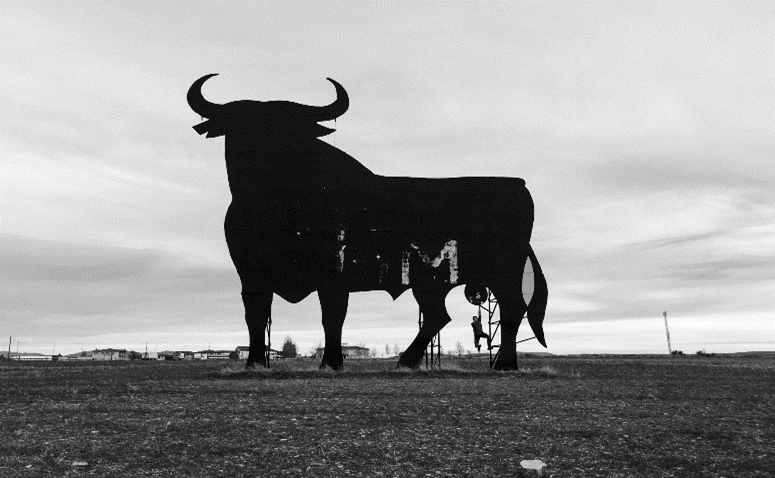 In a market, if your notice most prices are on an uptrend, this could mean investors are bullish and the beginning bull market. So expect price to skyrocket.
Entities who estimate an increase in prices are bulls while bears believe general prices of assets would reduce. During a bull market, most people's bias is bullish.
The price of crypto assets is greatly influenced by public confidence, and some traders make their trades by determining investor' optimism.
Also read: What Is Scalping Forex?
What is a bear market?
A bear market is basically the opposite of a bull market. A bear market is when the price of an asset is on a downtrend due to excessive supply and low demand.
In a bear market, investors lose confidence in a particular asset which leads to high selling pressure and constant decrease in price for a particular period of time.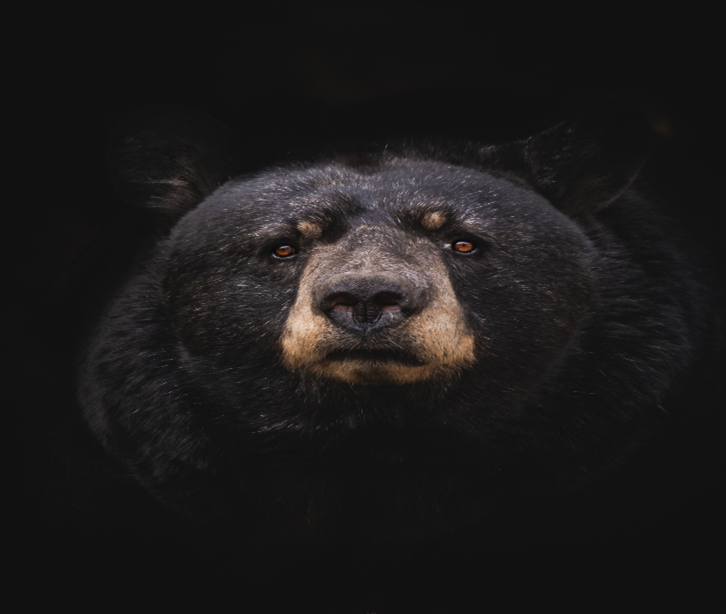 Investors who believe that the price of an asset would keep falling are known as "bears". A bear market causes fear and panic which reduces confidence and leads to further declining of price.
Bearish news, investors psychology, and economic condition are the main causes of a bear market. For assets with good utility, this could be an opportunity investors and long term holders to get better trading prices or entries despite price action.
Example of Bull Market
In a bull market, there is a lot of money in the market. A Bull market is very popular is the cryptocurrency space with bitcoin being the most bullish digital asset.
We would briefly go through examples of bull markets.
Bitcoin bull trend
Bitcoin is the fastest growing digital asset in the world. As at 2009 bitcoin was less than a dollar, and as at 2021 bitcoin made a high of 66,974 dollars from less than a dollar.
With this powerful uptrend, it safe to say that bitcoin has more room to move higher after some volatility.
During the 2013 bull market, the trading prices of digital assets were going parabolic and bitcoin moved up over $1,000 which is 10 times its initial price. After this bull market, there was a multi-year bear market.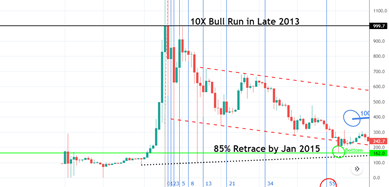 In 2017 bitcoin experienced another upward movement, which pushed trading price to an All-time-high (ATH) of $20,000 for a bitcoin.
During this run, bitcoin became properly known to institutions, analysts and lots of spectators.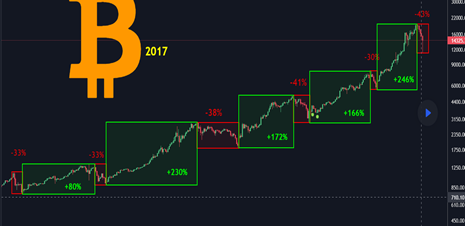 After becoming mainstream, and having the largest market capital amongst all digital assets in the cryptocurrency market. Bitcoin began another run in 2021 with high volatility which pushed trading price to $66,974.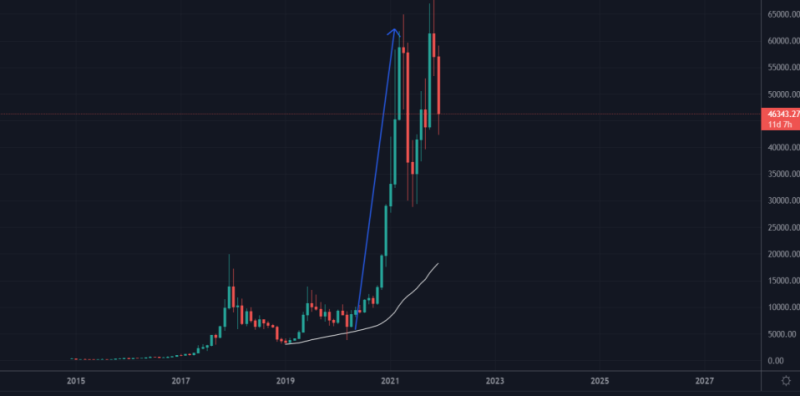 Crypto Currencies Ready For A Bull Run
If you are looking to get into the cryptocurrency markets and you aren't sure of what token or coin to invest in. We would recommend investing money in large capital digital currencies.
Bitcoin
In the past years, bitcoin has proven to be the best investment. The market volatility is a bit high, but long run investments would be safer and definitely give good gains.
Bitcoin has had a market capital above 1 trillion which is higher than a lot of stocks. Some people consider bitcoin to be a better store of value than gold.
Bulls are forecasting world mass adoption, and countries to sign bitcoin as a legal tender. El Salvador uses bitcoin as a legal tender and it is expected that countries follow the course eventually.
A lot of companies and businesses invest in bitcoin, so bulls expect bitcoin would be priced much higher after increased adaptation.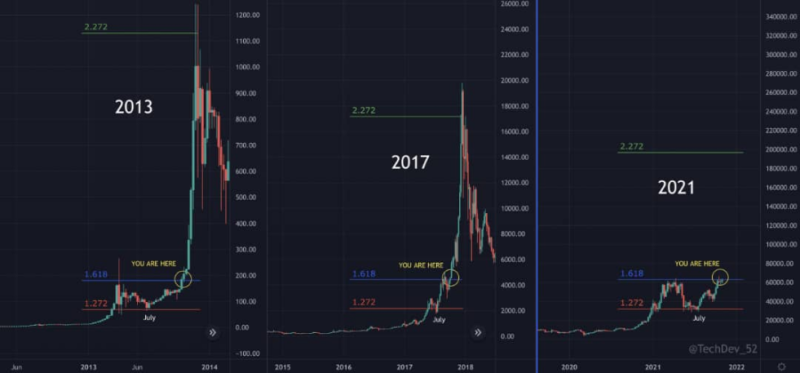 Ethereum
Ethereum is the second largest crypto currency. This coin has a good computing power on its network, this attracts developers. This cryptocurrency is ideal for traders who are patient and looking to make so much money in the future.
Risk management is important, but with a lot of developers coming into the network, also side the EIP – 1559 (Ethereum Improvement Proposal 1559). With so much news coming into this space. Bulls expect another upward run from Ethereum.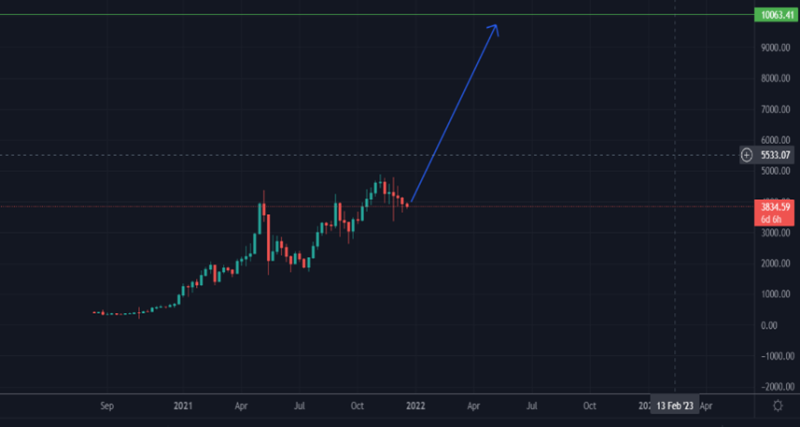 Spectators believe that Ethereum would overtake bitcoin's market capital in the near future. The fundamental data surrounding Ethereum is promising, and with Ethereum having the biggest nft marketplace. Ethereum still has the biggest potential in the crypto markets.
Ethereum 2.0 has been announced, this would transit Ethereum blockchain to POS mechanism. This crazy process would increase the speed of the network and make it the best buy in the cryptocurrency markets.
Traders would experience a lot of volatility, but with a strategy that factors in potential fall in prices. This currency would good profit in the next crypto run.
Market Capitalization In A Bull Market
Capitalization in the crypto markets are be very difficult especially if you are a new trader or you are trading futures. Trading without a plan is basically betting, and a plan without factoring in volatility would fail.
High volatility in the crypto space means that prices can change drastically within a short period of time. This can happen when there is news or fundamental data that can affect the importance of a currency.
Capitalization can be achieved by drafting out a plan that would be profitable regardless of the volatility of the markets. Do not rush to sell after every dip, stick to your trade plan.
Gather Your Personal Data
Before Investing in cryptocurrencies, it is important to do proper research about that currency. Marketing a token doesn't guarantee the success of that token, make personal research and have knowledge about your investments.
Gathering personal data about tokens would help keep your confidence in a token. People without information data on their investment sometimes panic sell.
Conclusion
Stocks and cryptocurrencies are very alike. Before investing, exercise proper risk management and do proper research. Manage your portfolio and always take profit.
Create a plan and stick to it. Anything can happen in the market.
Also read: Day Trading for Beginners
FAQs
Is the cryptocurrency bull cycle over 2021?
No one can be sure about the cryptocurrency bull cycles being over. The cryptocurrency space has a habit of being unpredictable.
Map out a profitable trading plan and follow it while holding long term positions.
How long do crypto bull cycles last?
Judging from past occurrences, the cryptocurrency upward cycle lasts about a year before a multiyear bear movement.
This might not always be the case because of the factors affecting prices. Trends can change at any time.
What is the cheapest currency to buy?
When looking for the cheapest currency to buy, consider the capital size of its competitors with the same utility. The token with the lowest capital size is the cheaper currency.
Does Elon musk own bitcoin?
Yes, the CEO of Tesla and Space x confirms to personally owning bitcoin.
Who is bitcoin owned by?
This currency doesn't have an owner. Bitcoin is controlled and managed by nobody.