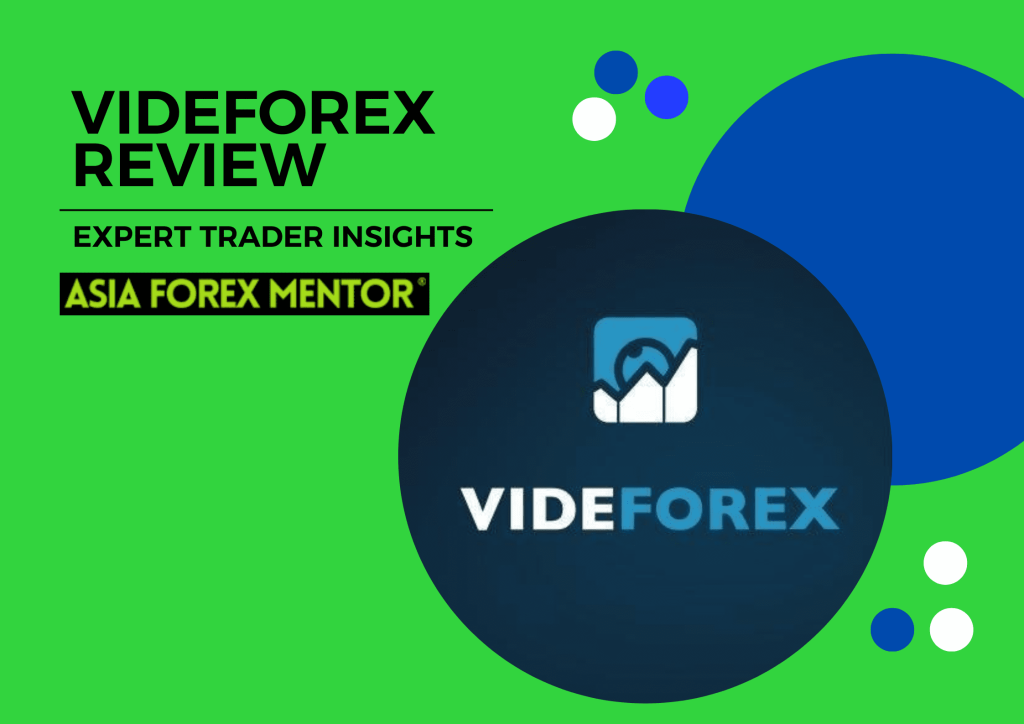 VideForex Review
Welcome to our ultimate VideForex review. Today, our goal is to answer common questions people have regarding the broker and everything one needs to know to get started on the VideForex platform. By the end of the guide, you should have decided whether or not it fits your personal day trading style.
But before getting into that, let's cover some basics and learn a few things about the VideForex trading platform.
Also Read: Download Trading Platform
Asia Forex Mentor Evaluation Criteria
The Asia Forex Mentor team looks at several factors when evaluating a forex or, in this case, a binary options broker. Here are some of these factors:
Security: This measure looks at how secure a trading platform is and how they protect your own money without any issues.
Affordability: The Asia Forex team also looks at the fees, commissions, and spreads involved in trading to determine the firm's affordability.
Broker Efficiency: This measure assesses the trading technology and trade execution to see how the broker applies tech in day-to-day operations.
Technical Performance: We review the tools, charts, and indicators available to traders on the platform in order to determine their efficiency
User Interface: Finally, the team also looks at how easy it is to use the broker services, including trading platforms, opening an account, and withdrawal requests.
What is VideForex?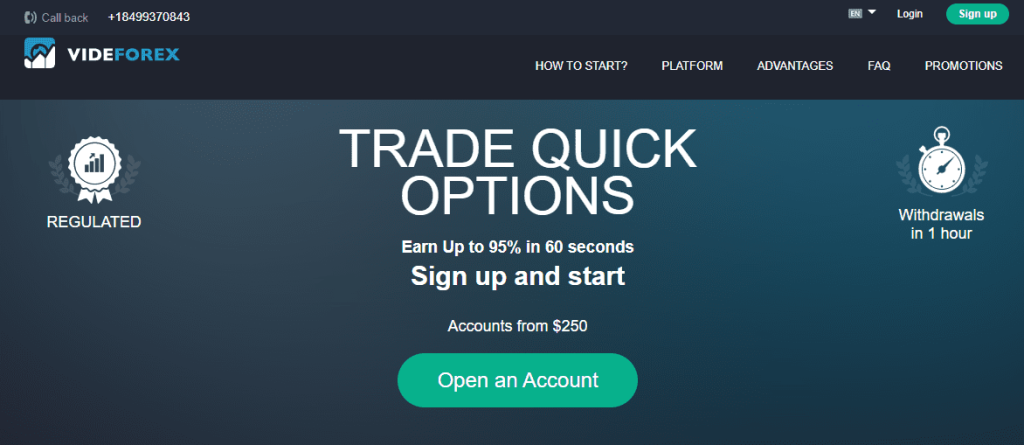 VideForex is a broker company specializing in trading CFD, forex, and binary options. Created in 2017 by Involva Corp and registered in the Marshall Islands, the broker offers over 160 assets, which awards its clients a broader exposure to the financial markets. The broker is still owned and operated by Involva Corp today.
The broker also offers leveraged trading and is available as a trading platform on any device. Both of these allow professional and newbie traders easy access to the financial markets. You'll find the company's main office at this address: Trust Company Complex, Ajeltake Road, Ajeltake Island, Majuro, Marshall Islands.
What's more? Since its founding, the VideForex broker has garnered 5,000+clients from around the world and currently boasts a volume surpassing $4 million with a $450,000 daily payout to traders.
Now that you know a bit about the broker company, it's time to delve into the in-depth VideForex Review. Let's see if the company deserves your hard-earned own money.
  Advantages
  Disadvantages

Offers an advanced proprietary trading platform that you can use to execute a trade in the right market direction
You can get demo account credentials right away to train and hone your strategy before jumping into real trading
Great bonuses, including a first deposit bonus directly in your wallet address.
A wide range of CFDs to trade here, including forex, binary options, commodities, and more

This is a non regulated broker, which can be risky for most people
There is no mention on the website about data protection when you open an account or withdraw money
We did not see any robust training materials for new traders
Countries Accepted At VideForex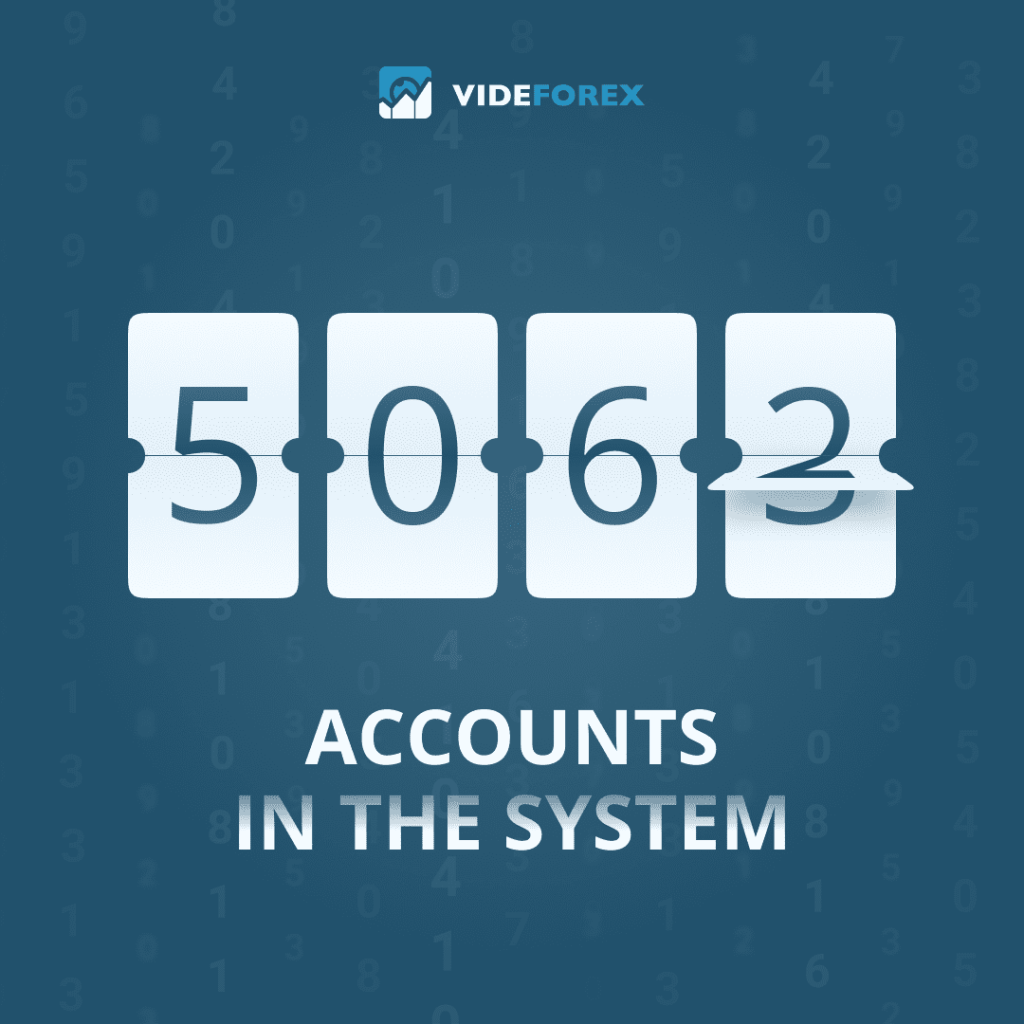 From Videforex's homepage, it appears that residents and citizens of the U.S. and United States territories aren't welcome. The trading platform states the following regarding potential US clients on its site: "Videforex nor its partners or agents aren't registered and do not provide any of their services on the USA territory."
Needless to say, that's at least surprising, considering most brokers that operate from Seychelles have no issues with trading activities from the U.S. . Other than that, however, it seems the company's services are offered in all other locations.
To avoid any issues while setting up your account, I'd suggest contacting customer support beforehand, and they'll let you know what exceptions (if any) apply to your situation and/or location.
VideForex Customer Reviews
From the reviews that we have seen so far, it seems that there are some areas where videforex does well but falls short in others. Overall, most people who have worked with the firm seem pretty satisfied with what they have managed to get. However, we have seen some complaints when it comes to withdrawals.
Although from the reviews, it seems most people are able to withdraw money, it appears that when you start withdrawing higher amounts, you may have to wait longer to get your money. Also, the customer support hasn't really been reviewed that well. Most users have had a lot of problems using their own emails to reach out and get help from the support team.
Demo Account
Like with other brokers, a free VideForex demo account will be available for everyone who registers for a new account. We suggest creating yours, even if you're one of the most experienced traders out there. Why? Because far too few trading tools and trade-related data are provided on the Videforex trading platform.
If you have a specific trading tool or services you'd like to trade effectively (like specific assets, currency pairs, what spreads are like, and more), we suggest creating a demo account and exploring yourself.
Customer Support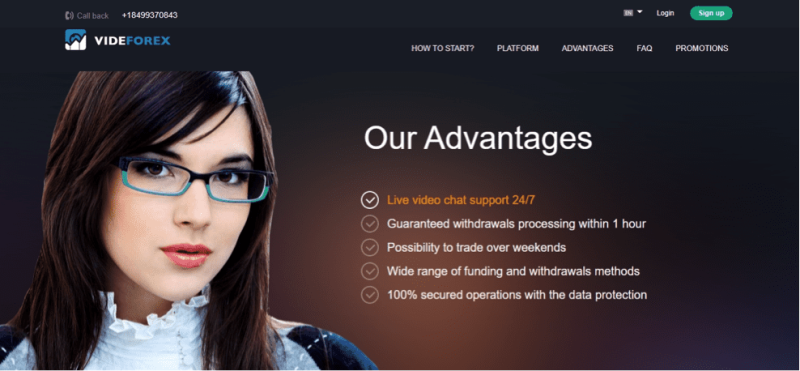 VideForex claims to offer 24/7 live video chat support, which one would assume is exactly that, a "video" live support chat with one of the company's agents. Unfortunately, that isn't exactly how it works on the trading platform.
What VideForex offers is access to pre-recorded videos of their personnel playing on a loop. Other than that, they offer a live chat option, like most other forex trading platforms. So yeah, the company does offer "live video chat support"; just do not expect to sit down face-to-face with one of their agents.
Advantages and Disadvantages of VideForex Customer Support
  Advantages

  Disadvantage

The support team is multi-lingual to help address people with different languages
You can talk to the support using various means on the website
There is a live chat support tool on the website for instant help
Call back feature is available to save you from international calling rates

There are complaints that the response time from the support team is very slow
We have seen reviews that the support team does not have deep knowledge of the firm
The live chat support feature does not work that well
Account Types Available
There are three distinct account types available at VideForex: Gold, Silver, and Bronze. Each of these has its own set of features, but shared features include the provision of a copy trading tool, a free demo account, one-hour withdrawals, and 24/7 customer support.
Here is a breakdown of the distinct things the different accounts offer. The only thing we couldn't ascertain is whether or not trading fees differ across the VideForex platform.
Gold Accounts Features
First 3 trades risk-free
Bonus +100 percent
Personal success manager
Master class (web session)
Copy Trading tool
Silver Accounts Features
First 3 trades risk-free
Bonus 50 percent
Master class (web session)
Copy Trading tool
Bronze Accounts Features
Bonus +20 percent
Copy Trading tools
Educational & Trading Tools
All of VideForex's three online trading account types are treated to copy trading tools. You won't find any additional details regarding these copy trading tools, but from every VideForex review we went through, we can safely deduce that they're built into the trading platform as a standard.
Gold and Silver account holders are also treated to a web-based platform "Master Class" session that'll presumably teach them how to trade forex financial instruments. More info on how or when you'll be able to access said class will be available after users create their trading accounts.
Aside from these extras, it would seem that any other educational and trading tool you'd find on any other broker are available on the VideForex platform as well.
Bonuses & Promotions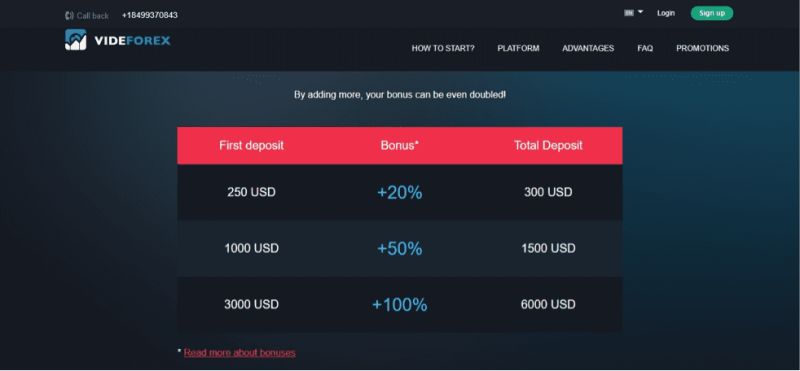 VideForex offers its new users a first deposit bonus that ranges from 20 to 100 percent of the total initial deposit amount. Below, you'll find a detailed list of the initial deposit amount required in order to qualify for the first deposit bonus and the percentage accompanied by the offer:
$3,000 = 100 percent Bonus
$1,000 = 50 percent Bonus
$250 = 20 percent Bonus
Needless to say, there are terms and conditions surrounding each of these first deposit bonuses, so ensure you carefully read through each comprehensively before accepting a deposit bonus or adhering to a certain minimum deposit.
Besides these bonuses, VideForex offers its users weekly contests whose total prize fund of $20,000 will be distributed among 20 distinct winners. Some of these prizes are offered in the form of bonus funds, starting with contestants who came in 6th place.
What's more? During these trading contests that last almost a whole week, positions one to five are reported to be awarded cash prizes, with an iPhone 10 going to the 5th position. I'll reiterate: while this weekly contest does sound enticing, take the time to keenly read the terms and conditions to ensure you fully comprehend the rules before joining.
Lastly, Gold and Silver Account holders are awarded the ability to have their first three trades be 100 percent risk-free trades. Here is what VideForex has to say about these trades in their user agreement:
"If the total of the first three transactions is negative, VideForex will compensate that loss in the form of a bonus. Bonus rules will apply. Note that the compensation for these risk free trades should not exceed the initial deposit's total amount. Also, to use this offer, you'll need to apply in advance. Simply contact your account manager at VideForex to negotiate and discuss the details."
Additional VideForex bonuses and promotions worth noting include referral commissions and referral deposits.
Withdrawal Request, Processing, & Wait Time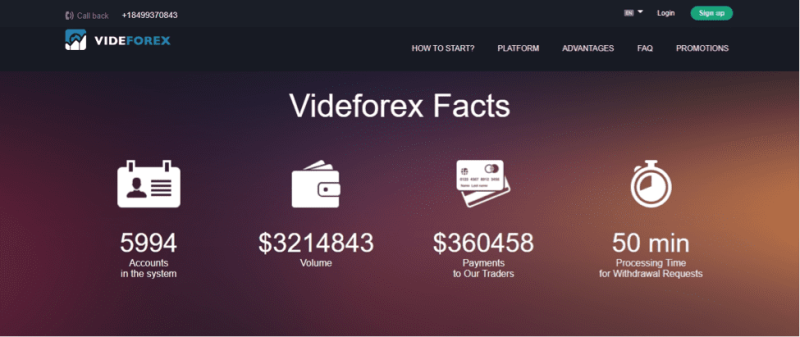 We didn't have to dig too deep to find one of VideForex's unique selling propositions when it comes to its withdrawal request and processing times. The company offers 1-hour processing times. Yeah, that's right. In an hour (and sometimes less), you'll have your money in your hand.
As you may have thought, this offer isn't accessible for wire transfers but is possible with a load of other payment methods, especially e-payment methods. Before accessing this feature, you must've submitted your address, ID, and other KYC (Know Your Customer) documents – and have been approved. Worry not; any confidential data received by VideForex from its forex traders isn't shared with third parties and is stored securely.
Pro Tip: Complete this approval step before making your initial deposit to ensure there won't be any issues when making withdrawal requests.
Withdrawal Costs & Methods
Oddly, VideForex doesn't show bank wire transfers in its list of accepted withdrawal methods. This could probably be just an oversight issue because it's available for use. Regarding costs, expect a 5 percent transfer fee on all credit card transfers. To confirm any additional charges (if any) reach out to an agent.
There are two additional points you'll need to keep in find. First, on funds that weren't active (amounts with which the forex trader hasn't made a 1x turnover), a 20 percent maintenance fee will apply on each of the withdrawal amounts. These fees will be paid by you, the forex, commodities, digital currencies, or market indices trader.
Deposit Methods & Costs
Clients of this online broker can fund their trading accounts using a myriad of payment methods, including:
Perfect Money
Skrill
Neteller
Altcoins
Litecoin
Ethereum
Bitcoin
Bank Wire Transfer
Visa/MasterCard
The costs here appear to be the same as above, with a 5 percent transfer fee charged on credit card deposits. But there isn't a charge for any other deposit method. Regarding processing times, deposit requests via e-wallets, debit, or credit cards will get processed within three hours.
There have also been reports that the broker can take up to three business days to process incoming bank wire transfers and verify funds have been received.
Also Read: Best Forex Trading Platform 2023
Minimum Deposit and Minimum Withdrawal Amount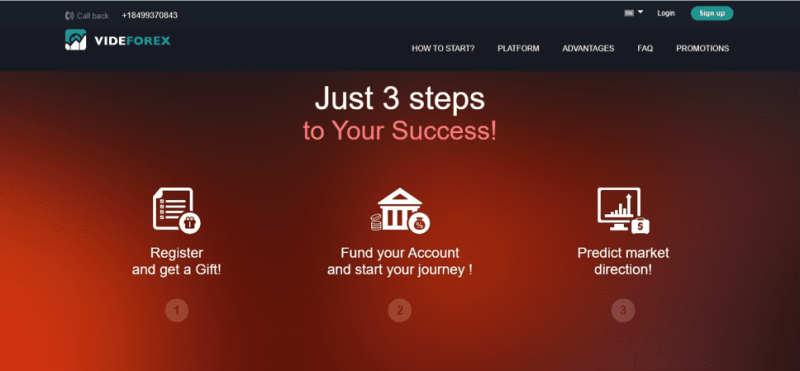 New VideForex clients are required to submit a deposit of $250. We're assuming this is the amount of money one needs to access the lowest account tire, which is the bronze account type. The minimum deposit requirements for silver and gold accounts are $1,000 and $3,000, respectively.
Silver accounts is the tier that comes with an informative MasterClass session and success manager.
VideForex doesn't provide a minimum withdrawal figure on its website.
Spreads
Can you find any info on the broker's site regarding spreads? You've guessed it! No. After reaching out to the company's customer support, we ascertained that VideForex is an expensive broker that quotes high spreads for its assets.
The broker operates a market maker protocol, which implies that all orders get transferred through internal dealing desks. VideForex spreads can also be quite large in regular market conditions, where something as high as five pips may be attached to major currency pairs.
One agent from the company also has the following to say, "if you're going to trade binary options as your main trading option, there isn't a spread, as you might know. If you'd like to use CFD trading, then, of course, spreads will apply to your trades. To check the actual spreads for any specific asset, switch the view to candles on your VideForex mobile app or web-based platform.
Assets Available
The company claims to offer its clients over 160 distinct assets but doesn't provide a specific asset list on its website. If you turn to the VideForex platform user agreement, you'll find more detailed info regarding the different kinds of CFDs the company offers. These include:
CFDs in Cryptocurrencies
CFD Stocks
Forex: CFDs in currency pairs
So we can safely conclude that VideForex is a comprehensive CFD platform. Also worth noting, the short list above leaves out assets like market indices, commodities, binary options, and more. The commodities available on the platform include Oil Future, Gold Future, Gold, Gold/Eur. Coffee, Sugar, Platinum, Silver, and Oil (Light, Sweet, Crude.)
Trade Sizes
The broker doesn't provide any info regarding the minimum or the maximum required trade sizes on its website. So again, we reached out to the customer agents at the company via a live chat and learned that the smallest permitted position on the trading platform must be equal to $1 per trade.
Most forex broker companies usually have this figure in micro-lots (or standard lots), so the agent's response was surprising (even though not necessarily alarming.) A minimum one-dollar investment is quite reasonable and shouldn't be a cause for concern.
We also confirmed that the minimum sizes on trades might be different for each kind of CFD and other instruments, including binary options. The company recommends refering to the trading platform for information on maximum and minimum position sizes.
Leverage
While we know that VideForex offers leverage trading, the broker doesn't provide any specific info regarding the kind of leverage they offer. We weren't able to locate the info elsewhere on their website either.
During a live chat session with an agent from the broker, we learned that the maximum leverage ratio on VideForex is 1:100. We also found that you can trade on the platform without leverage, but if you opt to go that route, the broker will require you to pay a fee.
The agent stopped responding before we could ask further questions, which is never a great sign.
VideForex Platforms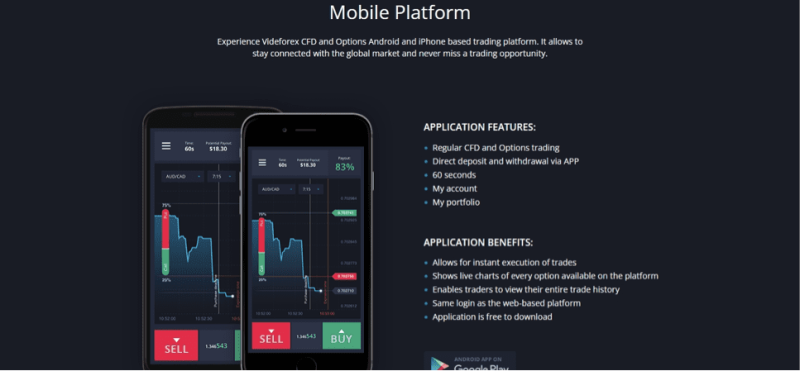 Quite interesting, VideForex offers its clients its own trading platform, but it doesn't have any title or name (like MetaTrader.) The VideForex platform has three versions, iPhone, Android, and Web.
Almost immediately, you'll notice that the platform offers a user-friendly layout and extra clean design. While the broker doesn't clarify the benefits of using their web-based version while binary options or day trading, they had the following to say about their mobile versions.
Application Benefits:
Download for free
Same login as the web-based platform
Traders can access their entire trade history
Live charts of every option
Instant execution of trades
Application Features
My portfolio
My Account
Withdrawals and Deposits Via APP
CFD and Binary Options Trading
Security for Investors
Security is also an important determinant of success for any company in the financial markets. Here are some of the advantages and disadvantages of the security at videforex:
  Advantages
  Disadvantages

Advanced encryption, especially when you are making deposits from a bank
Data protection measures have been put in place to ensure privacy is guaranteed
The firm takes very little personal info when you are setting up your account
Regular security audits are done to ensure that everything is safe

This is not one of the regulated brokers, so there is a risk involved when you work with them
There is no info about the separation of funds on the website
VideForex Vs Other Brokers
It is also worth looking at how Videforex compares with other brokers in the binary options space. Here is the breakdown: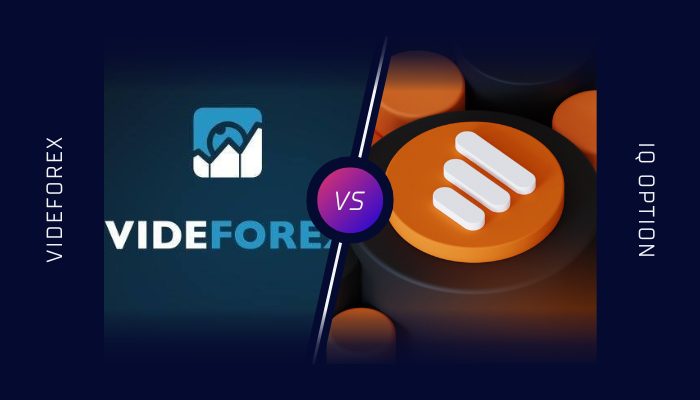 VideForex and IQ Option are online trading platforms that allow users to trade various financial instruments, including binary options on forex, stocks, commodities, and cryptocurrencies. Both platforms are similar in that they offer a user-friendly interface and a wide range of trading tools and resources.
One key difference, though, between the two platforms is that VideForex is primarily focused on forex and cryptocurrency trading. At the same time, IQ Option offers a broader range of trading options, including forex, stocks, commodities, and even options trading.
Additionally, IQ Option has some degree of pedigree in the market having been around since 2013. VideForex, on the other hand, is a newer platform that was founded in 2016. Another difference is that IQ Option is regulated by CySEC, while VideForex is not regulated.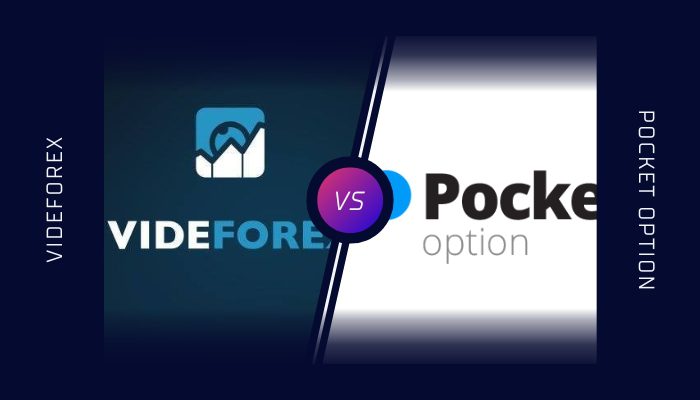 Pocket Option is one of the most popular binary options traders. Although many big scam stories exist around this area, Pocket option remains a reliable broker. It is different in so many ways compared to Videforex.
For example, pocket option does not require any minimum deposits. You can deposit what you need and start trading right away. You will also have the freedom to decide on the trading size. Pocket Option has a more robust trading platform too. The broker is also open about its fee structure and has a much broader variety of tradable assets.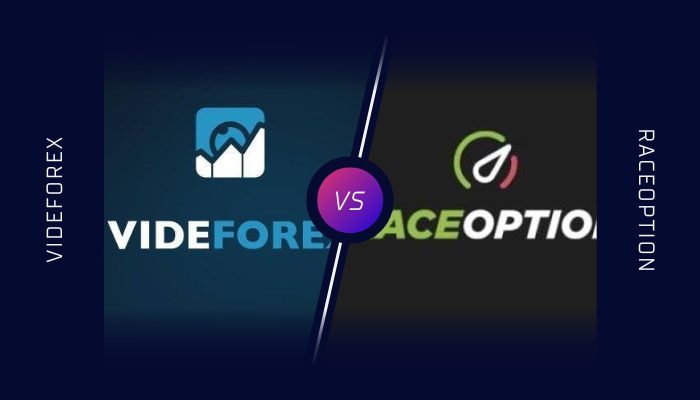 RaceOption is quite similar to Videforex in some respects. First of all, these two brokers are not fully regulated. Although this is not uncommon, it is telling, considering that most people will prefer to work with a regulated broker.
Also, the two have very limited asset classes to trade, and the fee structure across both platforms is not really clear. But there are, of course, some areas where both firms are different.
RaceOption, for example, has a much better trading platform and more pedigree in the market compared to Videforex. In addition to this, Videforex has better trade execution and technology.
Summary
So there you have it, the ultimate VideForex review. If you're feeling nostalgic and do not mind the over-the-top marketing that comes along with binary options, then VideForex is one of the best brokers designed with your needs in mind. The broker offers CFD trading on its platform, ensuring more fun, more trading opportunities, and more reasons to contact their readily available customer support.
This broker is also extremely impressive when it comes to promo codes and bonuses. They'll even post additional promo codes on their Instagram and Twitter pages from time to time. I hope these promotions, coupled with their weekly trading contest, will encourage you to be more active with the broker in the day trading scene.
Note, however, that VideForex isn't the perfect money making platform. There are several questionable aspects of day trading financial markets using a VideForex broker account. We only hope that the intriguing features of the broker platform are still worth your hard-earned money.
VideForex Review FAQs
Is VideForex legit?
Yes, based on the reviews we have seen from other users, it seems like Videforex is a legit and reliable broker.
Is VideForex a regulated broker?
No, we have not seen any info to indicate that videforex is a regulated broker. But this is often the case with many binary options brokers.
How reliable is VideForex?
Videforex is a reliable broker with a proven track record of excellent trade execution and technology in binary trading.