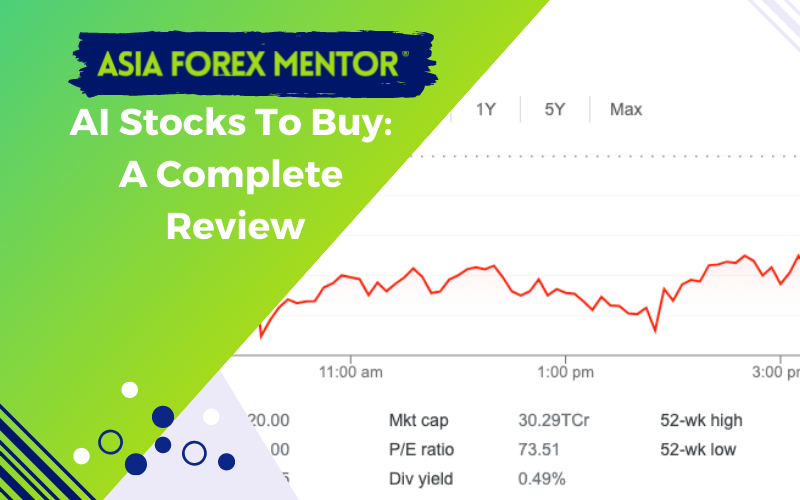 Artificial Intelligence has proven to mankind, just how useful the advent of technology is. Undoubtedly, artificial intelligence will only help in further development, and the only scenario where it stops being in demand within the market is one in which man discovers more advanced things than artificial intelligence or machine learning!
Artificial intelligence stocks seem like a very easy alternate when it comes to considering companies and a market to invest in. In general, look for companies using AI technology to improve products or gain a strategic edge.
With where technology is headed today, artificial intelligence technology is bound to lead the way. They have created a spot for themselves in mainstream news and media.
Technology itself is bound to grow in 2021 year after another.
Although the artificial intelligence stocks that one can consider investing in are few, they are safe bets.
Content
Then what's the catch?
The only catch here is the research that goes into the search for the public as well as pure stocks to invest in.
Taking this knowledge forward, the rules of investing in stocks point towards the possibility that if someone is wondering about where to begin or which sources to rely on, when it comes to stock trading, artificial intelligence stands as a great winner.
Since the possibility of success of artificial intelligence stocks in long-term growth is high and since that has significantly affected the way a consumer looks at ai stocks, they are the go-to stocks to buy in 2021.
This article will give you a better understanding about the top 11 AI stocks that you must invest in.
AI Stocks To Buy
1. Tata Elxsi
The first stock that we look at today is Tata Elxsi. Tata Elxsi has been a popular name when it comes to the integration and service through technology-based features. The breakthroughs that it offers have been enabled by Artificial intelligence and analytics.
This includes a wide variety of machines, big and small, catering to various purposes. Self-driving cars are a part of this function just as much as video analytical solutions are.
It has a dedicated Artificial Intelligence Centre of Excellence or AI CoE which takes into consideration the rising demand for intelligent systems, machine learning and automation.
The data analytics frameworks offered by it are entirely cloud-based and feature several new technologies pending patents. This should tell you that they are futuristic technologies, which offer breakthroughs to get meaningful insights.
In the fiscal year that ended this year in the month of March 31, the company spent less than 1% of its operating revenues on interest charges. It is therefore a great stock!
Another important factor is how the company deals with its staff costs, and Tata has spent less than 56.1% on them, which makes it among the top-most stocks to buy.
Disclaimer: All Information as of 9th September, 2021.
Source: Google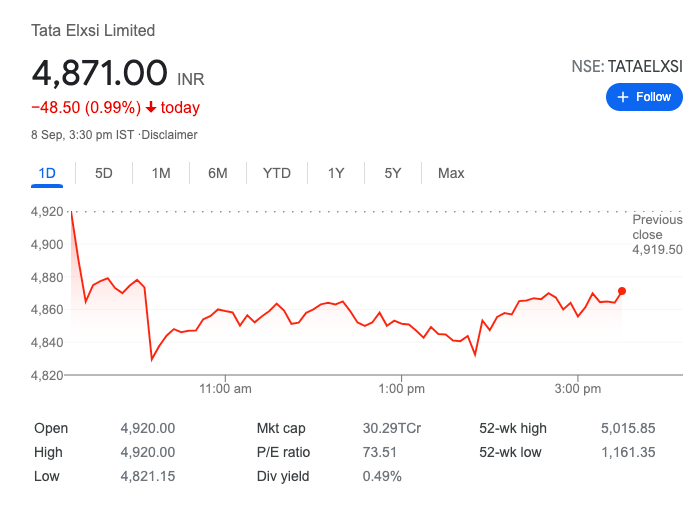 2. Bosch
Yet another very-well known name, the company Bosch is known for working on futuristic projects and offering top-notch technology in order to stand apart from its competitors. Formally known as The Bosch Centre for Artificial Intelligence (BCAI), it was founded in 2017, has ever since been on a mission to apply the cutting-edge AI technology that it owns.
All Bosch merchandise and software are related to superior technology, that in turn leads to powered, efficient as well as innovative solutions. Within its group of similar business giants, this stands apart.
Thus, this artificial intelligence tech is directed towards creating a worldwide impact. There are six areas that have contributed to this research, and they have produced data as desired including the main concentration being on AI tech.
This stock has also earned a negative return of -15.94% over a three-year period.
Source: Google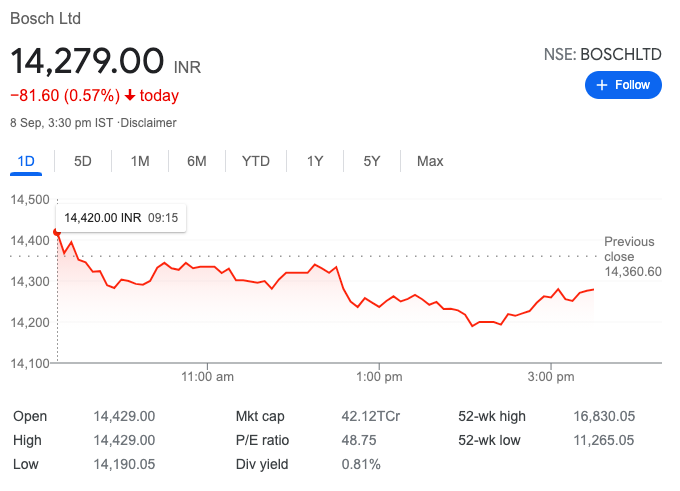 3. Cyient
This company runs on a different business model than most others on this list. Meaning, instead of focusing on new tools and technologies, Cyient assists companies to achieve business objectives.
The solutions it offers take into account the analysis of markets and certain operations that are bound to lead to growth.
To give an example, they offer solutions for self-driving cars, where artificial intelligence can be powered to detect including changes in the environment, real-time and then update maps and navigations accordingly.
This technology is especially useful for autonomous vehicles, who can fully comprehend their surroundings simply to travel better or even, to avoid any accidents.
Over a three-year period, the stock returned 24.4%. Therefore, this is a great company to look out for.
Source: Google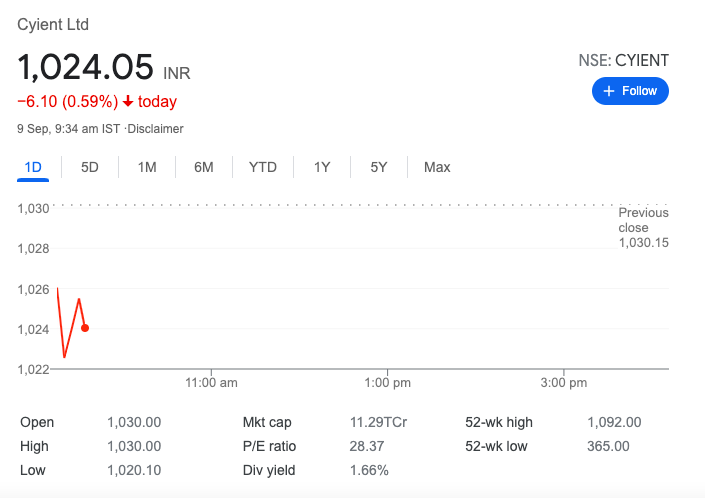 Source: Google
4. Nuance Communications via Microsoft
An American multinational computer software technology corporation company, Nuance is headquartered in Massachusetts, It caters to a market of speech recognition and artificial intelligence software. In 2005, it merged with its competitor, ScanSoft. It was acquired by Microsoft company.
These speech recognition artificial intelligence tools are mainly being used in the Healthcare industries and the idea behind Microsoft group acquiring this is to deliver Healthcare to its customers via its existing AI Cloud Computing platform. This stands alongside big names like Alphabet and Nvidia.
You can trust this brand when it comes to investing. This is a great stock to consider if you want to make good money.
Source: Google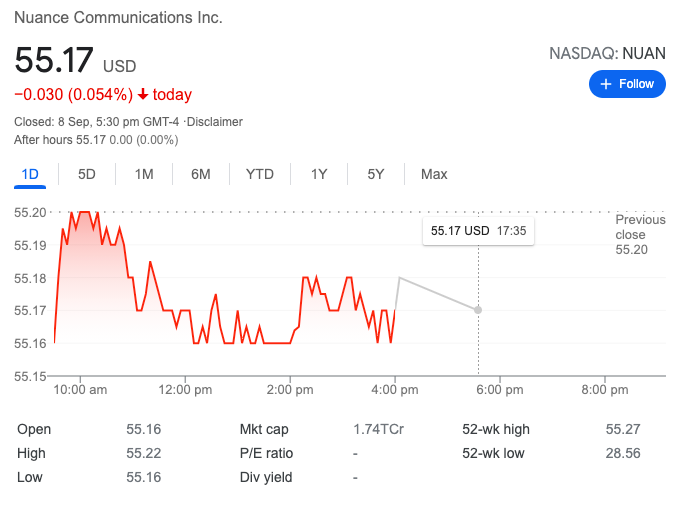 5. Crowdstrike
When it comes to endpoint security this is one of the best stocks one can search for. It offers a process known as endpoint detection and response. Crowdstrike's cloud hosted Saas platform manages data to prevent, detect and respond to threats.
Cyber security is at stake. This makes use of AI and machine learning to add security.
Now, talking about some more details about the stock, this cybersecurity company's revenue rose a remarkable 70% year over year after which it became $337.7 million. That even beat the analysts' estimates by a whopping $14.2 million.
In other words, CrowdStrike largely contributes to the industry's growth by leading cybersecurity stocks and has great stock value, making it one amongst the best ai stocks to buy. This is bound to do great within the stock market.
Source: Google
6. DocuSign
Headquartered in San Francisco, California, DocuSign, Inc. is an American company. Its major function is to allow management of electronic agreements. Collectively offering the DocuSign Agreement Cloud, it offers eSignature to sign electronically on various devices. This access is more now in 2021 than ever.
A company that provides several offerings, this agreement cloud takes care of four functions: manage, repair, side and act. This caters to the existing market very well.
Since this pandemic has affected a lot of businesses, and although technology and machine learning businesses have received a softer blow, it was feared that DocuSign's revenue would also see an unprecedented decline as people begin to move away from work-from-home models and enter into workplaces, removing the need for DocuSign.
DocuSign's top-line growth declined, but not to such a great extent. Its fiscal second-quarter revenue grew 50% year over year to about $512 million.
Since DocuSign has many customers, it could be amongst among the most promising ai stocks to buy.
Source: Google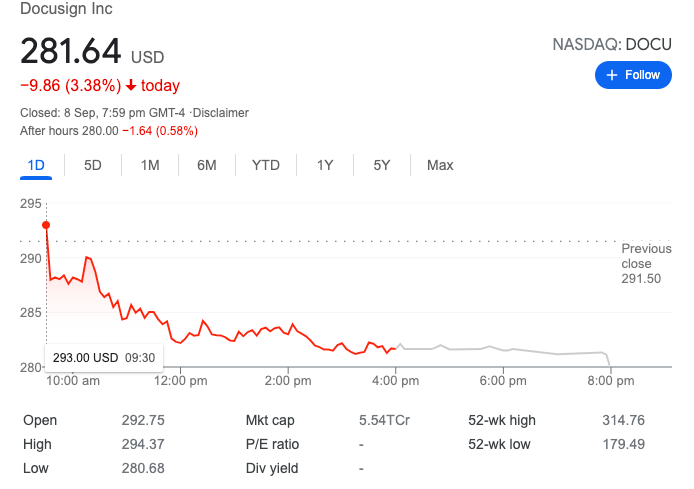 7. Salesforce
Everyone who works in a corporate setup has heard of Salesforce. An American cloud-based software company headquartered in San Francisco, California, its customer relationship management service along with a complementary suite of enterprise applications are focused on customer service, marketing automation, analytic outlook, and application development. This is great for the market.
Artificial intelligence offered by Salesforce through its CRM software is a result of partnering with Microsoft and Adobe. It stands alongside other well-known names such as Nvidia.
These tools help forecast sales and Salesforce is widely known for having a huge lead and account data set. This further helps their existing AI to function and deliver results.
This is a holistic solution for companies looking to flourish through sales. This speaks of the planning behind creating the new tool, which stands to be a promising ai stocks investment. It increases the potential for the stock to step into a similar business.
The company forecasts earnings in a range of 91 cents to 92 cents a share as against the 82 cents a share estimate by analysts! This is a great stock if you want to make money.
Source: Google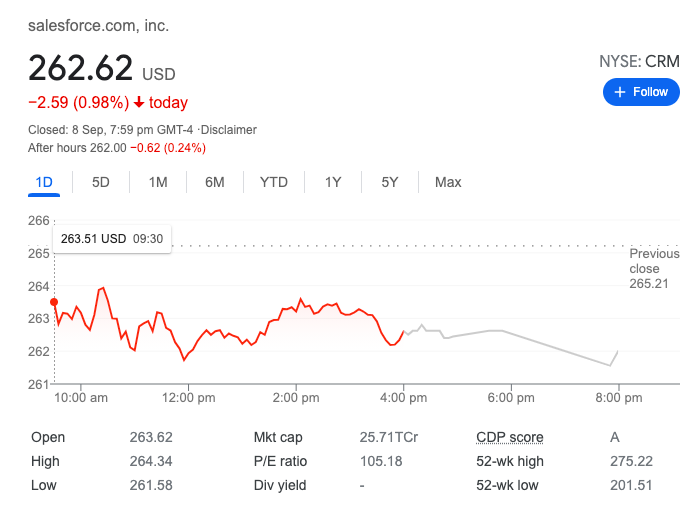 8. Happiest Minds
A more creative company than most others in this list, Happiest Minds was established to help company provide holistic consumer experiences.
In order to stand out from their competition, they combine automation and artificial intelligence with natural language processing, video as well as image analytics and newer rising technologies like VR and AR. This meets the needs of the market.
These have come to the forefront recently. It can grow to be as big as Nvidia too.
Their focus has been on developing the upcoming generation of intelligent products that are equipped to learn, create, think, and then arrive on decisions. The idea is to ensure this process is very similar to how human being process and function.
In the fiscal year March 31, 2021, they delivered an ROE of 29.62 percent, surpassing its five-year average of 23.07 percent. This could be amongst the best growing companies for stock holdings.
Source: Google
9. Visa
Visa is a name that is very widely known, especially when it comes to cyber security forms. Visa Inc. is an American multinational financial services corporation headquartered in California. It facilitates electronic funds transfers throughout the world and most commonly through Visa-branded credit, debit and prepaid cards.
This is one such company that makes use of integrated AI tools to detect financial crimes. This includes frauds and money laundering. Big banks use AI chatbots which provide online Customer services as well. Therefore, Visa has a huge market and great potential to see good money daily.
Visa is one of the best long-term artificial intelligence stocks to buy, while also being amongst the best companies.
This is simply because all of the added components within the industry reflects significant other holdings that give it a malleable value and you get long-term security.
Firstly, payments remain to be an everlasting, daily function that is bound to persist over many years. When paired with the growing FinTech industry that is bound to become greater, this is a great stock for long-term investment.
As compared to the last quarter, Visa has grown revenue by a 9.5% compound annual growth rate over the past five years. Its net income has grown by an even better rate of 14.3%.
Source: Google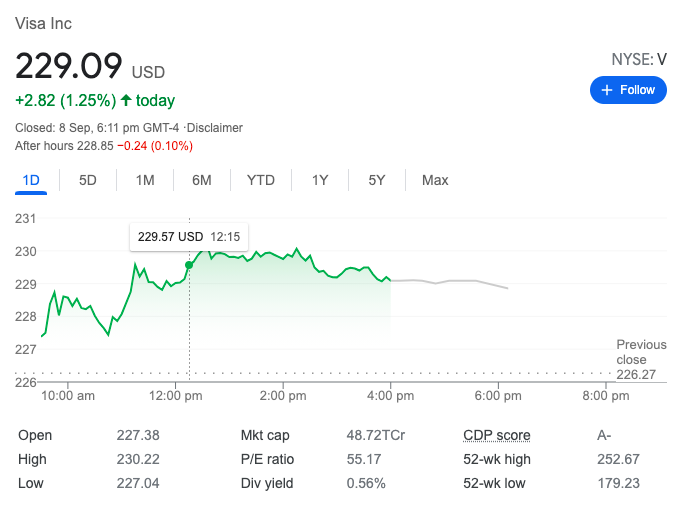 10. Netflix
One of the most widely used platforms in 2021 and in the foreseeable future year after another, Netflix also utilizes AI to personalize its internet TV content for its subscribers. This is in competition with other companies such as Facebook and Amazon which seem like safe investment options as well.
They are all spending a lot on artificial intelligence. Alphabet, Microsoft, Facebook and Amazon- all are spending a lot on new AI tech, labeling them as one among many 'tech giants'. The power and function of AI here is being observed in consumer products and services such as voice-activated smart home devices. Some are calling Netflix the equivalent of Nvidia.
As a company, Netflix as an online media conglomerate offers a long-standing promise as it has kept rebuilding itself since its first work in the year 1997 when it used to offer DVD rentals by mail. Offering great entertainment just through your computer now, it has faced its highs and lows but today, it stands as one of the best platforms to ever exist, which is earning a name for itself in its industry.
It is therefore also more trusted than other OTT companies recently in the 2021 market. It promises exceptional growth and takes full credit for the popularity of personalised viewing experiences. It has a long-standing name in media entertainment, which is only growing year after another.
At least for the next decade, Netflix seems very promising as a stock investment for those with holdings, especially with respect to its integration of AI that could lead the way for the company's success. These are the ai stocks to buy or consider buying. and investing in. Your search should be over!
Source: Google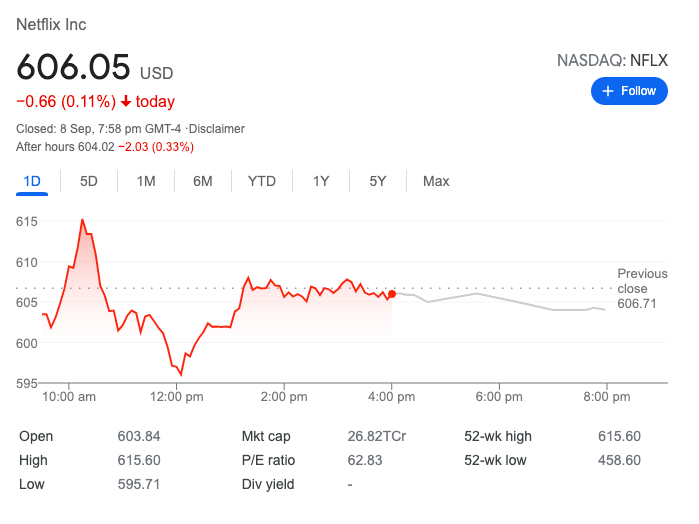 11. Saksoft
This is the last stock that we look at. Saksoft is one such company that enables customers to arrive upon results that are as such transformational in nature. They do this by encompassing intelligent decisions, offer optimal instances of productivity and efficiency, while also looking after service innovation and improved customer experience.
Aside from this, Saksoft leverages the famously critical combination of AI and automation. Its main focus has been on accelerating digital transformation and applying intelligent automation to solve problems. It is one amongst the rising companies in AI today.
It does so by combining automation and modern tech which includes machine learning and AI. Within a merely three-year period, Saksoft's shares returned 118.06%. This makes it one of the best ai stocks to buy and get.
Source: Google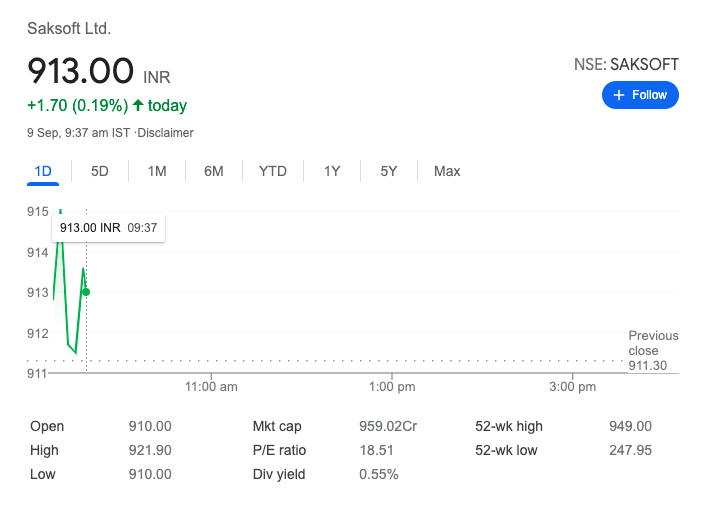 Also Read: How To Trade Currency
Day Trading Taxes
There are a variety of tax implications to consider irrespective of your reasons for trading stocks.
Depending on whether the asset in question is a capital asset or a trading asset, a lot can change. Capital assets typically generate an income over the course of a year or more, while trading assets are securities that an individual buys and sells with the objective of making gains.
So if your income has been generated from intraday trading, you will have to pay an intraday trading tax as your income is considered as business income instead of a capital gain.
So the gains that end up getting added include your salary and other incomes like gains from deposits. These are taxed as per the new, existing slab rate. This is important information to know.
Day Trading Behavior as Determined by Factors
Aside from this information, it is important to understand what has popularised day trading in stocks. Before you decide to hop onto the bandwagon, a detailed study of these factors is necessary. This has a huge part to play in your financial decisions.
Historical data makes the day trading part look like a simple affair. However, technology makes day trading easier to access and you are more free to take your decisions now since it is cheaper than it has ever been. As you learn more, you will make better decisions until you are content about them. This is a small price to pay!
Also Read: Day Trading For Beginners
FAQs
Which are the top companies I should invest in?
The topmost companies, aside from the ones mentioned above are Alphabet and Nvidia. Both Alphabet and Nvidia are among the top growth companies in 2021. Their success in the coming years also looks promising. This shall require more personal research according to your needs, but it is safe!
Which industry should I invest in?
Industries are several, and it depends on your interest area. You can learn more about them. There is no better time than right now. AI certainly seems the most promising, especially in this year 2021. Be wiser over the years and think about the 'why' first to automatically arrive at the 'how' of investing! You've got this.
How should I invest in stocks?
With proper knowledge, you should be free to think and make your own analysis. Make wise financial decisions for this year, 2021, and become wiser about a company or markets! As time passes, you just know which ones you want to look after and get good returns.