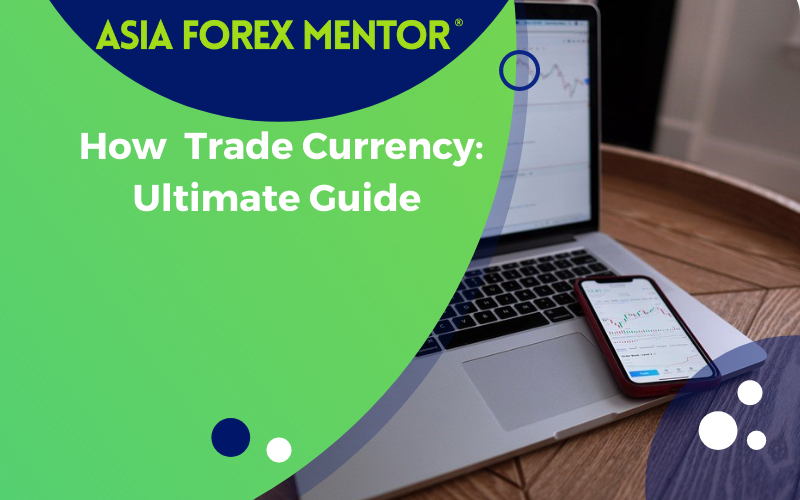 How to Trade Currency
With a little bit of luck and know-how, trading in any asset can be a lucrative way to make money quickly. However, it is not as easy as some of the success stories you hear on the internet. In fact, it can be a challenging market to get into. In this article, we will talk about how to trade currency and whether you can make a living off it.
Content
How to trade currency – The Reality of the Situation
Currency trading, also known as foreign exchange trading, or forex trading, is one of the many markets that individual traders can get into. Unfortunately, it is not as easy as it is made out to be. Sure, the basic principle is to buy low and sell high, but there is so much more depth and complexity to that. As evidenced by the fact that so many novice traders lose money and had to drop out entirely after less than a year of active trading. However, you may find success if you make the right trading decisions. That can only come through education, practice, and experience.
Forex Trading Basics
For the uninitiated, what is forex trading? Your goal is to capitalize on minute price movement between currency pairs. There are trillions of dollars moving in the market every day. Surely, as a retail investor, you can make some money in this massive flow of cash. Forex trading is a process whereby you buy one currency using another, meaning that you buy and sell two different currencies at the same time. For this reason, forex trading is always done as a pair.
You see, the market operates 24 hours a day except during the weekend, which is from Friday evening to Sunday evening. This is possible because three major sessions keep the market going: Asia, America, and Europe. There are overlaps between each session and when it is time to close the session, the load is transferred to another session, which can also introduce some volatility in the market. In fact, some traders seek to make money off this little volatility at the start of each trading session.
You may have an idea of why stock price moves up and down, but what really moves currency values in the forex market? What is fascinating is the fact that many of the forces that influence the value of a stock also happen to move the currency market as well. This is one of the reasons why some stock traders are looking to get into the forex market.
One of the biggest factors is, as you might have guessed, supply and demand. If the world needs more dollars, then its value goes up. When there are too many of it in circulation, its value goes down. What gives the currency value in the first place is the political and economic power of the issuing country.
Also read: Forex Educators
From there, other factors such as geopolitical tensions, economic shifts, and interest rates are only a few other factors that can determine the value of the currency. Speaking of geography, the trading process is the same across the globe. How to trade currency in Canada? It is the same as forex trading in India, the US, UK, etc.
When you make trades on the forex market as an individual investor, you usually do so through a forex broker. Because the forex market is decentralized, you are actually trading with your broker who provides you data from the live market. Trading through a brokerage platform comes with certain benefits and implications, which we will uncover in a bit.
How to Trade Currency Pairs
Now that you have a basic understanding of forex, how to start forex trading? Assuming that you have created an account and charged your balance, most of the traders follow the same procedure. Sometimes, you can even create an account through a trading currency app, so getting started is easier than ever.
Choose a Currency Pair
Although there are over a hundred different currencies you can trade, your best bet is to stick with those with high volume. That means, you should trade currency pairs that are most frequently traded in large quantity. The reason is that bigger volume means better liquidity, which means you can buy or sell in a very short time. Plus, you do not have to pay much for making such a trade. We will talk a bit more about fees later.
If you are starting out, go for USD, EUR, JPY, CHF, AUD, CAD, GBP, and NDZ. These currencies are among the most popular ones out there. If you need a pair recommendation, go for EUR/USD, which we will be using as an example in this demonstration.
Also read: What Does Gbp Stand For
Analyze the Market
This step involves doing your own research of the market. If you are interested in the EUR/USD market, then you want to stay on top of the news that can influence the value of either currency. But this is the only basic step.
If you are looking to get into the forex market, you need to master technical analysis. In fundamental analysis, your goal is to access the long-term potential of an asset. This is effective for assets such as stock. Technical analysis focuses more on the short-term movement of an asset, which is what we want to do in the forex market.
Here, you want to have data on historical and current price charts, use indicators, in addition to reading the news. You want to know if it is worth dabbling in the market before you dive in.
Also read: Is Forex Legit
Understand the Quotes
When you are trading a currency pair, you are given two major numbers. If you trade EUR/USD (base/quote currency), it might look something like this: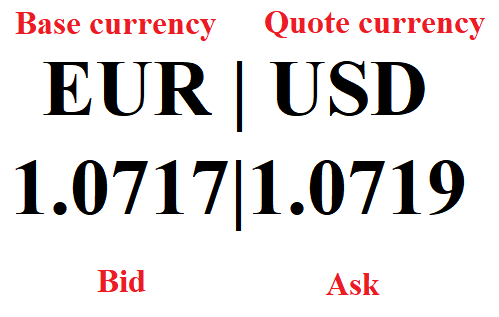 The number on the left is the bid price, which is the price for the currency that your forex broker is willing to buy from you. The number on the right is the ask price, which is the price for the currency that your forex broker is willing to sell to you. The difference between these two prices is called the spread, which is how zero-commission forex brokers make money. Ideally, you want the spread to be minimal to maximize profit and this value varies among brokers.
Take a Trading Position
Next, you just have to decide on your position. Forex trading is different from trading other assets because you buy and sell two different currencies at the same time. Therefore, when speculating the market movement of the currency pair, we are talking about the relative strength between the base currency and the quote currency.
For example, when trading EUR/USD, if you think that EUR will rise compared to USD, then you want to enter a buy position or go long. Conversely, if EUR will fall compared to USD, then you want to enter a sell position. Then, you just hope that you are right so that you can profit.
Currency Trading for Beginners – Tips and Advice
Of course, what we just discussed is but a very simplified overview of the whole process. Many things are going on between each step, most particularly forex trading strategies. These involve the use of various indicators to help traders predict price movement. To make the most out of your trading session, you should learn how each indicator works and how they are implemented in a strategy.
For example, one of the most popular indicators is the Relative Strength Index indicator. It is a momentum oscillator that tells you the momentum behind a market trend. Its value ranges from 0 to 100, with anything above 70 indicating of overbought asset and 30 indicating oversold asset. With this information, when you see that the asset is overbought, you know that there is a huge selling pressure, so you might want to enter a sell position. The best thing about the RSI indicator is that it helps you spot trend reversals before it happens, so you have a bit of time to set everything up to capitalize on the subsequent price movement.
Learn How to Trade Currency with AsiaForexMentor
By no means does this guide provide a comprehensive explanation of the market. The idea is to give you a basic understanding of the market and a glimpse of how a forex trader makes their money. The forex market is complex and it will take some time to learn and get all of that experience you need to make money reliably. How to trade forex? One of the best ways to start would be to go through all of those forex trading for beginners PDF files and articles on the internet, but this is a time-consuming process.
However, if you are willing to commit to learning the tricks of the trade but you do not have all the time in the world to do so, you can invest in a forex trading course. AsiaForexMentor equips traders with all the necessary knowledge to reliably make money trading with its One Core program. You can learn forex trading step by step with us and understand how the market works.
In this One Core program, you will learn everything you need to know about how to trade currency. Most importantly, you will learn how to use our versatile ROI-based trading system that is compatible with all market that has a chart. Therefore, even if you decide to ditch the forex market and move on to the stock market or even the cryptocurrency market, you can still apply what you learned with us.